MLB.com Columnist
Barry M. Bloom
Blue Jays' time is now as free agency looms
Encarnacion among bevy of players in last year of contract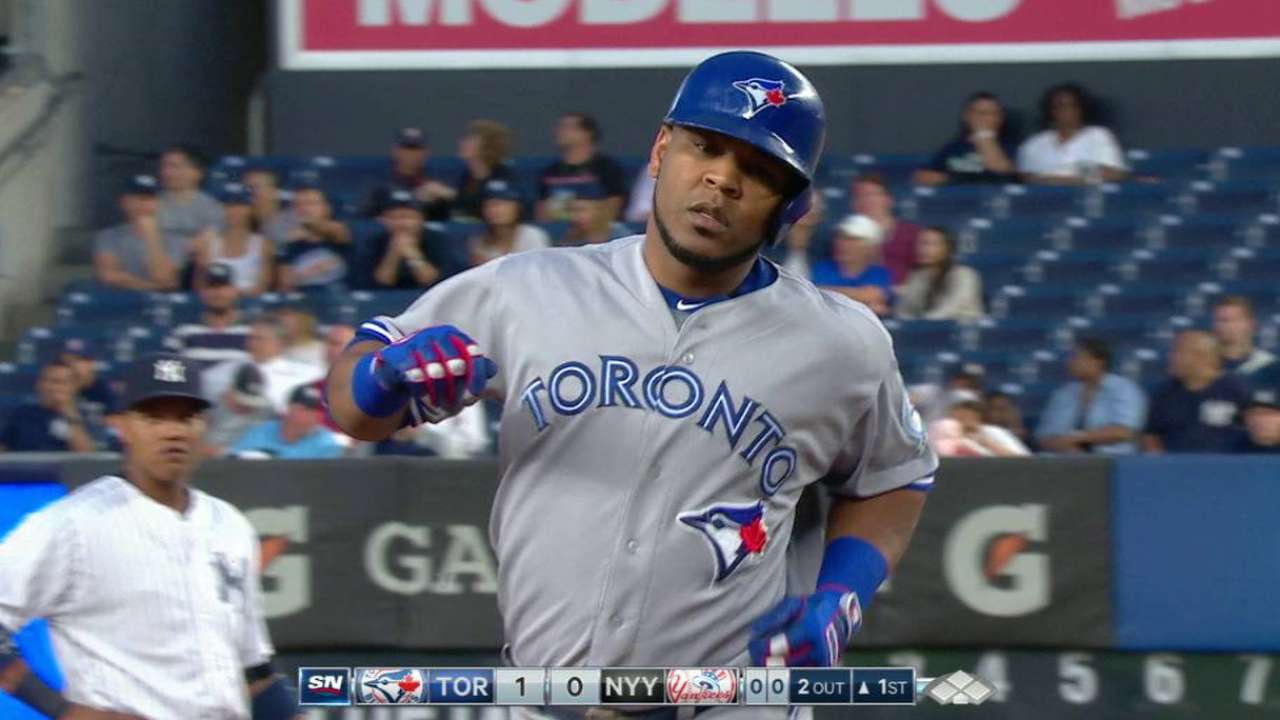 NEW YORK -- If Blue Jays designated hitter Edwin Encarnacion has his way, he'll remain with the club this offseason when he becomes a free agent rather than sign elsewhere.
"I'd love to stay here, but I don't know. We're going to look to see what happens after the season," Encarnacion told MLB.com on Tuesday night before his club dropped a big 7-6 decision to the hard-charging Yankees. "Yeah, I'd like to stay with Toronto, with the team. But right now I'm not thinking about that."
Just to punctuate the point, Encarnacion launched a booming home run off Yanks rookie starter Luis Cessa into the left-field second deck at Yankee Stadium with two out and nobody on in the first inning. It was his 37th homer of the season.
Encarnacion also had a ninth-inning infield single in a 10-pitch at-bat against Yankees closer Dellin Betances that drove in a run, giving Encarnacion 112 RBIs to lead the American League.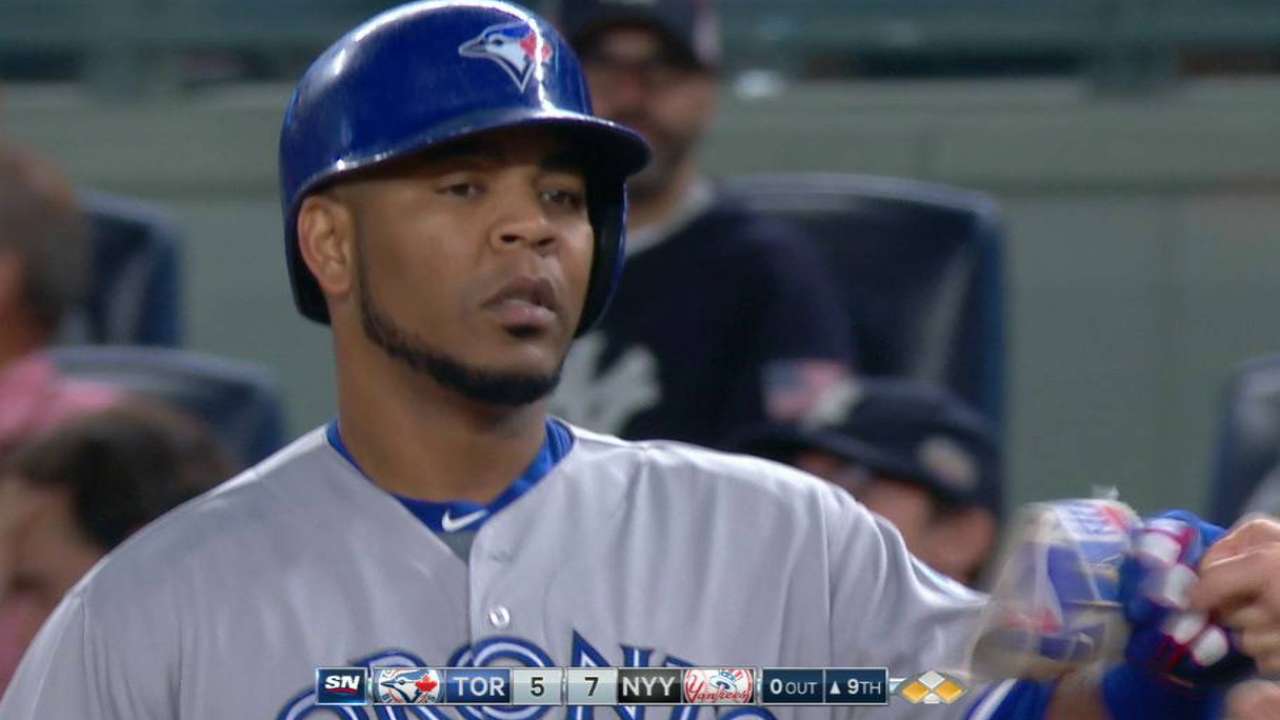 Encarnacion is not alone in his future predicament. The Blue Jays have 10 players slated to become free agents after the World Series, including such stalwarts as Jose Bautista, R.A. Dickey, Michael Saunders and Brett Cecil.
Bautista is 35 and Encarnacion is 33. Dickey will be 42 on Oct. 29.
It's incumbent on the Jays, then, to successfully close out this season, wrap up their second consecutive AL East title, and go as far into the postseason as their bats will carry them. Their window is irrevocably closing.
"Coming into the season, everybody knew there was a chance that a lot of these guys would be gone," manager John Gibbons said. "So that was the focus: 'Hey, what's your window going to be like?' You never know who might return and who might sign elsewhere. I think that's the way it's been viewed, not knowing what the future might hold."
In some respects, that's why former Toronto general manager Alex Anthopoulos barreled up last year and added Josh Donaldson, Troy Tulowitzki and David Price through trades either before the season or at the non-waiver Trade Deadline, making a potent club that much more dangerous.
The Yanks led the Jays by eight games as late as July 28 last season, but Toronto went 47-20 the rest of the way to win the division by six games.
All that work went for naught when the Jays lost the AL Championship Series to eventual World Series-winning Kansas City in six games.
They still haven't returned to the World Series since winning back-to-back titles in 1992-93, the second over the Phillies on Joe Carter's walk-off Game 6 home run.
Different this September is the competition. Toronto is desperately trying to ward off Baltimore and Boston to again win the division. Even New York has caused a problem. After the Yankees came from behind with four runs in the eighth inning against Jason Grilli on Tuesday night, there are just 4 1/2 games separating the four teams.
That's why any thoughts of what might happen this offseason can't take much prominence at this point.
"We can't think about that right now because we want to win," Encarnacion said. "That's why we're here. We want to win. We're going to see what happens. Right now we're in first place. There's a lot of games left. It's a tough division. It's going to be very tough, but we know we can do it."
Different, too, about this September is that Price is no longer with the team. Anthopoulos, who decided to leave after the season when Mark Shapiro replaced Paul Beeston as club president, knew Price was just a rental when he went for it all.
Not only is Price gone, but the left-hander signed a seven-year, $217 million free-agent contract with the Red Sox, a top division rival.
The Blue Jays have a $137 million player payroll this season, but a $31 million yearly average for one pitcher is not in their wheelhouse. They weren't even an active player in the Price sweepstakes.
And perhaps they won't be able to negotiate the types of deals that the likes of Encarnacion and Bautista might generate in the open market.
"Dave's pitching good, but he always does," Gibbons said. "He started slow, but he's really picked it up. Everybody expected that. I'm a big fan. I enjoyed him while he was here. He did wonders for us. I know he's doing wonders for those guys.
"Certainly we miss him. But you can't blame him [for leaving]."
That's basically Gibbons' stance on all of his free agents. He enjoyed having them while they were in Toronto, but then reality tends to rear its head.
"They were all here when I came back," said Gibbons, who began his second tour as manager of the Jays in 2013. "And they've done a lot of great things for the organization. You only get a few chances to be a free agent. I know they're looking forward to that.
"You get close to these guys, but you know it's a business, too, and most of them move on one way or another. Very rarely does anything stay intact."
Barry M. Bloom is a national reporter for MLB.com and writes an MLBlog, Boomskie on Baseball. Follow @boomskie on Twitter. This story was not subject to the approval of Major League Baseball or its clubs.