Clutch Cards set MLB pinch-HR record
Carpenter's homer is St. Louis' 15th off bench this year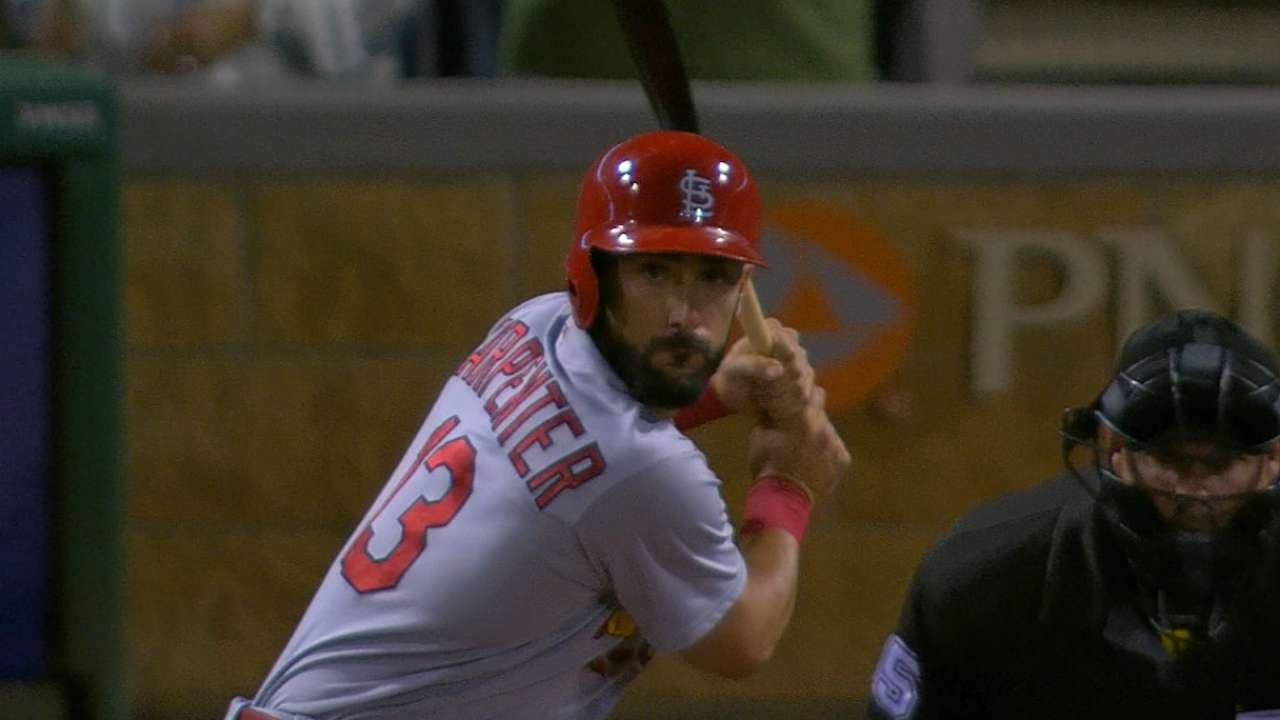 PITTSBURGH -- Mike Matheny read the frustration that Matt Carpenter felt but didn't know he actually exuded. That exasperation had hit its crescendo in the series opener when Carpenter, stuck in a 4-for-28 snag, struck out a trio of times.
Matheny, perceiving that something "just didn't look right" with his leadoff hitter, sat Carpenter in response on Tuesday, only to deploy him as part of a last gasp that the Cardinals transformed into a last laugh.
Down to the team's final strike, Carpenter delivered a game-tying homer off the bench and then watched the Cardinals steal a 9-7 win at PNC Park when Randal Grichuk and Jhonny Peralta added ninth-inning home runs behind him.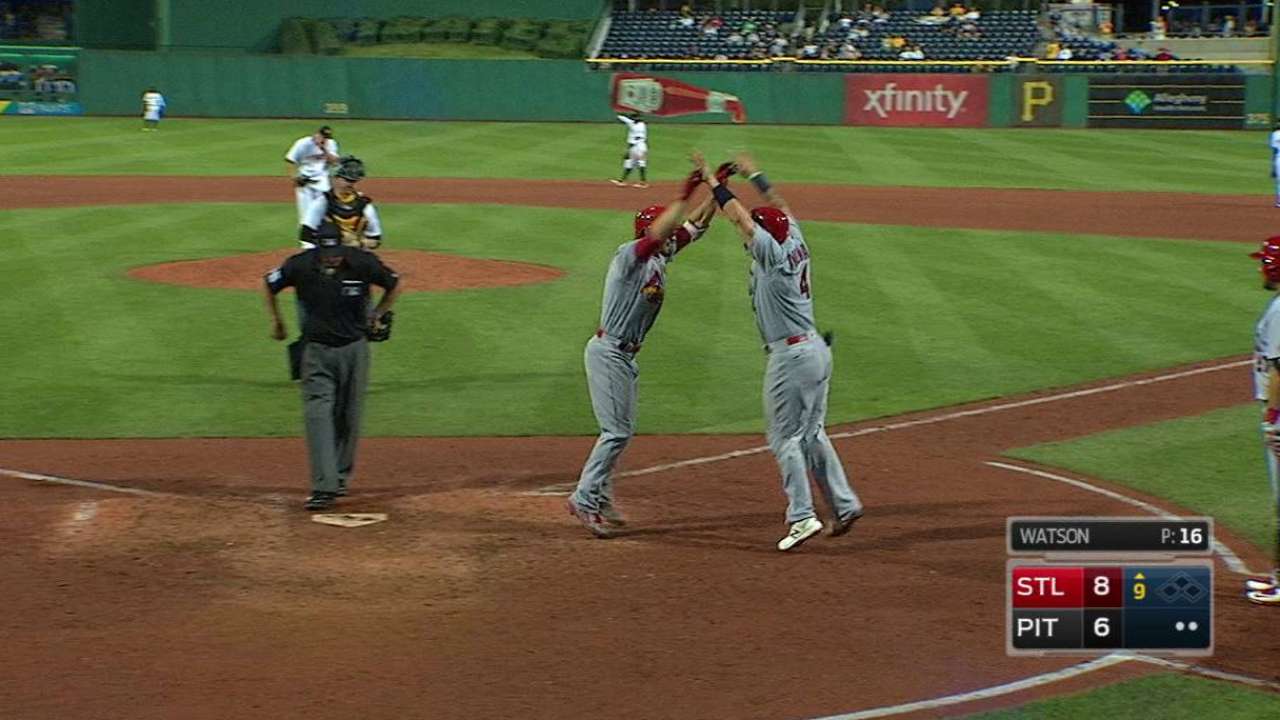 Carpenter's home run was record-breaking, too. Nine innings after matching a National League record by homering in their 25th consecutive game, the Cardinals set a Major League mark with their 15th pinch-hit blast of the year. Carpenter cited hitting coach John Mabry as especially deserving of credit for the bench's success.
"That's what he made a living off of, being a pinch-hitter, and he's given a really good approach to our young players who pinch-hit a lot and even us veteran guys who have been around," Carpenter said. "That approach has stuck with all these guys, and they go up there ready to hit. They put good at-bats together when they get that opportunity, and it's led to a crazy amount of success."
The pinch-hit blast broke a tie with the 2001 Giants and 2001 D-backs for the most by a team in one season. Before Tuesday, Carpenter had never connected for a pinch-hit home run. He is now the ninth Cardinals player to homer off the bench this year.
"A lot of work goes into being ready for those pinch-hit at-bats," Matheny said, "and they're taking a lot of pride in that."
Matheny had held Carpenter from earlier pinch-hit spots on Tuesday to save him for as optimal a situation as he could find. A ninth-inning matchup against Tony Watson -- against whom Carpenter was 2-for-17 -- wasn't necessarily that. But it was the team's last shot. Trailing by one with nobody on and two out, Carpenter fell into an 0-2 hole.
"I told myself I want to be short and just battle in that scenario," Carpenter said.
Watson's next pitch -- a 93-mph sinker that was intended to be off the plate -- instead arrived over it. Carpenter crushed it into the right-center field stands.
"[I] got ahead of myself in the delivery, left it middle-up, and Matt Carpenter's a really good hitter," Watson said. "Terrible pitch, one you wish you had back."
It only got worse for Watson, too, as he then allowed a double to Yadier Molina and consecutive homers to Grichuk and Peralta that sealed the Cardinals' come-from behind victory.
For Carpenter, there was vindication in finding a way to contribute amid such a trying stretch.
"I've had a hard time finding a rhythm since I've come back from the DL," said Carpenter, now slashing .224/.308/.402 since returning from an oblique injury in early August. "I don't like not playing well. I was a little frustrated yesterday, and Matheny could sense that."
Matheny described what he saw as "unnecessary grinding" by Carpenter behind the scenes.
"I try to pay attention to any clue I get to where guys are because they're not always the most honest with me because they want to play," Matheny said. "He actually was fighting with me last night because he wanted to play today. I'm sure glad that I didn't listen to him."
Jenifer Langosch has covered the Cardinals for MLB.com since 2012, and previously covered the Pirates from 2007-11. Read her blog, follow her on Twitter, like her Facebook page and listen to her podcast. This story was not subject to the approval of Major League Baseball or its clubs.