MLB.com Columnist
Tracy Ringolsby
Drawing on past, Giants eye playoffs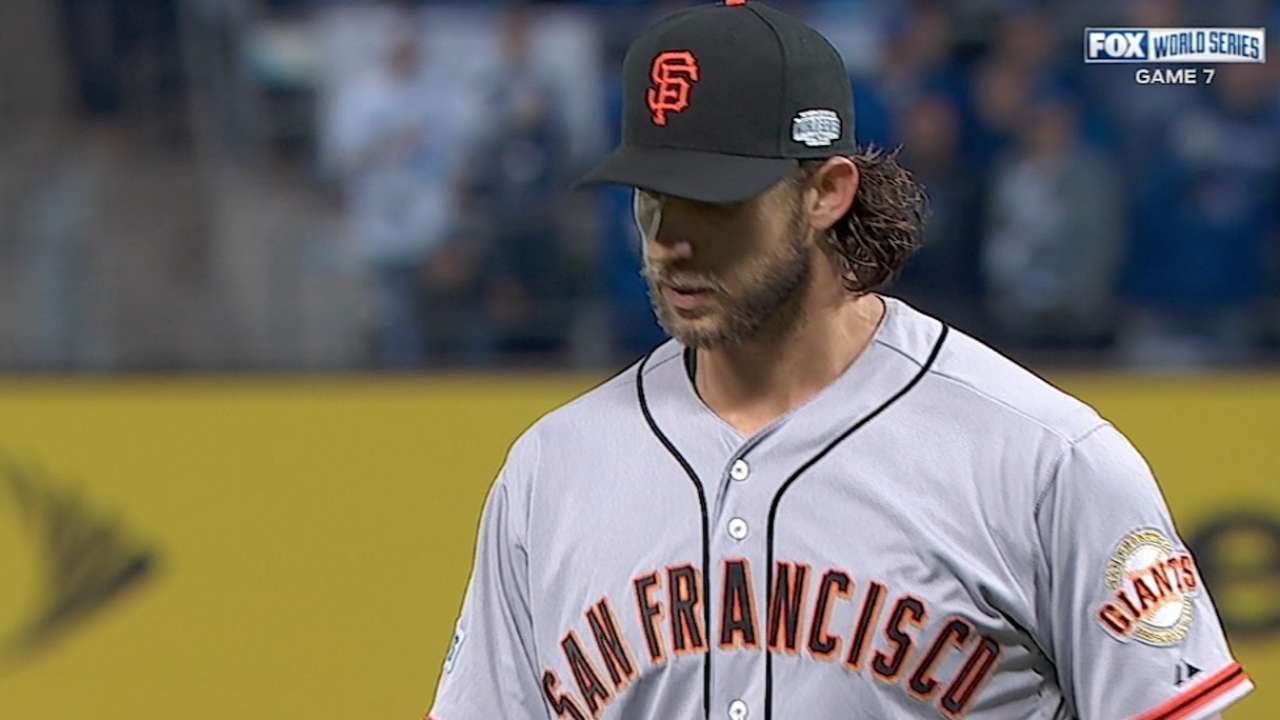 DENVER -- The fanfare began before last season was even over. After the Giants missed out on reaching the postseason in 2015, their fans were quick to warn others to beware in '16 -- it's an even-numbered year, and the Giants had won World Series championships in the past three even-numbered years (2010, '12 and '14).
It's a nice story line, but that's what it is.
"You don't expect it every even year, but it would be OK if we did [win]," said Giants manager Bruce Bochy. "If the fact we did it the three previous [even-numbered] years is a motivation, run with it."
Bochy paused.
"But there have been a lot [of even-numbered years] when we didn't win it, too," Bochy said.
It is September and San Francisco is very much alive in its bid for extending the club's even-year success. The Giants have been buoyed by a best-in-baseball record at the All-Star break, which has allowed them to remain a postseason factor despite going into Tuesday night's game with the worst record in baseball since the All-Star break.
While that 6 1/2-game lead on Los Angeles in the National League West at the break has turned into a four-game deficit to the Dodgers, the Giants are sitting atop the NL Wild Card standings with a 74-64 record, a half-game better than the Cardinals, who are holding down the second NL Wild Card spot, and a game up on the Mets.
San Francisco's past three World Series championships don't provide any guarantee for this year, but right-hander Matt Cain, moved this week from the rotation into the bullpen, admits "you try and reach back on your experience" to get through struggles.
There were, after all, some rough spots even in the championship seasons of the past that need to be remembered, said Cain.
"When you look back, everything seems so good," Cain said. "Sometimes you forget how hard it was to get to that point."
It also helps to remember that while the Giants have those three World Series banners and trophies to put on display, the rosters are in constant turmoil. Six players remain from that 2010 team, but it's only catcher Buster Posey and left-handed starter Madison Bumgarner who are in the same role. Cain is in the bullpen along with the other holdovers, Santiago Casilla, Sergio Romo and lefty Javier Lopez.
There have been 146 players appear in at least one game for San Francisco since the start of the 2010 season, many of whom have appeared at more than one position. During the six-year run, the Giants have used 63 pitchers, 10 catchers, 20 first baseman, 29 second baseman, 24 third basemen, 16 shortstops, 38 left fielders, 17 center fielders and 25 right fielders.
"When you think about it, we had a different team each time [the Giants won]," said Romo.
The feeling, however, doesn't change. There is a confidence that has been passed along over the years.
"I have been very blessed to be part of this organization," said Bumgarner. "Things couldn't have been better. Just to be in the postseason is special, but to win [three World Series] … we realize how hard it is to get there."
But then Bumgarner and Posey don't know any different. They were September callups in 2009 and were rookies with that 2010 team.
"Posey and Bumgarner aren't going to get to enjoy the 10-year reunion [of the 2010 team]," said Cain. "They are going to still be playing. It's great to be a part of a world champion at any point in your career, but they have the opportunity to do it so early."
There have been different heroes along the way, capped off by Bumgarner in 2014 when he was the MVP in both the NL Championship Series (1-0 with a 1.72 ERA in two starts) and World Series (2-0 with wins in Games 1 and 5 and a five-inning save in Game 7).
In 2010, outfielder Cody Ross (.350, three home runs and five RBIs) was the NLCS MVP and shortstop Edgar Renteria (.412, two home runs and six RBIs) was the World Series MVP. Two years later, second baseman Marco Scutaro (.500, 14 hits and four RBIs) was the NLCS MVP and third baseman Pablo Sandoval (.500, plus three home runs in Game 1) was the World Series MVP.
"The more you are around, the more you can appreciate it," said Posey. "You never assume things like that will happen. You want to work to make sure you get that opportunity."
So far, the work has paid off for the Giants.
Tracy Ringolsby is a national columnist for MLB.com. This story was not subject to the approval of Major League Baseball or its clubs.