30-30 vision: Myers chasing rare combination
Trout among others with a shot to become Majors' first 30-30 man since '12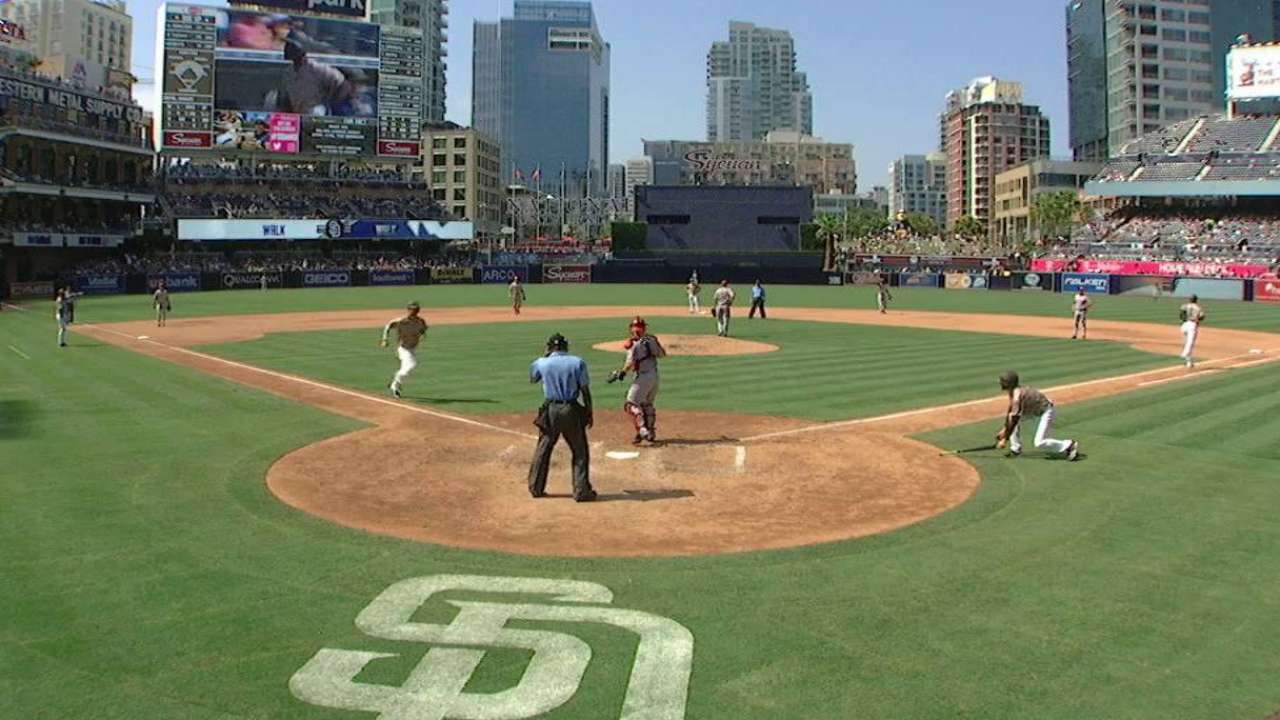 Toiling for the out-of-contention Padres, Wil Myers hasn't necessarily drawn widespread national attention this season, outside of starting the All-Star Game in his home ballpark.
Yet the 25-year-old first baseman, nearing the end of what would be his first full Major League season, has enjoyed a nice rebound despite a recent slump at the plate. Overall, Myers is tied for sixth among first baseman with 3.4 wins above replacement (WAR), according to FanGraphs. In particular, his combination of power and speed is making his season a special one.
Myers needs to go deep one more time to become the first player with 25 home runs and 25 stolen bases since Mike Trout in 2013. That puts him in position to break MLB's three-year 30-30 drought, its longest since the mid-1980s.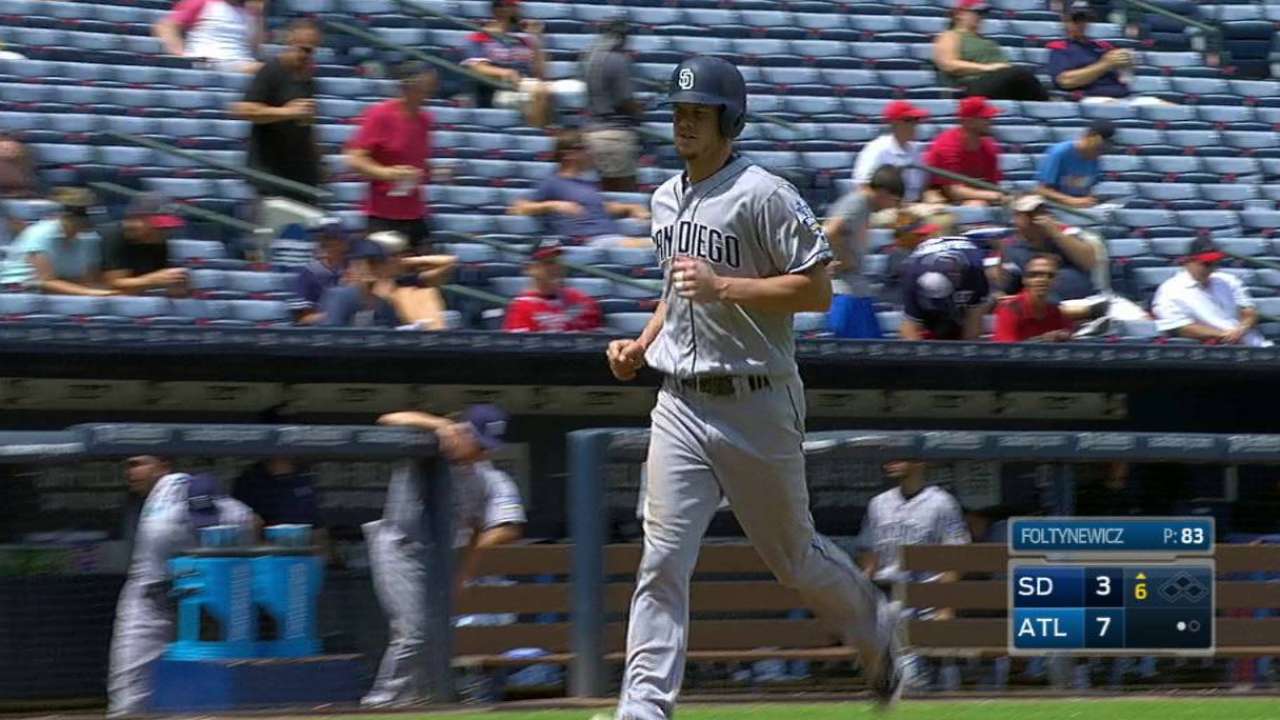 Myers is not the only contender with about four weeks left in the regular season. Trout, who along with Ryan Braun went 30-30 in 2012, arguably has the edge in the race, with 27 homers and 24 steals. Jose Altuve, with his burgeoning power, has 22 homers and 27 steals. Mookie Betts (30 HR, 21 SB), Ian Desmond (21 HR, 20 SB), Paul Goldschmidt (20 HR, 23 SB) and Bryce Harper (23 HR, 20 SB) also have reached the 20-20 plateau.
Myers has an argument as the unlikeliest challenger of the bunch, and not just because no Padres player has ever produced a 30-30 season, while only one regular first baseman has done it (Jeff Bagwell in 1997 and '99).
Despite winning the 2013 American League Rookie of the Year Award with the Rays, Myers entered '16 having never played more than 88 Major League games in a year. Injuries intervened, including last season, when he debuted in San Diego by playing just 60 games due to left wrist problems. That could help explain why Myers has an OPS barely above .400 with one homer over his past 18 games.
"I'm just grinding through this right now; it's been a little tough," Myers told MLB.com's AJ Cassavell recently. "I couldn't be happier with how things have gone so far this year. Obviously I have a lot to learn, but it's been a little different playing this full season, because it's been so long since I have."
Even when healthy, Myers' numbers didn't scream 30-30 potential. From 2013-15, his per-162 averages were 19 homers and 12 steals, and while he slammed as many as 37 homers in a Minor League season, he never swiped more than 12 bases. But the aggressive Padres rank third in the Majors in steal attempts, and with the benefit of good health, Myers has taken advantage.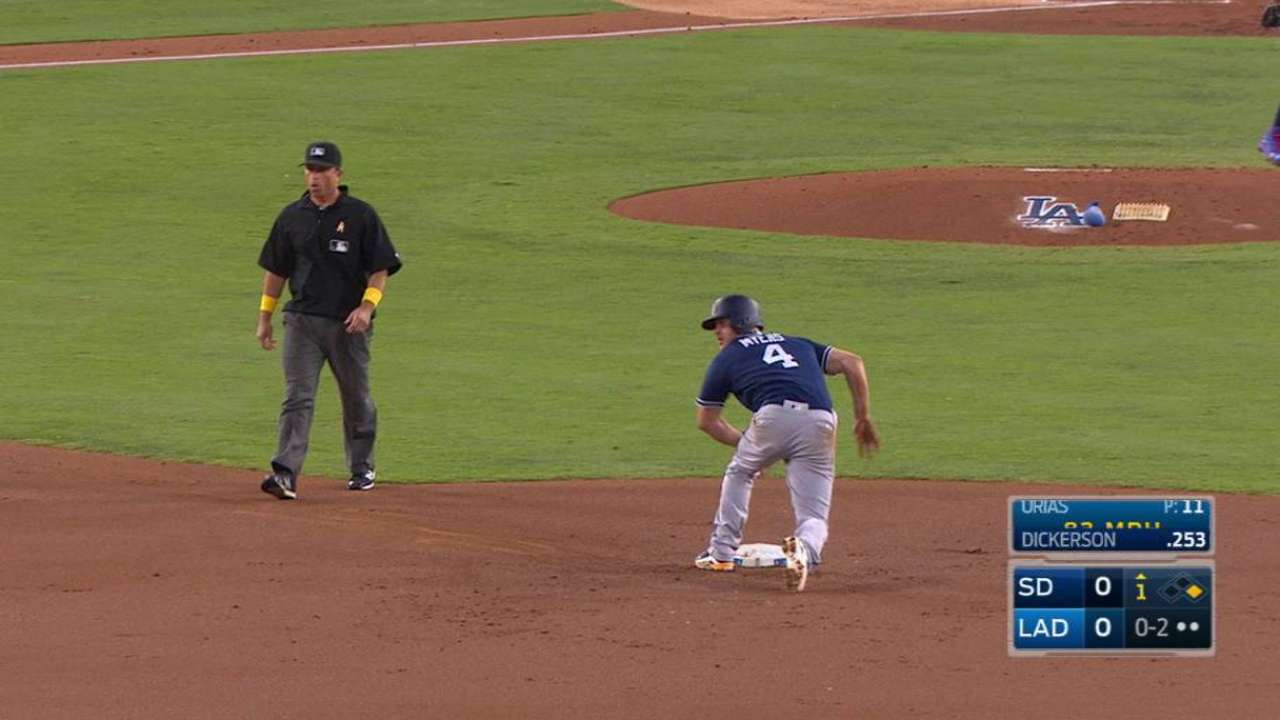 In recent years, 30-30 campaigns had dried up as both homers and steals declined across the league. From 2010-14, big flies dropped by 26.4 percent, and while they spiked back up last year, MLB saw its fewest steals in a non-strike year since 1974, when there were only 24 teams.
In 2016, the amount of running hasn't picked up at all, with an identical rate of 0.52 steals per team game as in '15. On the other hand, homers are flying at an all-time high -- roughly equal to the previous record set in 2000 -- and the number of players with 20 or more (87) already is higher than in any season since '10.
It's an environment in which one half of the 30-30 equation is much more likely than the other. But with a strong final month, perhaps Myers -- or Trout, Altuve or another player -- can put all of the puzzle pieces together and end the drought.
Andrew Simon is a reporter for MLB.com. Follow him on Twitter @AndrewSimonMLB. This story was not subject to the approval of Major League Baseball or its clubs.