Paxton spins 4-K frame in uneven outing
SEATTLE -- Mariners southpaw James Paxton struck out four batters in the first inning of his start Tuesday against the Rangers at Safeco Field, thanks to a wild pitch that got away from catcher Mike Zunino on one of his whiffs.
But that long inning was a foreshadowing of trouble ahead as Paxton wound up with eight strikeouts in 4 1/3 innings, but gave up nine hits and six runs (four earned) and was the losing pitcher as Seattle came up short, 10-7, against their American League West-leading rival.
"I threw some good pitches and got the strikeouts obviously, and that was good," Paxton said. "But I just fell behind some guys and came to the middle part of the zone and they got some hits. I need to get ahead of guys and be able to make pitches when I'm ahead instead of having to come over the plate to those guys when I'm behind."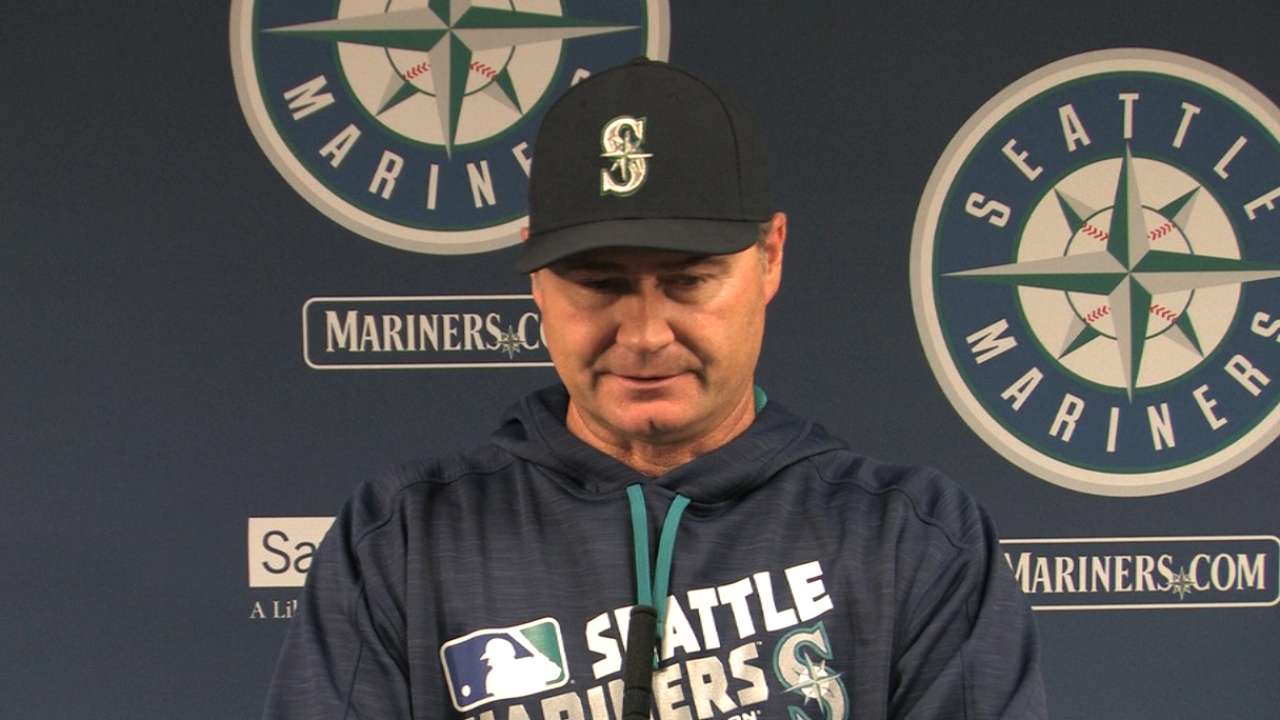 Paxton became the fourth pitcher in Mariners history with a four-strikeout frame and the first since Felix Hernandez on June 3, 2010 against the Twins. Matt Young pulled off a 4-K inning in 1990 against at Boston and closer Kazuhiro Sasaki did the same in '03 at Texas.
But when the Rangers were able to make contact, they did damage and also got some breaks to fall their way. Texas scored a pair of unearned runs in the second after a two-base error on Kyle Seager opened the door, then added another on a bloop RBI double by Carlos Gomez in the third when first baseman Dae-Ho Lee couldn't get to a ball down the line in shallow right field.
Seager acknowledged there was some tough circumstances for his teammate to overcome.
"He had the four-strikeout inning and that was a lot of extra pitches there and kind of a weird thing that inning," said Seager, "and then me not helping Pax out there at all in that second inning."
Manager Scott Servais said it was a mixed bag for his starter.
"Pax's stuff, he struck out eight of them, didn't walk anybody, but gave up plenty of hits," Servais said. "He made some mistakes in the middle of the plate, which was obvious tonight. Because his stuff was fine. I thought he was throwing the ball hard. His breaking stuff maybe wasn't quite as sharp or landing it as often as he needed, but it's not a good night when you throw 100-some pitches in 4 1/3."
Though Paxton was at 97 pitches after a 1-2-3 fourth, Servais left him in with a 4-4 tie that quickly was broken when Jonathan Lucroy belted a two-run blast to left on a first-pitch changeup.
The good news is that Paxton wasn't bothered too much by the torn fingernail that plagued his previous start, but the high pitch count proved costly as he fell to 4-6 with a 4.03 ERA. Paxton now has 90 strikeouts and 20 walks in 96 innings on the year.
Paxton said a fake nail worked well, but soreness in the finger did limit his pitch selection.
"We had to stop throwing the cutter because that was a lot of pressure on the finger," he said. "So we just went with the fastball, changeup and curveball. We'll see if that's the issue next time, but I'll try to work on it and get it better and better between starts here."
Greg Johns has covered the Mariners since 1997, and for MLB.com since 2011. Follow him on Twitter @GregJohnsMLB and listen to his podcast. This story was not subject to the approval of Major League Baseball or its clubs.