MLB.com Columnist
Mike Bauman
Complacency not an issue for Cubs
Depth big reason why they boast Majors' best record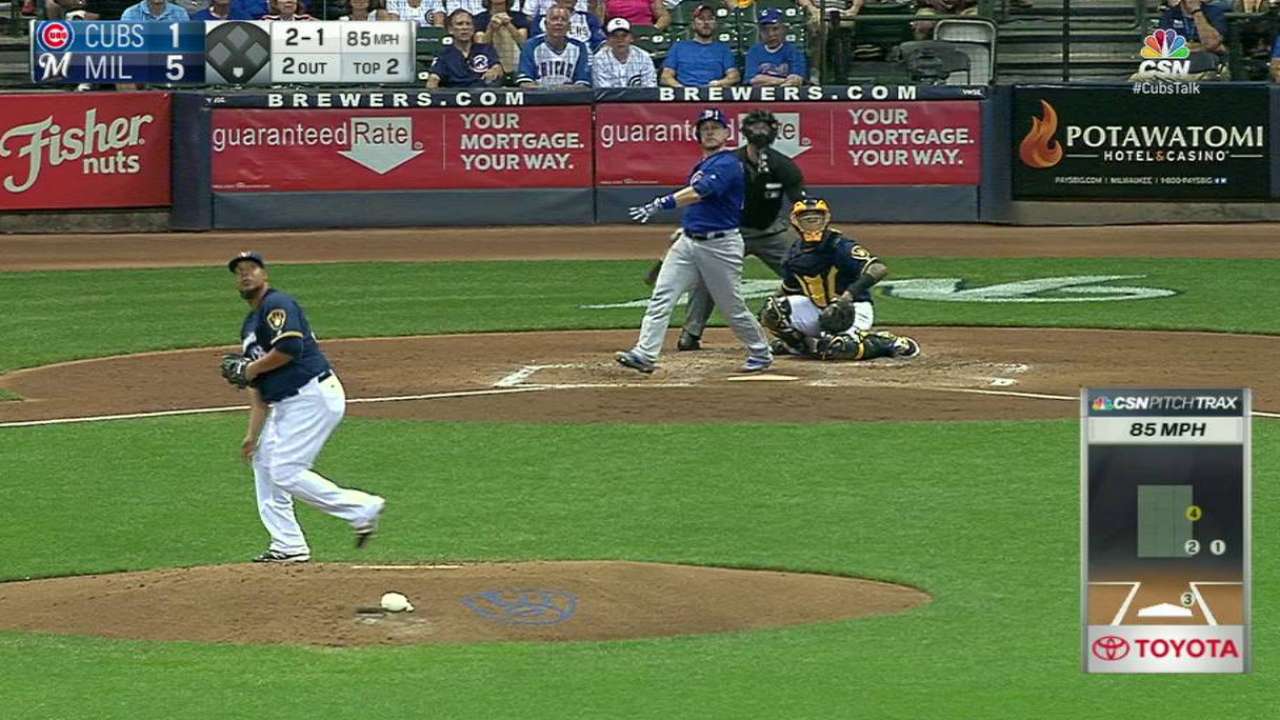 MILWAUKEE -- At this point, the Cubs are not only beating people as a result of talent, but as a result of depth. They may be carrying the same number of players as other clubs, but they still seem to outnumber the opposition.
You don't have to look any further than the fact that Kyle Hendricks, who was the Cubs' No. 5 starter coming into this season, has a Major League-leading 2.07 ERA.
Toss into the mix the bullpen upgrades the Cubs have made over the course of the season and you have a staff full of reasons why they lead the Majors in team ERA by a comfortable margin.
And this is also why the Cubs are a runaway leader for the Majors' best record at 89-49, good for a 15 1/2-game lead in the National League Central.
In the heat of August, the Cubs went 22-6. When the season started to drag for a lot of clubs, they soared. The Cubs have had tremendous contributions from everyday players, most notably leading NL MVP Award candidates Kris Bryant and Anthony Rizzo. But for opponents, trying to score enough runs to win is the foremost and largest problem the Cubs present.
"The rotation is what has set them apart from everybody else," Brewers manager Craig Counsell said. "Obviously, Rizzo and Bryant deserve to be thought of as big pieces, but the rotation is what has set them apart. Their run prevention is what has set them apart from everybody else.
"I know they're kind of at the top in both [offensive and pitching] categories, but it's hard to score against them. That's the big thing. It's hard to score against them and it's the depth of their whole staff that has produced that. Certainly, every starter you face in a series, among their top five guys, is a real challenge."
Admittedly, none of that sort of thing was on display Tuesday night at Miller Park, when the Brewers defeated the Cubs, 12-5. Jason Hammel, who had a 10-1 lifetime record along with a 2.50 ERA against Milwaukee, was considerably roughed up in this one. He gave up five runs in the first and eventually gave up nine runs (eight earned) on 13 hits over 5 2/3 innings.
Based on Hammel's career record against the Brewers, based on Chicago's 10-4 record against Milwaukee this season, we can congratulate the Brewers on a good night and move on with the remainder of the season without searching for the deeper meaning of this one game.
With a big lead this late in the season, Cubs manager Joe Maddon can rest his regulars as much as he sees fit. And he has enough depth behind those regulars that the Cubs will still be "playing the right game," as he puts it. Finding a balance in this case between "the right game" and getting the right amount of rest for the regulars will not be that tricky.
"Truthfully, I don't think it's that hard," Maddon said. "We have so many really good players here right now that giving guys a day off is not really that difficult. Anybody who goes on the field knows that we play a certain way and they've been playing all year. We've utilized everybody all season.
"So game in progress, they haven't been playing on a regular basis, but they've been playing and they know what's expected. Everybody knows what to do; they know how we like to play the game. So I don't anticipate any kind of drop-off. The game will be played properly. At the same time, we'll get some rest. Rest and play the game right, those are the two things we've got to get done."
Complacency doesn't figure to be an issue for the Cubs, even with so much room to spare in the standings.
"I don't care what our record is. I expect our guys to play the game right," Maddon said. "Our guys, from Spring Training right to now, man, I've been really pleased and impressed with our ability to come ready to play every night."
There is no other way for a team to get to 40 games over .500. One problem the Cubs will have: Deciding which talented players to leave off the postseason roster.
Mike Bauman is a national columnist for MLB.com. This story was not subject to the approval of Major League Baseball or its clubs.