Salvy sustains bruised right wrist after HBP
All-Star catcher does not have fracture, according to Yost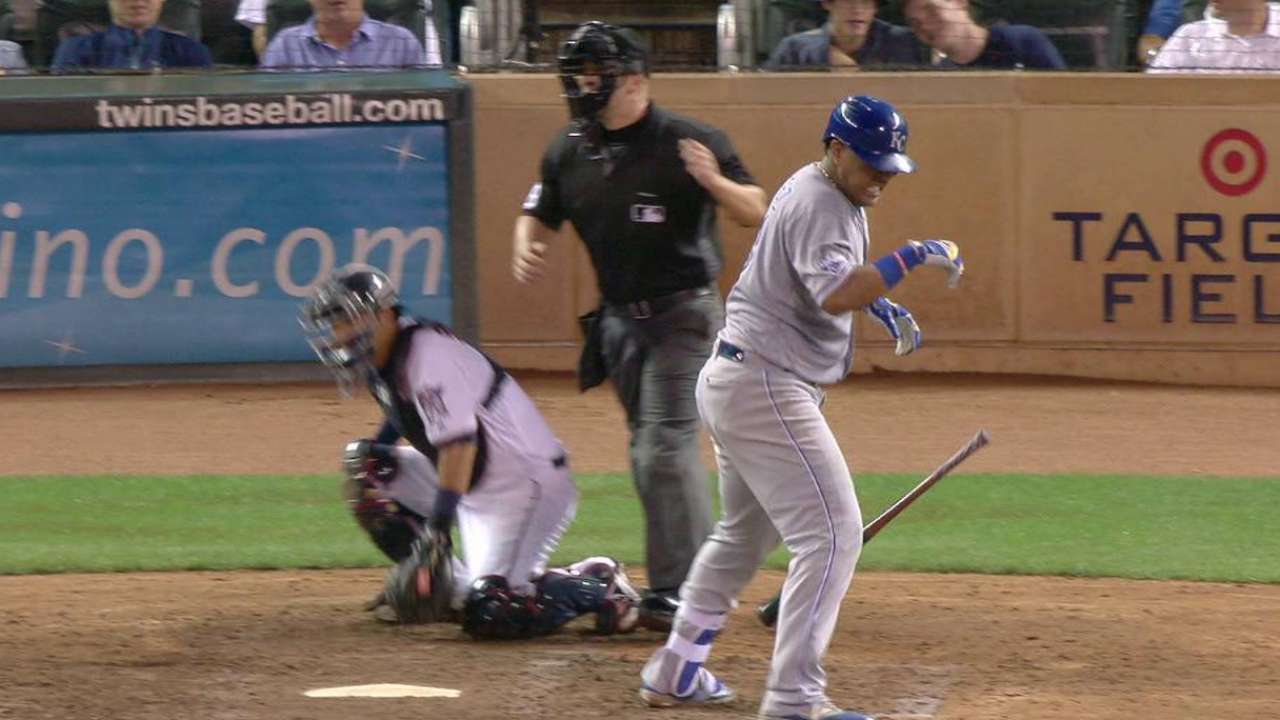 MINNEAPOLIS -- Royals All-Star catcher Salvador Perez exited Tuesday night's 10-3 win with a right wrist contusion after being hit with a 92-mph fastball from Twins starter Ervin Santana.
Leading off the seventh inning with the Royals trailing, 3-2, Perez took a half-swing at Santana's 1-0 offering, which hit Perez. He immediately doubled over in pain and was removed from the game after being examined by trainers.
Perez went 0-for-2 before his exit. He was replaced by pinch-runner Terrance Gore and Drew Butera entered behind the plate in the bottom of the seventh. Butera logged a go-ahead RBI single in a seven-run ninth inning.
Royals manager Ned Yost did not know the severity of Perez's injury after the game because he had not spoke at length with Perez or the trainers.
"He just told me it was a bone contusion," Yost said. "I don't know where we're at. They said it's just a contusion and it's not broken, which is great news."
"It's part of the game, but obviously, there was and is concern because he's our primary guy behind the plate," said designated hitter Kendrys Morales, who hit two homers, including a three-run shot in the ninth. "He's a guy that we've been through times together, and he's a tough one to lose. Thank God everything came out good."
Gore scored the tying run in the seventh on a one-out RBI single by Alcides Escobar. Butera, a former Twins catcher, also played a key role with a go-ahead RBI single in the ninth inning with the bases loaded that sparked the seven-run rally.
"Great at-bat," Yost said of Butera. "He just put the ball in play, hit the ball to right field. Got a pitch that he could hit that way, it was just a good, calm at-bat. He was going to put the ball in play, wasn't going to strike out. He found a hole."
Do-Hyoung Park is a reporter for MLB.com based in Minneapolis. He covered the Royals on Tuesday. This story was not subject to the approval of Major League Baseball or its clubs.