Yadi's first-inning slam matches NL record
Cardinals have homered in 25 consecutive games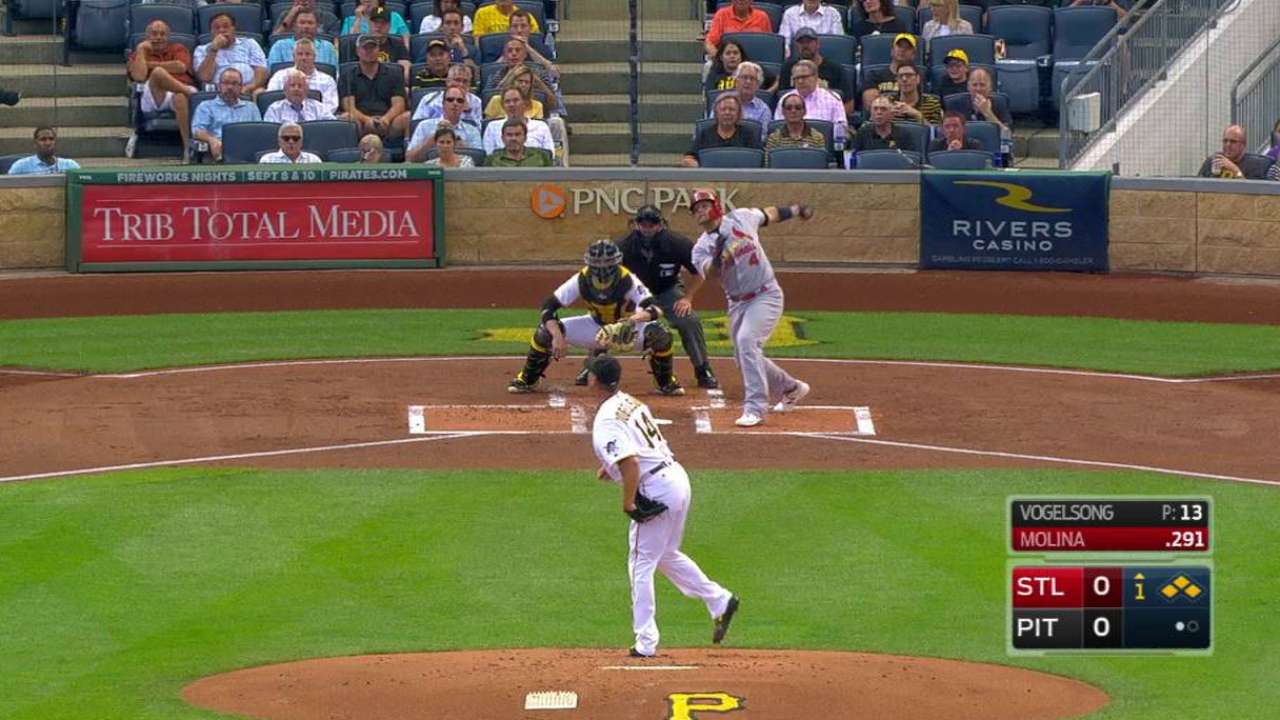 PITTSBURGH -- With an opposite-field blast beyond PNC Park's Clemente wall, Yadier Molina not only delivered an early lift in Tuesday's 9-7 win between Wild Card contenders but also wrote the Cardinals into the National League record books.
Molina's grand slam -- his first since 2012 and fourth of his career -- extended the Cardinals' home run streak to 25 games, matching an NL record set by the Padres earlier this season. If the club can homer in its next two games as well, it will equal the longest streak in Major League history. That was established by the 2002 Rangers.
"Impressive," manager Mike Matheny said after being reminded of the streak following the team's come-from-behind win. "Once again, it shows the talent level, and the guys we have are taking good at-bats."
Molina, who didn't connect for his first home run until May 21, has now hit seven this season. Three have come in the seven games he has played on this road trip, during which he has gone 13-for-29 (.448). He tallied four hits on Tuesday, raising his season average to .296, the highest it has been since May.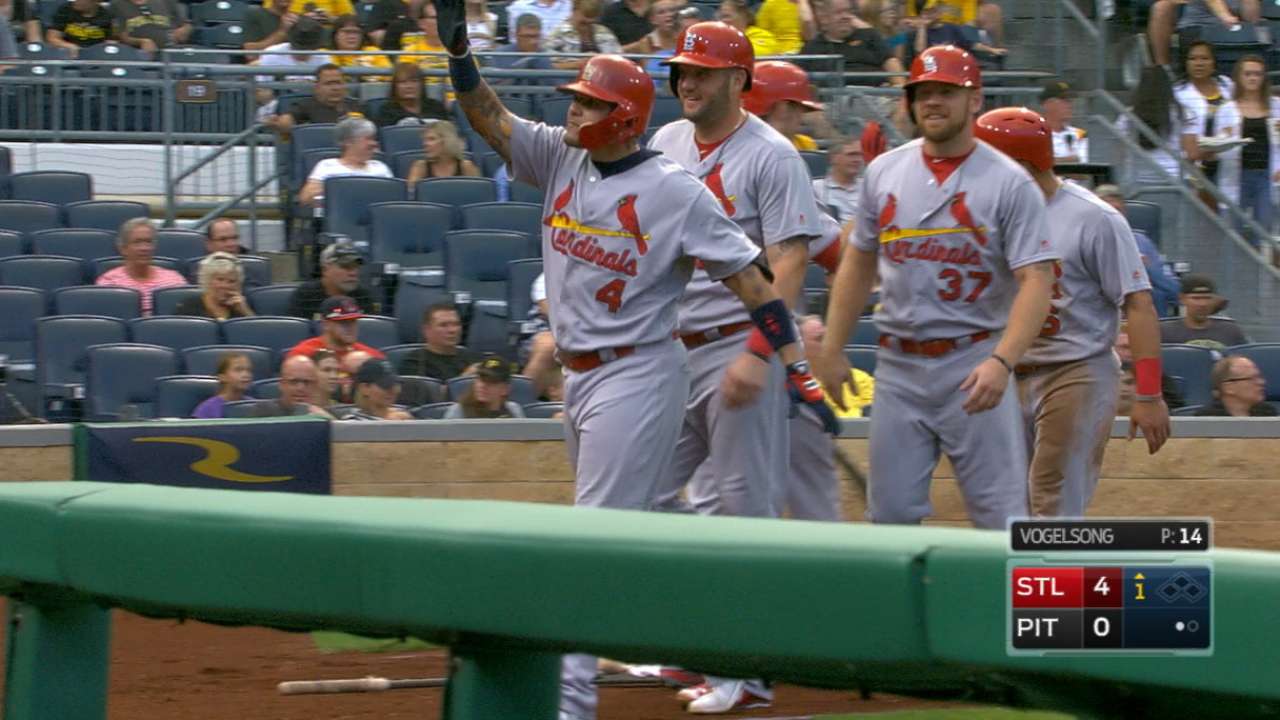 Even while on pace to catch more innings than ever before, Molina, who turned 34 during the All-Star break, has had a standout second half. He's batting .364 with 21 extra-base hits since the midseason break.
• Grand slams mean 40% off pizza
"I'm just seeing the ball pretty good now," Molina said. "When I hit the ball hard early in the season, it was right at people. Right now, they're finding holes. I'm in great shape and a great point in my career. I feel good."
Added Matheny: "The energy level looks terrific right now."
The Cardinals set up Molina's grand slam by taking advantage of some suspect defensive play by the Pirates, who now sit 5 1/2 games behind the Cardinals in the Wild Card standings. Starling Marte's inefficient route turned into a leadoff triple by Kolten Wong. After a one-out walk to Brandon Moss, Matt Adams hit a weak grounder that first baseman John Jaso couldn't turn into an out. Wong, who broke on contact, slid safely back into third ahead of Jaso's throw.
"I know with [Ryan] Vogelsong, it's going to be in the strike zone," said Molina, who hadn't had a first-pitch home run this season. "I was ready to hit."
On a night when homers put the Cardinals into the history books, they didn't shortchange themselves, either. Molina's was the first of five homers the Cardinals hit, giving them 54 blasts from 13 different players during this streak. All nine runs they scored came via the long ball.
With an NL-most 201 homers this season, the Cardinals are on pace to break their franchise single-season record of 235, set in 2000.
Jenifer Langosch has covered the Cardinals for MLB.com since 2012, and previously covered the Pirates from 2007-11. Read her blog, follow her on Twitter, like her Facebook page and listen to her podcast. This story was not subject to the approval of Major League Baseball or its clubs.