Tomlinson's redemption is game-deciding hit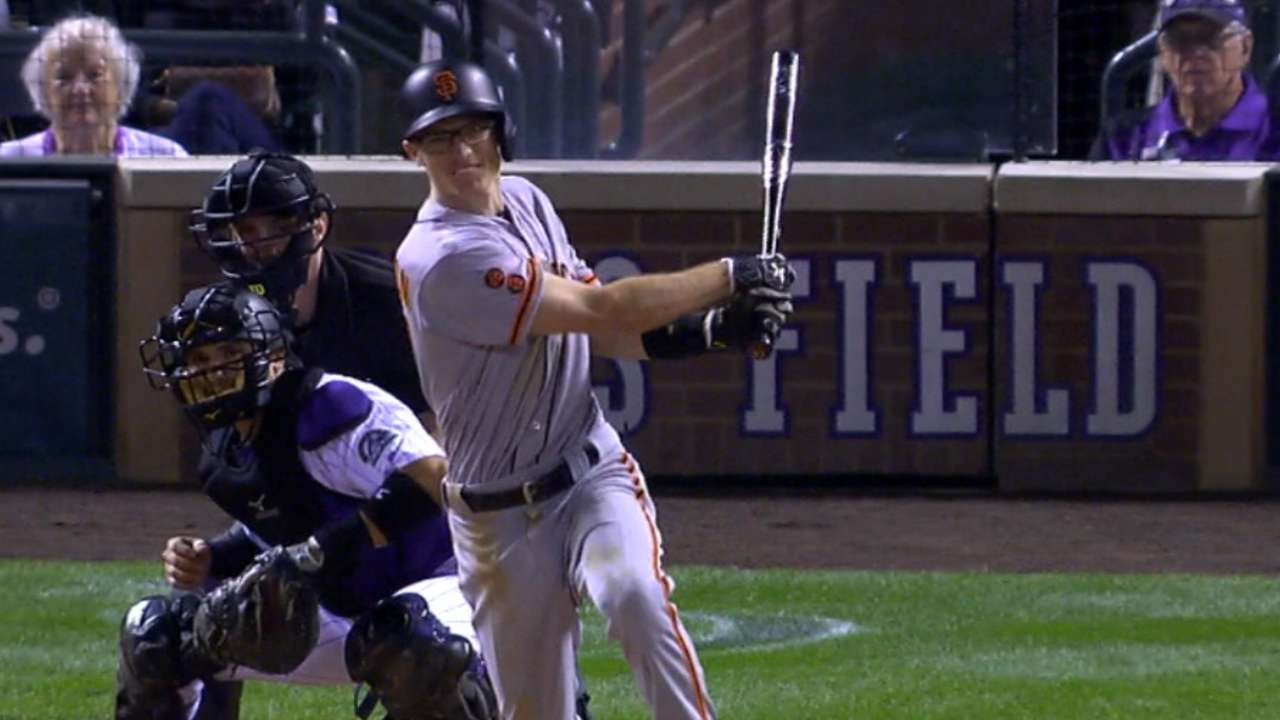 DENVER -- Ultimately, Tuesday was a "fine" day for Kelby Tomlinson. He ended up with his second game-winning RBI of his short season, though earlier in the day, he may have been feeling more like a goat than a hero.
"He saved himself from a fine there with that base hit," manager Bruce Bochy said, a wry smile creeping across his face after the Giants' 3-2 win over the Rockies at Coors Field.
Tomlinson -- a 25-year-old September callup making his first start since suffering a thumb injury in early June -- drew a leadoff walk against Rockies starter Tyler Anderson in the fifth inning, then was picked off with a move that Bochy argued was a balk, killing the rally in its tracks.
"It's frustrating to get picked off," Tomlinson said. "Potentially my role going forward is baserunning, so you want [Bochy] to have confidence to be able to put you in at any point in the game. It's frustrating, but to be able to help and make up for it is always good to get that opportunity."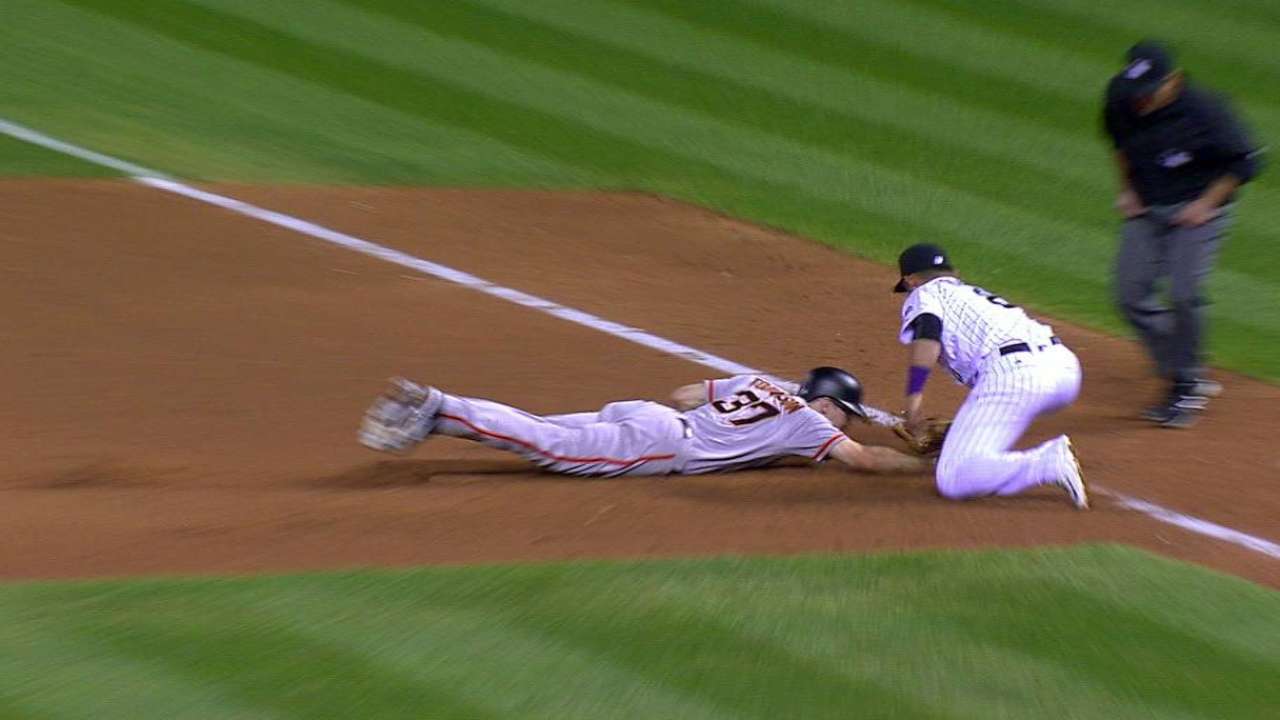 Tomlinson had a chance in the seventh, with Buster Posey on second and two outs. He went down swinging to end the inning, giving him an 0-for-13 stretch at the plate, dating back to May 30. He'd had success in Sacramento, hitting 286 (53-for-185) in 49 Triple-A games, but this was the Majors.
Then came a bizarre ninth inning, with the score tied at 2. Posey grounded to short, but a throwing error landed him at second. Hunter Pence followed with an infield single to short, moving Posey to third. After Brandon Crawford struck out, the focus shifted back to Tomlinson.
"Bochy just made sure before I got up -- when they switched the pitchers and we were getting the report -- he just checked to make sure I knew the signs," Tomlinson said. "He asked if I knew the squeeze and the safety squeeze sign, so going up there I knew that could be a possibility, to be looking for it."
It may have seemed unorthodox to squeeze with Posey on third, but that's what Bochy called for -- the suicide variety.
"I was thinking about pinch-running for [Posey]," Bochy said. "He's a good baserunner and I was comfortable with it. Kelby gets it down, I felt good about it. Obviously, he just didn't get it down."
Oxygen was in short supply as Tomlinson regrouped for yet another chance to come through in the clutch.
"That's a situation you want to be able to get it down -- same situation," Tomlinson said. "That could potentially be my role going forward, to be able to get bunts down, so that's an error. You want to be able to come through. So that was frustrating as well, but I was fortunate to be able to still get an opportunity to help the team win."
With an 0-2 count against Boone Logan, Tomlinson looked for a pitch he could handle, hoping he could make something out of it with his speed.
"He's a good contact guy," Bochy said. "You still have confidence with him with two strikes. He's got a short swing and a pitch he could handle there."
Tomlinson lifted an inside fastball over the infield into shallow left for the go-ahead run -- erasing his earlier fine and giving the Giants their first win when tied after eight innings since June 26.
"He came through," Bochy said. "He's one of our best bunters, and he'll get it down, but a good piece of two-strike hitting there. That's what we've been needing, and we got it. Hard-fought game."
Owen Perkins is a contributor to MLB.com based in Denver and covered the Giants on Tuesday. This story was not subject to the approval of Major League Baseball or its clubs.