Reds finalize contract with Cuban pitcher Gutierrez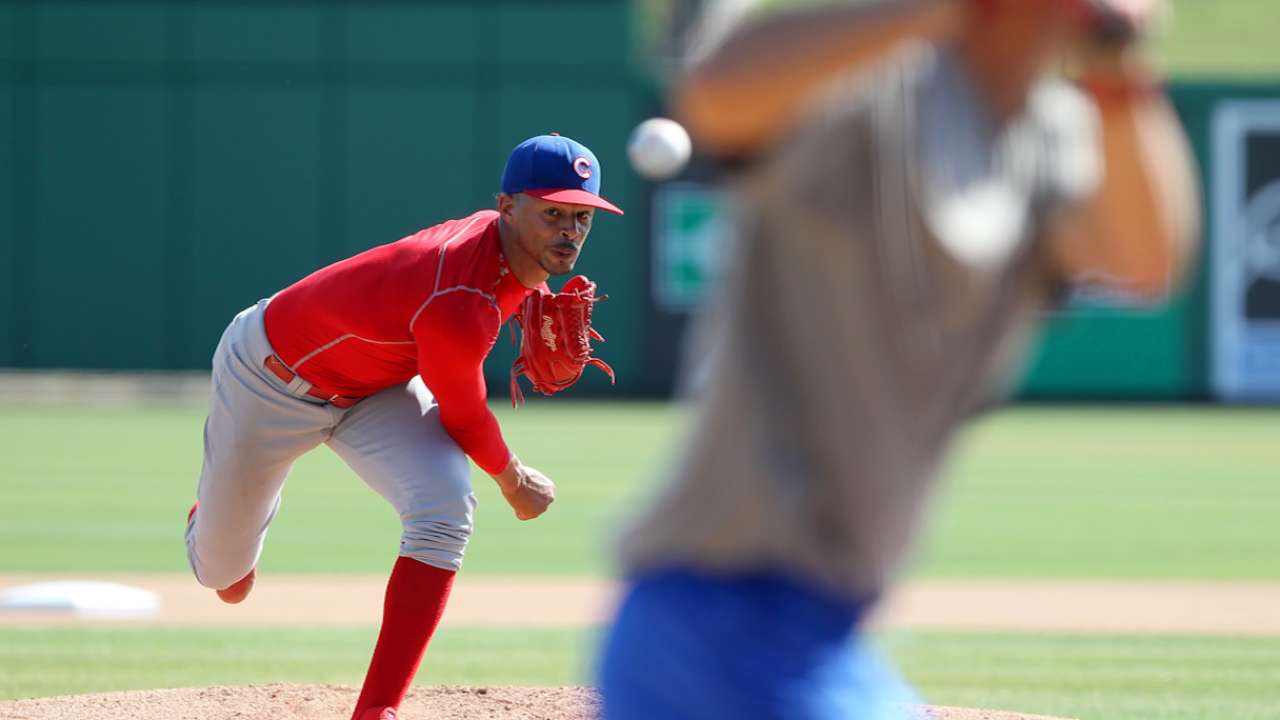 CINCINNATI -- The Reds' latest splurge into the Cuban free-agent market culminated on Wednesday, when the signing of pitcher Vladimir Gutierrez was completed. Gutierrez was at Great American Ball Park on Tuesday for his physical, which he passed before the signing was made official. It is a Minor League contract, and the right-hander will not occupy a spot on the 40-man roster.
MLB.com's Jesse Sanchez reported on Aug. 30, via an industry source, that the Reds and Gutierrez had a $4.75 million deal. Gutierrez, who hails from Pinar del Rio, Cuba, turns 21 on Sept. 18.
"I'm thankful to the Reds for giving me the opportunity to play professional baseball," Gutierrez said inside Cincinnati's clubhouse via translator Julio Morillo. "When I was watching them on TV, I really liked the team. I liked the Reds."
Gutierrez was the Serie Nacional Rookie of the Year during the 2013-14 season. He went 5-5 with a 3.90 ERA that season, primarily pitching out of the bullpen. Gutierrez had a 2.45 ERA as a reliever during the 2014-15 season. He projects to be a starter, but he could also pitch out of the bullpen.
Inactive from competitive pitching since he defected from his professional team during the Caribbean Series in February 2015, in San Juan, Puerto Rico, Gutierrez has been limited to workouts and showcases for Major League clubs. His fastball velocity in Cuba was in the low-to-mid 90s, and he features a plus curveball. Gutierrez was declared a free agent by Major League Baseball on July 7, 2015.
"We've been following him over the past year. His velocity has continued to increase the last three months," said Reds director of international scouting Tony Arias. "At the end, it's been consistently touching 94-97 mph. They've gotten to the point where they had some offers. We believe there is a market correction with the Cuban market because the Dodgers aren't involved in the signings. It seemed like the Dodgers were just signing everybody and throwing around big money."
"I made the adjustments in my mechanics," Gutierrez said. "I keep working with my coach, and that's why my velocity was higher after that."
In accordance with the Collective Bargaining Agreement, each team is allotted a $700,000 base and a bonus pool with four slot values based on the team's record in 2015 for the international signing period, which began on July 2. Cincinnati's overall pool total for this year's signing period is $5,163,400, and the club was already at maximum penalty after exceeding its bonus pool amount by more than 15 percent. As a result, the Reds will not be allowed to sign a player for more than $300,000 during the next two signing periods, and they will have to pay a 100-percent tax on the pool overage.
Overall, Cincinnati has signed 10 international prospects for a total of $19.8 million, including penalties. Cuban infielder Alfredo Rodriguez signed for $7 million in July.
"We knew we were going to keep going if we got Rodriguez done," Reds general manager Dick Williams said. "We don't have the resources to keep going like some teams keep going. If you're going to exceed your cap like the system is currently structured, you want to try to maximize the opportunities to sign players now. We knew there were other ones out there.
"Over the last month, we looked around, and this is the best kid out there right now. It was the best opportunity to add a premier arm. I'd rather put more money into one player than take a shotgun approach."
Mark Sheldon has covered the Reds for MLB.com since 2006, and previously covered the Twins from 2001-05. Follow him on Twitter @m_sheldon and Facebook and listen to his podcast. This story was not subject to the approval of Major League Baseball or its clubs.