Fab 5: Cards homer 5 times, rally in 9th for win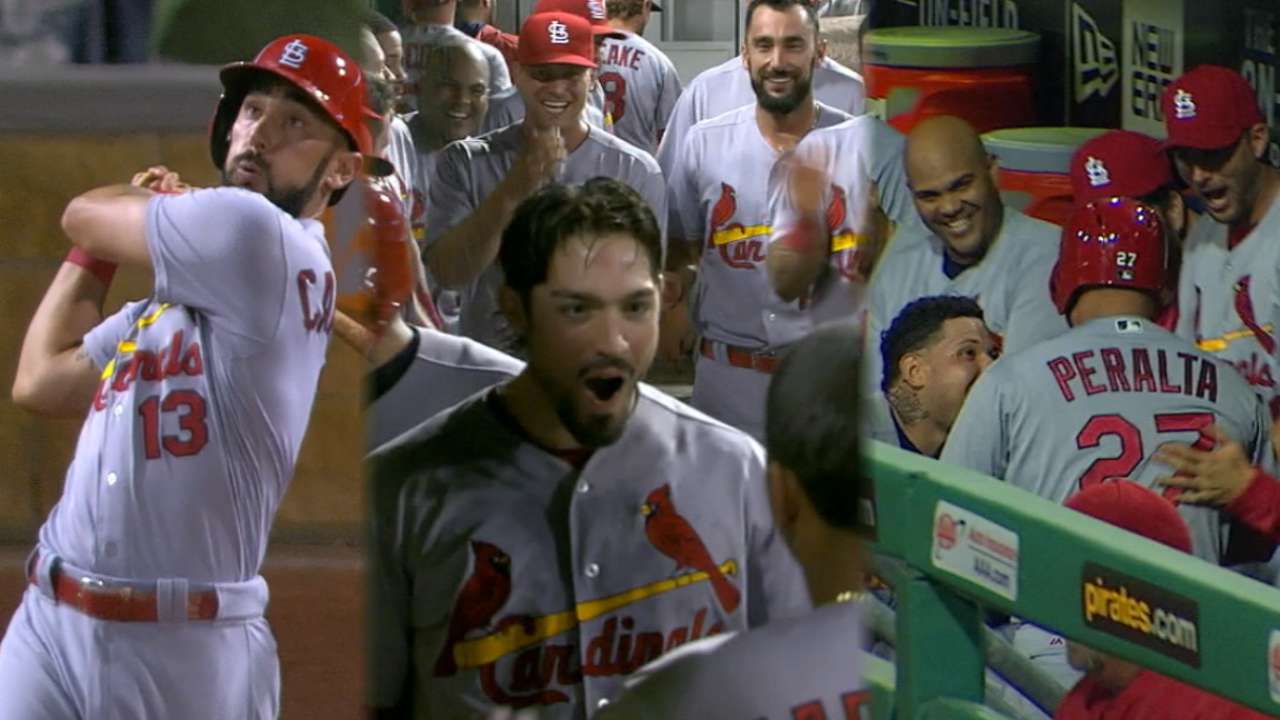 PITTSBURGH -- Down to their last strike, the Cardinals powered their way to an improbable ninth-inning comeback against Pirates closer Tony Watson, crushing three home runs and escaping with a dramatic 9-7 win.
With the Cards trailing by a run with two outs and nobody on in the ninth, Matt Carpenter blasted an 0-2 pitch from Watson to right-center field, tying the game. That shot silenced PNC Park, but it did not stop the Cardinals' rally. Yadier Molina ripped a double to left, then Randal Grichuk launched a two-run homer to left. Jhonny Peralta followed with St. Louis' third homer of the inning and fifth of the game, a solo shot to right-center.
All nine runs the Cardinals scored came via homers. They had last hit three home runs in the ninth inning on Oct. 1, 2006, when Albert Pujols, Chris Duncan and Scott Spiezio went deep in a loss.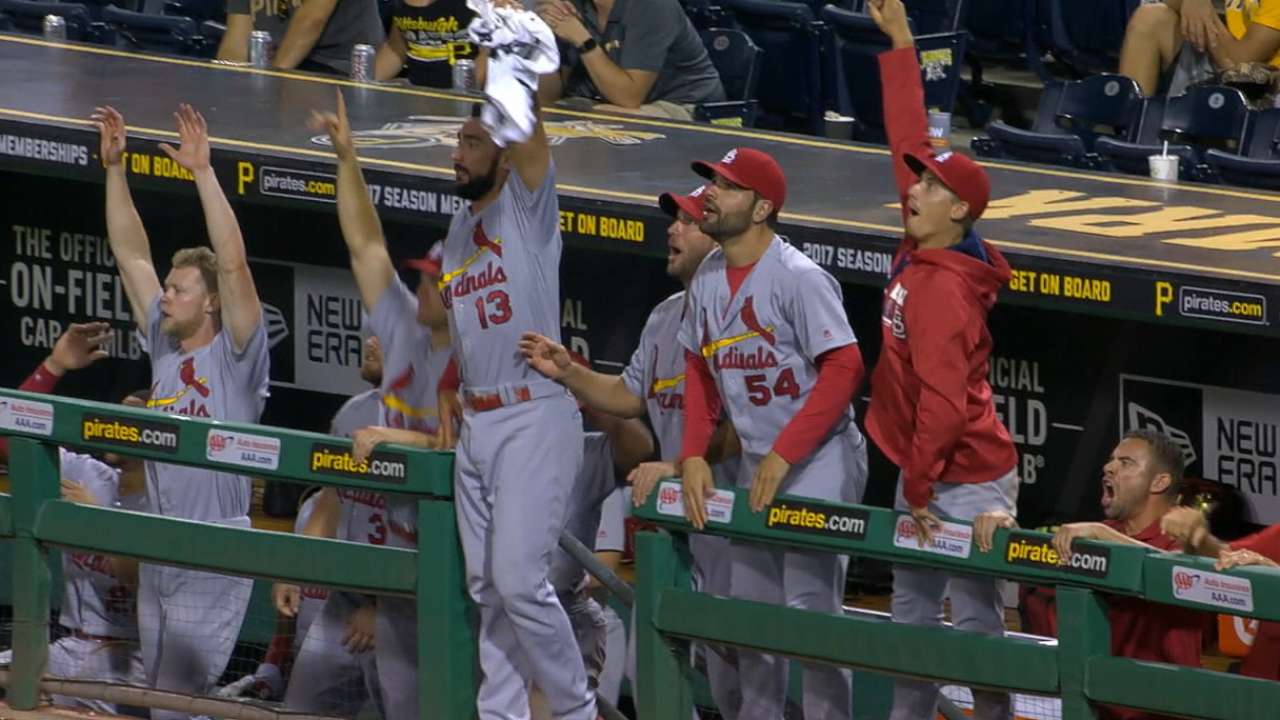 "The home run has been the majority of our runs scored [all season], and we have so many guys who can hit it out of the park," said Grichuk, who has hit 22 of the team's NL-most 201. "It's definitely fun seeing the other team thinking they had it and then taking it away from them."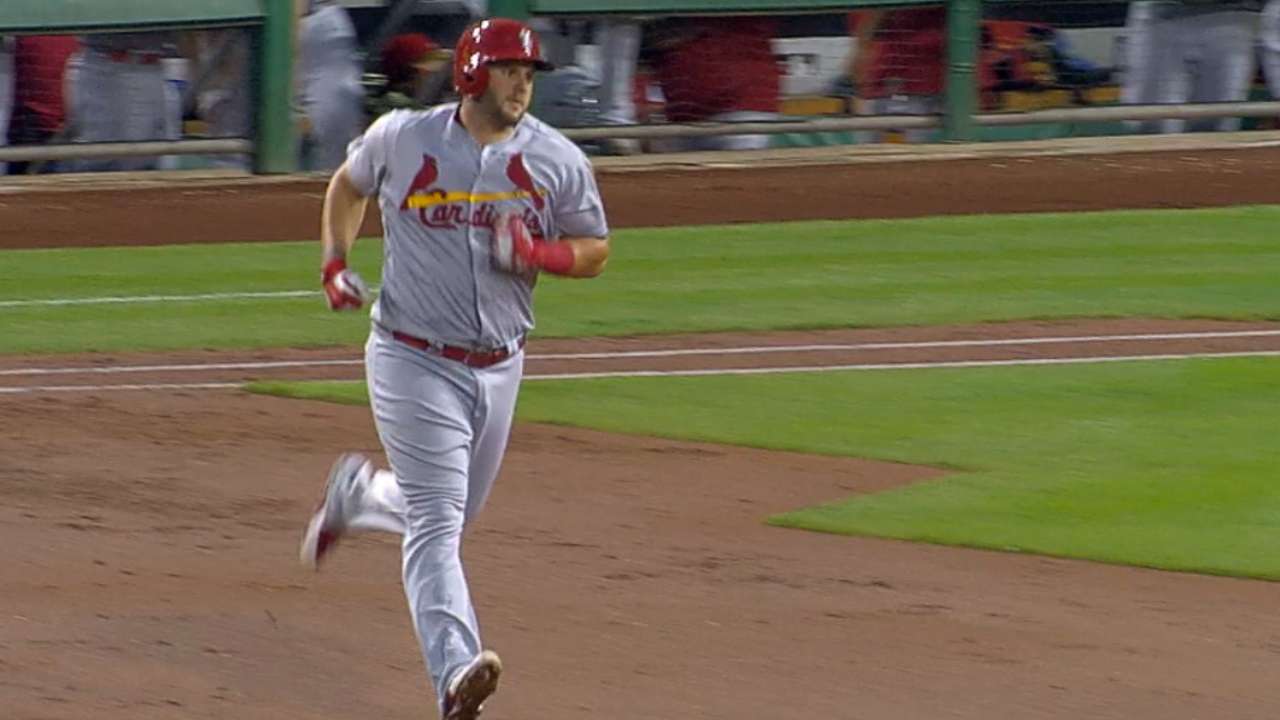 That brought an end to Watson's night and extended the Pirates' ill-timed losing skid to eight games, none of the losses more devastating than this one. Pittsburgh was one strike away from finally turning the tide; instead, the Bucs were left to digest another brutal defeat.
"Left a pitch middle-up, and [Carpenter] drove it. Terrible pitch, one you wish you had back," Watson said. "It [stinks]. It [stinks] to sit here and be the losing pitcher on a night the guys fought back."
Pittsburgh fell two games below .500 on the year and 5 1/2 games behind St. Louis in the National League Wild Card standings. With the Giants beating the Rockies on Tuesday night, the Cardinals remained a half-game behind San Francisco for the top NL Wild Card spot.
"We're going to fight. We're going to keep showing up," Pirates manager Clint Hurdle said. "At the end of the day, Abner [Doubleday] was on to something when he figured out nine for this thing."
The Bucs had put themselves in position to end their skid, overcoming a five-run deficit and entering the ninth inning with a lead. They handed the ball to Watson, who took over the closer's role after Mark Melancon was traded in late July. Watson allowed three homers last season, but the Cardinals matched that in one inning on Tuesday night. The Cardinals finished with their fourth five-homer game of the year.
"I just love how this team competes, I really do. Right down to the last out," said Cardinals manager Mike Matheny, whose team has now won five games when trailing after eight. "It's very rare to see teams consistently do that after they've had the wind taken out of their sails."
MOMENTS THAT MATTERED
In the record books: Down to his final strike, Carpenter not only tied the game with his solo shot off Watson, but he blasted the Cardinals into the record books. While it was the first pinch-hit blast of Carpenter's career, it was the 15th by St. Louis this season. The previous Major League high had been 14, set by the 2001 D-backs and Giants. Eight different Cardinals have contributed a pinch-hit homer this season.
"I credit [hitting coach John] Mabry," Carpenter said of the team's pinch-hit prowess. "That's what he made a living off of, being a pinch-hitter, and he's given a really good approach to our young players who pinch-hit a lot and even us veteran guys who have been around. That approach has stuck with all these guys, and they go up there ready to hit. They put good at-bats together when they get that opportunity, and it's led to a crazy amount of success." More >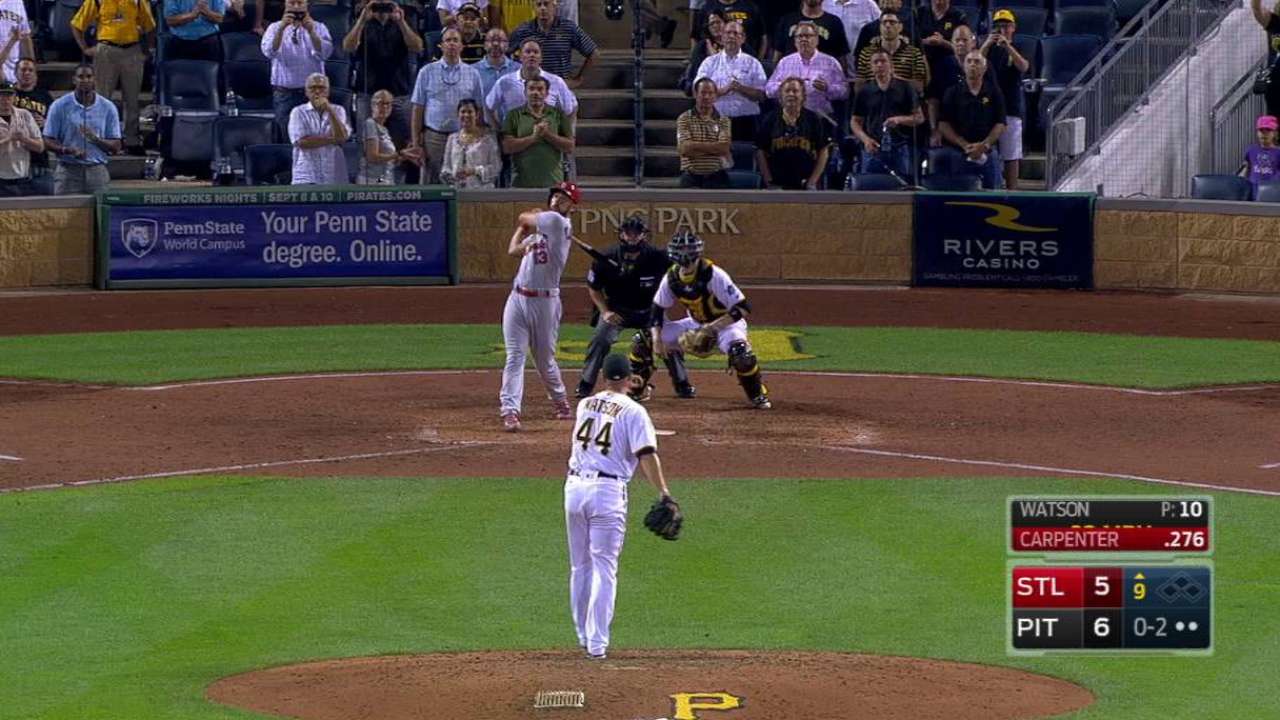 The Kang Show: When Jung Ho Kang came off the disabled list on Monday, the Pirates hoped he could repeat his recent history against the Cardinals. Kang homered twice in St. Louis on May 6, his first game back from an injury, providing Pittsburgh with an instant influx of offense. He did the same in his return to Tuesday's lineup, ripping a solo homer to left -- his 15th of the season -- in the fourth inning, delivering an RBI single in the middle of the Bucs' big fifth-inning rally and homering again in the ninth.
"Holy cow, looks like he's refreshed. Clean on defense as well," Hurdle said. "Every swing he took, he got his swing off with some authority."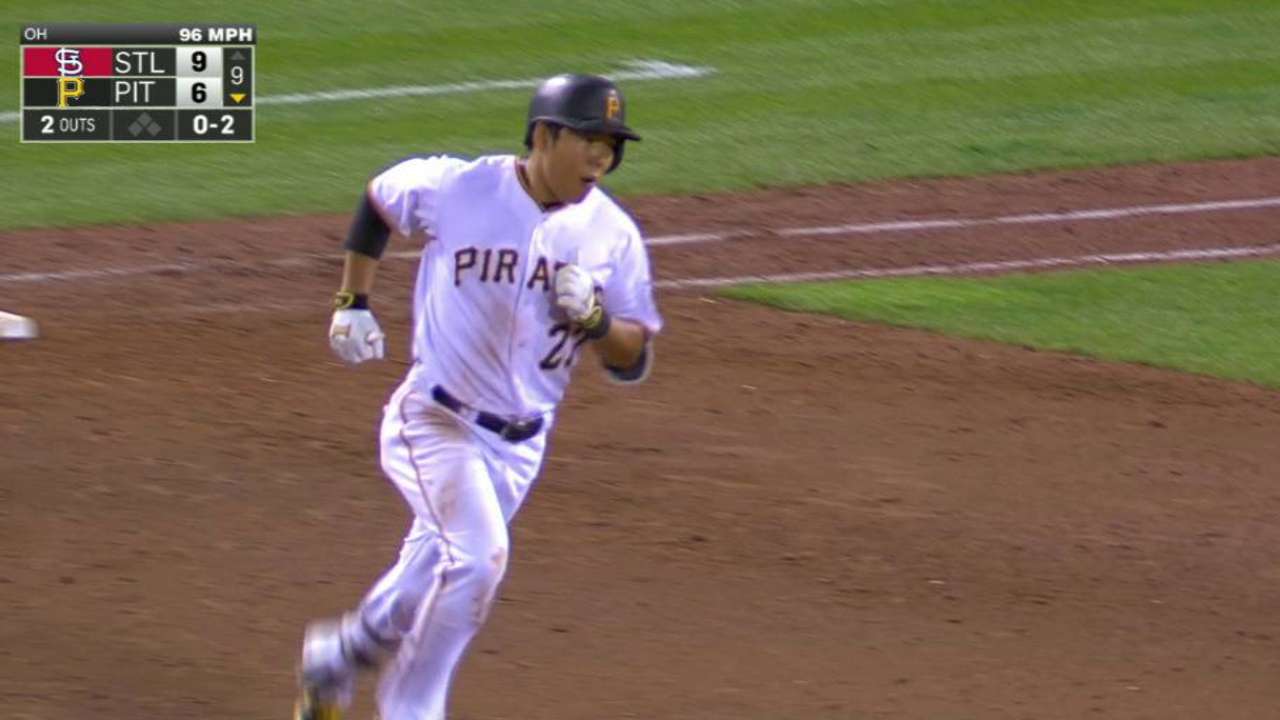 Clear the deck: Molina took advantage of John Jaso's inability to record an out on a weak ground ball by following it with a first-pitch blast into the right-field seats in the first inning. The grand slam set the Cardinals up with a quick lead and also put the club in the record books. Their 25-game home run streak equals the National League record set earlier this year by the Padres. Molina, who now has four career grand slams, has hit three home runs on this road trip.
"I know with [Ryan] Vogelsong, it's going to be in the strike zone," said Molina, who hadn't had a first-pitch home run this season. "I was ready to hit." More >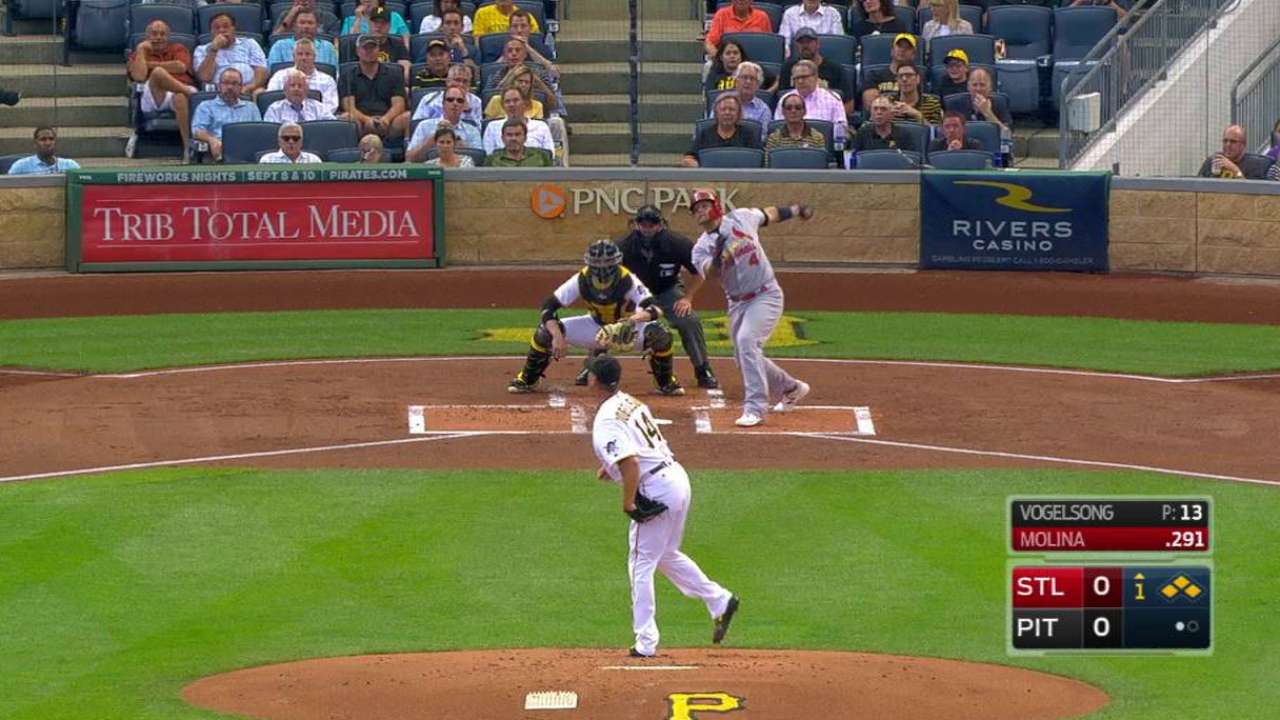 Don't call it a comeback: The Pirates put together a four-run rally in the fifth inning, taking a 6-5 lead on Jordy Mercer's two-run double to left. Had they preserved that edge, it would have been the Bucs' biggest come-from-behind win of the season. They took advantage of two Cardinals errors, and Gregory Polanco drove home their first run with an RBI single to right that snapped an 0-for-18 skid. Kang delivered an RBI single, then Mercer punched what would have stood as the Pirates' biggest hit in a week.
"I don't think we'll get any questions about fight and battle tonight," Hurdle said. "That's what we do. We'll go out there again tomorrow."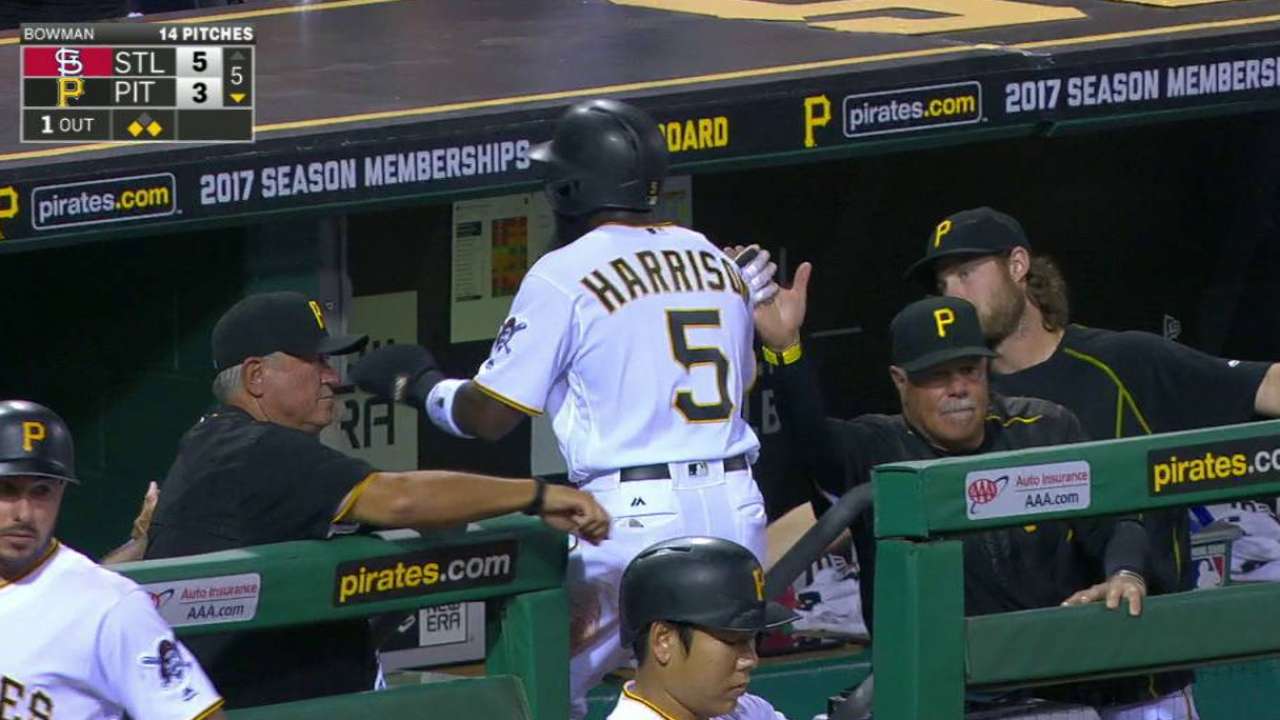 QUOTABLE
"There's no way I'd miss something like that. That's the coolest thing I've been a part of in quite a while. It just shows what this team is made of." -- Cardinals starter Luke Weaver, who returned to the dugout after his four-inning start to watch the finish
"We're not getting the result we want at the end of the night. We'll have to shower well, show up tomorrow, get ready to go again."-- Hurdle
SOUND SMART WITH YOUR FRIENDS
This is the Pirates' longest losing streak since they dropped 10 in a row from July 29-Aug. 7, 2011.
STRONG SECOND IMPRESSION
It seemed an odd choice to turn to rookie callup Mike Mayers in the eighth inning with his team trailing by one, but Matheny explained afterward that he was limited in his bullpen options. Alex Reyes was not available, and Matheny preferred to stay away from Jonathan Broxton and Miguel Socolovich due to their recent workload.
Mayers, who allowed nine runs in a 1 1/3 innings in his only other day in the Majors, responded exceptionally well. With a 1-2-3 inning, he positioned himself to earn his first big league victory.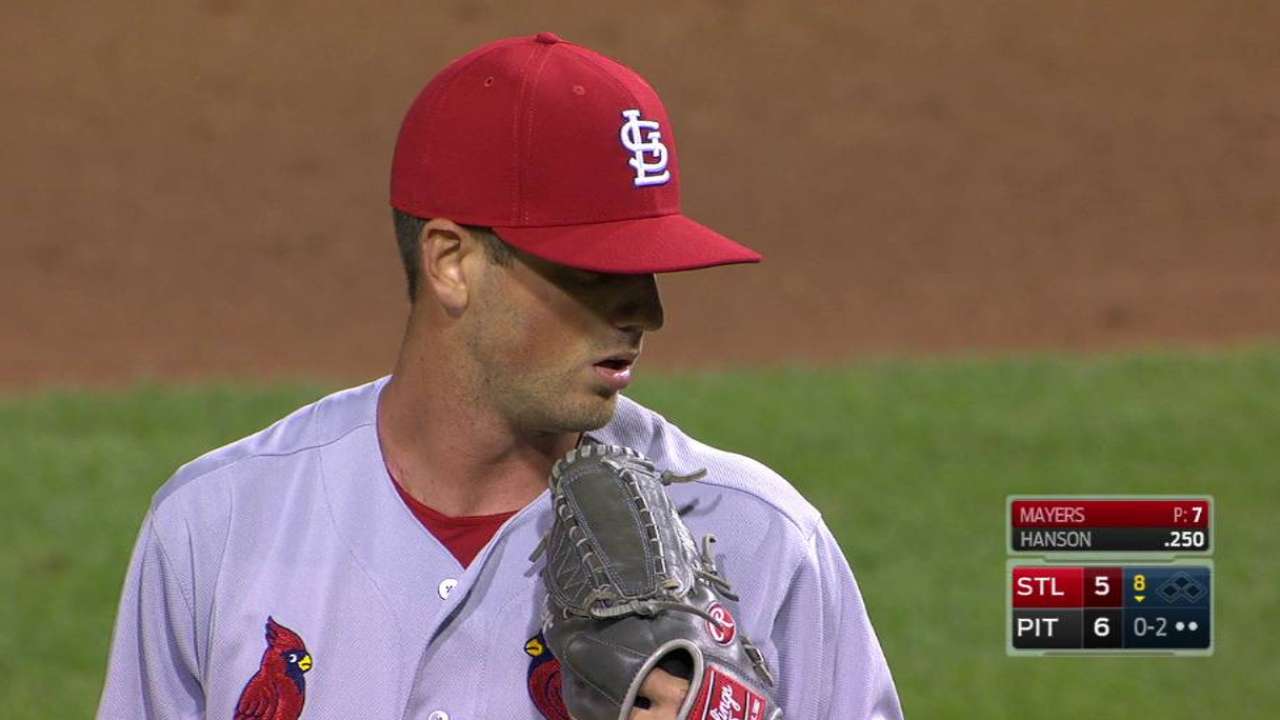 WHAT'S NEXT
Cardinals: The Cardinals will close a 10-day road trip with one final game at PNC Park on Wednesday. Mike Leake, sidelined since Aug. 21 with shingles, will make his return in the series finale, which has a scheduled first pitch of 6:05 p.m. CT. Leake threw seven scoreless innings in his last start but has thrown only once off the mound since then. That came on Sunday, when he completed a 40-pitch bullpen session to convince the Cardinals he was healthy enough to return.
Pirates: Rookie Jameson Taillon will try to stop the Pirates' losing streak when he takes the mound at 7:05 p.m. ET on Wednesday at PNC Park. Taillon has been outstanding in his debut campaign, but the Bucs have done little to reward his efforts. Over his last 10 starts, Taillon has thrown 61 innings with a 2.80 ERA; Pittsburgh has won seven of those 10 starts, but the right-hander carried a 2-3 record during that stretch.
Watch every out-of-market regular-season game live on MLB.TV.
Adam Berry has covered the Pirates for MLB.com since 2015. Follow him on Twitter at @adamdberry.

Jenifer Langosch has covered the Cardinals for MLB.com since 2012, and previously covered the Pirates from 2007-11. Read her blog, follow her on Twitter, like her Facebook page and listen to her podcast.

This story was not subject to the approval of Major League Baseball or its clubs.