Shelton out, Mottola in as Rays hitting coach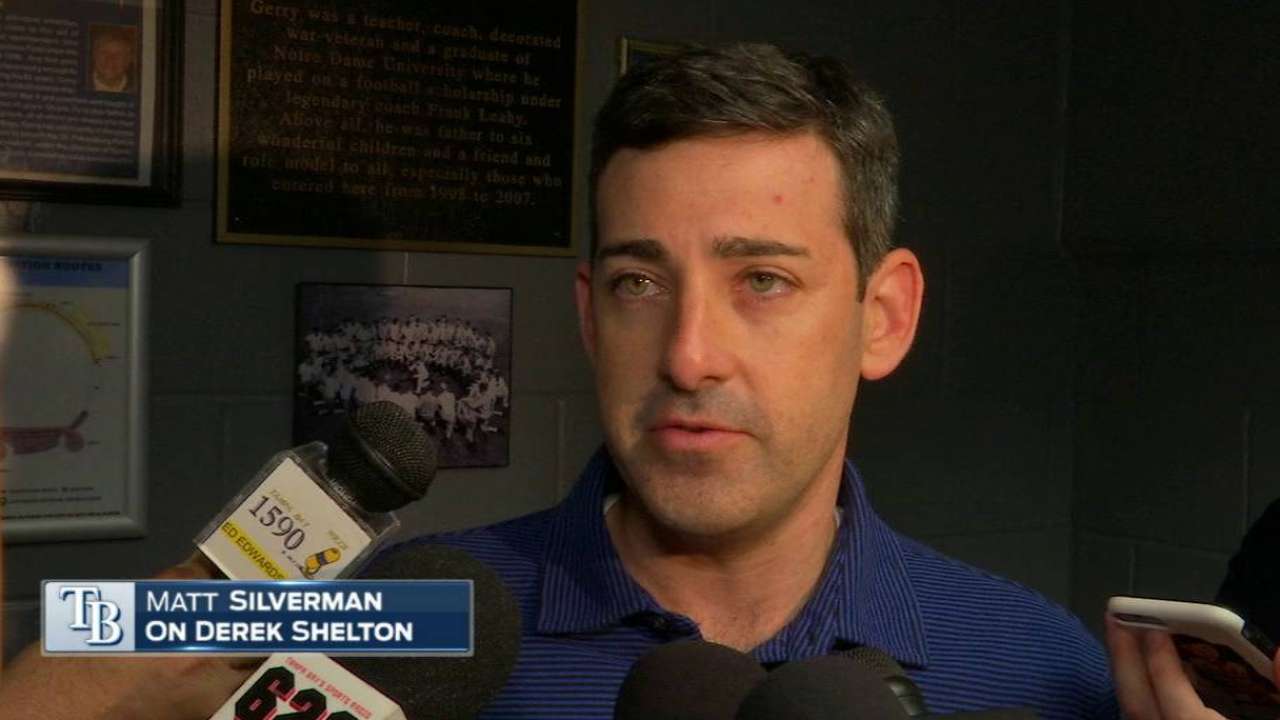 ST. PETERSBURG -- Derek Shelton has been dismissed as the Rays' hitting coach, the team announced on Tuesday. Chad Mottola, who has served as a Minor League hitting coordinator for the past three years, will take over the position.
"It's a difficult decision for the organization. Derek, very well-liked, very well-respected," said Matt Silverman, Rays president of baseball operations. "He's been here a long time and is a big part of our culture.
"At the end of the day, we felt like it was time for a different voice in that chair. Really to give our hitters someone new to speak to. And to see if that is going to be something that can help us going forward."
Silverman explained why the Rays pulled the trigger now instead of waiting until the end of the season.
"This gives Derek a few weeks to get in front of things to start looking for a job," Silverman said. "He's going to get a job. He's going to be very well sought after, no concerns about that. But it also gives Chad a few extra weeks to get to know our hitters even better. To work with them, to get into the rhythm of the season and be better prepared for next year."
Shelton expressed his opinion that the team "is in a better place, offensively, than we've been in a while."
"Just because of the way we've been going," Shelton said. "Especially in the second half of the season. I felt like we were trending the right way, so that was the thing that was the most disheartening about it."
Evan Longoria enjoyed working with Shelton and said he "thought he did great."
"I had a ton of good years with him," Longoria said. "But I understand that business is business, and they want to go in a different direction. So as much as I don't like to see Shelty go, I'm on board with them making a change and wanting to go in a different direction."
Mottola will join the Rays in New York on Thursday, when they begin a four-game series against the Yankees.
"This is really for us about giving someone else a chance to work with our hitters and to see if the results as a team can be better," Silverman said.
Mottola, who turns 45 next month, is the seventh hitting coach in Rays history. Next season will be his 26th season in professional baseball, 10th as a coach or instructor. Mottola spent seven seasons with the Blue Jays organization, including serving as the team's hitting coach in 2013.
"Chad's another high-energy guy," Silverman said. "He's got a strong presence, has good rapport with the hitters, likes to work, not only in the cage, but outside the cage, preparing on the mental side and making sure that these guys can sustain themselves through the ups and downs of the season. We like to promote from inside.
"We know Chad well and thought it was a good opportunity for him given the change that we wanted to make. We're excited about him coming aboard, but he's a known quantity and that's helpful. Especially when we're putting him into a clubhouse that's established."
With seven years at the position, Shelton was the longest-tenured hitting coach in Rays history. He was named to the post on Oct. 21, 2009, after serving the same role for the Indians for five years.
"I think in this profession, probably everybody has a shelf life to it, and Shelty impacted a lot of guys positively," Rays manager Kevin Cash said. "But we felt it was best. Chad being in the organization, knowing a lot of our young players that are getting opportunities right now, and more that are on their way. We like the work that Chad has done, and we're excited that his voice is going to be the one leading us from an offensive standpoint."
Bill Chastain has covered the Rays for MLB.com since 2005. This story was not subject to the approval of Major League Baseball or its clubs.