Duffy shut down, surgery expected this weekend
Rays shortstop aims to be ready for Spring Training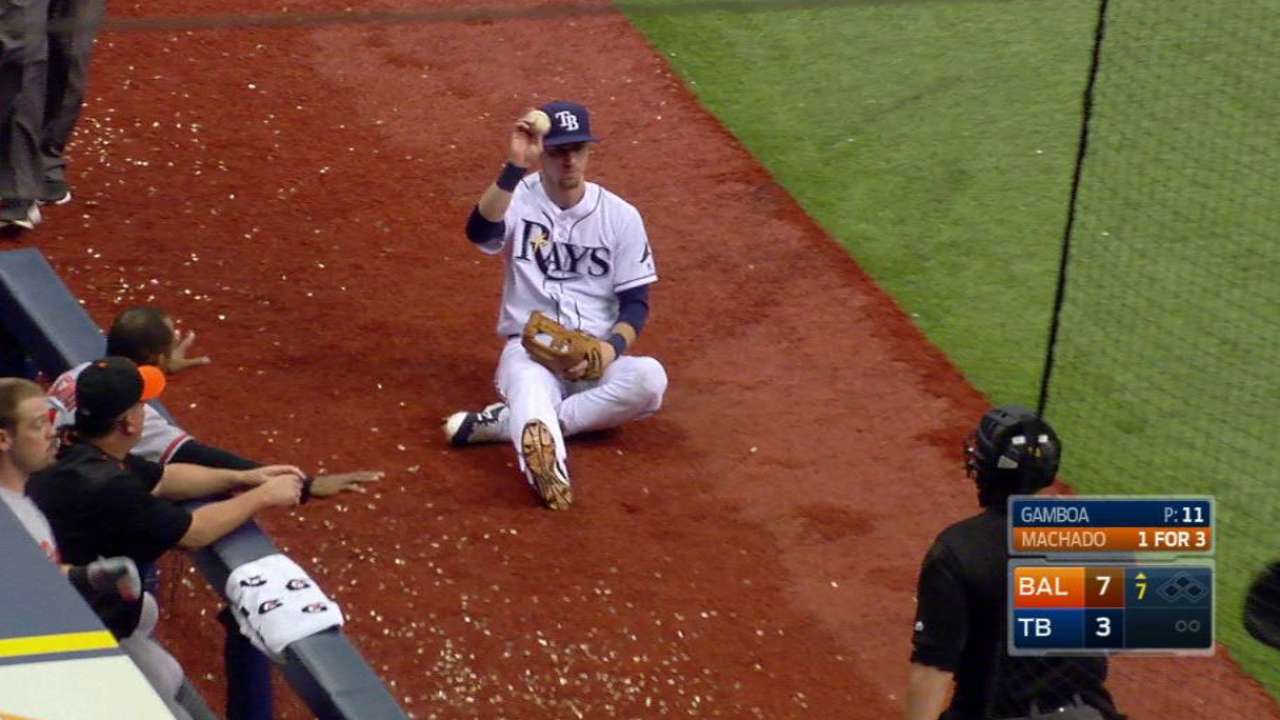 ST. PETERSBURG -- Matt Duffy was shut down for the season on Wednesday and will have season-ending surgery on his sore left Achilles.
The surgery will ideally alleviate pain Duffy has been feeling and allow him to be ready for the start of Spring Training next year. Duffy will not travel to New York for a four-game series against the Yankees that begins Thursday, as originally planned, and will instead go to North Carolina, where the surgery will likely take place this weekend.
"I think this is something that from the beginning was a possibility and something that was highly recommended," Duffy said. "We were going to wait until the end of the season, but where we're at, I think it makes sense to give it a couple of extra weeks to make sure we're 100-percent ready to go come Spring Training."
The shortstop seemed to be favoring the injury more lately, and had seen less playing time. Duffy did not start against the Orioles on Monday, but he did play third base when Evan Longoria had to leave the game after getting hit by a pitch on his right hand. Duffy was in the starting lineup at shortstop on Tuesday night, but he was later scratched.
"When I first came off the [disabled list], I could go three to five days without needing a day off," said Duffy, explaining that is no longer the case. "I think it makes sense to just shut it down and take care of it."
Duffy came to the Rays in the Trade Deadline deal that sent Matt Moore to the Giants. He was on the disabled list at the time with a strained left Achilles.
"I think to get the surgery done, it didn't line up well enough with the doctor to get it done as soon as possible right now," Duffy said. "So up until that point, as far as we've been told, there's no risk. Right now, the thing that's causing the pain is the inflammation.
"It's not the Achilles itself that's causing the problem. I think continuing to get at-bats and continuing to get familiar with Logan [Forsythe] at second [base] and all the guys on the team really is important going into next year. If I can get an extra week of playing with the guys and getting familiar, I think that's something that can be beneficial."
Duffy has played well for Tampa Bay, hitting .276 with a home run and seven RBIs. Brad Miller and Nick Franklin are expected to split time at shortstop in Duffy's absence.
Duffy said that his offseason routine will likely change to accommodate his recovery.
"The first half [of the offseason] is going to be a little different," he said. "I think I'll be in a boot for the first half of the offseason. So I'm not going to be able to start up the leg workouts as early as I usually would. I think the speed work and agility work is definitely going to come a little slower in the offseason.
"I think the second part of the offseason is going to be more like what I'm used to -- maybe a little less intense with the running and speed work. But in terms baseball activity, I've been told I'll be able to do that fully."
Sam Blum is a reporter for MLB.com based in St. Petersburg. This story was not subject to the approval of Major League Baseball or its clubs.