Abreu honored as Clemente Award nominee
White Sox first baseman devoted to helping youth clinics, teams in U.S., Cuba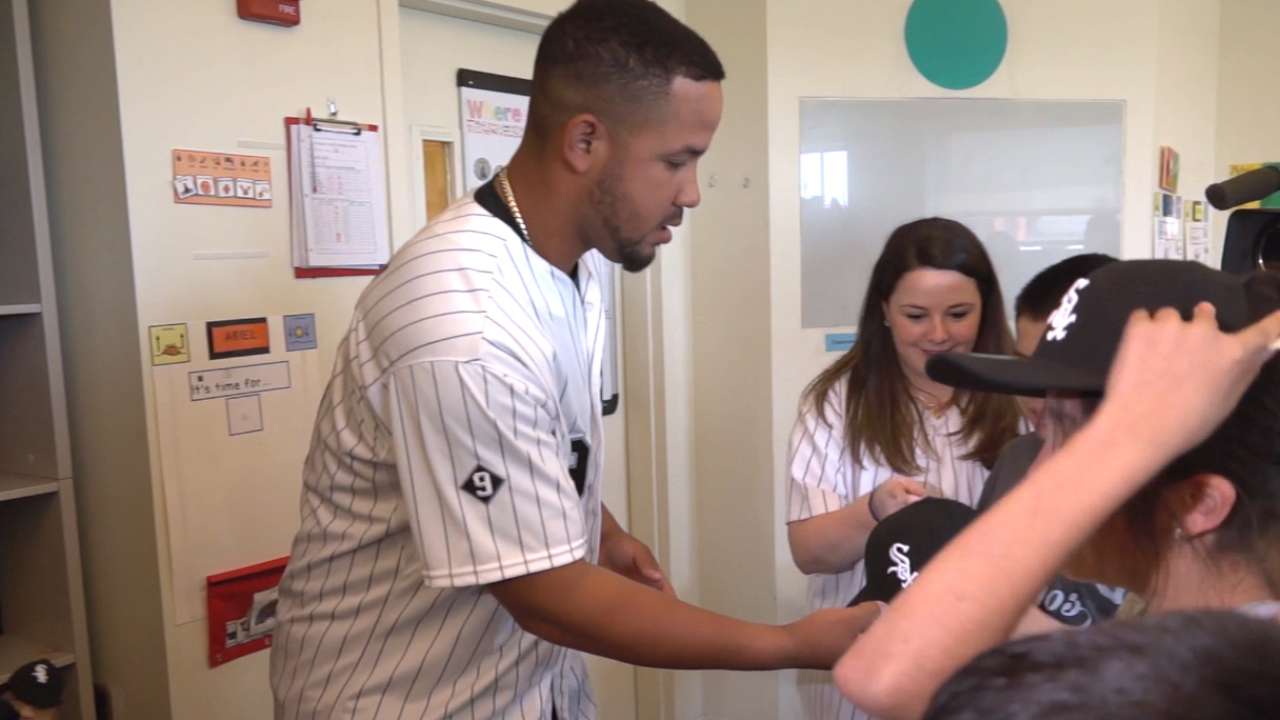 CHICAGO -- One of Jose Abreu's first thoughts after he agreed to a six-year, $68 million deal with the White Sox had nothing to do with on-field success.
"Try to help people," said Abreu, through interpreter Billy Russo. "No matter in this country or in Cuba. But of course once I'm here my priority was to help people here, give something back of all the things I've been given."
Abreu has given White Sox fans numerous positive memories over the past three seasons with his offensive exploits, joining Albert Pujols as the only players with at least 30 homers and 100 RBIs in each of their first two seasons. But the White Sox first baseman has devoted just as much positive energy off the field since joining the White Sox before the 2014 season. Abreu's class and dedication have been rewarded as the White Sox nominee for the 2016 Roberto Clemente Award.
Beginning on Roberto Clemente Day, fans are encouraged to participate in the new process of selecting the winner of the Roberto Clemente Award by posting any nominee's voting hashtags to MLB's official social media accounts, @MLB on Twitter and Facebook.com/MLB. Abreu's hashtag is #VoteAbreu. Voting is underway.
Major League Baseball announced the 30 club nominees on Tuesday for the annual recognition of a player who best represents the game of Baseball through extraordinary character, community involvement, philanthropy and positive contributions, both on and off the field. Each club nominates one player to be considered for the Roberto Clemente Award in tribute to Clemente's achievements and character by recognizing current players who truly understand the value of helping others.
Wednesday marks the 15th annual Roberto Clemente Day, which was established by MLB to honor Clemente's legacy and to officially acknowledge local club nominees of the Roberto Clemente Award. Clubs playing at home on Wednesday will recognize their local nominees as part of Roberto Clemente Day ceremonies. Visiting clubs will honor their nominees before another September home game.
As part of the league-wide celebration, the Roberto Clemente Day logo will appear on the bases and official dugout lineup cards and a special tribute video will be played in ballparks.
The original "Commissioner's Award" for philanthropic service was renamed in 1973 in honor of Clemente, the Hall of Famer and 15-time All-Star, who died in a plane crash on New Year's Eve 1972 while attempting to deliver supplies to earthquake victims in Nicaragua.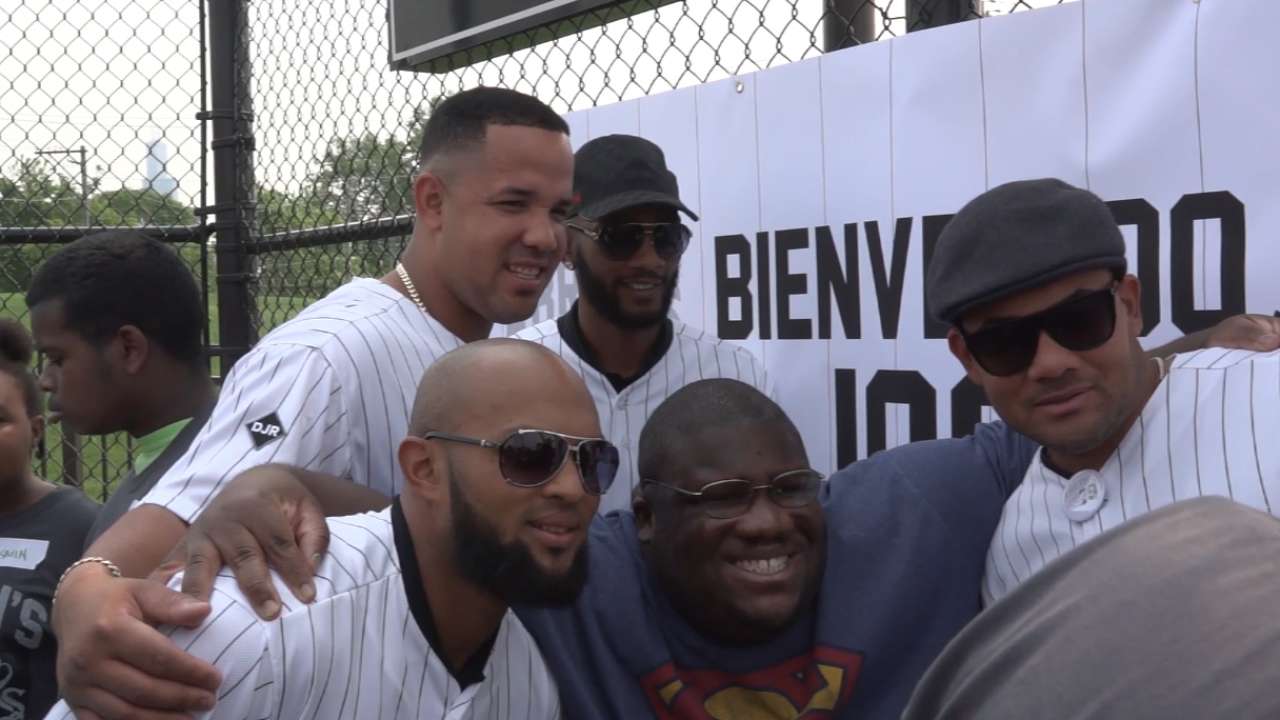 Since joining the White Sox, the 29-year-old launched "Abreu's Amigos." It's a community program with the Easter Seals Metropolitan Chicago Therapeutic School and Center for Autism Research that started last season. The program began with a special event at the school and included four group outings to U.S. Cellular, per the White Sox nomination of Abreu, where Easter Seals students enjoyed a game and had the opportunity to develop social skills in a recreational setting.
Abreu also provided financial support to the program by donating $10,000 prior to a baseball clinic at the school's White Sox Field in June. "Abreu's Amigos" has continued this year, with group outings scheduled throughout the 2016 season.
A bobblehead made in Abreu's likeness, in partnership with White Sox Charities, raised nearly $70,000 in a fundraising campaign. Proceeds benefitted White Sox Charities and Abreu's Amigos.
Abreu sponsored Los Habaneros -- a 12U Cuban Little League team -- for a trip to compete in the Disney International Salute to Baseball tournament. It was the first team of Cuban children to receive visas to enter the U.S. in nearly three decades. The team visited U.S. Cellular and met Abreu during a Crosstown Cup competition with the Cubs. Abreu took part in a youth clinic this past offseason in his native Cuba during Major League Baseball's goodwill trip to the country.
At that point, Abreu reconnected with his young son, Dariel, who he hadn't seen in-person since Abreu came to the United States. Dariel was able to join his father in August during this season and has a five-year visa to continue making visits. Abreu gave credit to White Sox senior vice president, communications Scott Reifert, who gave him the resources to help other people.
It was his mother, Daisy, who educated Abreu of the importance in lending a helping hand.
"I'm very happy and excited about this nomination," Abreu said. "It means a lot for me because everybody knows who Roberto Clemente was. I want to thank the White Sox and all the people who have been involved in my charity actions and in the community. That's something that I really appreciate."
Scott Merkin has covered the White Sox for MLB.com since 2003. Read his blog, Merk's Works, follow him on Twitter @scottmerkin, on Facebook and listen to his podcast. This story was not subject to the approval of Major League Baseball or its clubs.