Seattle's righty hitters find success vs. southpaw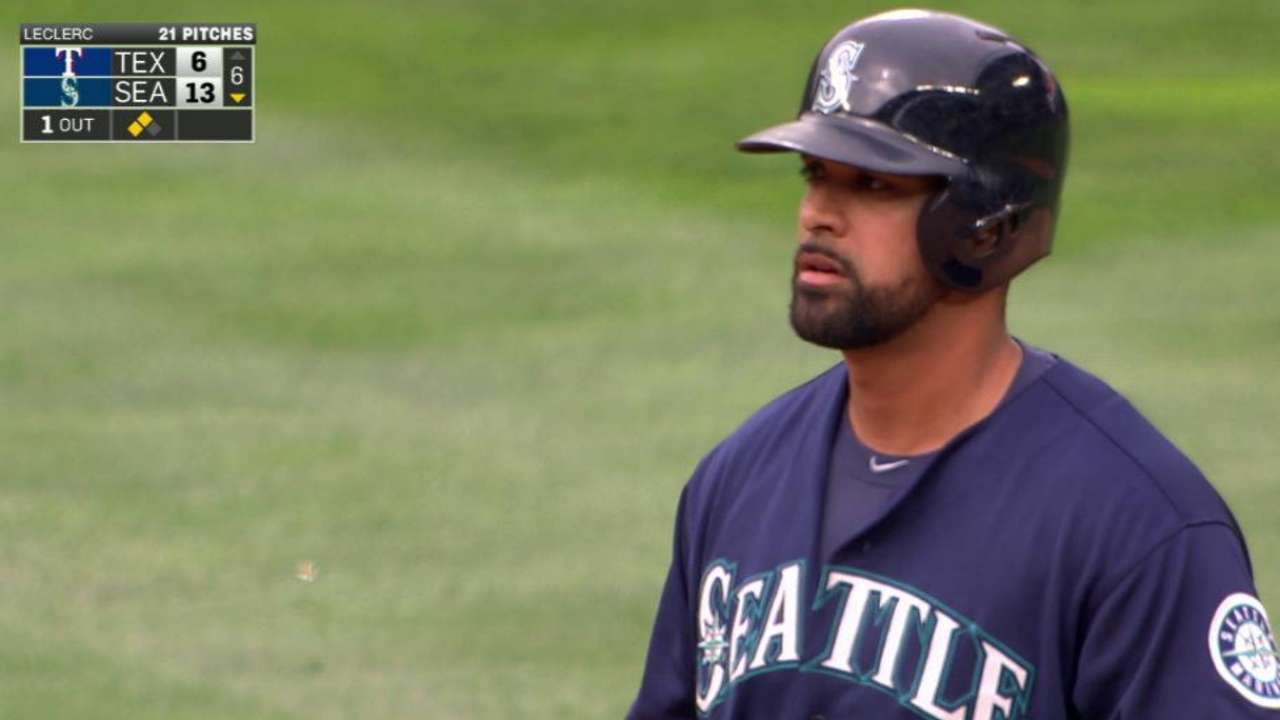 SEATTLE -- Franklin Gutierrez knows his role is to help balance the Mariners' lineup when they face left-handed pitching. So yeah, the veteran outfielder takes it personally that the team has struggled against southpaws so much this season.
But on Monday, he and fellow right-handed platooners Dae-Ho Lee and Guillermo Heredia helped overpower Rangers left-handed ace Cole Hamels in a 14-6 runaway win at Safeco Field that -- for the moment at least -- took a little of the sting out of a three-game sweep in Texas last week.
"Yeah man, it's not a secret that we're not having very good success against left-handed pitchers," Gutierrez said after going 3-for-4 with four RBIs. "And the teams we're playing right now know that, and they're throwing all the lefties they can. So it is important for us to do our job and get on base, drive in some runs and play a good game."
The Mariners did it well enough in this one to knock Hamels out after just 1 2/3 innings, the second-shortest start of his career, to improve their record against left-handed starters to 22-31.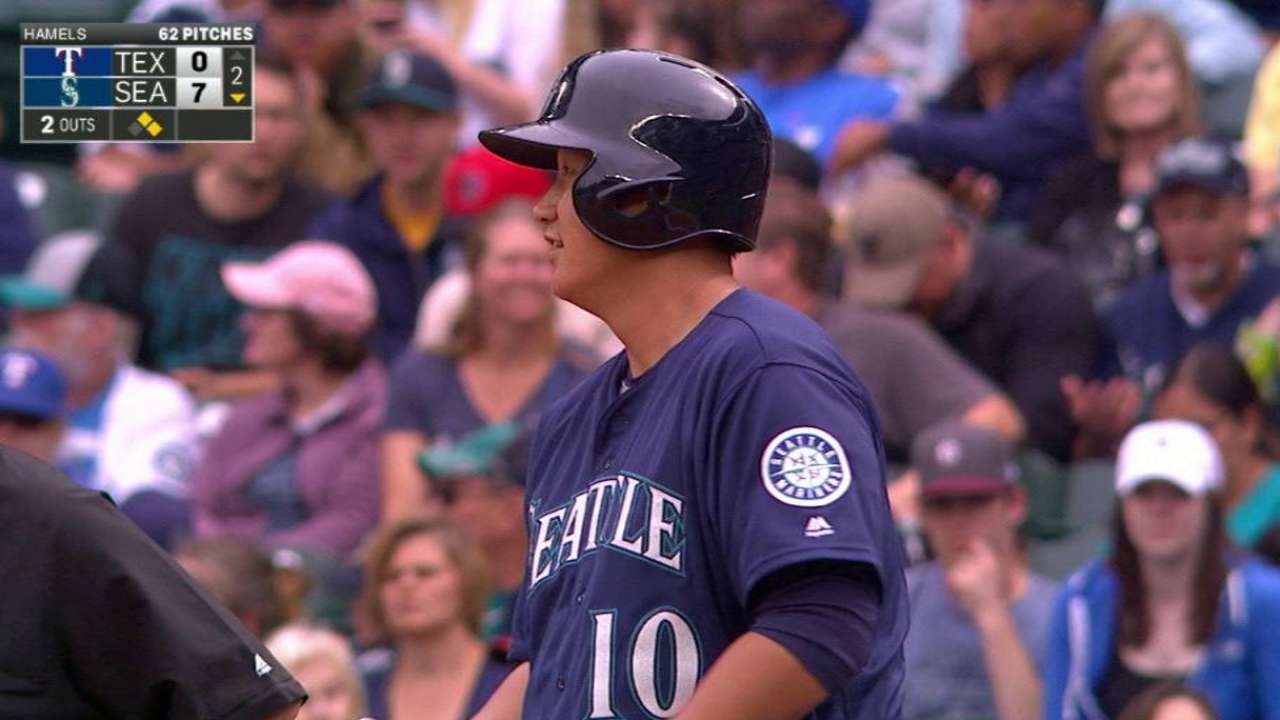 Seattle still sits five games back in the American League Wild Card race at 70-67, thanks to a 2-10 stretch prior to this Labor Day revival, but Gutierrez says it's not over yet.
"I'll tell you what. We're going to fight until the end," said the 33-year-old Venezuelan. "We're going to play this team three more games, then we're going to play L.A. [Angels] and Oakland. So it's pretty much all the teams in our division. We're going to fight until the end and see what happens down to the last game."
Gutierrez knows a little about fighting back. He sat out all of 2014 while dealing with his Ankylosing Spondylitis nerve condition, and he continues to deal with it on a regular basis. Now he's fought back from a slow start this season and has hit .458 (11-for-24) with three home runs and 10 RBIs over his last eight games to put him at .257 with 14 homers and 39 RBIs on the year.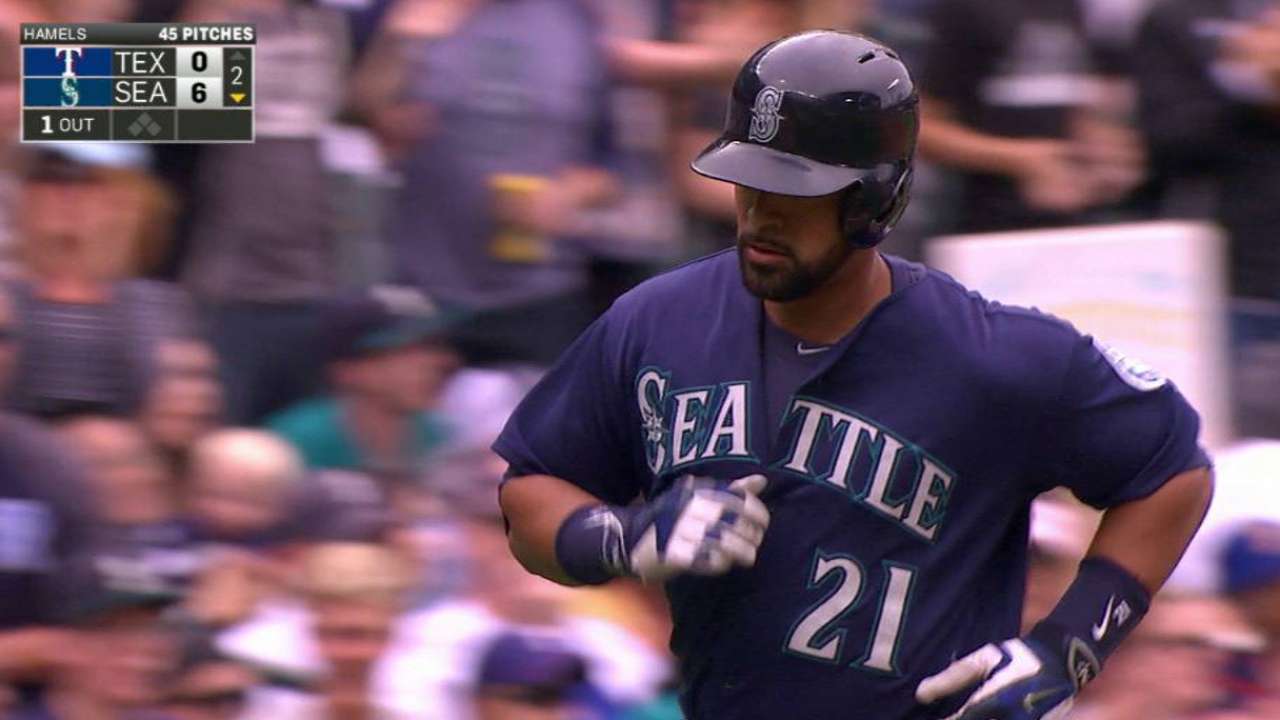 "Guti has certainly stepped up," manager Scott Servais said. "He's probably been our hottest guy over the last week to 10 days against the lefties, with power, good at-bats, driving in runs. It's really key. I'm happy for him. It's hard for him to go through everything he's got going physically. He knows when he's going to play, he knows when those lefties are out there, and he's prepared very well for it."
The Mariners also got a pair of run-scoring singles by Lee against Hamels, and the big first baseman finished with three RBIs, while Heredia opened the game with a nine-pitch walk and wound up walking twice and scoring two runs. It all added up to a victory for Felix Hernandez on a day he gave up five runs in one inning himself.
"We were able to get some runs early for Felix, which is kind of a luxury for him," said Kyle Seager, who chipped in with a hit, two walks and two runs of his own. "We don't really do that too often, so that was nice.
"Hamels is really good. [Hitting coach Edgar Martinez] has given us a pretty good game plan going into each of the last two games [against Hamels], and we just tried to work him a little bit, get some walks and then some really big hits. Heredia obviously got us going and Dae-Ho had a couple knocks on him and Guti got into it. It was a good all-around win for us."
Greg Johns has covered the Mariners since 1997, and for MLB.com since 2011. Follow him on Twitter @GregJohnsMLB and listen to his podcast. This story was not subject to the approval of Major League Baseball or its clubs.