New dad Sucre caps weekend with career day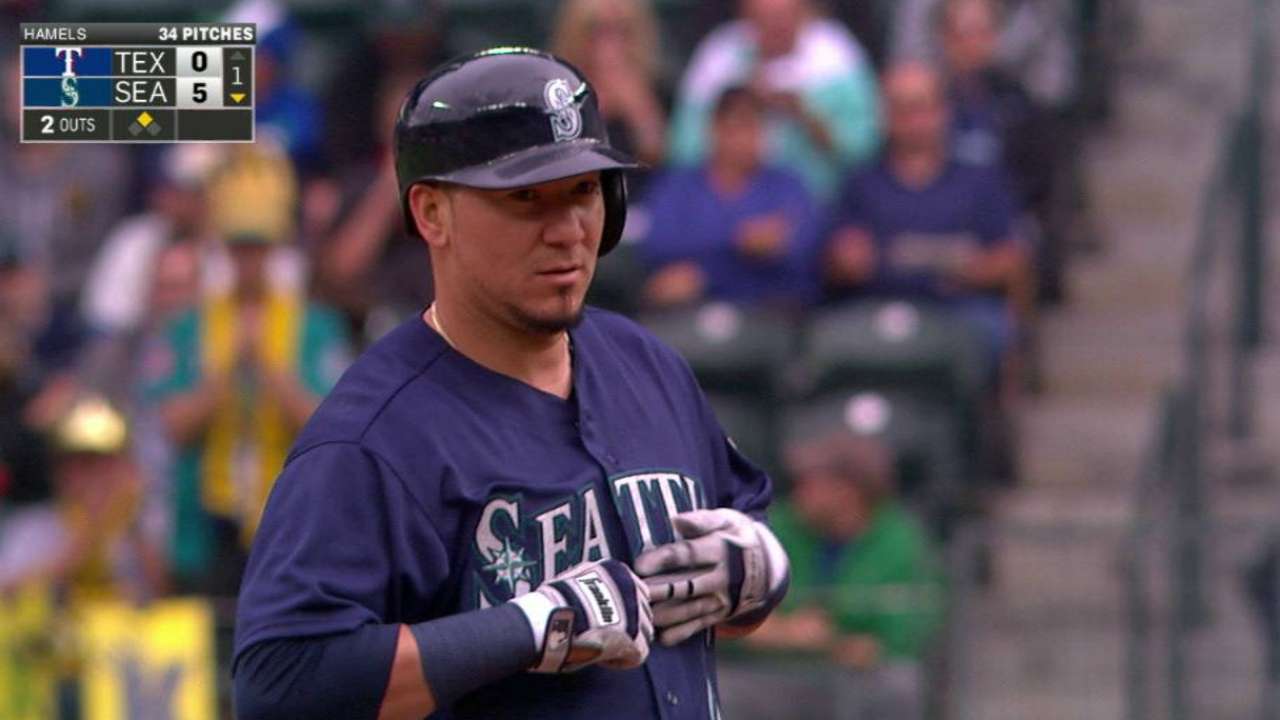 SEATTLE -- No one had a better weekend than Jesus Sucre. The Mariners' third-string catcher was present for the birth of his new baby girl, returned to the big leagues, went 3-for-3 with two RBIs and was awarded with the "Swelmet" for the very first time. All in a span of four days.
"I'm not going to lie, this weekend has been really nice to me," Sucre said.
Of course the birth of his daughter trumped all the baseball-related joy, but the backstop was impressive in Seattle's 14-6 win over Texas on Monday. Sucre had a career-high-tying three hits in his first game since being recalled from Triple-A Tacoma on Friday. All three hits were line-drive singles up the middle.
"I know he and Felix [Hernandez] have worked together in the past," manager Scott Servais said. "That was the thought there: Let's try to get Felix in the comfort zone. I said to somebody earlier today, 'You never know, he might get a couple hits.' Sure enough he did."
Sucre went into Monday's game with a .176 career batting average and just one hit in eight at-bats this season. He raised his batting average from .125 to .364 on Monday.
Sucre was improving at Triple-A as well. With a more upright stance, Sucre had begun to see success at the plate, batting .357 in his last eight games with Tacoma. The change in mechanics, as well as insight provided by hitting coach Edgar Martinez into Rangers starting pitcher Cole Hamel's approach on the mound, made for a great night at the plate.
"Now I get tall," Sucre said. "And I can recognize offspeed pitches, and it's better."
Maddie Lee is a reporter for MLB.com based in Seattle. This story was not subject to the approval of Major League Baseball or its clubs.