Nerves get to Alcantara during shaky debut
Right-hander allows five runs over three innings in first big league start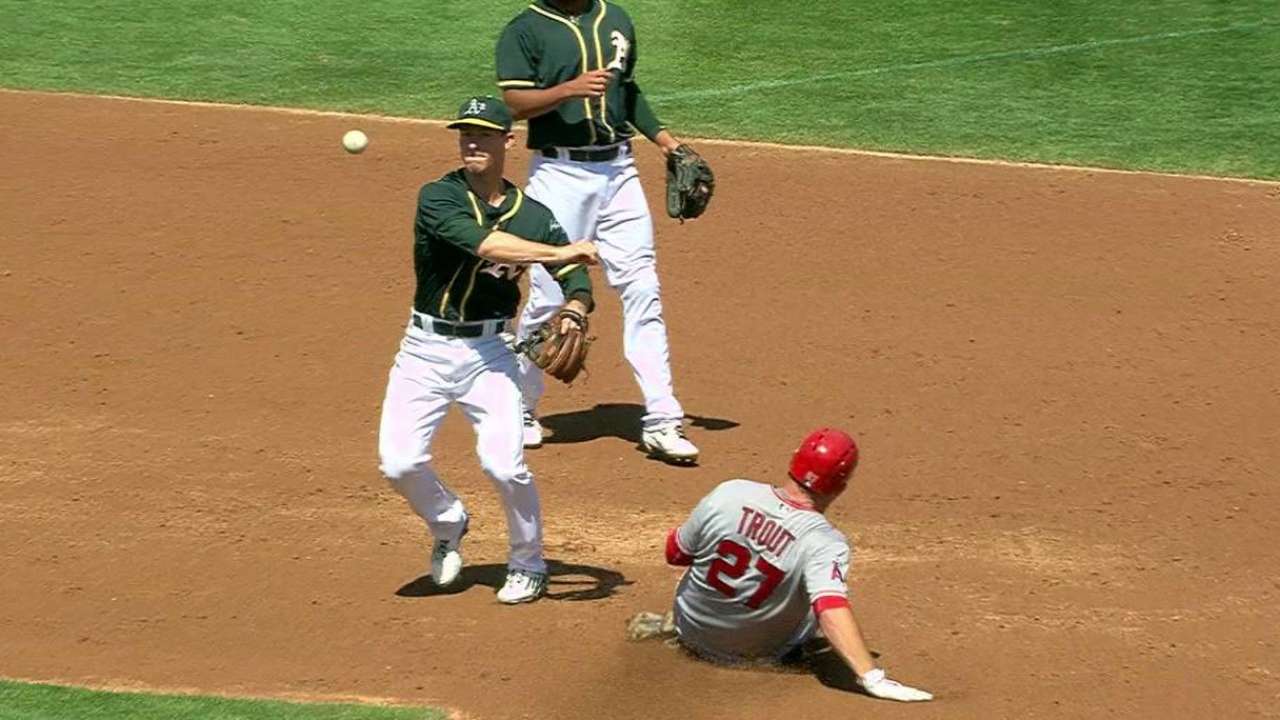 OAKLAND -- Raul Alcantara's big league debut went awry Monday afternoon, proving much too short for a fair evaluation.
Alcantara was undoubtedly overwhelmed by his new surroundings, plunking the second batter he faced. The 23-year-old would proceed to hit another by inning's end and three by the time he exited the game after only three innings.
The Angels led by five runs when he was done, never surrendering the lead despite Oakland's best efforts in a 10-7 A's loss.
Alcantara gave up five hits, including a home run to Kole Calhoun, and was also charged with a balk that set up a sacrifice fly in the third, only adding to an already messy scene.
It was seemingly uncharacteristic of the rookie pitcher, who walked only three batters in 45 2/3 innings with Triple-A Nashville, where he compiled a 1.18 ERA in eight starts ahead of his promotion.
"I think it wasn't me," Alcantara said, with Alex Arpiza interpreting. "I'm not used to pitching that way."
"You hit a guy, then you hit another guy, you just get a little bit spooked," A's manager Bob Melvin said, "but toward the end of his outing we saw the stuff that we think we're going to see, and he got better as he went along. Sometimes nerves hit you in your first outing, especially when a couple of things transpire."
Alcantara didn't admit to such nerves, but he did say he was trying to make "perfect pitches."
"I just spent three weeks with the Nashville team and saw him pitch a few times, and one of the best things about him is his control and his ability to move the ball around the strike zone with different pitches," A's reliever Sean Doolittle said. "Maybe nerves got to him a little bit today, but he's an exciting young guy, so now that he's got one under his belt, hopefully next time he can relax and settle in a bit better."
The right-hander was brought to the A's with Josh Reddick in the 2011 trade that sent reliever Andrew Bailey -- who coincidentally notched the save for Los Angeles on Monday -- and outfielder Ryan Sweeney to Boston. Tommy John surgery forced him to the sidelines in 2014 and, after returning in 2015, it was far from a sure thing he'd get his opportunity as soon as this year, having pitched to a 4.88 ERA in 17 starts at Double-A to begin the season.
Alcantara had his wife and two-month-old son in the stands to celebrate the occasion.
"It's something great," he said. "I didn't expect to be here so fast. I didn't have the greatest year in Double-A but went to Triple-A, and I'm glad I'm here now."
"That's a tough lineup he has to face for his first Major League start, and when some things happen in the first couple innings, it can rattle you a little bit, but we saw the stuff, especially in the third," Melvin said. "I expect next time, with his nerves a little bit more under control, it will be a lot better."
Worth Noting
• The A's claimed right-hander Donn Roach off waivers from the Tigers on Monday. Roach, who has a 5.77 ERA in 21 big league appearances (two starts), will report to Triple-A Nashville.
Jane Lee has covered the A's for MLB.com since 2010. Follow her on Twitter @JaneMLB. This story was not subject to the approval of Major League Baseball or its clubs.