Mariners remain thorn in Hamels' side
Lefty allows 7 runs in 1 2/3 innings in 2nd straight rough start vs. Seattle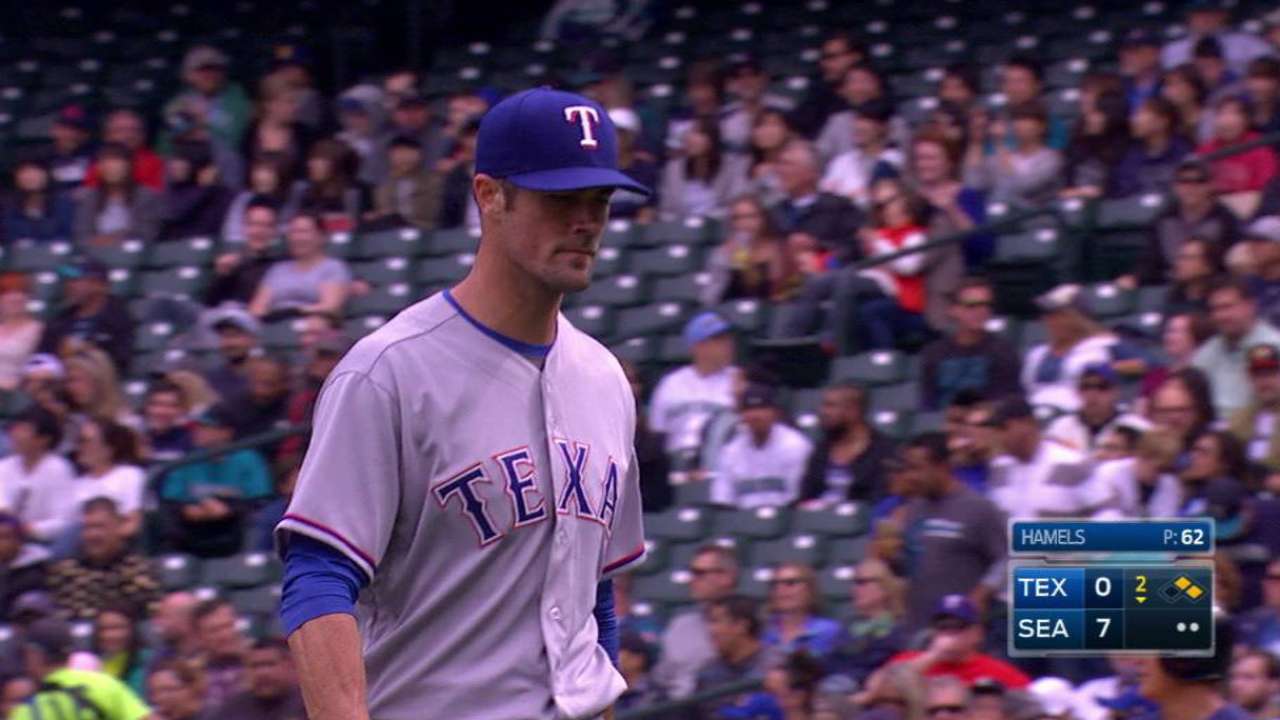 SEATTLE -- A week ago, Rangers starter Cole Hamels was starting to get serious and well-deserved consideration for the American League Cy Young Award. That was before he ran into the Mariners.
Hamels had his second straight rough start against them, allowing seven runs in just 1 2/3 innings in a 14-6 loss to the Mariners on Monday afternoon at Safeco Field. The Rangers have lost two straight and sit 8 1/2 games in front of the Astros in the American League West.
"I understand what we're trying to accomplish," Hamels said. "It's more of a disappointing feeling not giving the team a chance to win, especially when we are putting runs on the board."
Hamels has allowed 13 runs in his last four innings, all against the Mariners. He started against them last Tuesday in Arlington and began the night by retiring 10 of the first 11 batters he faced. But the Mariners scored two runs in the fourth inning and four in the fifth as he allowed 10 of 14 batters reach base.
On Monday he allowed 10 of 15 batters to reach base. Combined over the last four innings, Hamels has allowed 13 hits and seven walks.
"Playing the same team twice, it does happen," Hamels said. "It's a matter of not executing pitches. They're definitely getting into hitter-friendly counts. That's a credit to their game plan, but for me, it was throwing too many pitches over the plate."
Hamels had two bad starts in a row on July 3 and July 8 against the Twins, allowing a combined 10 runs on 15 hits and nine walks over 8 1/3 innings. Back then, he was dealing with a blister. Right now Hamels is not reporting any physical issues.
"I feel good," Hamels said. "It's just the disappointment of not doing what I'm capable of doing. Sometimes it happens, but you never want it to happen."
The Rangers also don't think Hamels is tipping his pitches, which might explain the turnaround in the Mariners' success against him.
"We'll continue to look at it and gather knowledge," manager Jeff Banister said. "But when you look at the video, the balls are in the middle part of the plate. They are not hitting pitcher's pitches."
Hamels is still 14-5 with a 3.25 ERA overall, with as many as five regular-season starts left. This was the second shortest outing for Hamels in his career, and he gave up five runs in the first inning, the first time that has happened to him.
"Today was a situation where he didn't get the quality of strikes he wanted," Banister said. "I don't think it was a rhythm issue, he just didn't get it on the edges in his swing and miss zone, which he is accustomed to doing. He missed over the plate."
The first inning started with a walk to Guillermo Heredia. Hamels struck out Franklin Gutierrez before Robinson Cano put the Mariners ahead with a two-run home run. It's only the fourth home run by a left-handed hitter off Hamels this year, including two in an Opening Day start against the Mariners by Cano and Kyle Seager. Since then, Hamels had allowed just one home run in 121 at-bats against left-handers until Cano took him deep.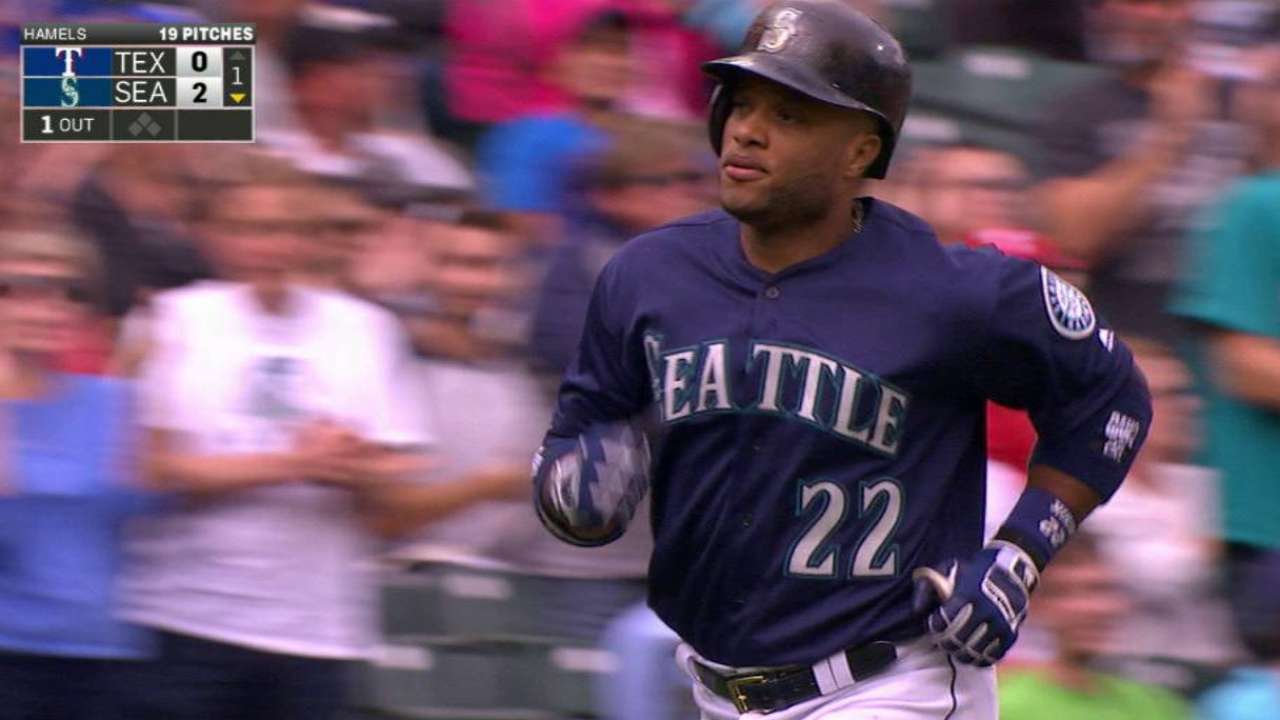 After Nelson Cruz grounded out, Hamels put himself in more trouble with a walk to Seager, followed by a single by Dae-Ho Lee, a run-scoring double by Leonys Martin and a two-run single by Jesus Sucre.
Hamels struck out Ketel Marte to end the inning, but ran into more trouble in the second. Gutierrez hit a one-out home run, then Cano singled and scored on a two-out walk to Seager and a single by Lee. That brought Hamels' day to an end.
"I have a couple of days to figure it out, get back to normal and attacking the zone," Hamels said.
T.R. Sullivan has covered the Rangers since 1989, and for MLB.com since 2006. Follow him on Twitter @Sullivan_Ranger and listen to his podcast. This story was not subject to the approval of Major League Baseball or its clubs.