Backups' bats come up big for Nationals
With group of regulars getting day off, bench players deliver
WASHINGTON -- Only hours after getting to bed at 4 a.m. Monday following a train home from New York, Dusty Baker had to fill out a fresh lineup card. When the manager considered the Nationals' big lead in the National League East, the grind his players have been through in recent weeks and the quick turnaround following Washington's loss to the Mets on Sunday night, he decided to give some of his regulars a day off.
So Bryce Harper, Daniel Murphy, Wilson Ramos, Jayson Werth and Ryan Zimmerman all sat, replaced by a bench mob of Brian Goodwin, Ben Revere, Jose Lobaton, Chris Heisey and Clint Robinson. The result? A 6-4 Nationals win that featured numerous backups playing major roles.
The five fill-ins combined to go 5-for-18 on the day, with two walks, three runs scored and three RBIs.
"That's what they're here for," Baker said. "I've always said you can't win with just your regulars. You've got to get those other guys some opportunities to play. We feel very confident, especially for a short period of time, that those guys can do the job."
The substitutes played an especially key role in Washington's five-run third inning. Lobaton singled to lead off the frame and eventually came around to score. Later, Revere knocked a double and scored a run as well, and Heisey capped off the rally with a three-run home run to left field.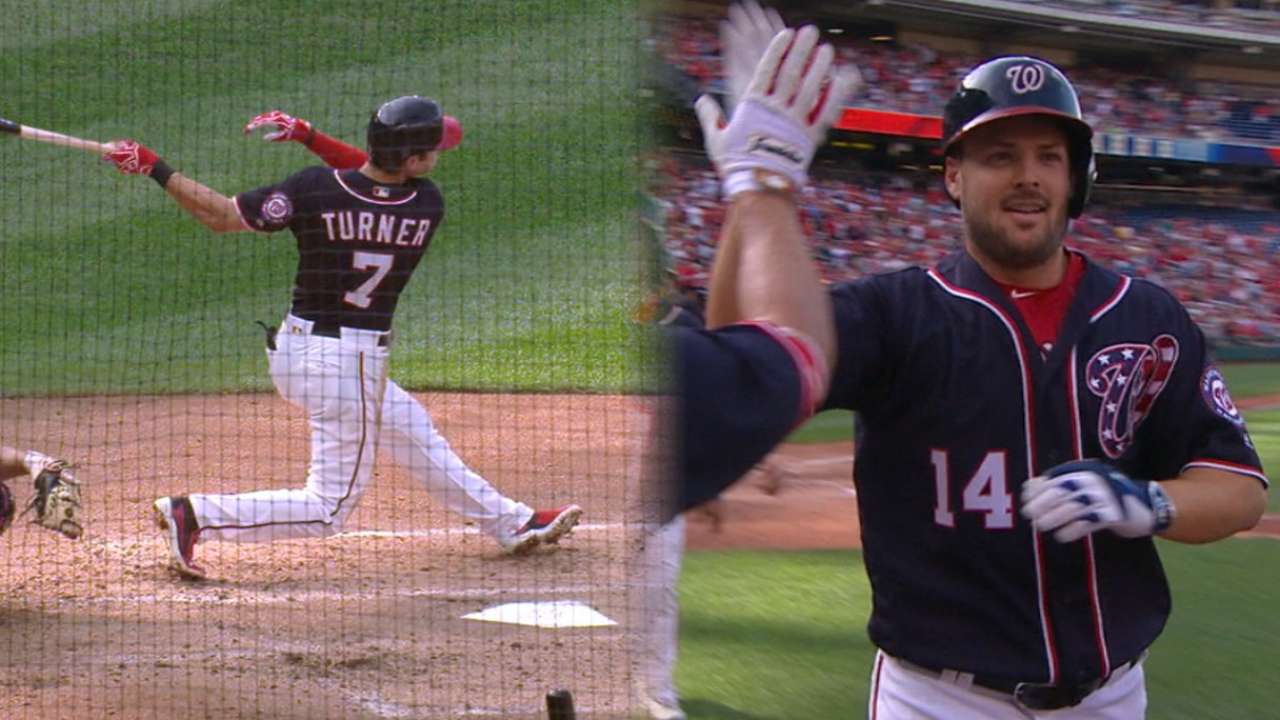 The blast was Heisey's ninth of the year despite only 141 plate appearances. The outfielder has now homered in three straight starts and four of his past six.
"That's unbelievable," Lobaton said of Heisey. "To see that guy be able to pinch-hit any time during the game and be able to hit a homer, he got power. He's a big guy. We need a guy like that here, and we have it, so that's good for us that we got that guy."
The Nationals' bench has been a strength for much of the season, with Heisey launching homers from the right side and Stephen Drew (now on the disabled list) slugging from the left. But with stalwarts like Harper, Murphy and Ramos playing almost every day, some of Washington's reserves have done more watching than playing this year.
Monday was only Lobaton's 31st game of the season, but the catcher said that scarcity of playing time only makes it more exciting when he or another bench player comes through.
"Every time we see a guy that was sitting on the bench for a couple days play like that, we know we can do good," said Lobaton, who had two singles and a walk Monday. "We are a bunch of guys that try to do the best all the time, and we're excited to play. I think that's the key for us -- every time we go out, we're so excited and try to do the best."
One guy who was happy to see the bench come through Monday was Max Scherzer, who had the unenviable assignment of taking the mound in front of a team of backups. But with an exhausted starting lineup, the Nationals were forced to work with what they had, and the performance from Heisey, Lobaton and company helped deliver a win.
"We got in at 3 a.m. We were going to sleep at 4 a.m. Everybody's a zombie," Scherzer said. "For these guys to come out and give that type of effort … that's huge to be able to put a five-spot in the third inning and keep scratching across runs."
Alex Putterman is a reporter for MLB.com based in Washington. This story was not subject to the approval of Major League Baseball or its clubs.