Mets getting historic bang for boom
New York relying on HR more than any team in recent history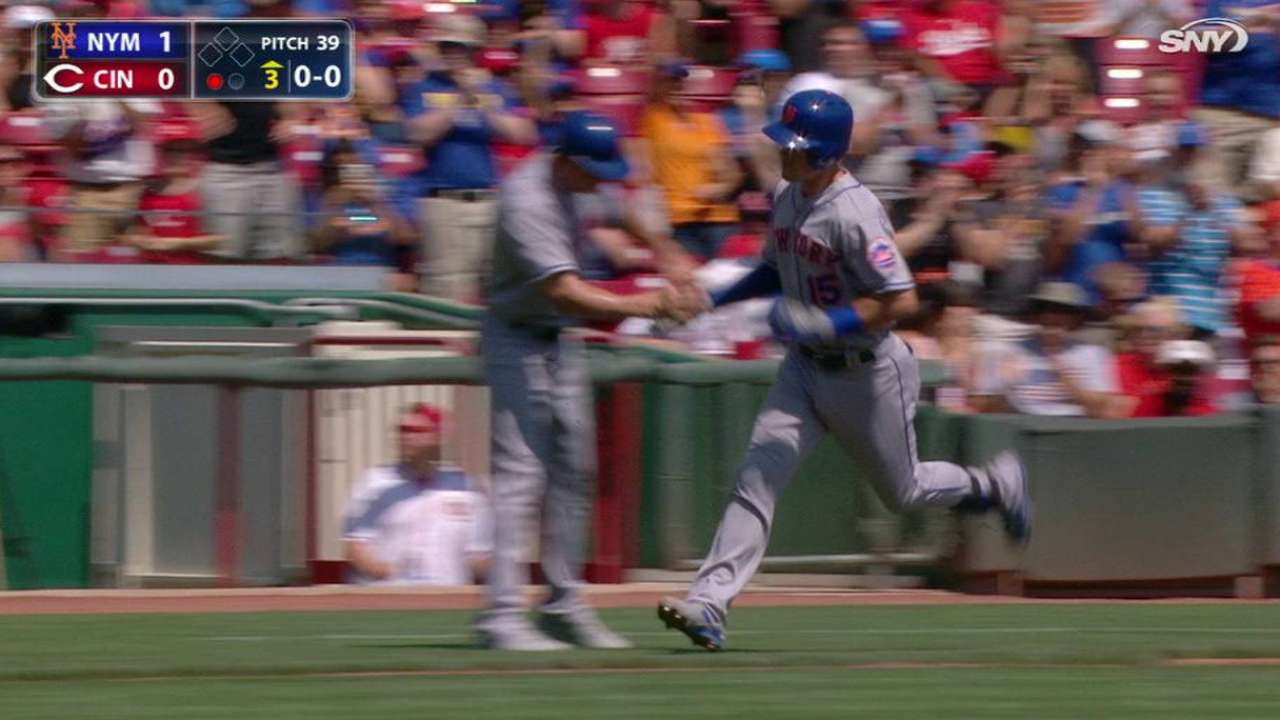 It's been no secret that the 2016 Mets have struggled to score. They are 27th among the Major Leagues' 30 teams in runs scored, with 541 in 138 games entering Tuesday's game in Cincinnati.
But when the Mets have scored, they've done so more often than not via the most exciting vehicle in baseball: the home run. In fact, New York is relying on the home run more than any team in at least more than a half-century -- and it's keeping them in the 2016 playoff race.
A pair of solo home runs by Matt Reynolds and Kelly Johnson in the Mets' 5-0 win over the Reds on Monday marked the 287th and 288th runs New York has scored this year on the long ball. Those 288 runs from homers account for an astounding 53.2 percent of the Mets' runs this season.
Believe it or not, that mark would qualify as the highest percentage of runs in a season one team has scored on the home run since Elias Sports Bureau began tracking the stat in 1962.
Top 5 Pct. Of Runs Scored via Home Run (Expansion Era, since 1962)
| Team | Total Runs | Runs via HR | Runs via HR % |
| --- | --- | --- | --- |
| 2016 Mets | 541 | 288 | 53.2 |
| 2010 Blue Jays | 755 | 401 | 53.1 |
| 2016 Orioles | 643 | 327 | 50.9 |
| 2016 Mariners | 641 | 311 | 48.6 |
| 2012 Yankees | 804 | 389 | 48.4 |
"It's not like anyone comes into the game saying, 'Hey, if I can hit a home run, it will put us into a situation to win,'" the Mets' Curtis Granderson -- who's approaching his own record for reliance on the home run -- told MLB.com. "But when we're in the batting cage with [Mets hitting coaches] Pat Roessler and Kevin Long, the focus and mindset is to put yourself in a situation to drive the baseball.
"We've got guys on this team that if they do drive the baseball, it has a good chance to get out of the ballpark."
Recurring injuries to the team's best hitters have undoubtedly sapped the Mets of much of their firepower this year. But the fact remains that no team has been worse with men on base than New York. After all, this is a club that is hitting just .216 overall with runners in scoring position -- a rate that would rank as the seventh-lowest in franchise history and the fifth-lowest of any big league team since the pitcher's mound was lowered in 1969.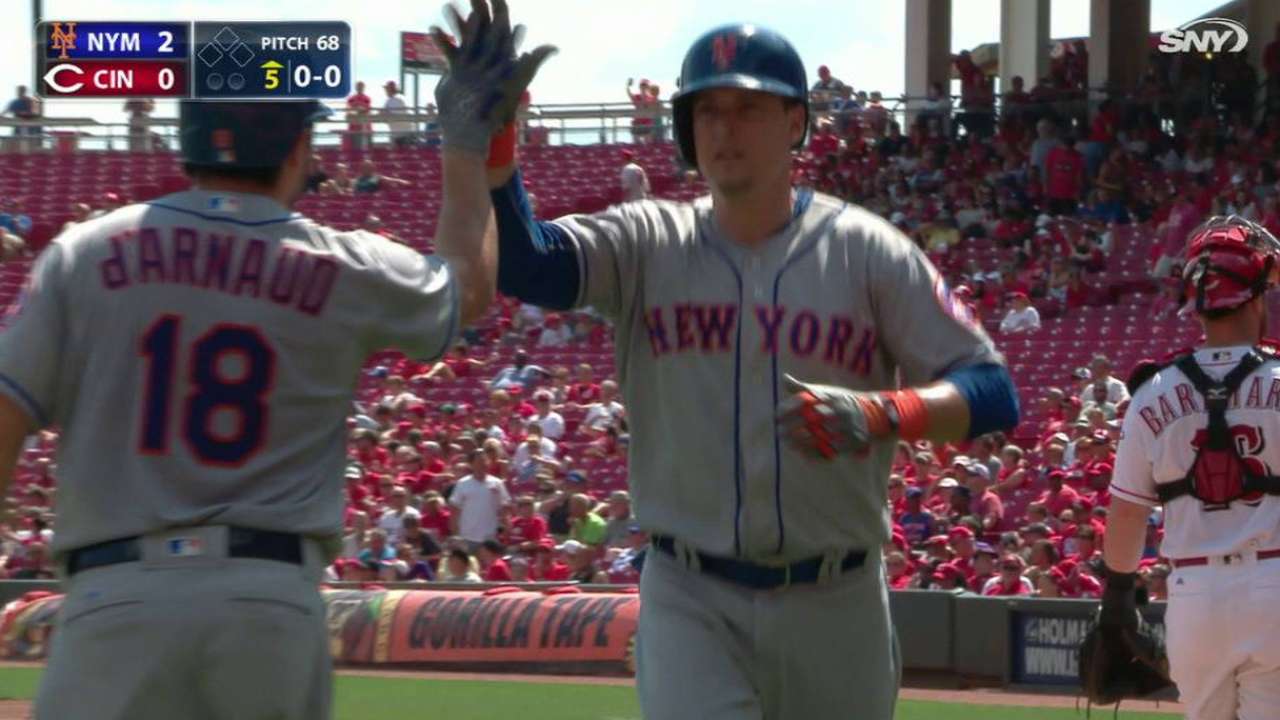 That's why home runs have arguably been more important to the Mets than any other team this year. To give a better perspective of how much bang the Mets are getting for their home-run buck, their 53.2 percent rate measures a full 13.1 points better than the MLB composite average of 40.1 percent. They've hit 77 of their 185 homers with men on base, including 45 with a runner on first base, which ranks second to Baltimore's 49 in those situations.
If the season ended today, New York's 53.2 percent of runs via the home run would just narrowly edge the 2010 Toronto Blue Jays, who scored 53.1 percent of their runs on the long ball, for the all-time mark. But the Mets aren't the only team getting historic levels of bang for their home-run boom.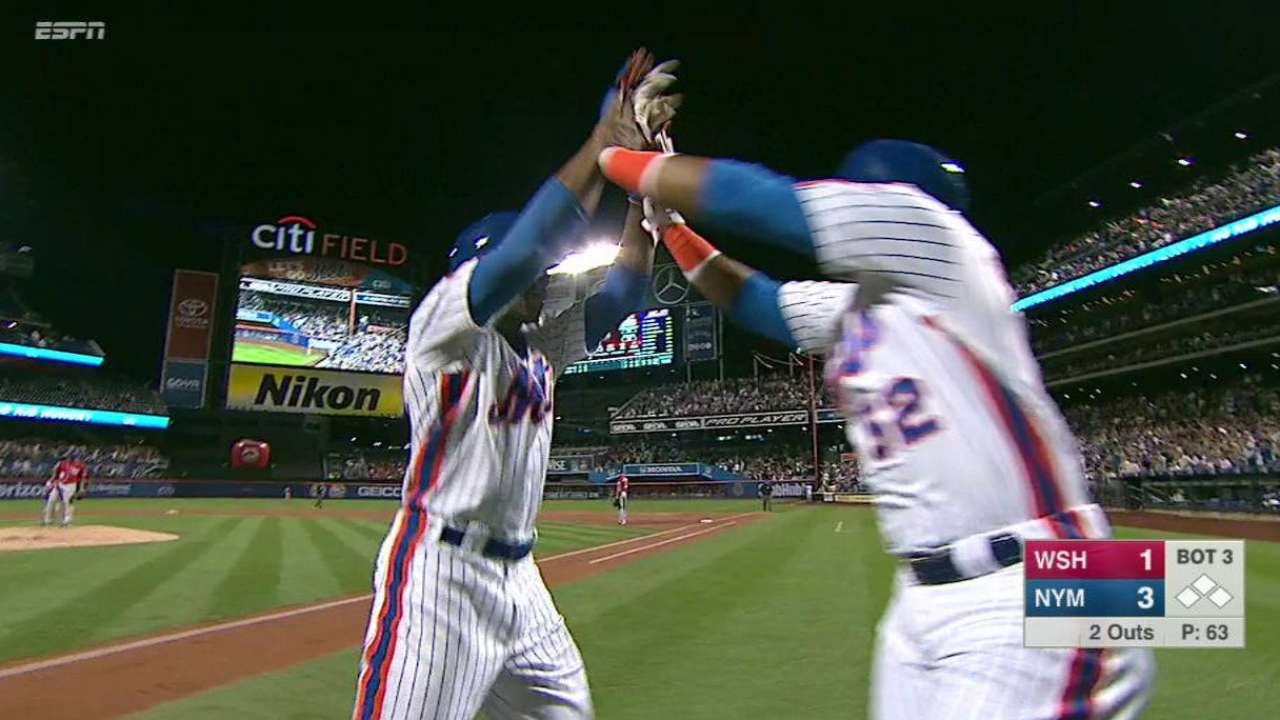 The 2016 Baltimore Orioles -- another team that employs a home-run-or-nothing approach, to slightly more success -- are on pace to set the third-highest home run runs per total runs rate in modern baseball history at 50.9 percent. The 2016 Seattle Mariners are right behind them, on pace for the fourth-highest historical percentage at 48.6 percent.
Hitting home runs has meant everything to the Mets' playoff chances this season. New York has picked up 62 wins in games in which it has hit a home run, a total that ranks second in the National League. Conversely, the Mets have won only 10 games in which they failed to homer, which is tied for the league's lowest total.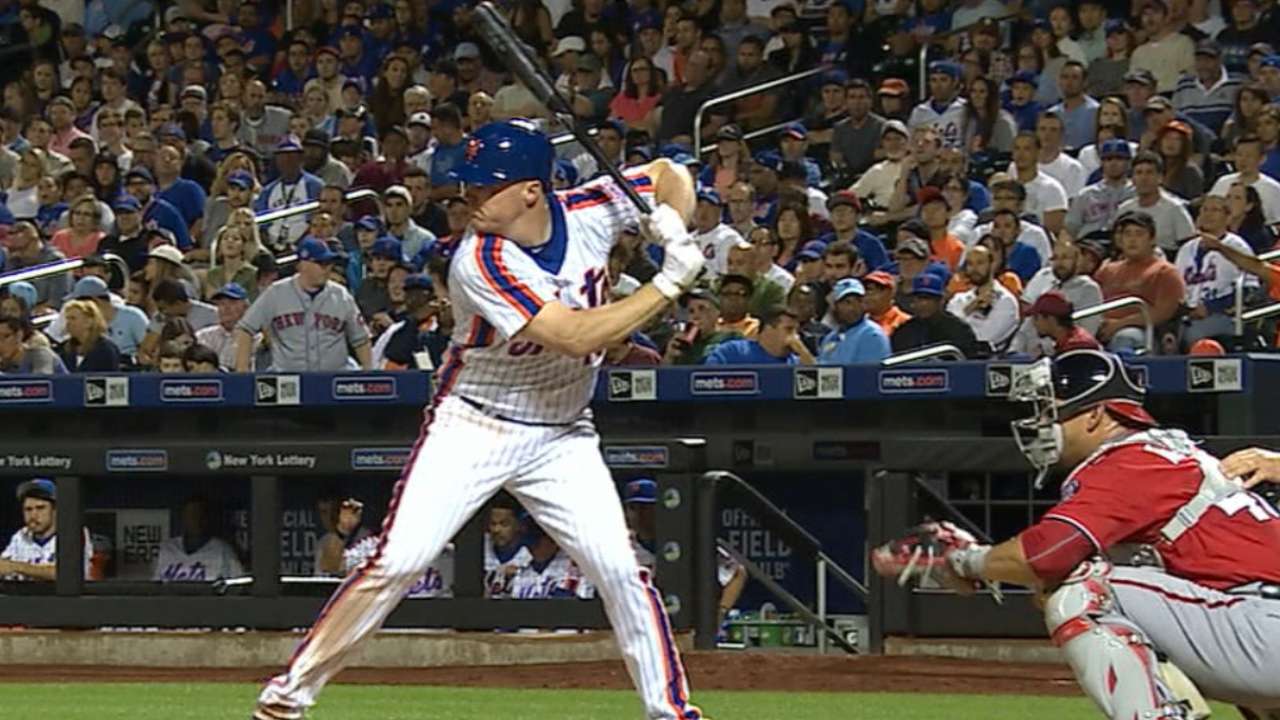 Despite their woes in nearly every other clutch situation, the big-bop formula is working just fine for the Mets. Hitting big home runs with men on base has been perhaps one of the main factors keeping them in the 2016 playoff chase.
"That's the thing about us, we have a deep lineup and you don't know who's going to be the one to hit the home run each night," said Mets first baseman James Loney. "And that's great. You need that on a championship-type team, so it's nice when you have that power potential up and down the order."
Matt Kelly is a reporter for MLB.com based in New York. Follow him on Twitter at @mattkellyMLB. This story was not subject to the approval of Major League Baseball or its clubs.