Cain perfect in first relief outing of season
Right-hander impresses Bochy by quieting down sizzling Rockies offense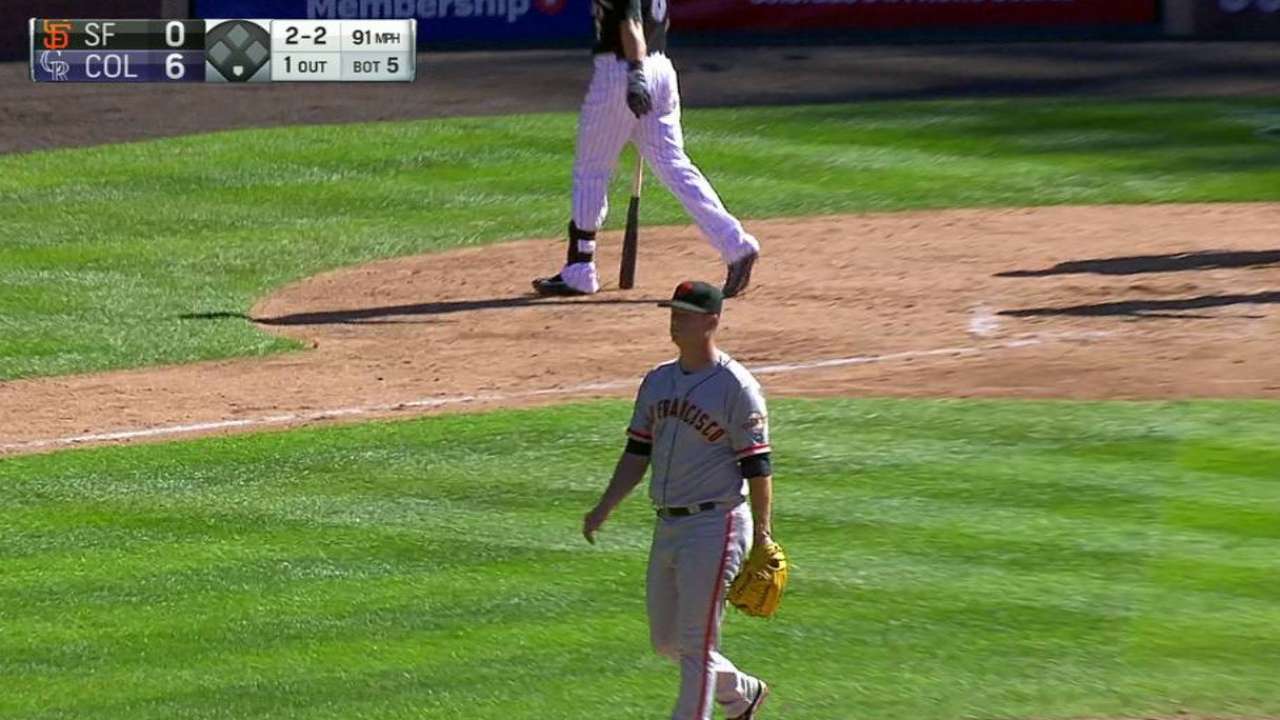 DENVER -- Matt Cain had made just three career relief appearances before Monday, but he'd never been called from the 'pen in the middle of game action before the Giants' 6-0 loss to the Rockies at Coors Field.
Cain, who was immediately placed in the bullpen when activated from the disabled list on Friday, took over for Matt Moore with two outs in the third and runners on first and second. It took seven pitches for him to get his first out -- a strikeout to Rockies pitcher Chad Bettis -- and he went on to toss 2 1/3 perfect innings.
Cain threw 32 pitches and mixed his off-speed stuff well. Only once did his four-seamer dip below 90 mph, and he said after he was satisfied with his velocity, which was a concern in his rehab start last Saturday.
"You lock in pretty quick," Cain said. "It's just a little bit different, just running in. But other than that, it's normal. It's just a little hyped up right from the beginning of it."
When Cain returned last week, the Giants opted to keep Albert Suarez in the rotation instead of returning that spot to Cain, the three-time All-Star who went 4-8 with a career-high 5.81 ERA in 17 starts before his DL stint.
Suarez was initially installed as a spot starter, but he will stay in the rotation for now. And with expanded rosters, manager Bruce Bochy doesn't feel depth burdens now with 13 relievers, including Cain, who he said he was impressed with on Monday.
"I thought he did a terrific job," Bochy said of Cain, who the manager considered using in Sunday's 13-inning marathon loss to the Cubs. "I thought he had good stuff, good command and first time coming out of the 'pen, came in with men on base too."
Knowing he was likely going to see the Rockies' lineup just once, Cain said he threw with more aggression. Neither DJ LeMahieu, Nolan Arenado nor Carlos Gonzalez put the ball in play beyond the infield against the righty.
"You're probably going to go probably a little more full bore, whereas [as] a starter, you get used to pacing yourself," Cain said. "I think you've got to find that happy medium to where you're not overthrowing and just wailing the ball up there and just hoping that it goes somewhere."
In what amounted to Moore's worst start since being acquired at the Trade Deadline -- he gave up six earned runs on five hits and four walks with one strikeout in 2 2/3 innings -- and one the Giants' offense was no-hit by Bettis for 4 2/3 innings, Cain was a minor bright spot.
The Giants are fewer than 10 games above .500 for the first time since they were 28-19 entering play on May 24, and their offense is batting .099 halfway through this 10-game road trip.
"It's a big adjustment, but he showed that he can handle it and he gave us a chance," Bochy said.
Daniel Kramer is a reporter for MLB.com based in Denver. This story was not subject to the approval of Major League Baseball or its clubs.