Backup generators: Bench provides key cogs
Coghlan, Montero drive Cubs' late winning rally; Smith making good second impression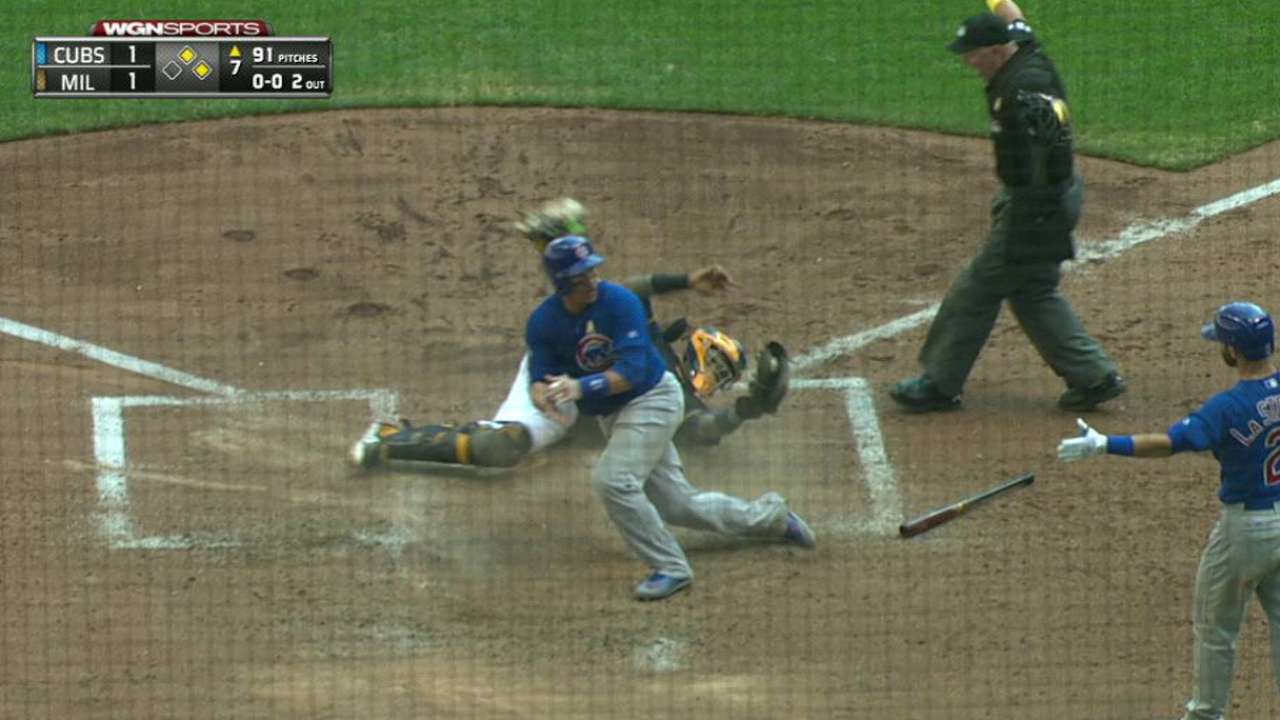 MILWAUKEE -- Miguel Montero has gone from being the Cubs' regular catcher to a backup. Chris Coghlan was traded in February, then brought back. Joe Smith is just trying to make up for a bad first impression. And without them, the Cubs would have had a hard time beating the Brewers on Monday.
Montero doubled and scored the tie-breaking run on Coghlan's single in the seventh inning of a 7-2 victory over the Brewers at Miller Park. Coghlan added a two-run single in a four-run eighth, and Smith was one of three relievers to back starter Kyle Hendricks, who lowered his Major League-leading ERA to 2.07.
"That's what you look forward to when you come off the bench, is an opportunity to impact the game," Coghlan said.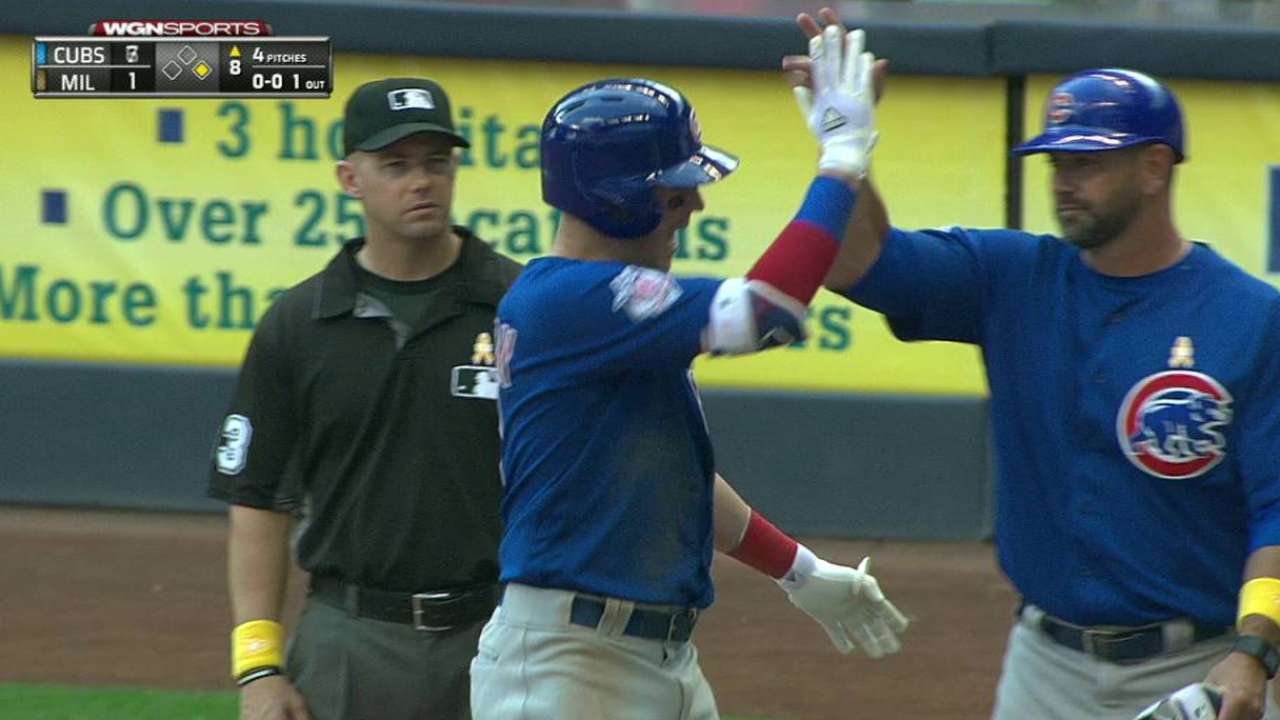 Coghlan was dealt to the Athletics in late February to open a roster spot for Dexter Fowler, and he rejoined the Cubs in June in another trade. Injuries have knocked him out of action. In 65 at-bats with the Cubs, he is hitting .231. Where does he fit if the Cubs get to the playoffs?
"Honestly, I don't know," Coghlan said. "You're so focused -- I know it's cliché -- but if you don't focus on today, you'll never get there. I'm just trying to focus on having quality at-bats and making the plays when I get the opportunity."
The same is true for Montero. He had 52 at-bats in June, and 30 in August following the arrival of catcher Willson Contreras. How is Montero feeling at the plate?
"Fresh," he said, smiling.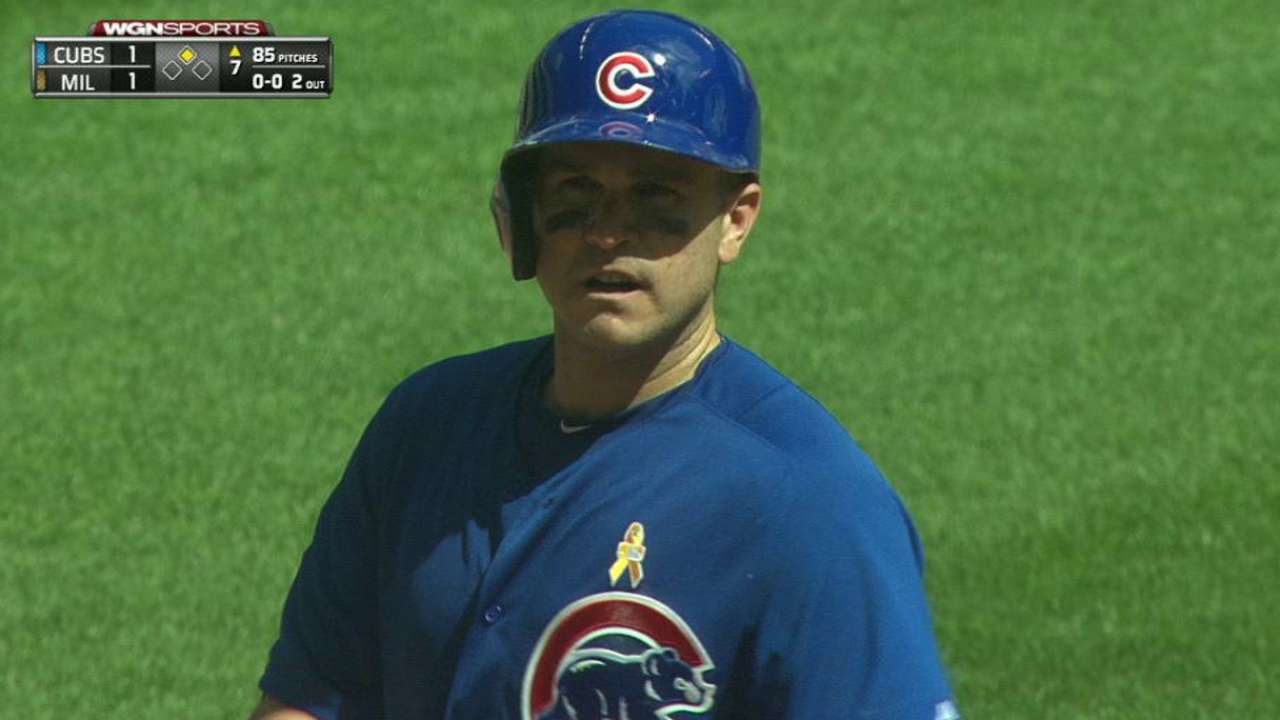 He showed his speed, so to speak, when he scored from second base in the seventh.
"I felt like I kept on going, but I felt like I was in the same place," Montero said.
He's batting .206 this season, but his catcher's ERA is 3.12, the best number of his career. Montero hasn't played in enough games to qualify among the league leaders, but his number is better than the Nationals' Wilson Ramos, who leads the NL with a 3.45 catcher's ERA.
"It's a little bit harder when you don't play every day and your timing is a little bit off," Montero said. "What am I going to do? I can't put pressure on myself trying to get four hits in one at-bat, because it ain't going to happen. I go out there and have fun, and if I get hits, good, and if I don't, I still have to go catch and call a good game."
Said manager Joe Maddon: "I give them a lot of credit, because it would be easy to turn the dimmer switch down a bit, and they have not -- they've gone the other way."
Smith, acquired Aug. 1 from the Angels, is just trying to get back on track. In six August games with the Cubs, he gave up three runs over 3 2/3 innings, and then went on the disabled list with a left hamstring strain. In four innings over three appearances since he was activated from the DL, he has not given up a hit, or walked a batter.
"It was a little bit of everything," Smith said of his early struggles. "I've never been traded before. You're one place at 12:45, and at 4:40, you're flying to Chicago and you pick up and move your whole life. I think there are a number of factors that factored into it. I'm just glad to be back feeling good and throwing the ball the way I'm capable of."
And so are the Cubs.
Carrie Muskat has covered the Cubs since 1987, and for MLB.com since 2001. She writes a blog, Muskat Ramblings. You can follow her on Twitter @CarrieMuskat and listen to her podcast. This story was not subject to the approval of Major League Baseball or its clubs.