Blach lives out dream with hometown MLB debut
Denver native throws three scoreless innings in front of family, friends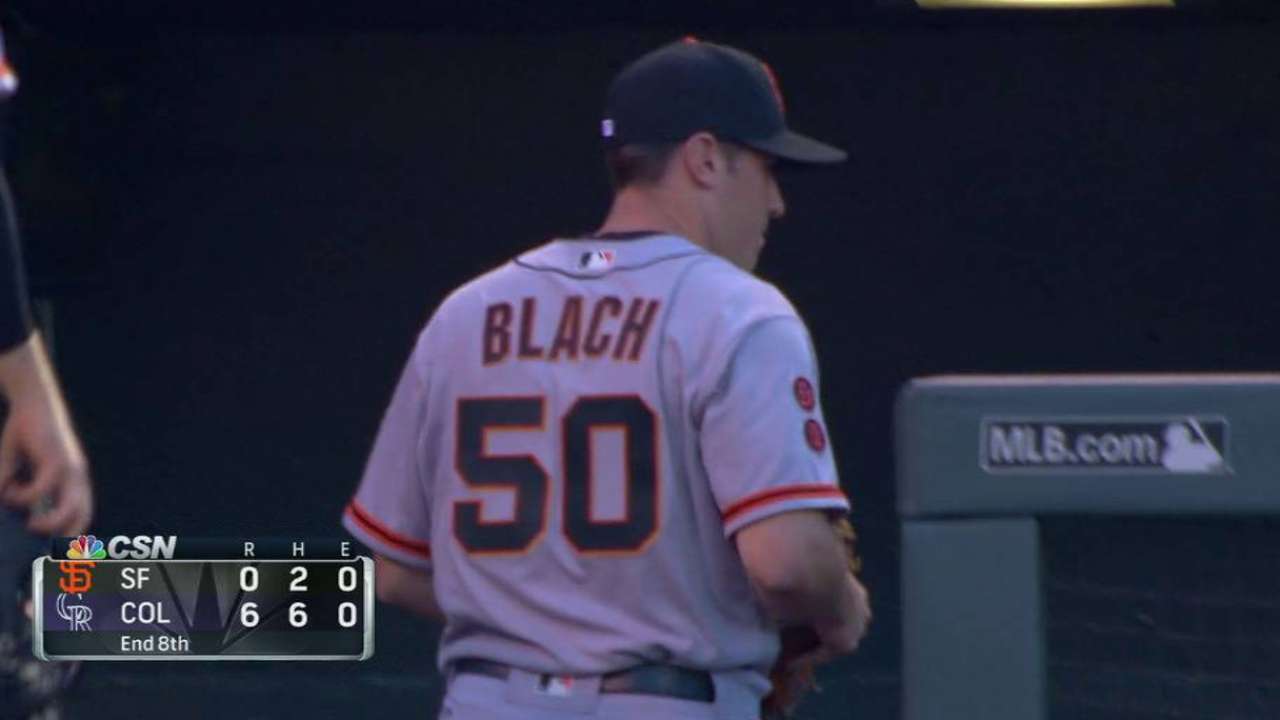 DENVER -- After 23 years dreaming of making the big leagues, Ty Blach's final four days waiting in the wings at Wrigley Field must have seemed like an eternity. It was worth the wait, however, as the Giants' pitcher made his big league debut in his home town of Denver on Monday and in the stadium where he hatched and nurtured those dreams.
Blach came to the Rockies' first game in Colorado -- Opening Day of the inaugural season of 1993 -- when he was 2 1/2 years old, and Monday afternoon it seemed like everyone he ever went to a ballgame with was in the stands at Coors Field cheering him on.
"I could tell there was a lot of support out there," Blach said after tossing three scoreless innings of relief in the Giants' 6-0 loss. "I'd say [there were] at least 100 [friends and family members], if not more. I'm just blessed to live out that dream and be able to make my debut here in front of all the fans that I grew up cheering with."
Though it was lifetime in the making, Blach's trip to the Majors was a bit of a whirlwind. Drafted in 2012, he played a season for Class A Advanced San Jose, a season for Double-A Richmond, and was called up Thursday after dominating his second season at Triple-A Sacramento.
Blach went 14-7 with a 3.343 ERA in 26 starts for the Sacramento this season, tying the River Cats' single-season record for wins. He finished strong, going 8-2 with a 2.01 ERA in his last 11 starts, striking out 62 in 76 innings. He's ranked by MLBPipeline.com as the Giants' No. 23 best prospect.
"It's the same game as it is down in Triple-A, Double-A," Blach said. "You just got to execute pitches and get ahead of hitters. [Trevor Brown] did a great job behind the plate. I threw to him last year, so we had a good rapport going."
He faced nine batters, five of them hitting over .300, including dangerous hitters like Nolan Arenado and Carlos Gonzalez, who have combined for 61 home runs, including Gonzalez's slam earlier in the game. Blach cruised through his first two innings, but he had to escape a two-on, none-out situation in the eighth.
"It definitely gives you a lot of confidence going into the future, especially in such a hitter-friendly park," Blach said. "You just got to know that you can trust your stuff and get these guys out too."
After a six-run third sent starting pitcher Matt Moore to the showers, Matt Cain and Blach relieved in tandem for 5 1/3 shutout innings.
"What a job he did," manager Bruce Bochy said. "He got in a jam, and I like the way he kept his composure out there and got out of that, first and second, nobody out."
In a ballpark famed for its home runs, Blach recalls highlights like Dante Bichette's 13th-inning walk-off homer in the first game played in Coors Field, or his hero, Andres Gallaraga, hitting a ball out of the ballpark.
"I always thought I was going to be a position player, so I always dreamed of it being that way," Blach said. "As I got older and knew that I was going to be a pitcher, it kind of changes your vision."
One of his fans was the skipper across the diamond, Walt Weiss. Weiss' last job before taking the helm with the Rockies was as the head coach at Blach's alma mater, Regis Jesuit High School in Aurora, Colo., and he was an assistant there during Blach's tenure.
"You'll never meet a better kid or family," Weiss said. "I'm really happy for them today. I was happy we were up already, so I didn't have to pull against him. That was really special for me too. He's a great kid."
Thanks to shared season tickets from family friends, Blach took in dozens of games from seats perched above the right-field bullpen, so it was fitting that he made his debut trotting out from that very 'pen.
"There are so many good memories here," Blach said. "It's just awesome to be a part of that and live out my dream."
Owen Perkins is a contributor to MLB.com based in Denver. This story was not subject to the approval of Major League Baseball or its clubs.