Dodgers tag Greinke for career-high 5 homers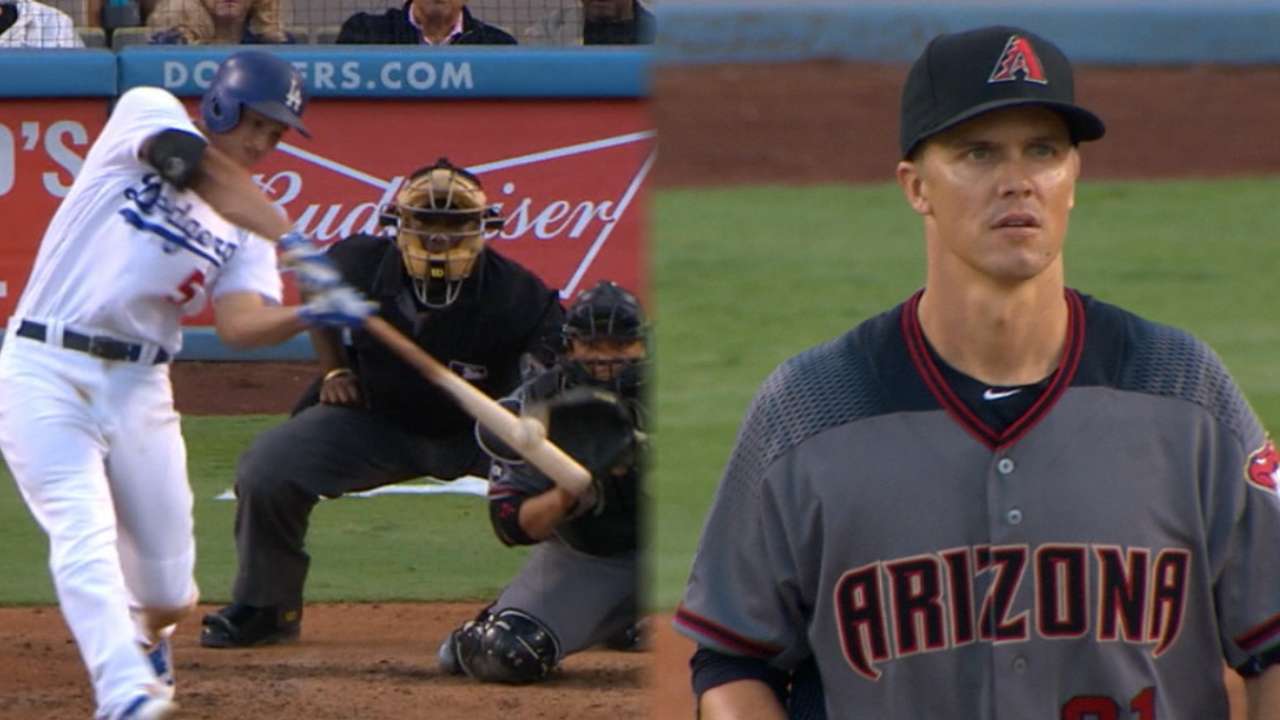 LOS ANGELES -- Dodger Stadium had a healthy serving of boos reserved for Zack Greinke in his first start there since leaving for Arizona via free agency in the offseason. However, it was his former teammates who offered an even ruder welcome in a 10-2 Dodgers win on Monday night.
The Dodgers hit five homers off Greinke, a career high for the right-hander. Adrian Gonzalez got it started in the fourth with a two-run shot on a numbers-high fastball. Before the inning, Greinke had thrown three shutout innings, striking out five and allowing just a single.
"The fourth inning, I was still pitching good in the fourth inning," Greinke said. "He can do it. More times than not you're going to get him out with that pitch, but he's one of the few guys that can actually get to it. I wasn't completely shocked that he did do what he did with it."
It turned out that Gonzalez's homer was just an appetizer for a much worse inning to come. Joc Pederson, Corey Seager, Justin Turner and Yasmani Grandal all went deep in the fifth to put the Dodgers up, 8-0, and chase Greinke from the game.
It marked the second time this season the Dodgers hit four homers in a single inning, the other being Aug. 22 against the Reds. Before that, the team hadn't done it since 2006.
"Seager's was OK, not like a perfect pitch, but it was not the worst one," Greinke said of his delivery to the Dodgers' rookie. "Joc's was terrible. That was probably the worst pitch of the night, I think. Grandal's was all right. Probably a strike, but maybe I shouldn't have thrown that pitch, but it wasn't that terrible. It's just things were going bad and they were swinging good."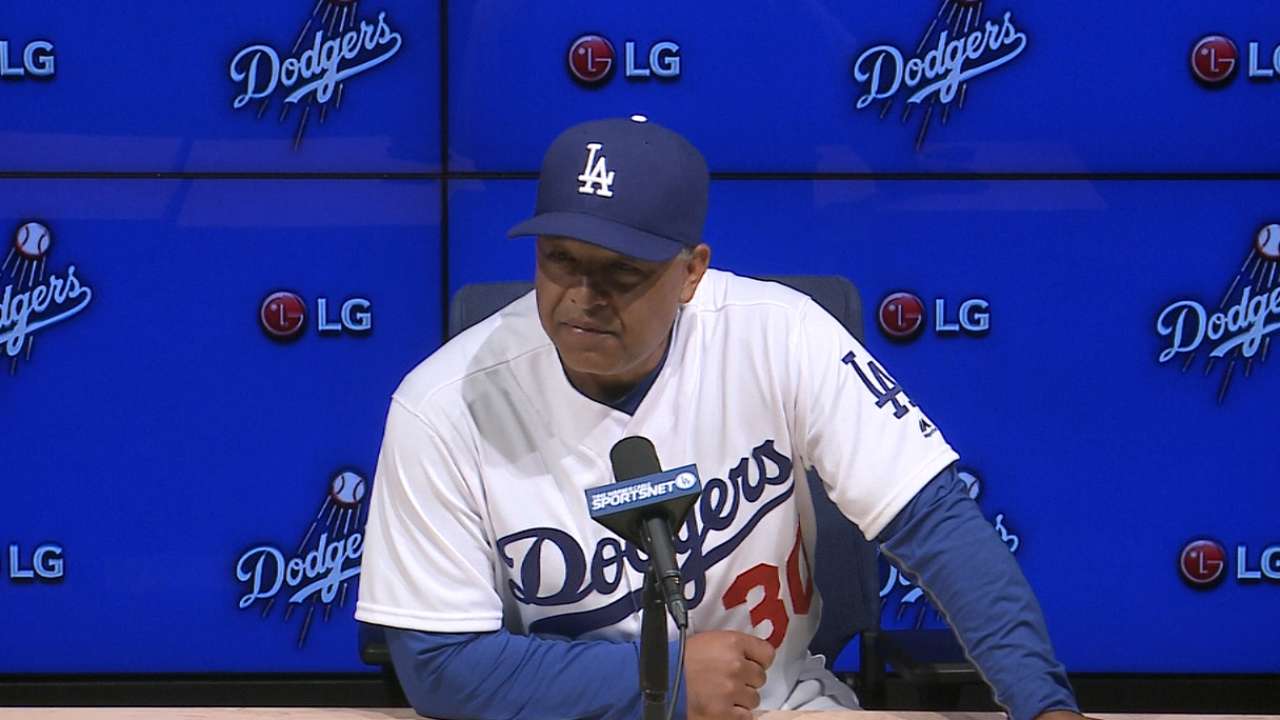 After the game, the Dodgers had nothing but good things to say about a pitcher who gave them three years of elite pitching.
"For the most part, we know he's a great pitcher and we know he's not going to make mistakes," Gonzalez said. "We all just hunted our pitch and eventually we knew that he was going to keep mixing it up and he would go to that pitch. We just couldn't miss it."
Seager, in particular, pained Greinke throughout his start, hitting a single and a double before the homer. The rookie shortstop is now 5-for-6 with two homers and a double against Greinke.
That's a level of hitting Greinke had seen coming years earlier, as he had praised the Dodgers for selecting the shortstop in the first round of the 2012 Draft when he met with them that winter.
"For a young player like that to not only hit mediocre pitching, but he really hits top-end pitching," manager Dave Roberts said. "He really does. From ones and twos as far as starters to back-end bullpens to lefty specialists, He really does it all and I think that's a mark of a great player and I think we all understand that."
Greinke, who took a one-hit shutout into the fourth, exited having given up eight runs on nine hits with six strikeouts in 4 2/3 innings. It marked the first loss of his career against the Dodgers.
"I think that we had a very good game plan and we stuck with it," Roberts said. "To try to think along with Zack, it's just not going to happen, but we talked about that. If he executes, it's going to be a tough night for us, if he does make a mistake we got to take advantage. Can you foresee five home runs? Absolutely not, but we put some good swings on him."
Jack Baer is a reporter for MLB.com based in Los Angeles. This story was not subject to the approval of Major League Baseball or its clubs.