Phils' offense awakens for deserving Eickhoff
Galvis homers, Bourjos goes 3-for-4 in win over Marlins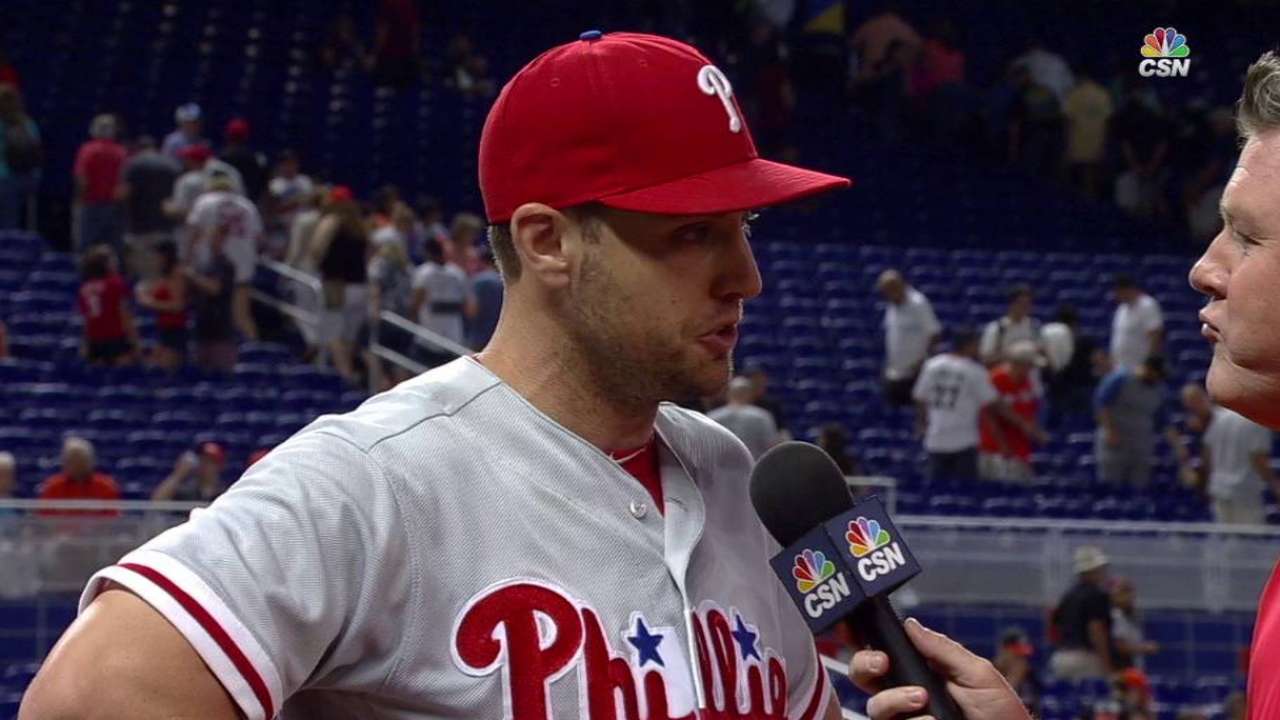 MIAMI -- The Phillies were certainly due to give starter Jerad Eickhoff some run support. With three-run innings in the fifth and seventh, they took the first game of the three-game series on Monday afternoon, adding to the Marlins' woes with a 6-2 win.
Eickhoff (10-13, 3.86 ERA) went six strong innings, allowing just two runs on six hits and striking out four without walking a batter, although he did hit one. He came into the game having received just 64 runs of support in 161 2/3 innings pitched. That 3.56 runs of support per nine innings was the third-lowest among all starters in the Major Leagues this season.
But the Phils broke through with a big fifth inning, scoring three runs while taking a 3-2 lead. It snapped an 18-inning scoreless streak, which tied for the club's longest stretch without scoring a run this season.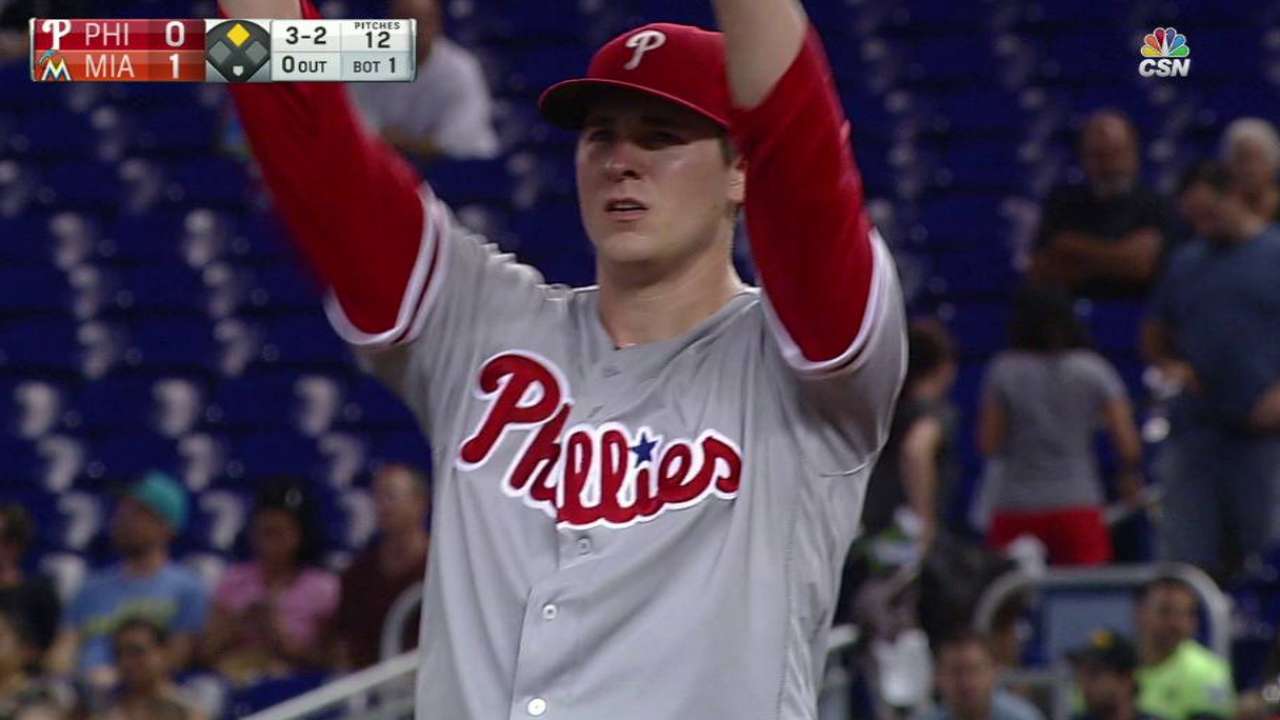 "Sometimes you need a change of scenery," said Phillies manager Pete Mackanin, whose team began a seven-game road trip that continues through to Washington. "We always want to be at home, but we haven't hit well at home."
"I'm looking back at that [late-June] road trip we took," Mackanin said. "We started out in Minnesota and we went through San Francisco and Arizona. As a group, we hit the ball extremely well the entire road trip and scored a ton of runs [with 57 in nine games]. I'm kind of hoping this is one of those road trips."
The Phillies scored 11 runs total in their recent six-game homestand, all losses.
"I think everything was going weird when we were back home," said Freddy Galvis, who got the Phillies rolling with a fifth-inning homer. "We got men on base but couldn't drive them home. We didn't get the clutch base hit. This win is going to be good for us."
Galvis provided the spark, belting a two-run homer into the upper deck in right field that tied the game at 2. It was his 16th homer of the season and seventh in his past 23 games -- tied for most by a Major League shortstop since Aug. 9.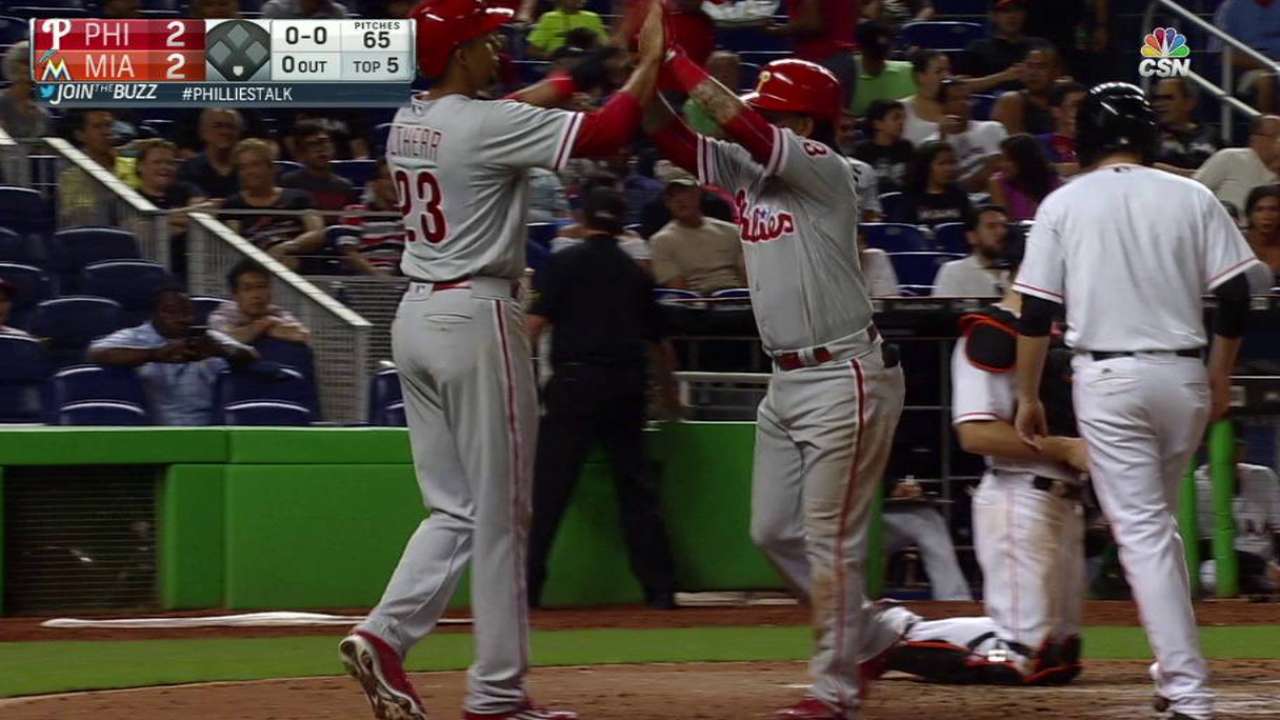 "It was something we needed," Galvis said. "It was good to contribute in that situation and get things going good for us. I hope it turns us around a little bit, and we win more games."
Not necessarily known for his power-hitting abilities, Galvis said that he'd like to improve on his on-base percentage.
"I'll take a homer to tie the game," Galvis said. "If it's going to be winning games, I'll take the homers. For sure, I want to get more on base, more base hits -- that's my game. But if I can get a good swing and hit homers in that situation, I'll take it."
That's exactly what happened in the fateful fifth inning.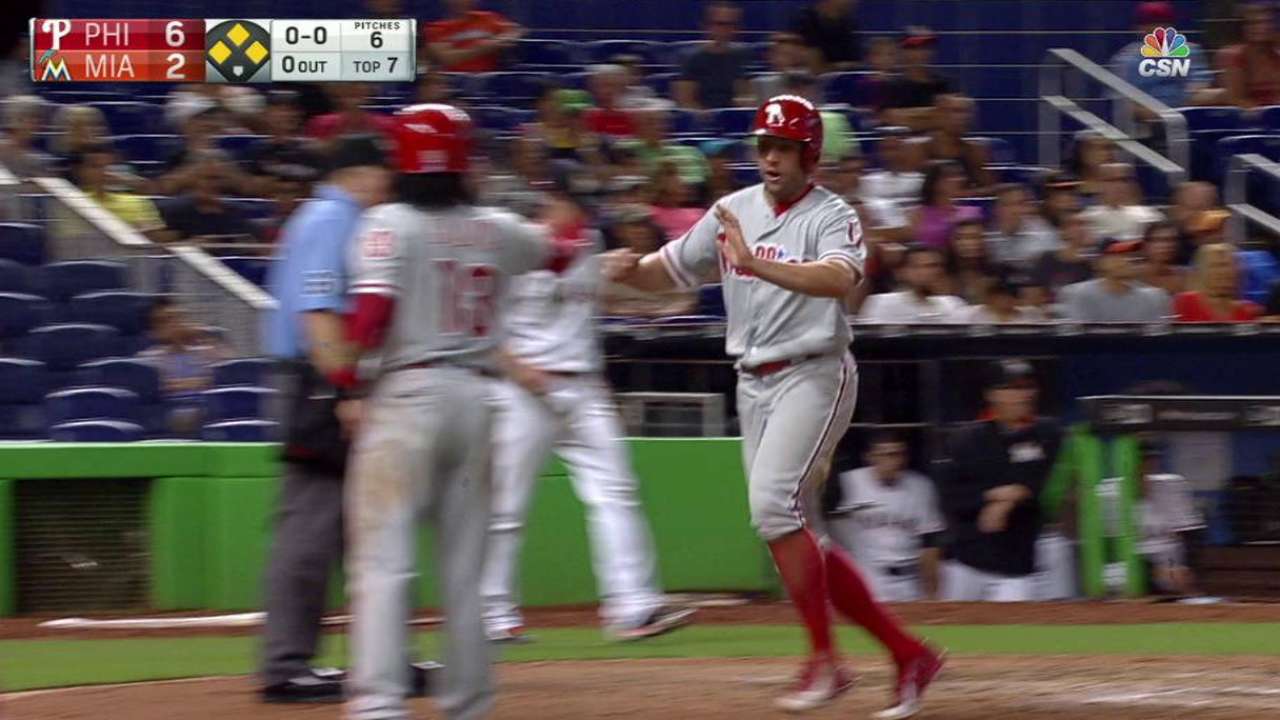 "I was just looking for a good pitch to get a good swing," Galvis said. "[Marlins starter Jake Esch] threw me a hanging slider, and I put a good swing on it."
Peter Bourjos followed the homer with a triple and later scored the go-ahead run. He has now hit in six of his past seven games against the Marlins. Bourjos went 3-for-4 for the day, scoring twice and driving in a run. It was the 20th multihit game and fifth three-plus-hit game of his career.
Pinch-hitter Jimmy Paredes broke the game open with a two-run single in the seventh. The six runs scored by the Phils were the most they had scored since Aug. 14 in a 7-6 win over Colorado. They had tallied two or fewer runs in nine of their previous 13 games.
Glenn Sattell is a contributor to MLB.com. This story was not subject to the approval of Major League Baseball or its clubs.