Royals' bats give worn-out bullpen a break
Hosmer leads late charge with 3-run homer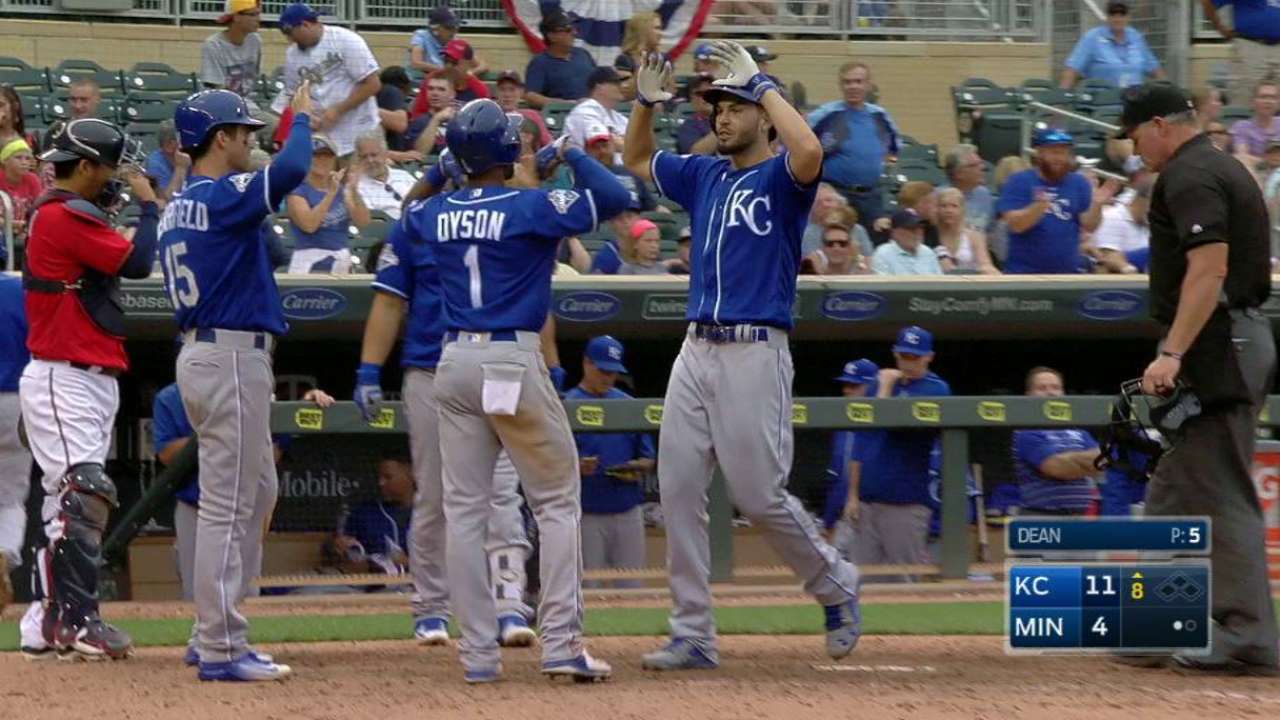 MINNEAPOLIS -- With the playoff push in full swing, every win is critical now -- and on their last homestand, the Royals' bullpen gave away four late leads to turn what could have been a 6-0 homestand into a 2-4 one instead.
But in Monday's 11-5 victory over the Twins, the Kansas City offense gave the back end of its bullpen a much-needed break with six late insurance runs, including four from Eric Hosmer, that turned a tense one-run game into a blowout by the eighth inning.
"It was huge, because we're at the time and the point in the year now where we're going to need those guys in every close situation, whether it's a tie game or even if we're down one," Hosmer said.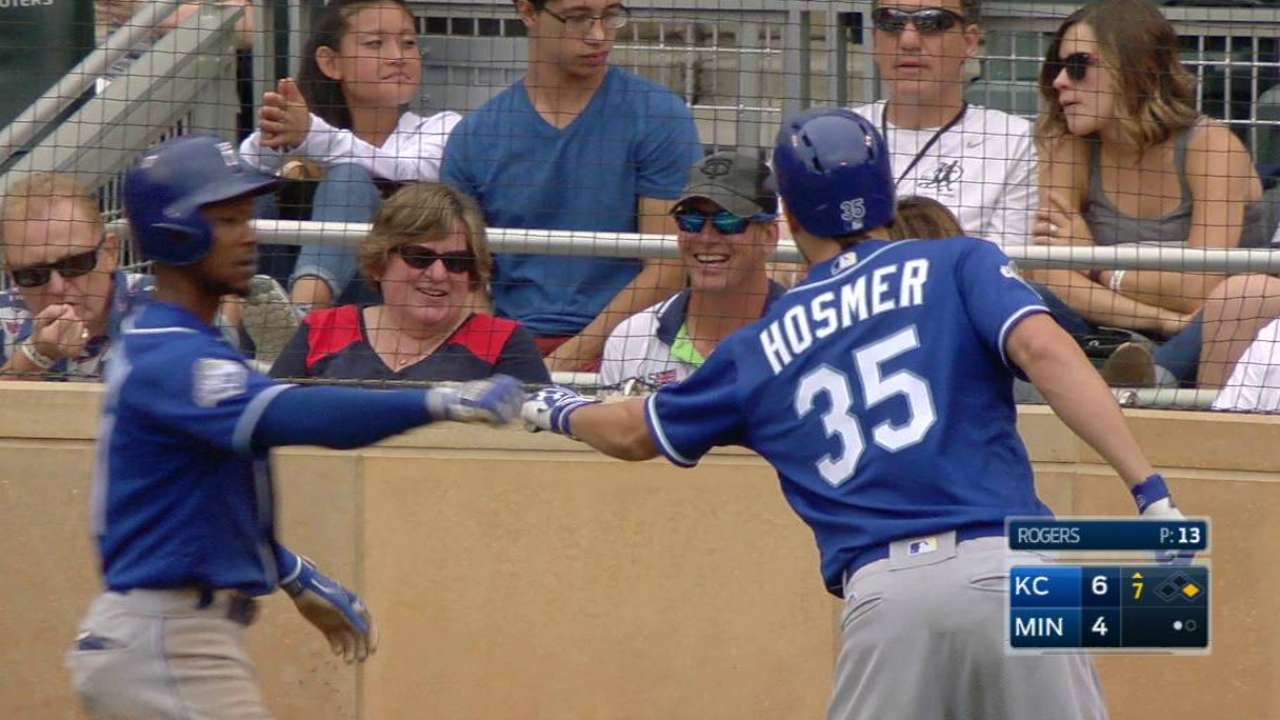 With the Royals clinging to a 5-4 lead heading into the seventh inning, the Royals might have needed to use Wade Davis or Kelvin Herrera in the late innings to finish things out, with both Joakim Soria and Matt Strahm unavailable on Monday. But manager Ned Yost would have preferred not to use either, given their recent workload and their importance down the stretch.
Luckily for the Royals, Yost didn't need to make that call after the bats came to life.
Jarrod Dyson doubled to lead off the seventh as part of a three-hit game and moved to third on Paulo Orlando's infield single. Hosmer drove Dyson in with a sacrifice fly, and an RBI single by Salvador Perez tacked on another run to give the Royals a 7-4 lead and some breathing room.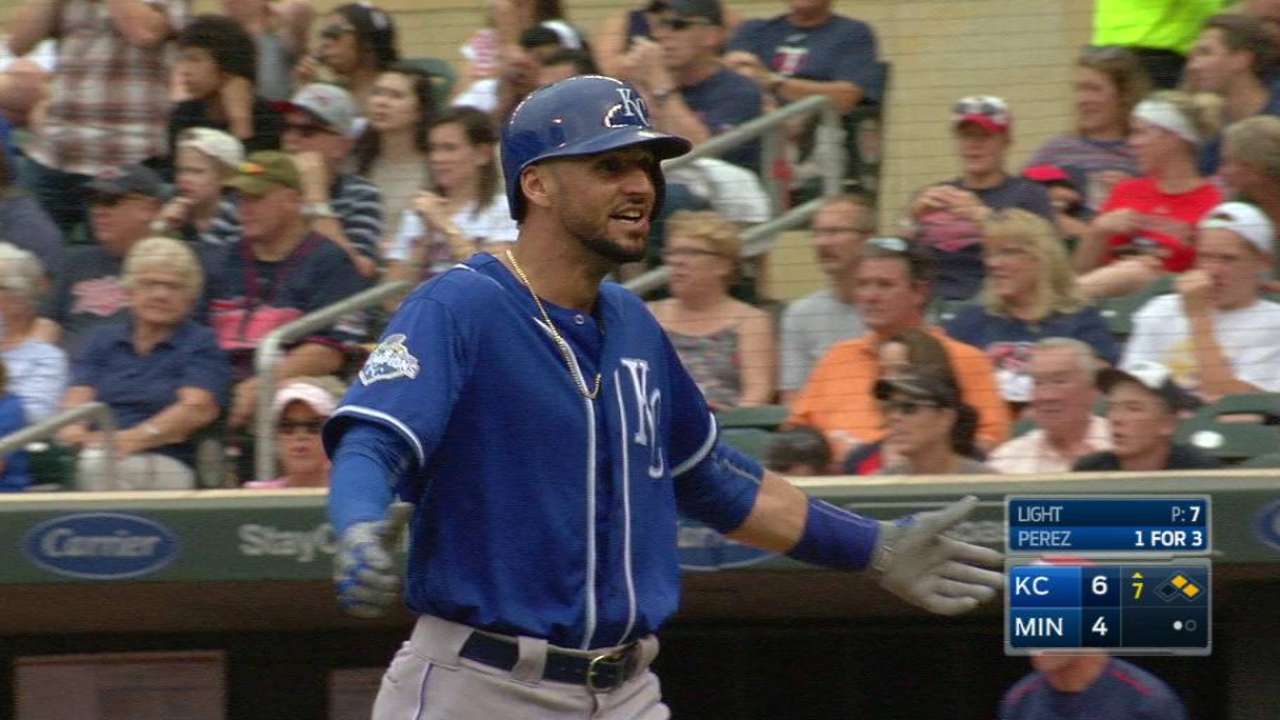 One inning later, the Royals put the game out of reach by tacking on four more runs, with the first three hitters reaching base to set up a sacrifice fly from Orlando and a back-breaking three-run homer by Hosmer, his 21st of the season.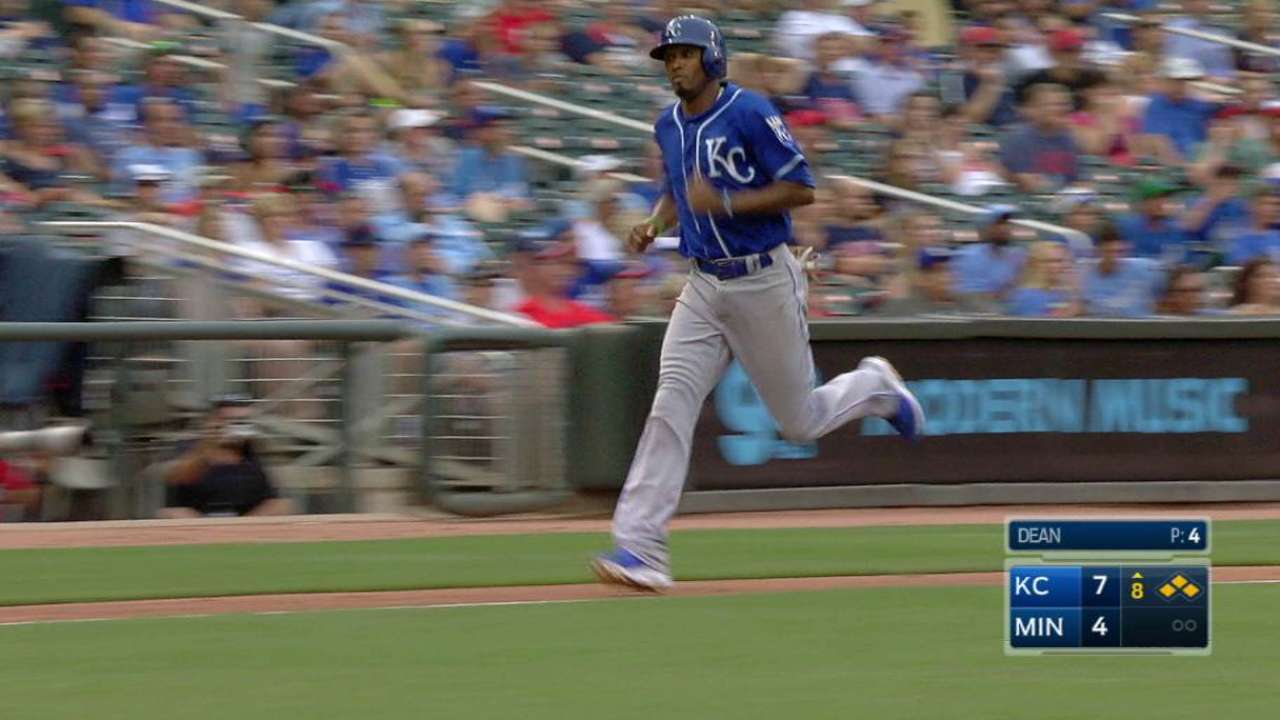 So instead of needing to turn to Davis or Herrera, Yost got to finish out the game with Brian Flynn, Brooks Pounders and Scott Alexander. That gave both Davis and Herrera one extra day of rest and preserved them for what should be a tighter matchup against Twins ace Ervin Santana on Tuesday.
"We've been really pounding the back end of our bullpen," Yost said. "We needed to see if we could get through that game without using those guys. That should put us in pretty good shape tomorrow."
Do-Hyoung Park is a reporter for MLB.com based in Minneapolis. This story was not subject to the approval of Major League Baseball or its clubs.