Shaw likely to see more time in outfield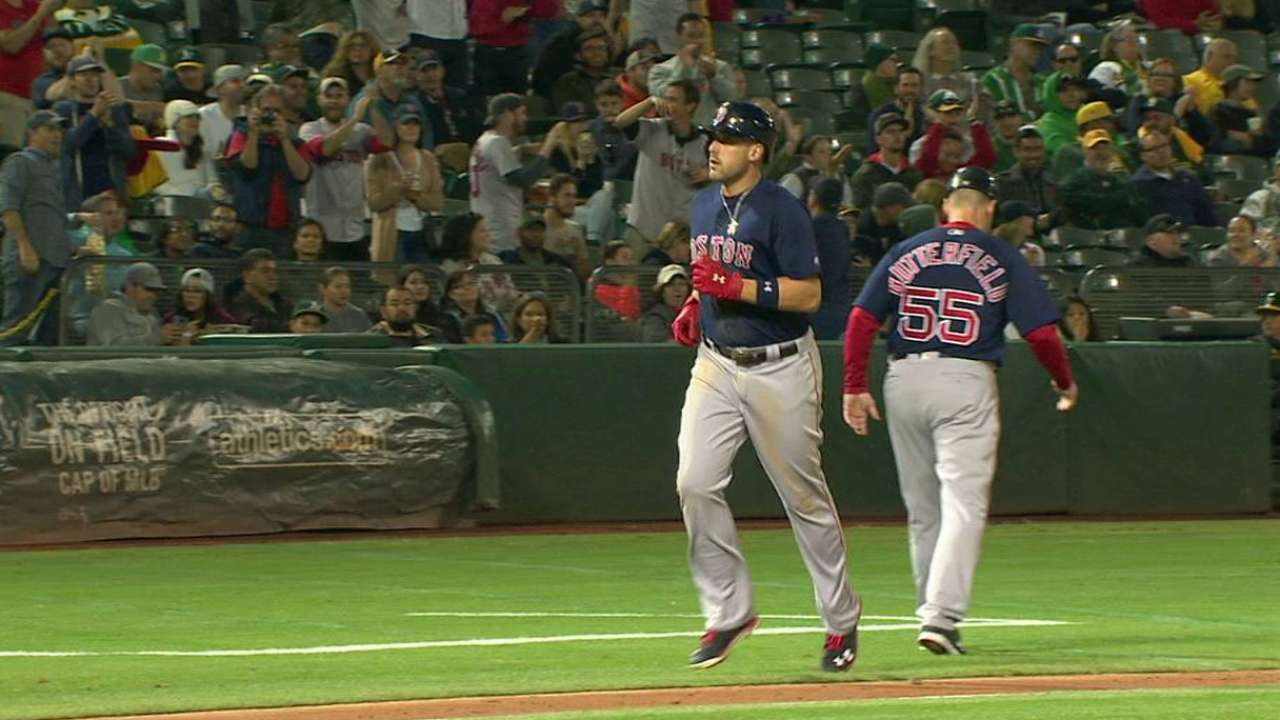 SAN DIEGO -- Travis Shaw, who has lost most of his playing time due to the arrival of Yoan Moncada, could make his first career start in left field in Wednesday's series finale against the Padres.
"I'm trying to find a way to get Travis Shaw on the field," said Red Sox manager John Farrell. "We've got some early work going in left field to get his bat and keep it in the mix. Travis could find himself in left field here Wednesday. Wouldn't rule that out."
Shaw played some left field at Triple-A Pawtucket last season and got three innings there as a reserve for the Red Sox earlier this season, handling his only fly ball.
He was a bit surprised when the Red Sox asked him to do outfield drills on Sunday. But the left-handed hitter is up for anything that will get him in the lineup more often.
"It was news to me yesterday," said Shaw. "Last couple days me and [outfield instructor] Ruben [Amaro] have gone out there early and it seems like at third base, there's not going to be much playing time there the rest of the year.
"So I'll try to find another way in there and I'm going to focus pretty much all my attention on left field from here on out and kind of see. I don't know what their plan is, but I'm going to make sure I'm adequate enough out there."
Shaw had his best game in a while on Friday night, going 3-for-6 with two doubles, a homer and five RBIs.
But Moncada hade his first Major League start on Saturday and has started three straight games at third base, including Monday's series opener against the Padres at Petco Park.
"It is what it is," said Shaw. "They wanted a spark and Moncada came up and he's played well so far since he's gotten here. It's the spot we're in right now and down the stretch I'm going to do whatever they ask me to do."
Ian Browne has covered the Red Sox for MLB.com since 2002. Follow him on Twitter @IanMBrowne and Facebook. This story was not subject to the approval of Major League Baseball or its clubs.