Shoemaker recovering after surgery on head
Right-hander was struck by line drive during start vs. Mariners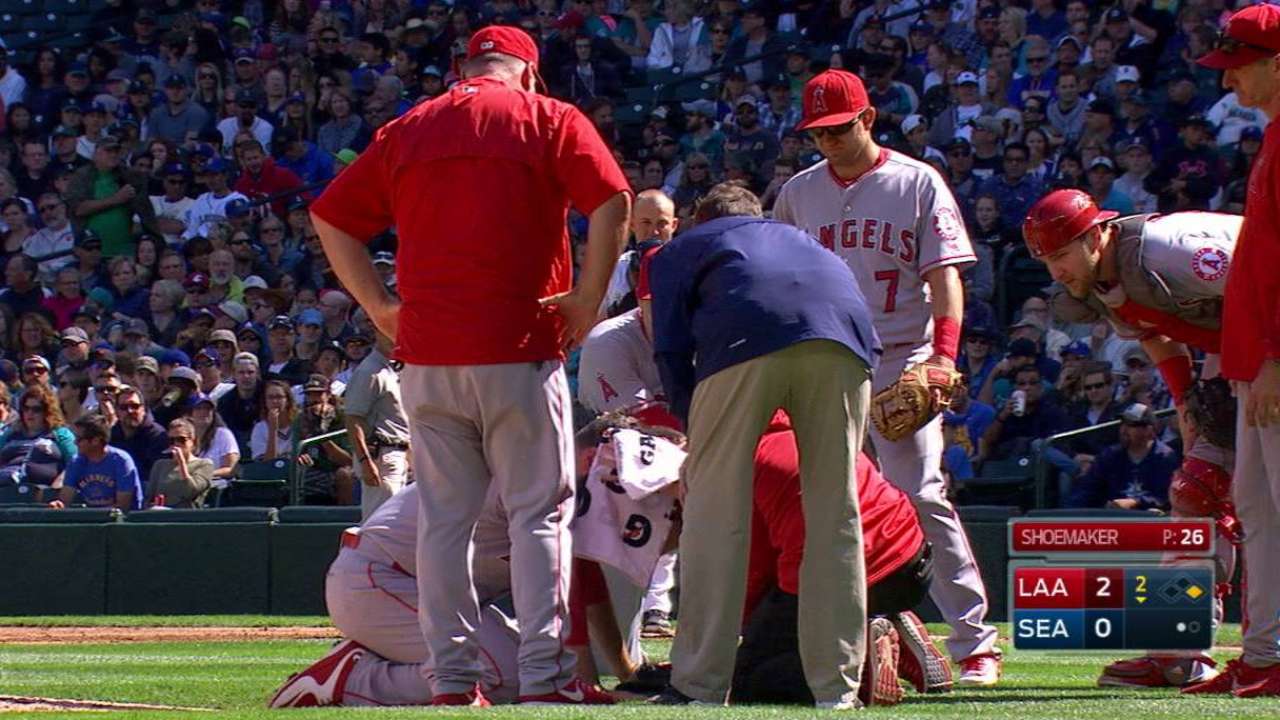 Angels right-hander Matt Shoemaker underwent surgery to halt bleeding on his brain Sunday night after he was hit on the right side of his head by a line drive during a game against the Mariners in Seattle.
Shoemaker was struck by the ball in the second inning. The liner came off Mariners third baseman Kyle Seager's bat at 105 mph per Statcast™.
"The CT scan confirmed or when they actually did the operation that confirmed where the bleeding was," Angels general manager Billy Eppler said Monday in Oakland, where the club is starting a three-game series against the A's. "They were able to access that area. They were able to seal it, stop the bleeding. He was wheeled back up into recovery and is recovering fine."
The Angels placed Shoemaker on the 15-day disabled list and recalled right-hander A.J. Achter from Triple-A Salt Lake.
The procedure was performed at University of Washington Medical Center, where a third CT scan showed increased bleeding and prompted the decision for surgery. Shoemaker is expected to make a full recovery and be ready to go next season. He's expected to be cleared to return to Southern California later this week.
"Everybody's been texting him. I don't think anyone wants to call him right now," Angels manager Mike Scioscia told reporters Monday. "We've exhaled a little bit since. They monitored him and decided they needed to do surgery. They went in there and hopefully corrected what was causing the bleeding. He's resting comfortably, and everything looks like it's taken care of. Now it's just the recuperation process for Matty. Our thoughts and prayers are with him."
It's unclear at this point who will replace Shoemaker in the Angels rotation, but recently-demoted right-hander Tim Lincecum is one of the candidates.
"Haven't decided on what the final look will be, but Tim threw a really good game [at Triple-A] last night," Scioscia said.
Manny Randhawa is a reporter for MLB.com. Follow him on Twitter at @MannyRsports This story was not subject to the approval of Major League Baseball or its clubs.