Veteran Jaso sticking to late-season mindset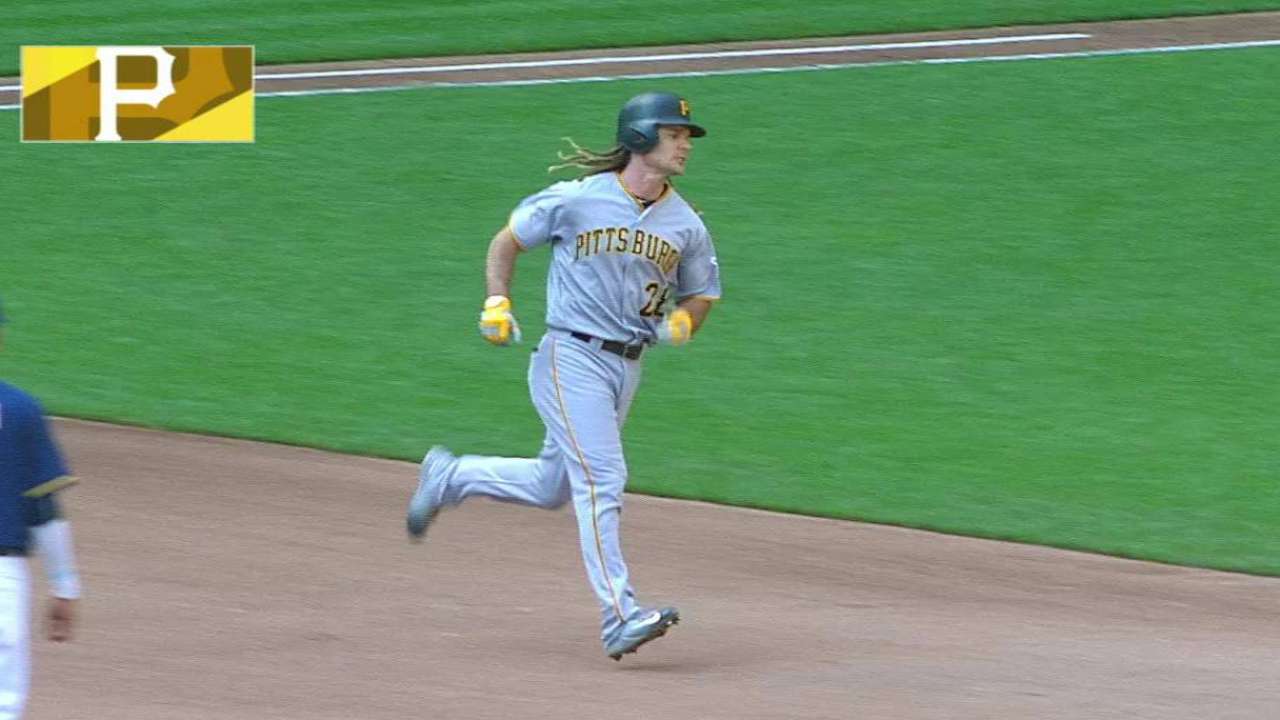 PITTSBURGH -- With the arrival of highly touted first-base prospect Josh Bell, it looked like John Jaso might be relegated to a reserve role down the stretch. But Jaso may have hit his way back into more playing time.
Jaso went 1-for-4 with a double in Sunday's 10-0 loss to the Brewers, the Bucs' sixth straight defeat, but he hit the ball hard in each of his four at-bats. He has been batting well since Bell came up, going 7-for-15 with a homer and two doubles in his last nine games -- only two of them starts.
Following Jaso's encouraging showing on Sunday afternoon, Pirates manager Clint Hurdle said the lefty-swinging first baseman would find his way into Monday's lineup against Adam Wainwright. Sure enough, Jaso was batting second, playing first, albeit not for long.
"I'm taking it one day at a time. We're trying to find offense," Hurdle said on the heels of a six-game losing skid in which the Pirates scored only 16 runs. "I'm hunting offense right now, just like our guys are, and he's swung the bat as well as anybody we've got."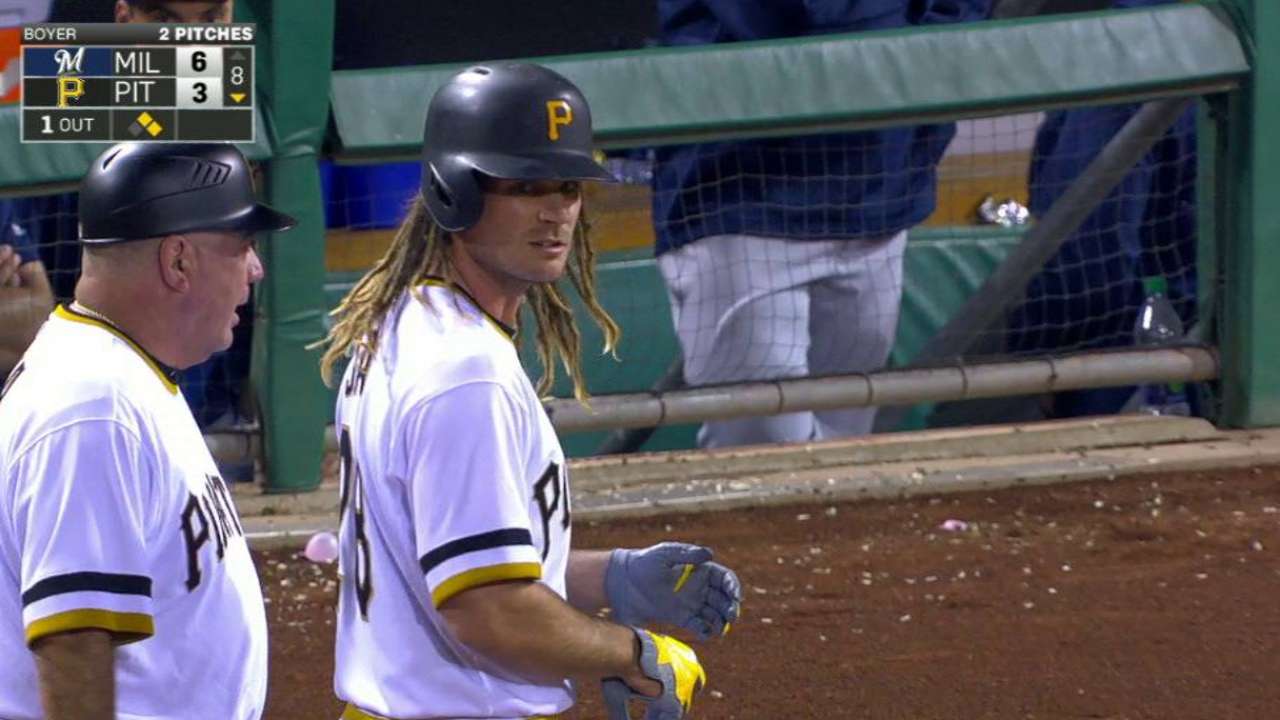 But Monday's 12-6 loss to the Cardinals dictated a quick trip to the bench for Jaso. Bell pinch-hit for struggling starter Chad Kuhl in the second inning, lining an RBI double to left field, and he remained at first base following a double switch. Jaso drew a walk in his first plate appearance and struck out to end the second inning.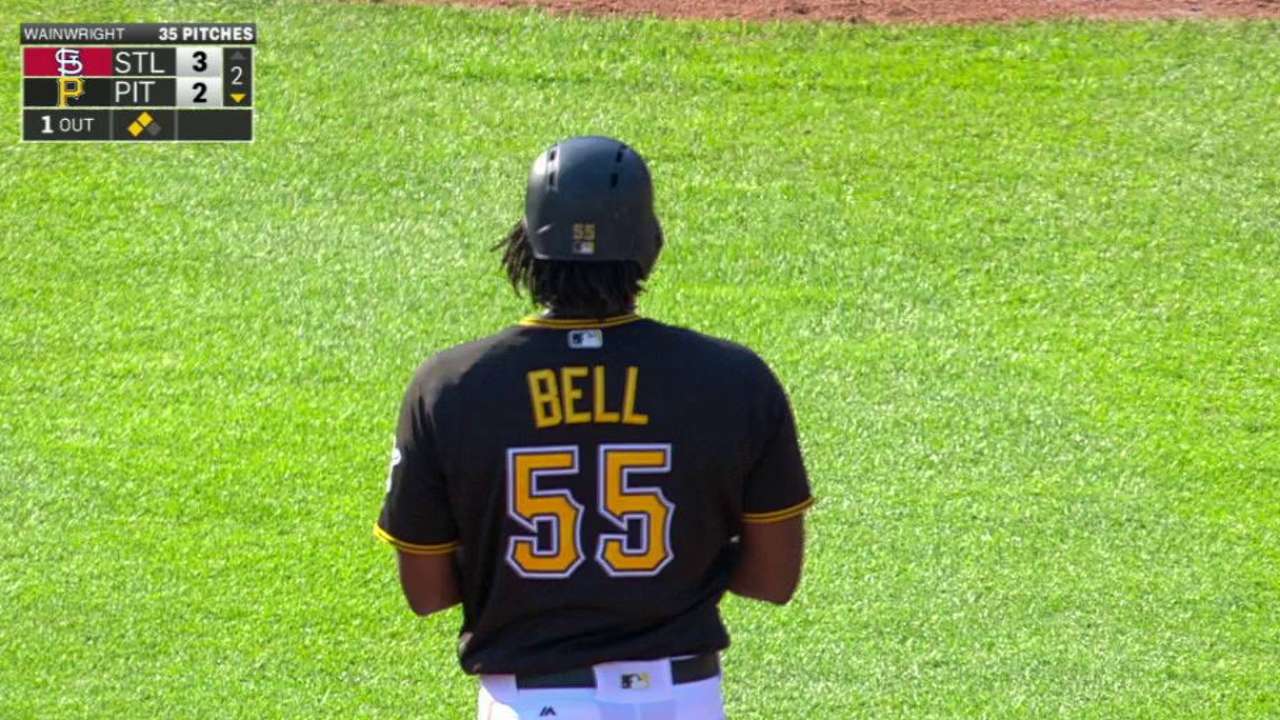 Signed last offseason to a two-year, $8 million contract, Jaso entered the season as the Pirates' leadoff man and filled the role admirably for two months. He batted .304/.369/.441, better than his career averages, in April and May. Then came an extended summer slump in which Jaso hit .198 with a .565 OPS in June and July.
But Jaso may have found his way out of that skid, and Bell went just 2-for-18 last week. So Hurdle plugged Jaso back into the lineup, hoping the veteran can spark an offensive turnaround when the Pirates desperately need one.
"He's done this before. He did a lot of it the first two months he was here," Hurdle said. "Right now, we need to get an active bat in the lineup and see what he can do with the at-bats."
For his part, Jaso -- ingrained with a sense of perspective beyond the narrow focus of baseball -- responded well to a reduced role.
"I've always had the mindset that I'm blessed just to be here. When something like that happens, it's a lot easier for me to handle," Jaso said. "It's fine. I'm still here. I still have a locker and a uniform, so I'm happy. It doesn't matter to me."
Whereas some players would lock themselves in the batting cage and hack until their swing returned, Jaso has stuck with his usual late-season routine, cutting back on his pregame work and trying to instill confidence in his head.
"I just try not to overwork myself," Jaso said. "It's just all about the mindset."
Adam Berry has covered the Pirates for MLB.com since 2015. Follow him on Twitter at @adamdberry. This story was not subject to the approval of Major League Baseball or its clubs.