Benintendi ahead of schedule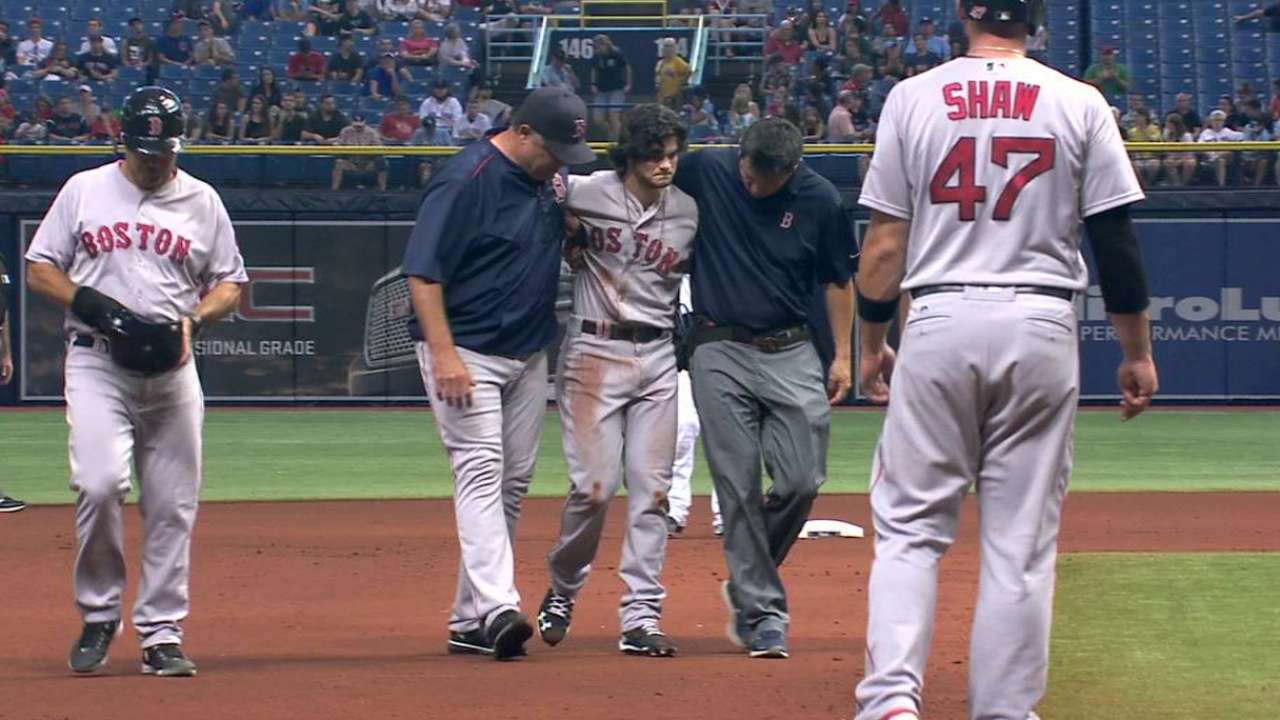 SAN DIEGO -- Red Sox outfielder Andrew Benintendi is progressing better than anticipated in his rehab from a left knee sprain and had a productive day on Monday that included baseball activities.
The outfielder will be fitted for a knee brace on Tuesday, and the Red Sox are hopeful he can return to the lineup in the coming weeks, though not on this road trip.
"He went through a number of things here today, rehab-wise," said Red Sox manager John Farrell. "The increase in running -- he ran on the back edge of the infield here roughly at 80-85 percent intensity. He hit in the cage. He's going to hit in the fourth group of BP here today. This is all without the fitting brace, just the sleeve that he's been wearing."
"We would hope that once the brace gets on, then the more change of direction, the cutting will start to take place, and then the baseball activities will continue to ramp up through the weekend series in Toronto," said Benintendi.
Benintendi injured his knee trying to get back to second base at Tropicana Field on Aug. 24.
At that point, there were no guarantees he would play again this season. Things are definitely looking up now.
"I would say so, yeah," said Farrell. "We still don't have an end date for when he'll be back on the field. But given the injury at the time, yeah, he's making very good progress."
Getting Benintendi back would be a big lift considering how well he performed after being called up, slashing .324/.365/.485 with six doubles, a triple, a homer and 10 RBIs in 68 at-bats.
Ian Browne has covered the Red Sox for MLB.com since 2002. Follow him on Twitter @IanMBrowne and Facebook. This story was not subject to the approval of Major League Baseball or its clubs.