Giants look to reverse power drought at Coors
Bochy cautions against trying too hard to force home runs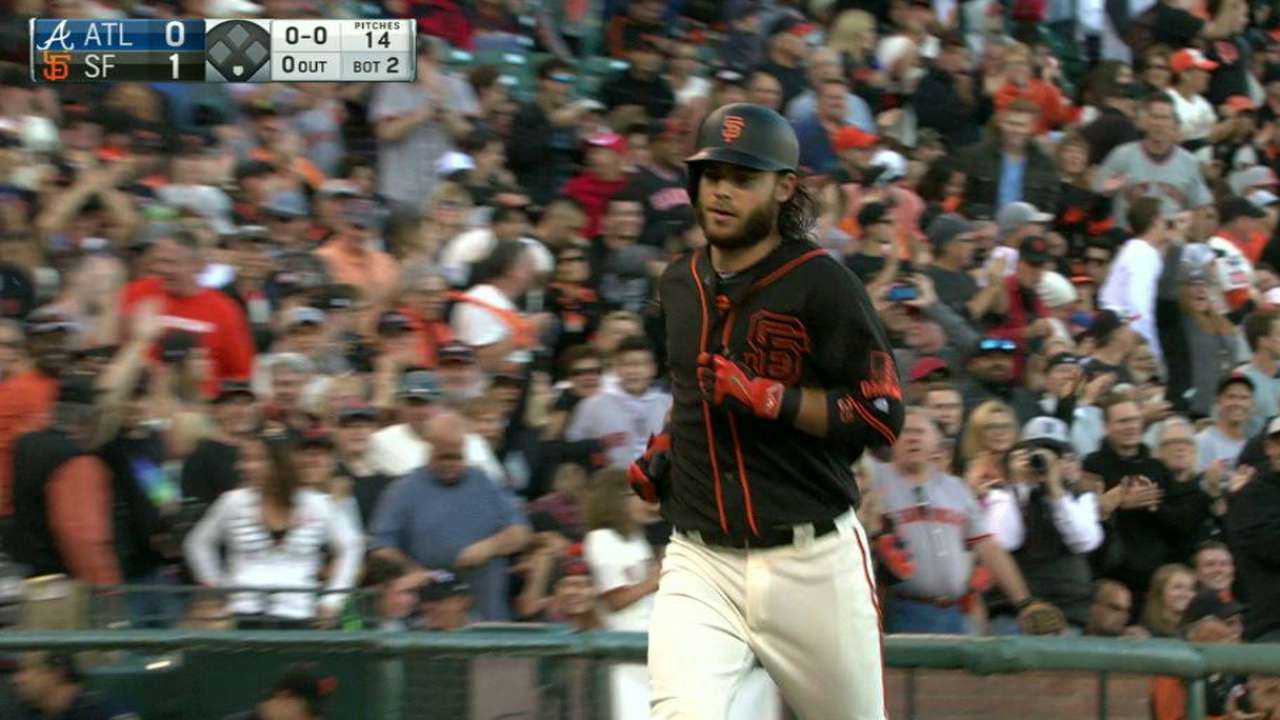 DENVER -- After tying a 43-year low with their offensive output in Chicago, the Giants are eager to get their groove back at the plate. San Francisco posted four or fewer hits in all four games in Chicago, the first time they've had a dry spell of those proportions since 1963.
The power numbers have sunk as well, with no homers in the four-day stay in the Windy City, and their top three home run hitters, Brandon Belt (14), Brandon Crawford (12), and Buster Posey (12) have gone a collective 237 at-bats since last leaving the park entering play Monday.
"I can't explain it for you," manager Bruce Bochy said before the opening of a three-game set in Colorado. "Hopefully it means we'll hit a few from this point on. We're not a home run-hitting club, but probably more even the doubles are down right now. Hopefully it picks up here in the next few weeks."
After losing three of four to the Cubs and playing three straight day games, including a 13-inning loss on Sunday, Bochy is taking pains to keep his starters fresh, giving Posey an unplanned rest for the day game Monday with the Rockies and indicating he'll likely start at first on Tuesday, spelling Belt against the lefty Tyler Anderson.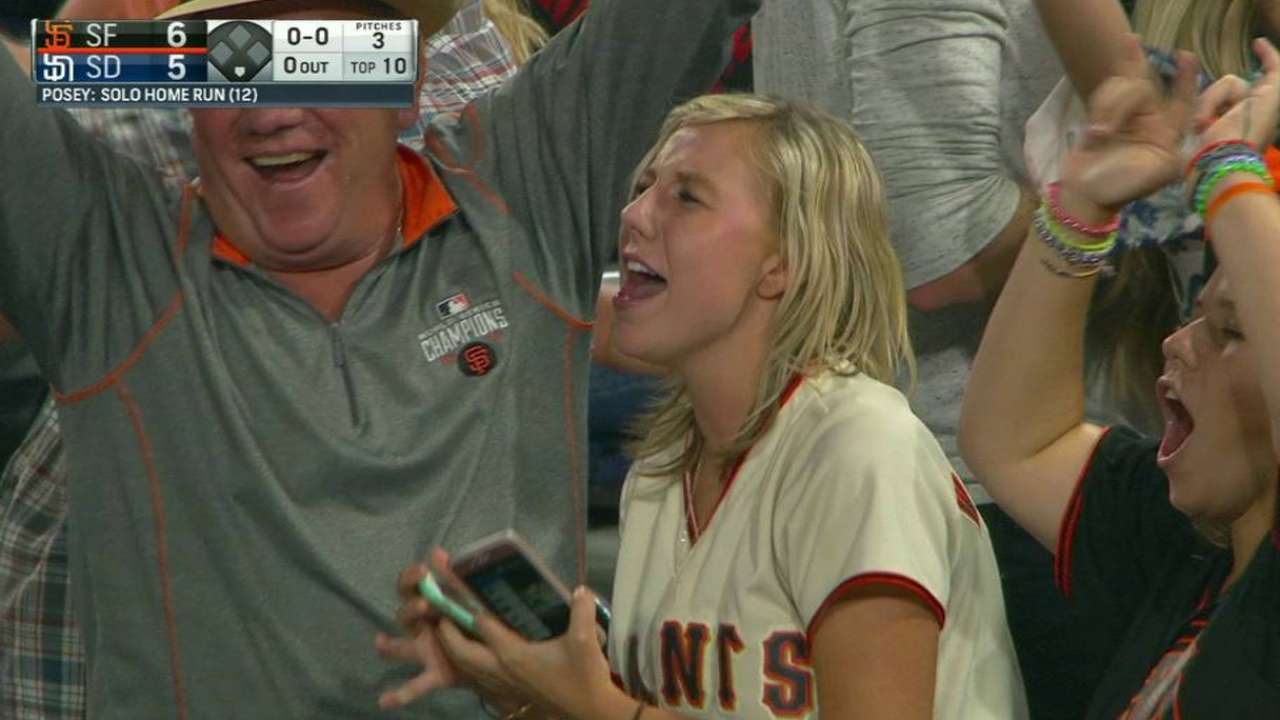 "The games at Wrigley, and yesterday, that kind of forced me to give him a day today," Bochy said of Posey's unanticipated off-day. "A long game yesterday, and I could see that all those day games caught up with him.
"We got to keep an eye on these guys and keep them fresh. You get this late in the season, it can catch up with them if you don't keep their legs fresh, and that's why Buster's off today."
Typically, Coors Field can be a great place to reclaim your rhythm at the plate, but Bochy cautioned against trying too hard to make something happen.
"I don't want to get inside their heads -- just go out there and get you a quality AB," Bochy said. "Any park we go to we like to think we can hit one out. In a four-game series, you look at Wrigley, and there wasn't one homer. I know the wind was blowing in a bit, but that's how good the pitching was. The boys have to get their confidence back, no question about that. These things are hard to explain. Crawford, Belt, Posey, the guys that normally have a few more home runs. But the last thing you can do in this game is start thinking about it and trying for it. Now you're going to get really out of synch. You try to go up there and get a good swing off and see what happens."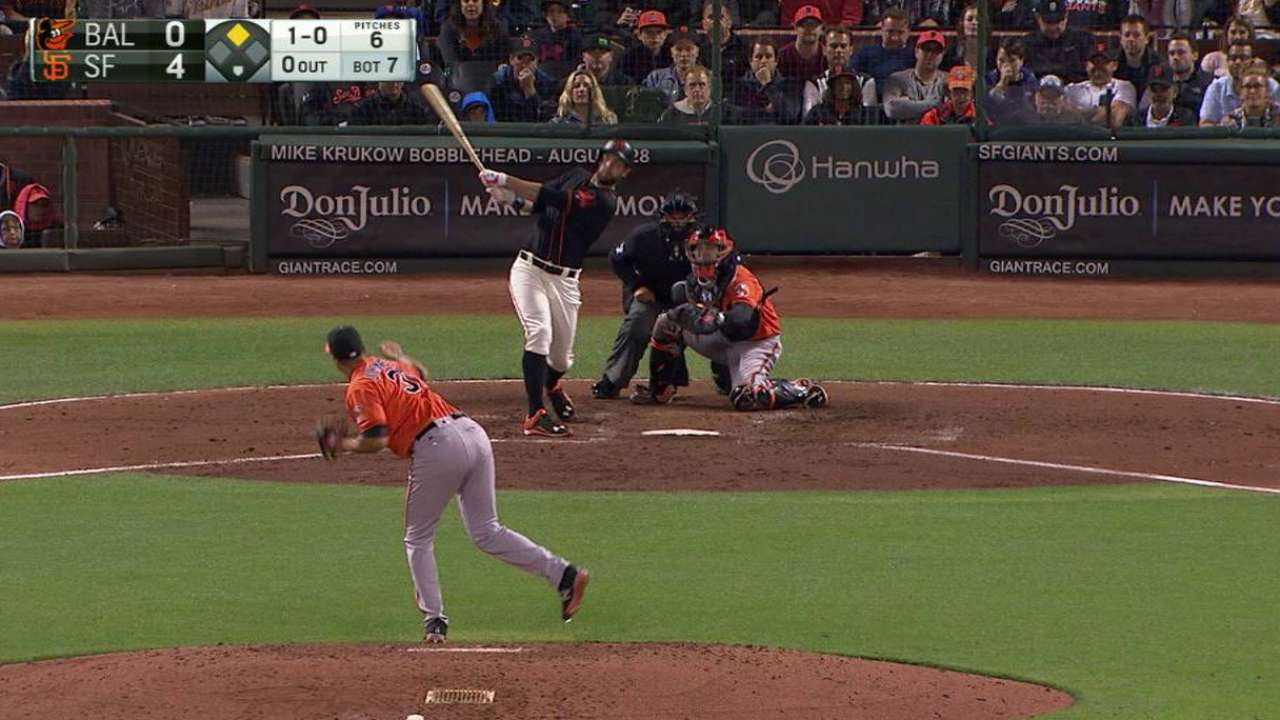 Belt was in the lineup Monday after taking a pitch off his helmet Sunday.
"He was the one guy we had to check after getting hit in the head yesterday, but he says he's good to go," Bochy said. "Once I went out there with the trainer, he said, 'It didn't catch me real good. It glanced off the helmet.'"
Worth noting
• With Triple-A Sacramento wrapping up its season, the Giants plan to keep some players active in Arizona in case of a sudden need -- including a catcher to be on call in case the need arises. Gregor Blanco (right-shoulder impingement) is eligible to come off the disabled list Tuesday, but he has just started hitting off the tee at the Giants' Spring Training facility in Scottsdale, Ariz. Derek Law (right elbow strain) has started playing catch in Arizona, and he could be ready when he's eligible on Sept. 12. The Giants open up a series with the D-backs at Chase Field after the three-game set in Colorado.
"I can give you a better answer in a couple days when we get there," Bochy said.
Owen Perkins is a contributor to MLB.com based in Denver. This story was not subject to the approval of Major League Baseball or its clubs.