Fully stocked 'pen provides Servais options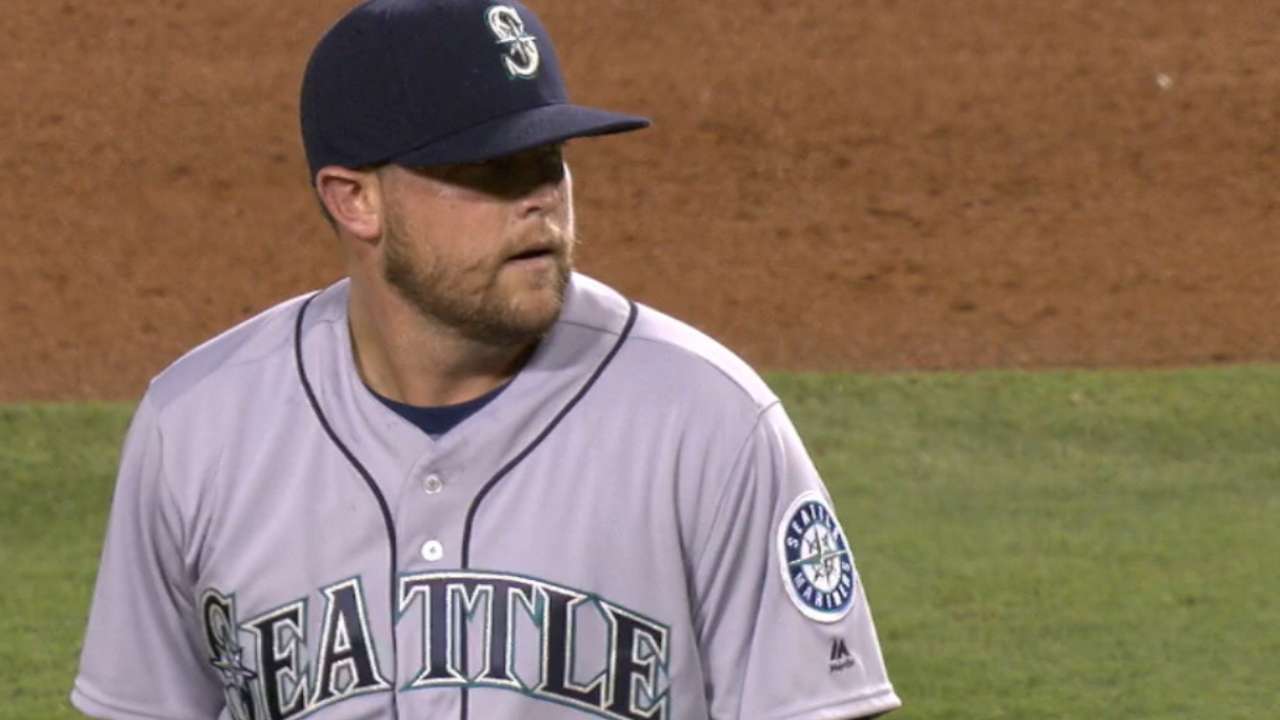 SEATTLE -- After looking to squeeze everything he could from his bullpen through a tough August stretch, Mariners manager Scott Servais has more relief options at his disposal now with the return of Drew Storen from the disabled list and expanded rosters adding arms.
Storen threw a 1-2-3 ninth with a strikeout in Sunday's 4-2 loss to the Angels in his first game back from some shoulder inflammation, and the Mariners have added Evan Scribner and David Rollins in the last few days, as well as the recently promoted Dan Altavilla.
Additionally, Steve Cishek and Nick Vincent are now back to full strength after midseason DL stints, and Tom Wilhelmsen will throw a simulated inning on Thursday as he works his way back from a back injury. So yes, it's a far different scenario with 10 healthy arms available in relief, as well as more coming once Triple-A Tacoma ends its playoff run later this month.
Rookie closer Edwin Diaz also should be fresher going forward after seeing his workload lessened considerably over the past week.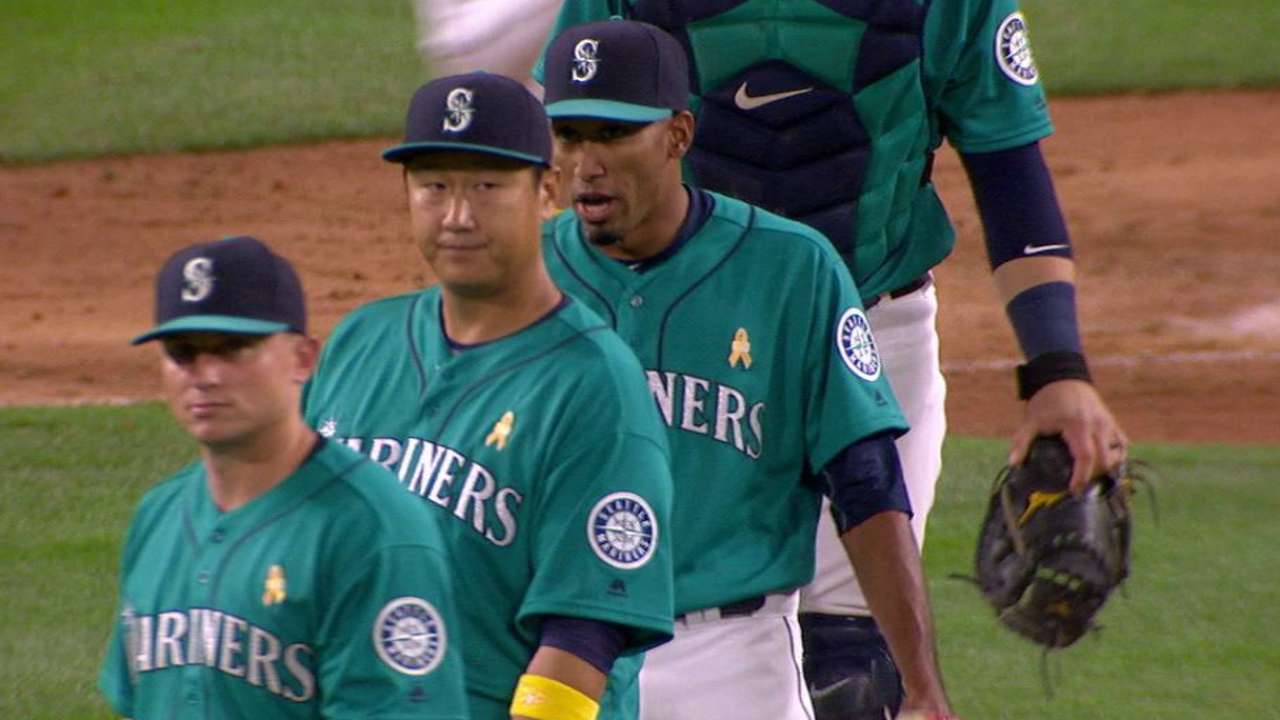 "We don't have to run guys out there three, four, five days in a row," Servais said. "I still like what I've seen out of Dan Altavilla. He's thrown a lot of good pitches and hasn't had a lot of things go his way. Some soft hits and made some good pitches and guys have put balls in play on him.
"[Cishek] continues to throw the ball well since he's been back. Now you've got Storen. Vincent has thrown the ball very well recently. We've got a lot of different options."
Storen is happy to have his name back in that mix, as the former Nationals closer wants to finish the season strong and do whatever he can to help the Mariners' long-shot playoff chances.
"It was frustrating [being on the DL]," Storen said. "You want to be out there helping the guys, but it's never ideal in this game. That's the fun part about it. Things never go to plan, but crazy things happen. We just have to keep our heads down and keep grinding.
"It's all about momentum. In D.C., when we won in '12 and '14, we had a big lead and kind of coasted into the playoffs and then you get those four days off. It's tough to flip that switch. If we can play well and get a ticket to the party, we'll be all right."
For the Mariners to have a shot, their pitching is going to have to step up. Servais acknowledged he could go with a quicker hook now on his starters with the increased options in the bullpen, particularly with youngsters James Paxton, Taijuan Walker and Ariel Miranda.
Paxton will start Tuesday against the Rangers, but will be monitored closely after dealing with a torn fingernail that limited him to five innings in his last outing.
"A lot depends on where you are pitch count-wise and just reading the game," Servais said. "I would much prefer even at this time of the year to let the guys go, but Paxton with his nail, obviously Walker has been up and down. We want to get him in there and hopefully get him out of there on a good note. That plays into the decision making there a little bit."
"With Miranda, we're still learning as we go through this what he can take on and how deep he can go. Last time out was the first time all year he'd thrown more than 100 pitches. We'll keep an eye on it. But having more guys certainly allows you to pull them quicker."
Worth noting
• Left fielder Norichika Aoki, who was optioned to Tacoma on Aug. 26, will be eligible to return on Tuesday. When he does, Servais said he'll juggle time between Aoki, Seth Smith and newcomer Ben Gamel for playing time in the corner outfield spots against right-handed starters, with his emphasis on finding the right tablesetters atop his lineup.
• Catcher Steve Clevenger, who is on the 60-day DL with a broken bone in his right hand, has been promoted to Double-A Jackson to continue his Minor League rehab. Clevenger appeared in two games for the Mariners' Arizona Rookie League team in their playoffs, which have now ended.
• Right-hander Nathan Karns hasn't ruled out his own return from the 60-day DL this season, as he's preparing to do some light throwing for the first time since hurting his back in late July. But Karns isn't eligible to come off the DL until Sept. 29.
Greg Johns has covered the Mariners since 1997, and for MLB.com since 2011. Follow him on Twitter @GregJohnsMLB and listen to his podcast. This story was not subject to the approval of Major League Baseball or its clubs.