Pirates activate Kang from disabled list
Prospect Diaz evaluated by team physicians for cellulitis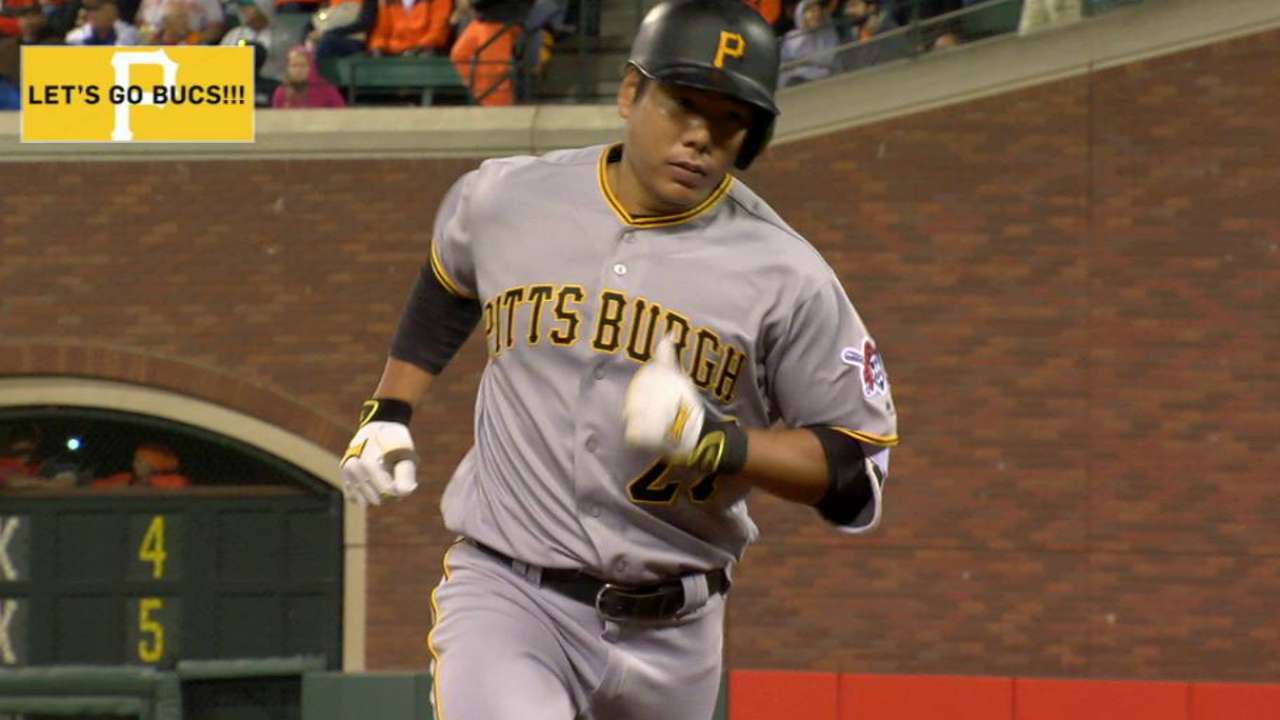 PITTSBURGH -- The last time Jung Ho Kang came off the disabled list, he immediately gave the Pirates the offensive spark they needed, homering twice in a 4-2 win over the Cardinals on May 6.
Kang is back again, and Pittsburgh could use another jolt from his bat. The Pirates activated Kang from the 15-day DL before Monday's 12-6 loss to the Cardinals at PNC Park at a time Pittsburgh is desperate for offense; the ballclub had scored 16 runs over its last six games -- all losses -- and got shut out in three of those defeats.
Kang did not start on Monday after playing back-to-back games on a rehab assignment with Triple-A Indianapolis, but he will split time at third base down the stretch with David Freese. He did strike out in a pinch-hit at-bat.
"He'll have the opportunity to start. We're looking for offense," Pirates manager Clint Hurdle said. "The last time he joined us, we were in St. Louis and he provided us with some offense. Maybe he can revisit that while the Cardinals are in town this time."
Kang missed a month at the start of the season while his surgically repaired left leg continued to heal. Aside from his initial power surge, Kang has struggled in 2016. But he seemed to find his swing before a slide into second base led to a subluxation of his left shoulder.
"Prior to my injury, I felt really good about my swing," Kang said through interpreter H.K. Kim. "Given the situation here with the team, I'm just sorry that I couldn't do anything while I was on the DL. I just want to help the team win since I'm here.
"It hasn't affected my swing fully, but my shoulder is good now. I know it's not 100 percent, just like any other injuries, but I feel good."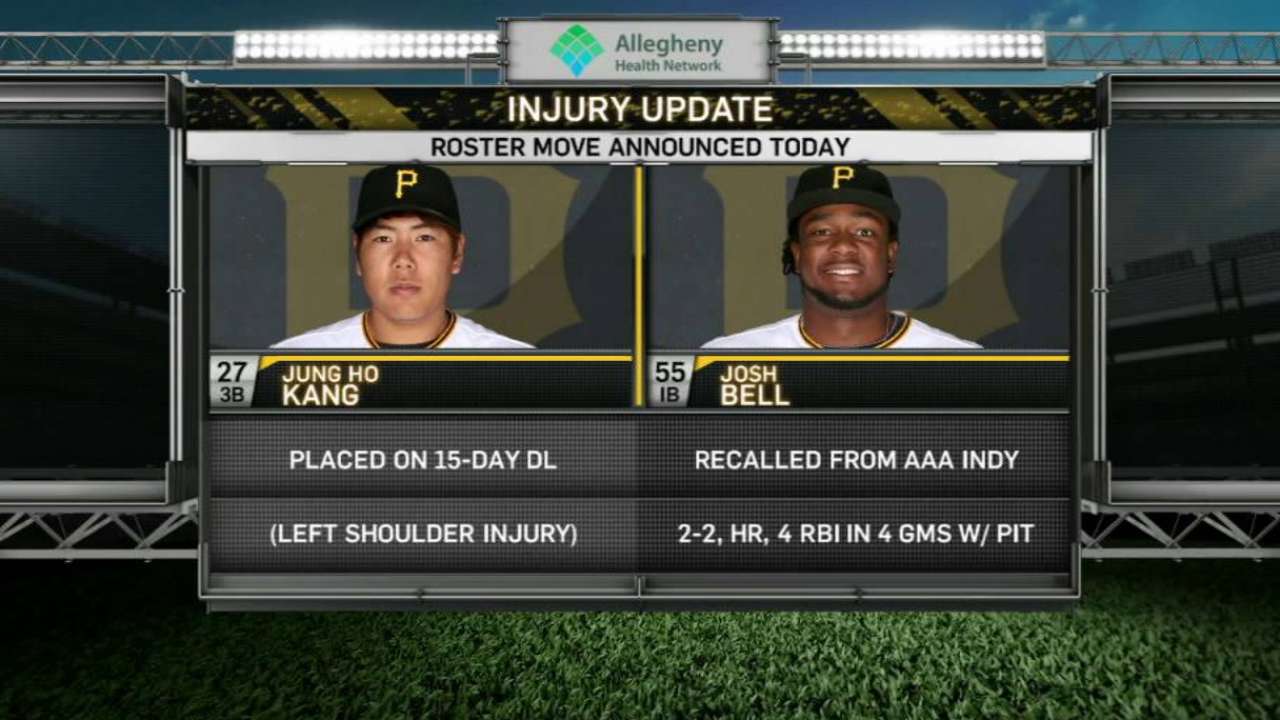 Kang also struggled on defense at times this season, committing 12 errors in 68 games, including nine in his last 13 contests, compared to 14 all of 2015.
"I think he was just getting back in a better place with a more regular routine that was consistent with what he did in 2015," Hurdle said. "We'll see if we can get him back in that rhythm and that routine to see if he can help us in September."
Kang went 7-for-18 with three homers, four walks and four strikeouts in his final six games before hitting the disabled list. Nobody expected Kang to replicate his rookie season success, not after his left knee was shattered a year ago, but a good September would be beneficial for him and the Pirates.
"I think it's a great opportunity for him to get back involved with the club and to finish on a strong note," Hurdle said. "That always helps moving into the offseason."
"I'm done with rehab," Kang added. "Seriously."
Diaz visits team doctor
Catching prospect Elias Diaz came to Pittsburgh on Monday to be evaluated by the club's physicians. Diaz, who had been playing in Triple-A, is being treated for cellulitis -- a common bacterial skin infection -- on his left leg, the club announced.
Diaz will be evaluated again in three days. In the meantime, his status is uncertain. Diaz is a candidate to be called up at some point this month, though the need for another catcher behind Francisco Cervelli was lessened by the recent return of backup Chris Stewart.
Adam Berry has covered the Pirates for MLB.com since 2015. Follow him on Twitter at @adamdberry. This story was not subject to the approval of Major League Baseball or its clubs.