Surprising vet Colon anchoring Mets' rotation
Big righty delivers excellent start, escaping jams to throw six scoreless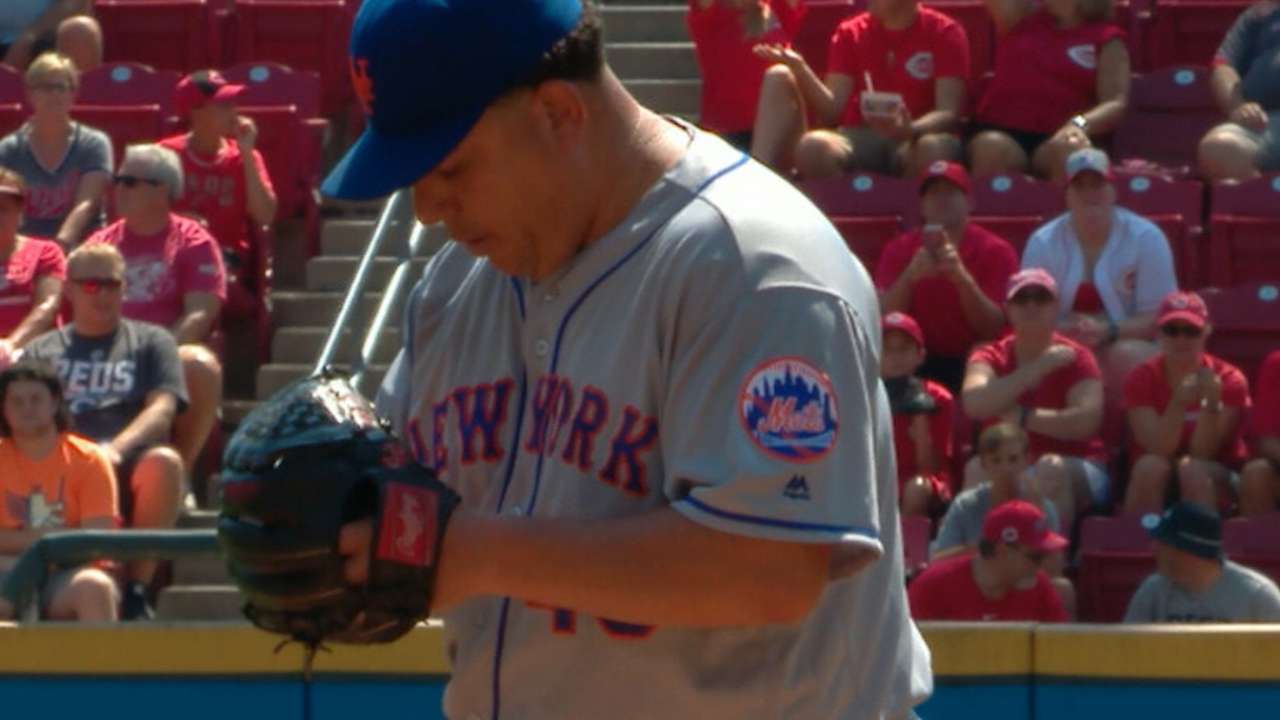 CINCINNATI -- When the Mets started the season, the rotation was supposed to be their strong suit, with a staff of Matt Harvey, Noah Syndergaard, Steven Matz, Jacob deGrom and Bartolo Colon, plus Zack Wheeler returning late.
Things haven't gone as planned. Just two of the Mets' five original starters -- Syndergaard and Colon -- remain in the rotation. Harvey and Matz, along with Jonathon Niese, are on the disabled list and deGrom is dealing with a forearm injury that will cost him at least one start. Wheeler had setbacks that have pushed his return from Tommy John surgery to 2017.
Still, the Mets' rotation boasts baseball's third-best starters' ERA at 3.54, and the club is within one game of the second National League Wild Card spot. And a lot of that has to do with Colon. The 43-year-old right-hander showed why on Monday at Great American Ball Park, pitching six scoreless innings in a 5-0 win over the Reds, lowering his ERA to 3.22.
"He's been the mainstay," Mets manager Terry Collins said. "He's the guy that every fifth day takes the baseball. We don't have to worry about pitch counts, we don't have to worry about innings, he just goes out there and does it. He's had two starts where our bullpen was tired and we needed him to get deep in the game, and you looked up and he was in the eighth inning. He's been a tremendous addition to the staff."
Once again, Colon's start came when his team needed it the most. The Mets didn't arrive in Cincinnati until 4 a.m. ET after a Sunday night game against the Nationals that didn't end until after 11 p.m. While Colon was sent to Cincinnati early to prepare for the start, the rest of the team was running on coffee and fumes come Monday, and many regulars got the day off.
"I never had any pressure at all," Colon said. "I knew coming in some of the veterans were going to have an off-day most likely, so I just moved forward and it worked out."
Colon even pitched through a slight injury on his pitching hand. He said it felt like something was poking him occasionally and that it wasn't a blister. He handled it so well, Collins didn't even know anything was wrong with him after the game.
The entire day wasn't smooth sailing for Colon, either. He ran into trouble in the third inning, giving up two leadoff hits to put men on second and third with no outs, but he struck out opposing pitcher Robert Stephenson and induced a lineout and a flyout to end the inning.
In the sixth, Colon gave up a leadoff triple, but he got three flyouts to escape without giving up a run. By escaping, Colon was able to extend his streak of starts with six or more innings to four, and he lowered his ERA since Aug. 4 to 2.25.
"I looked at [bench coach Dick Scott] and I said, 'Well, they might get one, but they're not going to get two here,'" Collins said. "He just makes pitches and you look at some of the counts, he had 3-2 counts on some guys, but made a pitch he has to make. He's fun to watch. If you don't learn stuff by watching him pitch, you've wasted your time here."
Cody Pace is a reporter for MLB.com based in Cincinnati. This story was not subject to the approval of Major League Baseball or its clubs.