Bruce greeted warmly upon return to Cincinnati
Now with Mets, outfielder welcomed with video tribute before series opener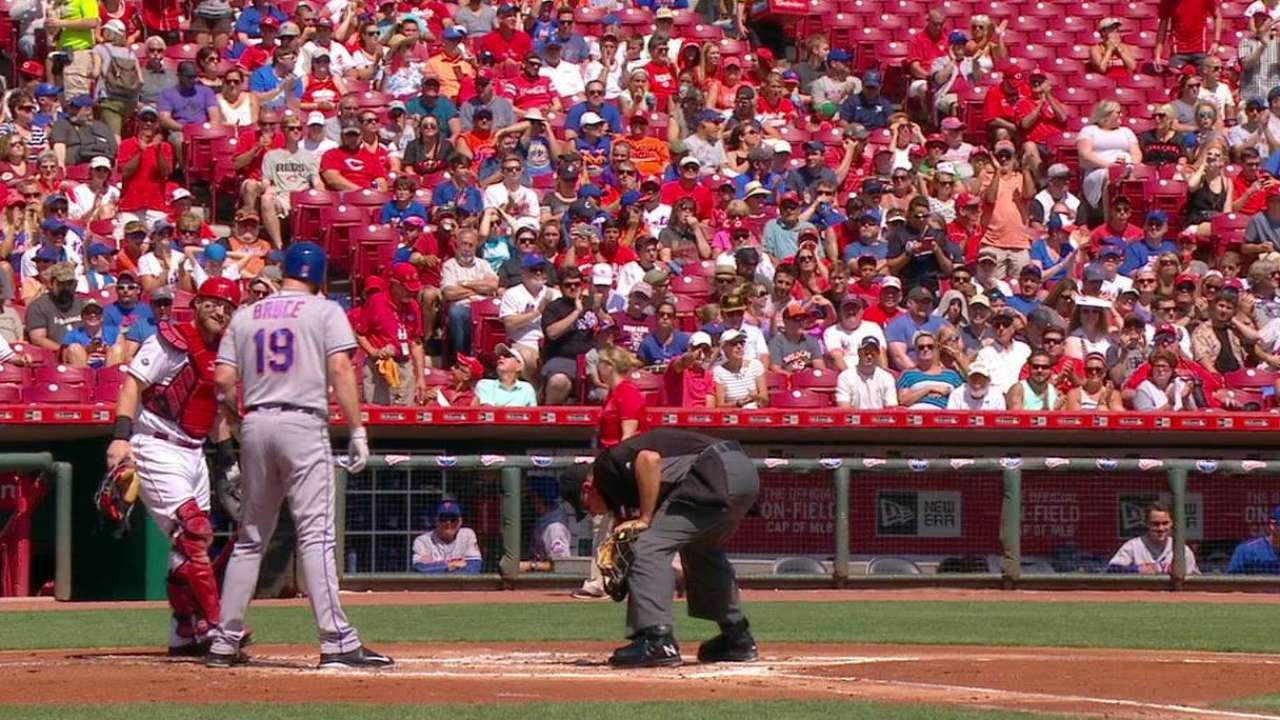 CINCINNATI -- Other than a very late arrival into town and little sleep, it was a typical pregame for Jay Bruce. The right fielder slept in his own bed at home in Cincinnati and drove himself to Great American Ball Park on Monday with his wife, Hannah, and baby boy, Carter.
But once Bruce arrived, he went to a place he never previously entered in his life: the visitors' clubhouse at the ballpark that was once his other home. Of course, Bruce hasn't been with the Reds since Aug. 1, the day he was traded to the Mets.
When Bruce batted for the first time in a 5-0 win for the Mets in which he was 0-for-4, he showed Reds catcher Tucker Barnhart his bat.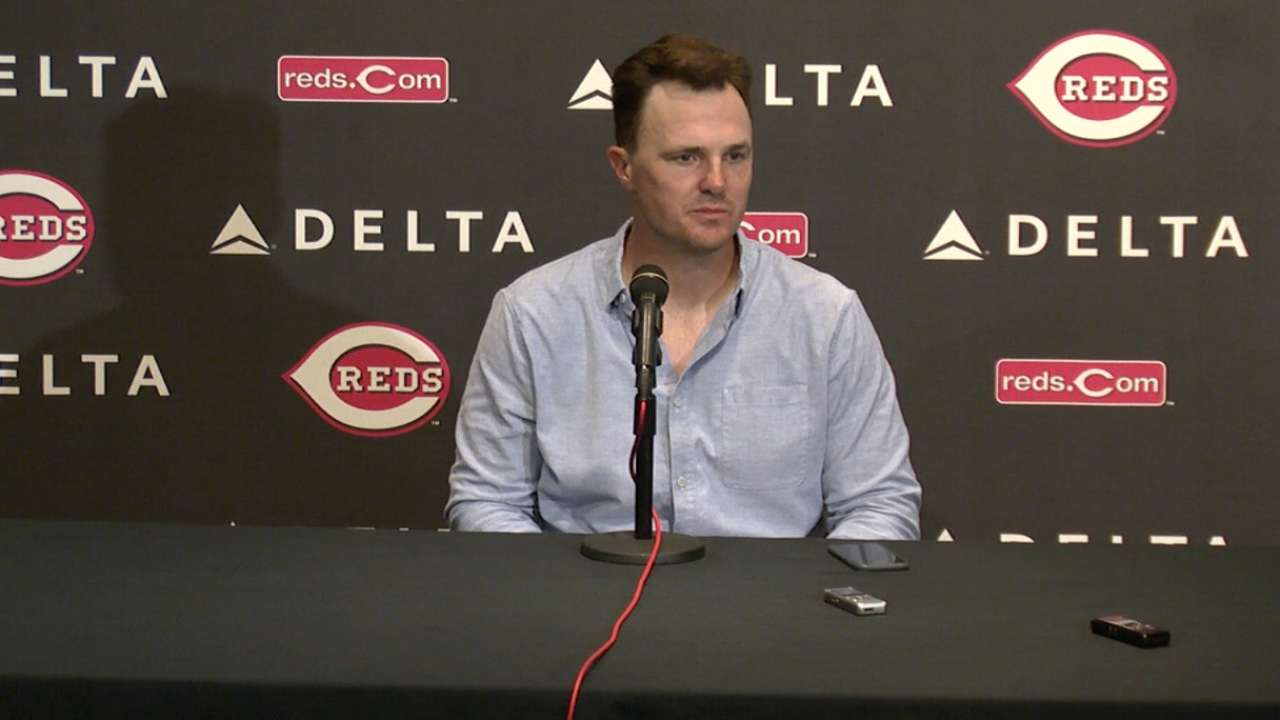 "It has 'New York Mets' on it. I just got those in; I've been using Reds bats with the Mets," Bruce said. "Just the small, the subtle changes that happen, having so many relationships here on and off the field is probably the most odd thing about coming back. I came into the city last night and it was weird. This is not where I am anymore. I still have my house here, I came into the players' entrance. So much is the same, and so different at the same time."
Before the game, the Reds honored Bruce on the field. He was greeted with a video montage of his career in a Cincinnati uniform, from the time he was a first-round Draft pick in 2005 through his many highlights in the big leagues from '08-16, as he hit 233 homers and made three postseason appearances.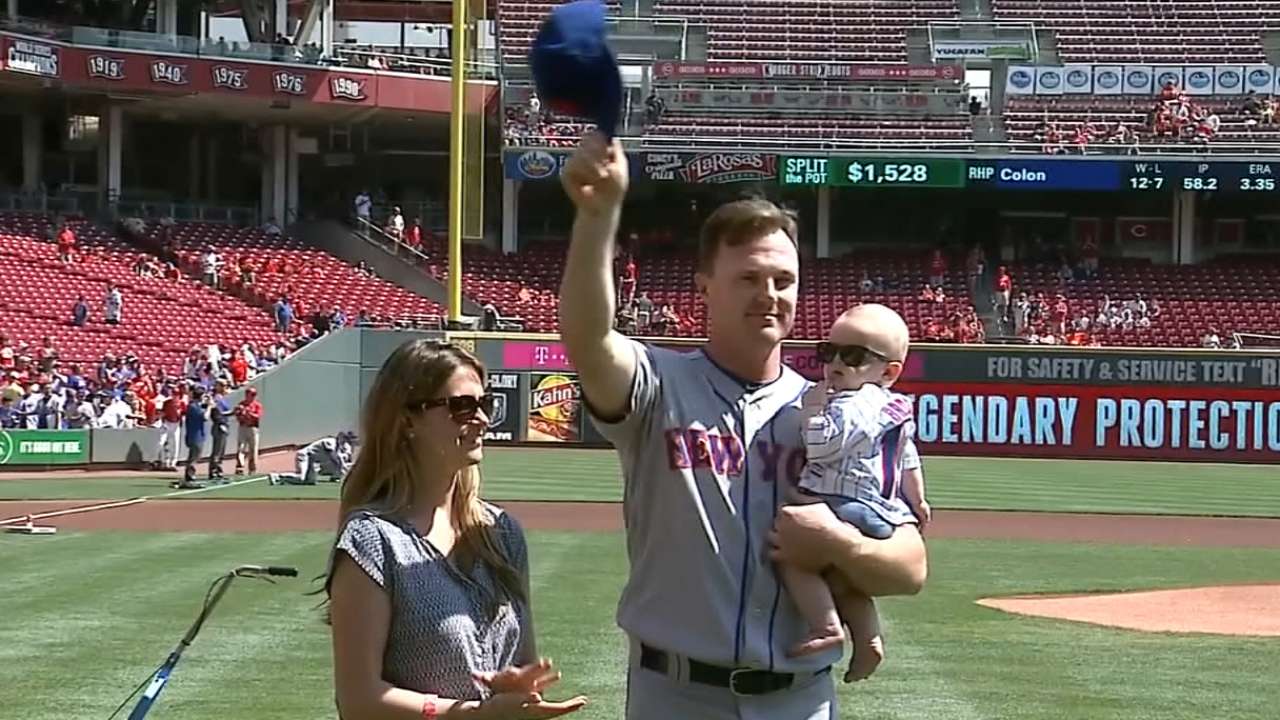 After the video and nice reception from fans, Reds CEO Bob Castellini, president of baseball operations Walt Jocketty and general manager Dick Williams presented Bruce with a $5,000 check for his charity golf tournament.
"It was special, but not surprising," Bruce said. "The way the Reds had handled me and treated me since I'd gotten here has been top-notch. It continued the trend there. It was really special. It was cool to see some of that stuff. I mean, I had braces in one of the pictures when I was 18 and I signed. It was good."
Mets games are often on the Reds' clubhouse televisions, so his former teammates can watch him.
"I feel like every other day, we're texting back and forth," Reds shortstop Zack Cozart said. "When you play with somebody that's about the same age as you for six years almost, you're going to be friends with them on and off the field. That's what I miss more than anything, talking to him, seeing him in person. We're just good friends."
Bruce has largely struggled with the Mets since the trade, batting .202 with four homers and 10 RBIs after he hit .265 with 25 homers and 80 RBIs this season for Cincinnati.
"These guys are all professional, good guys. They go about their business the right way, like to have fun. That's been easy," Bruce said of the Mets. "The transition, I think the toughest has been not being with my family. Just being in such a large city that I don't really know anything about. It's hard to find housing, the logistical part of it just the hardest thing.
"The baseball's been good. I haven't played as well as I've wanted to yet for the Mets, but it's coming along. ... I look forward to the opportunities and the chance to make another run like they did last year."
Bruce entered the day with eight hits in his past 19 at-bats (.421) with two home runs and four RBIs over his past five games, including on Sunday vs. the Nationals.
"Those were some very good at-bats last night and if he's getting hot, he's getting hot at the right time, because we are in the hunt and he's going to make a big difference," Mets manager Terry Collins said.
Mark Sheldon has covered the Reds for MLB.com since 2006, and previously covered the Twins from 2001-05. Follow him on Twitter @m_sheldon and Facebook and listen to his podcast. This story was not subject to the approval of Major League Baseball or its clubs.