Melky robs another HR, this time on Maybin
White Sox LF snags drive off Sale to begin game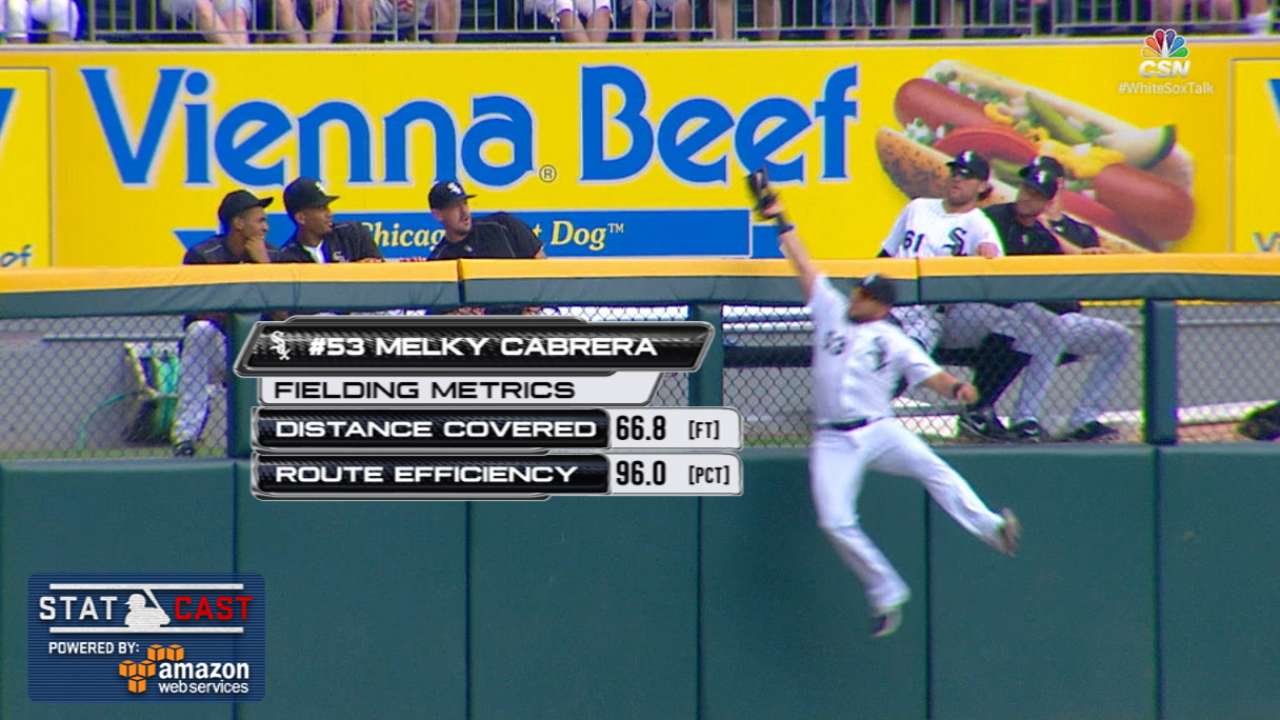 CHICAGO -- If not for White Sox left fielder Melky Cabrera, the Tigers might have finished in regulation their 5-3 victory that instead took 11 innings Monday at U.S. Cellular Field.
Cabrera took a home run away from Cameron Maybin, the game's first hitter, when Maybin lofted a 0-2 Chris Sale slider toward the White Sox bullpen. Cabrera moved back, leaped and reached over the wall to corral what would have been Maybin's fourth homer.
"Yeah, 0-2 hanging slider. That's not a very good recipe," said a smiling Sale of the opening play. "It's fun. I know he works his tail off.
"He puts himself out there quite a bit for us and that doesn't go unnoticed. Starting pitchers are appreciative of the effort. Not only him, but all our guys."
Monday's effort marked this season's second first-inning steal for Cabrera, who took a long ball away from the Cubs' Kris Bryant on July 25 in a game the White Sox eventually won. It was a Cabrera-driven opening inning, as Miguel Cabrera homered two batters later for his 300th as a member of the Tigers.
Miguel stayed away from Melky by driving the ball out to right-center. Miguel's second homer in the third went out to left-center.
"You know the conditions [Monday] are very offensive," White Sox manager Robin Ventura said. "Even with the fly ball, the first fly ball of the day, you see anything really in the air going to left field, if it's hit decent, it's going to go."
"Melky, you've got to tip your hat," Maybin said. "He made a great play. I could have used that for a little confidence coming back after five days."
Scott Merkin has covered the White Sox for MLB.com since 2003. Read his blog, Merk's Works, follow him on Twitter @scottmerkin, on Facebook and listen to his podcast. This story was not subject to the approval of Major League Baseball or its clubs.