Kinsler out, Maybin returns; Pelfrey joins 'pen
Tigers 2B injured right ring finger on defensive play
CHICAGO -- The Tigers are treading water with injuries to key players.
They got center fielder Cameron Maybin back for the series-opening 5-3 win Monday against the White Sox at U.S. Cellular Field, but were without second baseman Ian Kinsler, who injured his right ring finger Sunday in Kansas City.
Kinsler's injury occurred when he made a good play to knock down a hard ground ball hit by Alex Gordon in the ninth inning of the Tigers' 6-5 series-clinching win against the Royals. Kinsler, who has a 14-game hit streak against the White Sox, left Kauffman Stadium with his hand wrapped. His fingernail was damaged and bloodied by a ball that left Gordon's bat, according to Statcast™, with an exit velocity of 101 mph.
Infielder Dixon Machado was recalled from Triple-A Toledo on Monday for depth, in case Kinsler couldn't play. Machado, who can play both middle-infield positions, wasn't in the starting lineup. Andrew Romine started at second for Kinsler.
"I think he's very 'Steady Eddie,' at shortstop," manager Brad Ausmus said of Machado. "He's going to make all the plays he's supposed to, and a lot of plays he's not supposed to. He's a really good defender, which is really important at a premium defensive position."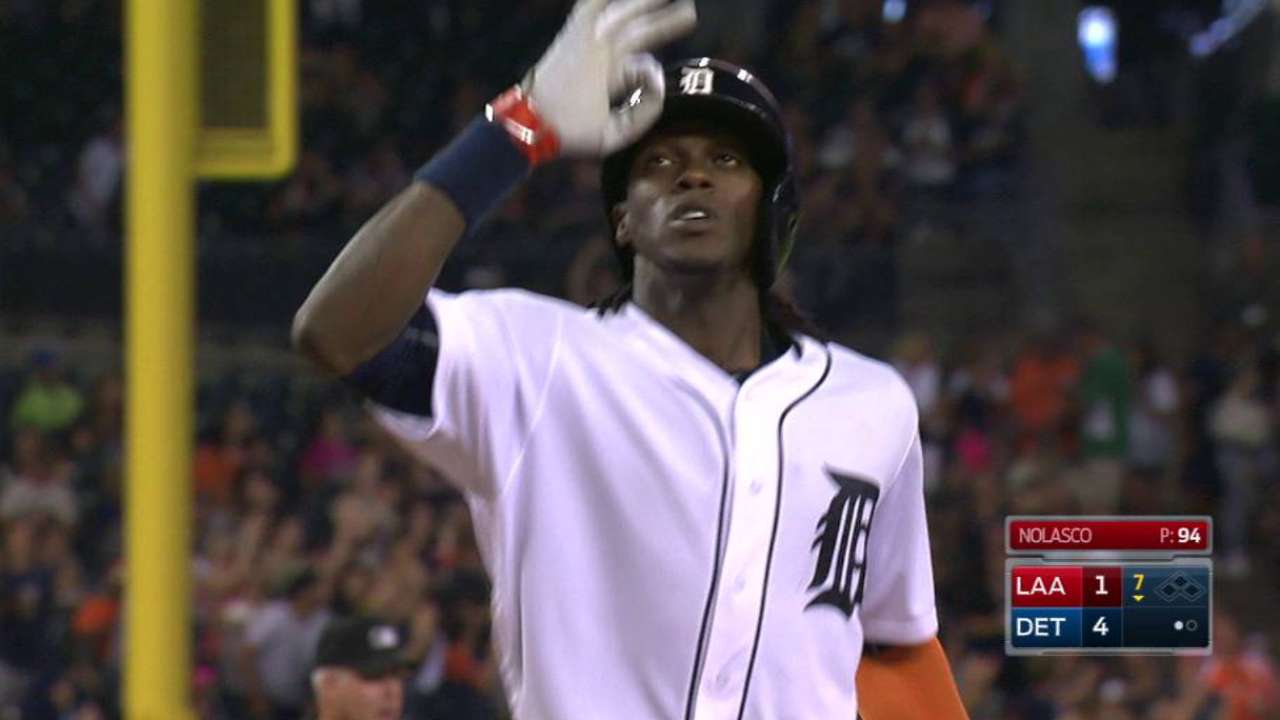 Maybin, who missed six games after re-injuring his left thumb on a slide Aug. 29 against the White Sox in Detroit, decided to play after testing his thumb in batting practice. Prior to aggravating it, Maybin had just returned from the 15-day disabled list Aug. 21 for a sprain in the same thumb. He hit .375 with a home run and seven RBIs in seven games before the latest injury, and was robbed of a home run by Melky Cabrera in his first at-bat Monday. He went 0-for-5 with two strikeouts in the leadoff spot.
Maybin said after Monday's game that the only thing that can fix his thumb is rest, and it probably won't be fully healed until next season. So he's just going to play through the pain.
"It's just one of those things where I'm just going to try and grind my best," he said. "It hurts on contact, swing-and-miss; it's pretty banged up. But I've just got to gut through it and do what I can."
The Tigers, meanwhile, came into Monday tied with the Orioles for the American League's second Wild Card spot. Despite their ongoing battle with injuries, they seem to be enjoying the push to make the postseason.
"I think they're having fun," Ausmus said. "They're having fun in these games. Those games in Kansas City were fun because we won two out of three, but they were good baseball games for the most part. There's meaning to every at-bat or pitch."
Pelfrey activated, joins bullpen
Right-hander Mike Pelfrey was activated from the 15-day disabled list Monday and joined the Tigers' bullpen. Pelfrey, who missed a month with a lower back strain, completed his Minor League rehab assignment at Toledo on Saturday by allowing five runs on nine hits in 3 1/3 innings.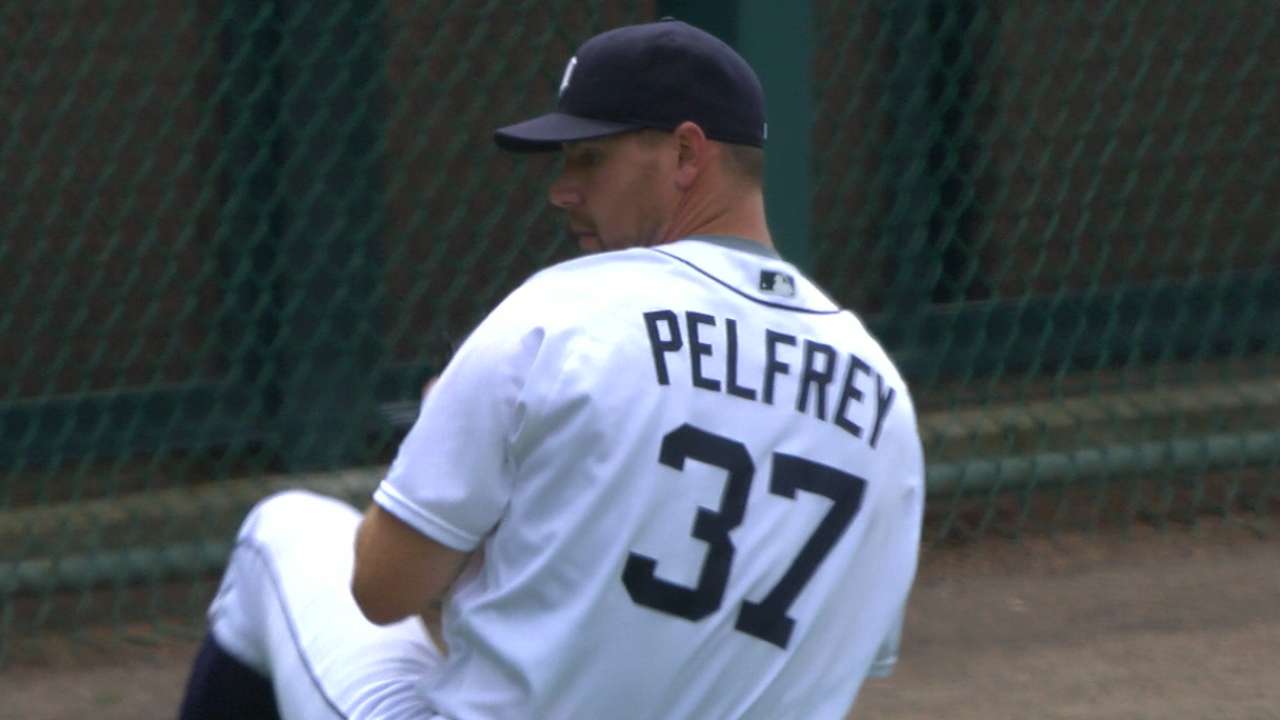 Pelfrey said he felt good physically, but struggled with command, leaving too many balls over the plate. The soonest he'll be used in relief by the Tigers will be the series finale Wednesday against the White Sox.
"It's fine," said Pelfrey, who's mainly been a starter. "I get it. I think everybody in the rotation's throwing well, so I get it. I think at this point, after being out for a month, I just want to pitch and help this team out."
Worth noting
• Right-hander Jordan Zimmermann was roughed up in a rehab start for Toledo on Monday in the Mud Hens' final regular-season game. Zimmermann was tagged for seven runs (two earned) on six hits in 4 2/3 innings, including two home runs. Zimmermann has been on the DL, retroactive to Aug. 5, with a neck injury.
• The Tigers are expected to make more additions from their farm system Tuesday, after Toledo concludes its season Monday. Right-hander Joe Jimenez -- the Tigers' No. 5 prospect, according to MLBPipeline.com -- isn't expected to be among those recalled. Jimenez, 21, is expected to go to the instructional league instead. He will continue working on adding a slider and changeup to his high-velocity fastball.
"We'll bring him up when we think he's ready to be brought up, simple as that," Ausmus said. "I know he's done extremely well, but let's remember he started in [High Class A] ball this year, and you can stunt a player's development by bringing him to the big leagues too early. He's had a very nice year. He's one of the top prospects in the organization. You could make the argument he's the top prospect in the organization, but when he gets here, we want him to be ready."
• Right-hander Donn Roach, who was designated for assignment Saturday by the Tigers, was claimed Monday by the A's. Machado took his place on the 40-man roster.
Brian Hedger is a contributor to MLB.com based in Chicago. This story was not subject to the approval of Major League Baseball or its clubs.