Trio of Braves leads Prospect Team of the Week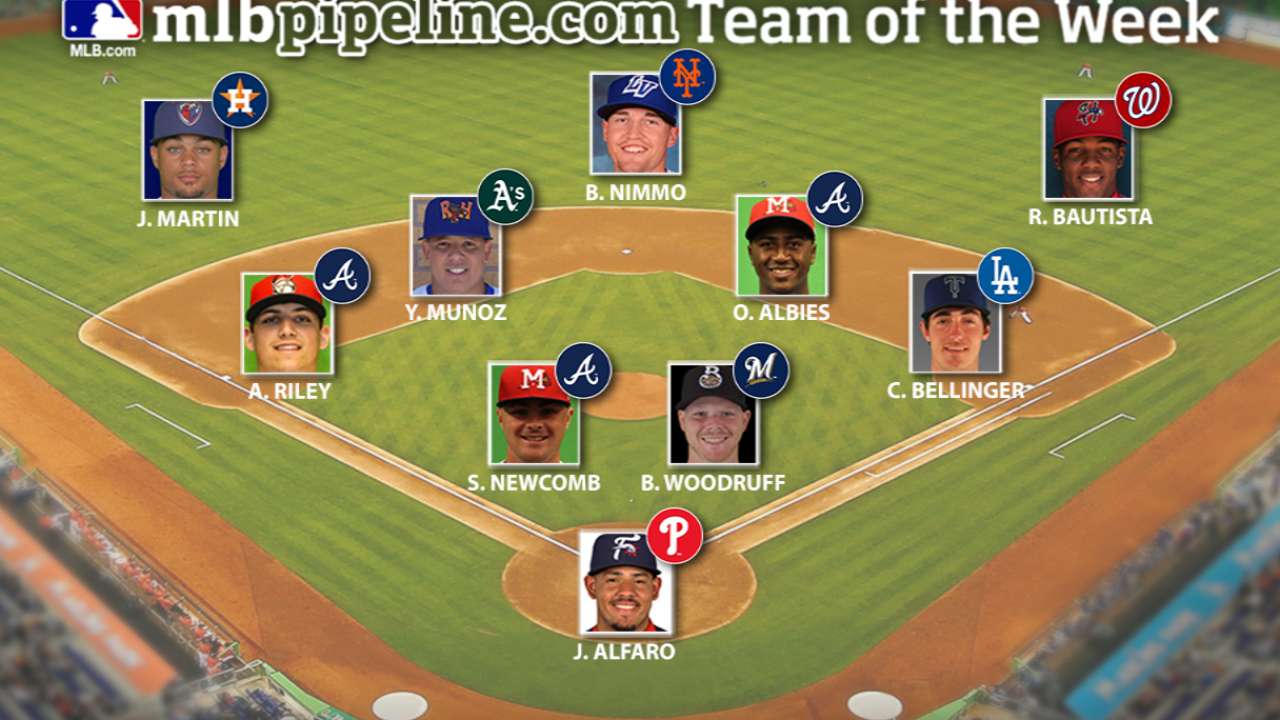 MLBPipeline.com's Prospect Team of the Week honors the best performances from the previous seven days. Any player currently on an organization Top 30 Prospects list on our Prospect Watch is eligible, including big leaguers.
The latest edition of MLBPipeline.com's Prospect Team of the Week (August 29 - Sept. 4) features a mix of both familiar and new names, with two players making repeat appearances on a PTOW and the rest of the group appearing for the first time in 2016. Three of those first-timers come from the Atlanta Braves' system, and overall, there are four Top 100 prospects. There are also two players who are currently tied or leading the Minor Leagues in a specific category, as well as one hitter who recently joined the 20-homer, 20-steal club.
Here's our complete Prospect Team of the Week:
C: Jorge Alfaro, Reading Fightin Phils (Double-A)
(Phillies No. 4 prospect)
5 G, .455/.455/.864, 6 R, 3 2B, 2 HR, 6 RBIs, 0 BB, 7 K
Alfaro kicked off last week with three consecutive multihit performances for Reading, tallying at least one extra-base hit and two RBIs. In the latter contest, the No. 62 overall prospect went 4-for-5 with four runs scored and hit his second homer in as many games, giving him 15 in 96 games this season.
1B: Cody Bellinger, Tulsa Drillers/Oklahoma City Dodgers (Double-A/Triple-A)
(Dodgers No. 1 prospect)
7 G, .462/.483/1.038, 6 R, 5 HR, 12 RBIs, 2 BB, 5 K, 1 SB
Bellinger, No. 34 on the Top 100, earns PTOW honors for a second time this season after a monster offensive week which also saw him receive a promotion to Triple-A Oklahoma City from Double-A Tulsa. The 21-year-old first baseman bookended his week with a pair of two-homer games, first doing so in a 4-for-4, six-RBI performance with Tulsa, and then in his first start for Oklahoma City. He's now hit 25 homers in 116 games this season after going deep 30 times in his 2015 full-season debut.
2B: Ozzie Albies, Mississippi Braves (Double-A)
(Braves No. 2 prospect)
6 G, .304/.370/.652, 6 R, 2 2B, 2 HR, 5 RBIs, 3 BB, 4 K, 2 SB
Albies, 19, homered in back-to-back games this week for the first time in his career while also stealing a base in each contest. After hitting just one home run in 155 across his first two seasons, the No. 14 overall prospect has now gone deep six times in 137 games between the Double- and Triple-A levels, during which he's posted a .292/.358/.420 slash line with a career-high 30 stolen bases.
3B: Austin Riley, Rome Braves (Class A)
(Braves No. 13 prospect)
5 G, .474/.524/1.105, 5 R, 3 2B, 3 HR, 6 RBIs, 2 BB, 3 K
Riley had six of his eight hits go for extra bases as he hit safely in all five games last week to extend his hitting streak to 18 games for Class A Rome. It's been a tale of two halves for the 19-year-old third baseman, who, after batting .252/.299/.372 with three homers in 63 first-half games, has slashed .288/.348/.580 with 17 home runs and 52 RBIs in 65 games since the All-Star break.
SS: Yairo Munoz, Midland RockHounds (Double-A)
(A's No. 7 prospect)
6 G, .391/.481/.739, 5 R, 2 2B, 2 HR, 5 RBIs, 4 BB, 8 K, 1 SB
Munoz's extra-base pop was on display at the outset of last week, when he tallied both a home run and a double along with two RBIs in back-to-back games for Double-A Midland. The 21-year-old didn't fare as well as the week progressed but still tied for the most total bases among qualified shortstops with 17.
OF: Brandon Nimmo, Las Vegas 51s (Triple-A)
(Mets No. 5 prospect)
7 G, .448/.484/.724, 10 R, 2 2B, 2 HR, 4 RBIs, 1 BB, 1 HBP, 6 K
Nimmo had five multi-hit efforts and hit safely in six of seven games to raise his overall batting line to .354/.424/.545 through 96 games for Triple-A Las Vegas. He paced all outfielders in runs scored (10), tied for first in total bases (21) and ranked second with 13 hits to earn a spot on the PTOW for a third time in 2016.
OF: Jason Martin, Lancaster JetHawks (Class A Advanced)
(Astros No. 29 prospect)
5 G, .500/.550/1.167, 6 R, 3 2B, 3 HR, 9 RBIs, 2 BB, 3 K, 1 SB
Martin opened last week with his third two-homer game of the season for Class A Advanced Lancaster and then built on that performance the following day by going 3-for-5 with his 23rd home run as well as a double and four RBIs. The 21-year-old outfielder also picked up his 20th stolen base during the week to become just to the third Minor Leaguer with at least 20 homers and 20 steals in 2016.
OF: Rafael Bautista, Harrisburg Senators (Double-A)
(Nationals No. 17 prospect)
8 G, .429/.487/.543, 7 R, 2 3B, 7 RBIs, 4 BB, 7 K, 5 SB
Bautista, 23, collected multiple hits in six of his eight games en route to pace all outfielders with 15 hits. And with his five steals in six attempts last week, he's tied for the Minor League lead with 55 entering the final day of the regular season.
LHP: Sean Newcomb, Mississippi Braves (Double-A)
(Braves No. 3 prospect)
1-0, 0.00 ERA, 1 GS, 7 IP, 1 H, 0 R, 0 ER, 1 BB, 8 K, 0.29 WHIP
The No. 50 overall prospect was perfect through five innings for Double-A Mississippi on Friday before giving up a leadoff single in the following frame. The hit was the only allowed in seven scoreless innings by the 23-year-old lefty, who walked one and struck out eight to increase his Southern League-leading strikeout total to 152.
RHP: Brandon Woodruff, Biloxi Shuckers (Double-A)
(Brewers No. 25 prospect)
2-0, 0.64 ERA, 2 GS, 14 IP, 6 H, 1 R, 1 ER, 3 BB, 19 K, 0.64 WHIP
It was another strong week for Woodruff as he won both of his starts for Double-A Biloxi in dominant fashion. The 23-year-old righty tied for first among hurlers with his 19 strikeouts in 14 innings and allowed just six hits (none for extra bases) between the two outings. In his final regular-season start on Sunday, Woodruff retired 15 straight hitters between the second and seventh innings en route to facing three over the minimum, while his nine strikeouts increased his Minor League-leading total to 173.
Mike Rosenbaum is a reporter for MLB.com. Follow him on Twitter at @GoldenSombrero. This story was not subject to the approval of Major League Baseball or its clubs.