Callup Schuster ready to tackle 'pen role
Lefty excelled as starter before transitioning to relief role in pros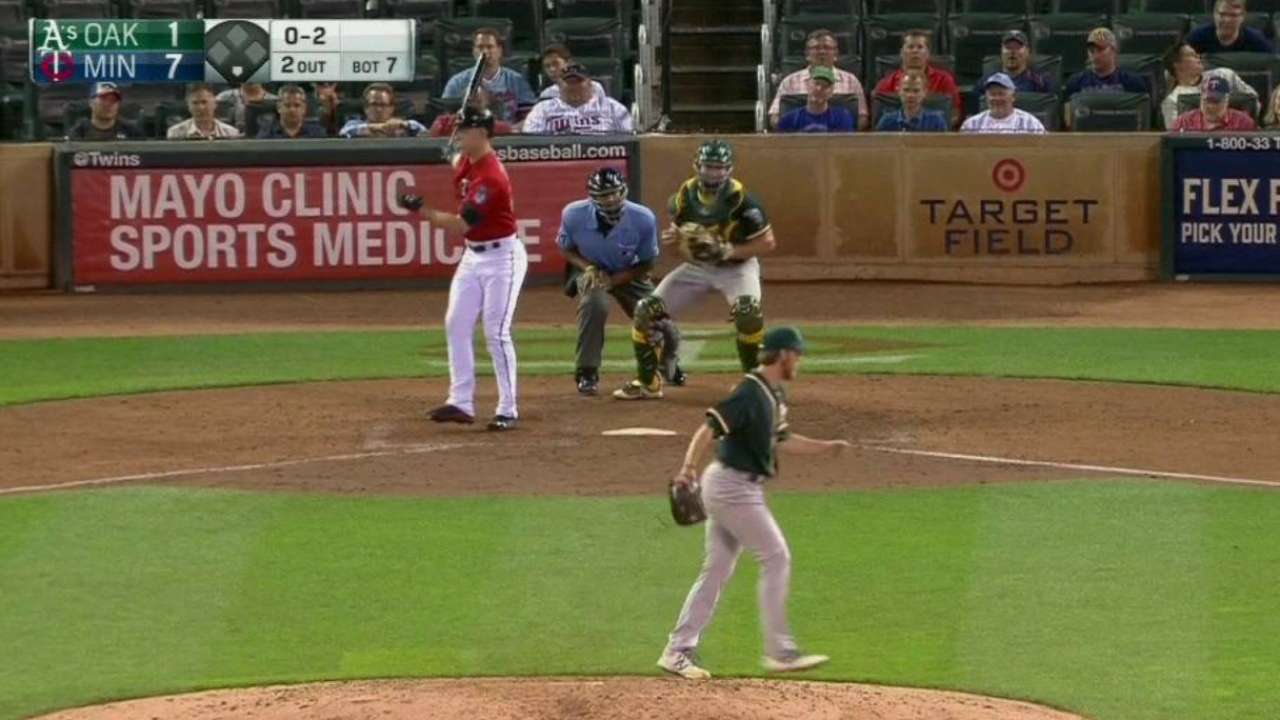 MIAMI -- Left-handed pitcher Patrick Schuster was one of three September callups by the Phillies. He's hoping the move is a permanent one.
"It's a great opportunity," said Schuster, who posted a 1.21 ERA over 44 2/3 innings of work, which included seven saves, at the Triple-A level this season.
"It's pretty cool to see that [the Phillies] were noticing the season I had in the Minors and giving me an opportunity up here on the big club," Schuster said.
Schuster's role out of the Phils' bullpen will be to face left-handed hitters.
"Hopefully I can prove that I can be their lefty guy for the future," Schuster said.
The Florida native, from just outside of Tampa, returns to his home state for the three-game series at Marlins Park.
"It's always fun coming back to Florida and playing; get to have some family here and see some familiar faces," said Schuster, who had his parents in attendance for the Labor Day afternoon game.
Schuster began his career as a starter. As a senior in high school, he threw four consecutive no-hitters.
"It was pretty wild," he said. "I put four good starts together and kind of got some national attention for it."
Schuster played in one of the toughest districts in the state, producing Marlins ace Jose Fernandez. Drafted by Arizona out of high school in the 13th round in 2009, Schuster's role as a starting pitcher would soon come to an end.
"I think [the D-backs'] intentions all along were to use me out of the bullpen," he said.
But it didn't begin that way. Schuster started 15 games in 2010 in Rookie ball and had 14 starts in Class A the following year, leading the league with 119 innings pitched.
It was midway through the 2011 season that the D-backs put Schuster, kicking and screaming, into the bullpen.
"I had a pretty bad attitude about it," Schuster said. "I wanted to be a starter, thought I had starter stuff. From then on, I just had this chip on my shoulder to prove that I had the stuff to be a starter."
Schuster went from the D-backs to Cincinnati and then to Oakland before being claimed off waivers by the Phillies on Aug. 12. He made his Major League debut with Oakland on July 5 at Minnesota and has now come to accept his role out of the bullpen.
"Now I have this great pride in getting lefties out," Schuster said. "So I think it's worked out for me."
Glenn Sattell is a contributor to MLB.com. This story was not subject to the approval of Major League Baseball or its clubs.