Postseason chances shrinking after rough trip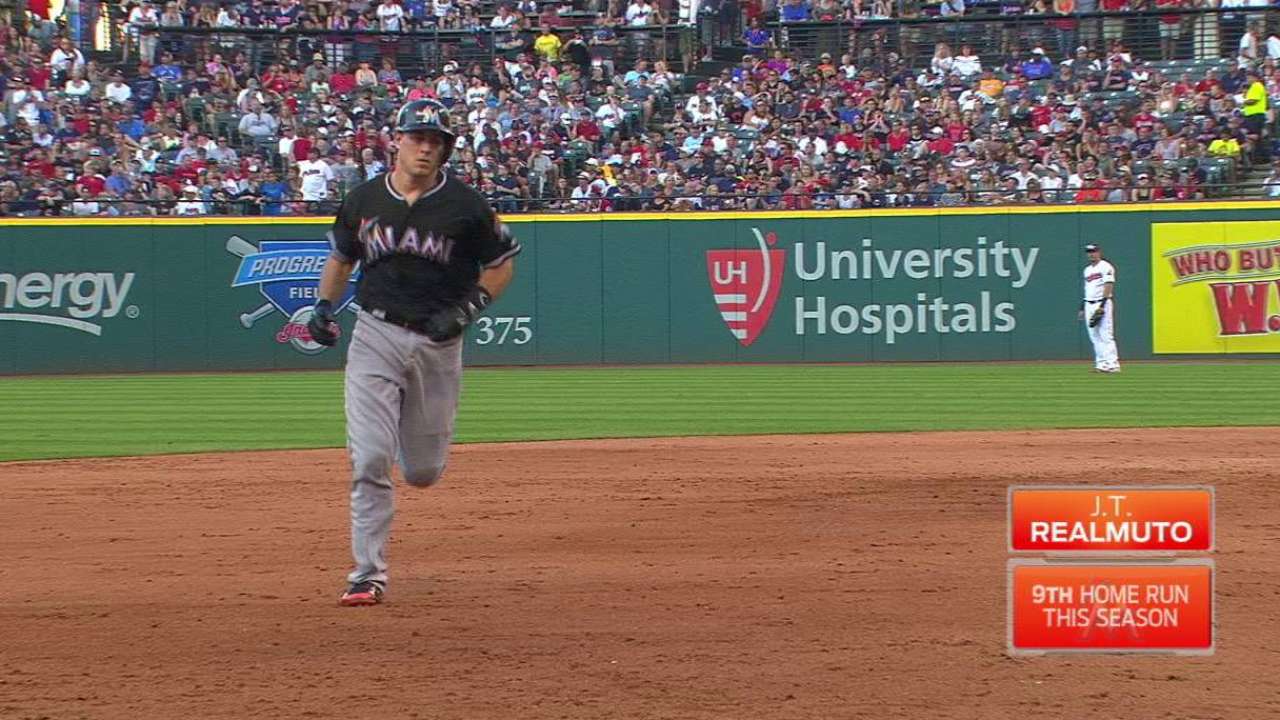 CLEVELAND -- At the All-Star break, the Marlins stood six games above .500 at 47-41, tied for second place in the National League East with the Mets, with whom they shared possession of the second Wild Card spot.
Manager Don Mattingly knew six games above .500 wouldn't be enough. They needed to make up more ground.
Miami has gone 21-28 since the break, putting the club below .500 for the first time since April 28. A 6-5 walk-off loss in Cleveland on Sunday was the final blow of a three-game sweep and 1-6 road trip. The Marlins now sit four games back of the Cardinals for the second Wild Card position and own just a 5.1-percent chance to make the postseason, according to MLB.com's postseason projections.
"We came into this road trip in a good spot," said Tom Koehler, who left with a 2-0 lead after six scoreless innings. "We've got to try to get past this and do whatever it takes at this point. Got to try to find a way to win some ballgames."
Sunday's loss to the Indians was particularly crushing, as it ended the same way the road trip began: with a walk-off.
After the Marlins rallied against Indians star reliever Andrew Miller for two runs in the ninth to take a 5-3 lead, the Tribe mounted a three-run comeback against closer Fernando Rodney, capitalizing on three walks by the 39-year-old righty.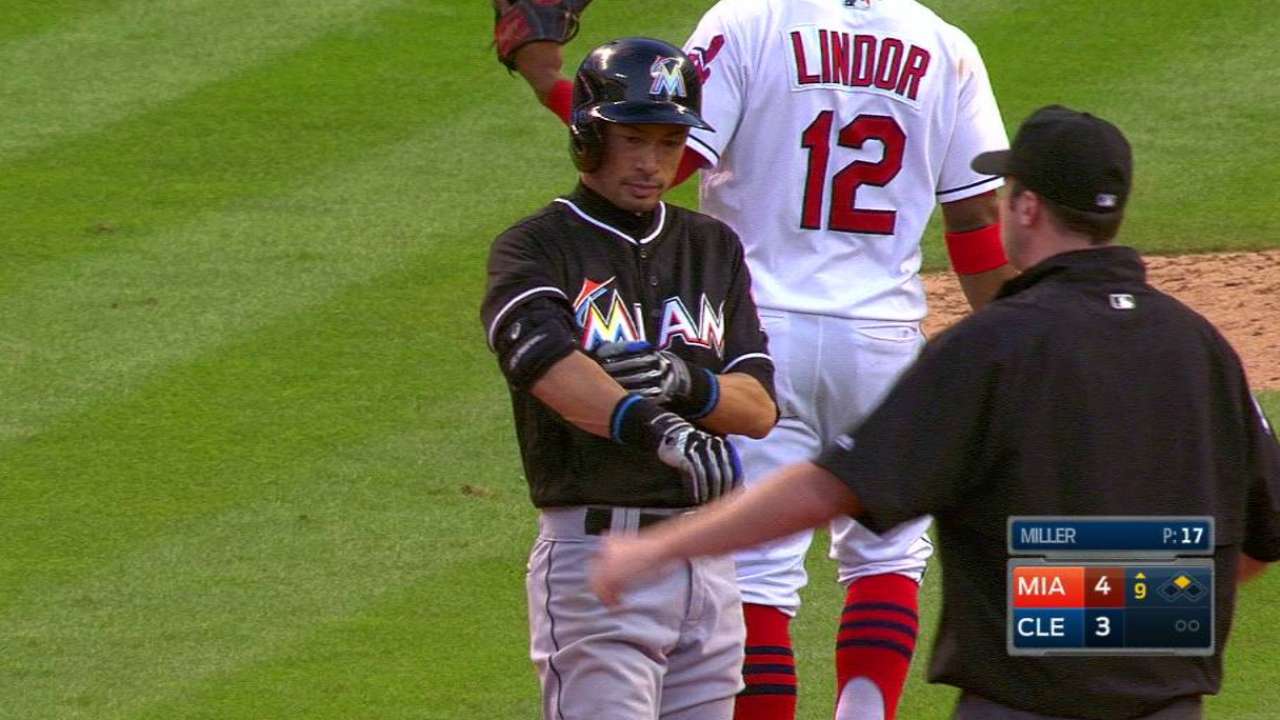 "There are different kinds of losses," manager Don Mattingly said, "and this one stings."
Rodney walked the first two batters he faced before settling down to retire the next two. But a walk to Mike Napoli loaded the bases, setting Jose Ramirez up for a two-strike, game-tying single and the game-winning single by Lonnie Chisenhall.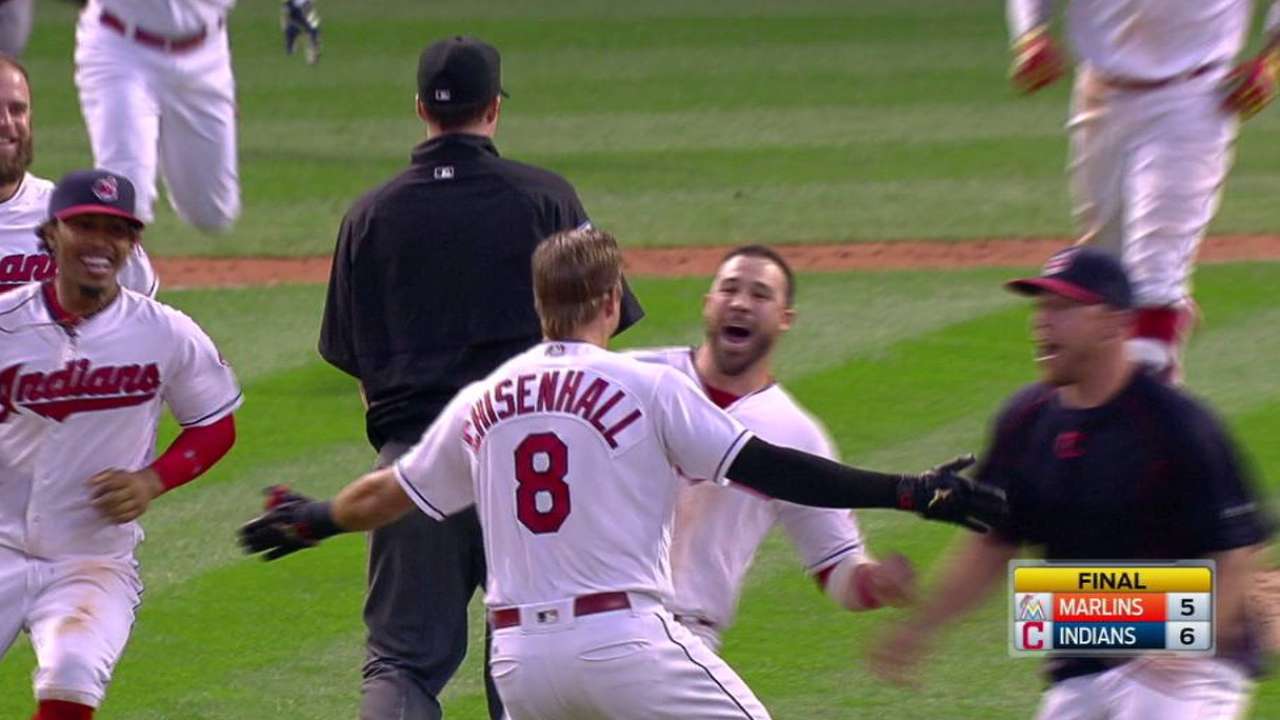 "Some days, you're going to get them out 1-2-3, some days it's going to take longer," Rodney said. "We're in the race right now, and we're going to continue fighting. We're going to keep our heads up and get ready for tomorrow."
The Marlins have lost eight of their last nine games as they return to Miami to begin a six-game homestand, starting with three against the Phillies at 1:10 p.m. ET on Monday. The Marlins are 7-6 against the fourth-place Phillies this season.
"I'm not concerned about our club from the standpoint that they'll keep showing up and keep playing," Mattingly said. "It's a little quick to talk about it at this moment. I'm not worried about the makeup of our guys. They'll keep playing for sure."
August Fagerstrom is a contributor to MLB.com based in Cleveland. This story was not subject to the approval of Major League Baseball or its clubs.