Kinsler's key knockdown helps fizzle threat
With potential tying run on 3rd, 2nd baseman makes big stop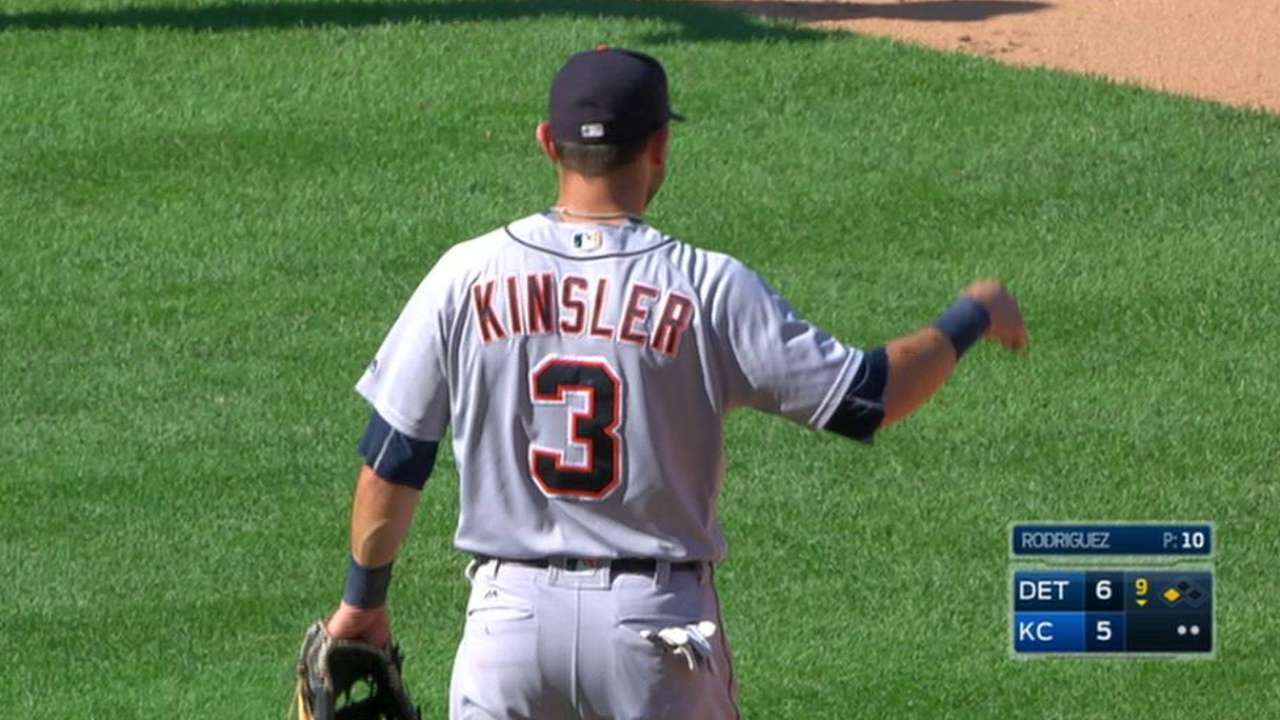 KANSAS CITY -- The ring finger on Ian Kinsler's throwing hand was wrapped as he prepared to head out of Kauffman Stadium on Sunday afternoon. It wasn't necessarily swollen so much as bloodied at the nail, the victim of Alex Gordon's hard-hit ground ball in the ninth inning.
As he wiped his finger on the infield grass after the play, he looked like a throwback baseball player. His play that saved Sunday's 6-5 Tigers win over the Royals, on the other hand, looked equal parts hockey goalie.
"Your range is a step and a dive," Kinsler said. "You do whatever you can to stop the ball."
With one out, the infield in and Alcides Escobar on third base as the potential tying run, Kinsler didn't need to catch it cleanly so much as he needed to keep it close. A scramble for the ball, even if it ends up a groundout, ties the game.
So Kinsler stood on the infield dirt and waited for a drive to come at him. According to Statcast™, Gordon's ground ball had an exit velocity of 101 mph.
"That's something that shows you experience right there," manager Brad Ausmus said. "There's no panic. He was just going to let the ball hit him if he had to. It wasn't getting by him. And you deal with the pain after the fact."
It pretty much sums up Kinsler.
"Just get the out, man," he said. "Just try to stop the ball no matter what. If it's to your left or to your right, just try to stop it and either get the guy at the plate or the out at first. Just try to make the play."
Escobar was poised to take off, but he never did. Kinsler had him in the corner of his vision as he smothered the ball, then clearly in sight as he looked over before throwing to first base.
Once Andrew Romine knocked down Paulo Orlando's grounder at third -- a 107-mph shot according to Statcast™ -- the Tigers had stranded Escobar following his leadoff double and escaped. Francisco Rodriguez picked up his 424th career save, tying him with John Franco for fourth on Major League Baseball's all-time list. Kinsler had picked up the unofficial hockey save.
Jason Beck has covered the Tigers for MLB.com since 2002. Read Beck's Blog, follow him on Twitter @beckjason and listen to his podcast. This story was not subject to the approval of Major League Baseball or its clubs.