Upton adds to Tigers' late-inning heroics
Left fielder's go-ahead HR continues Detroit's trend of responding vs. relievers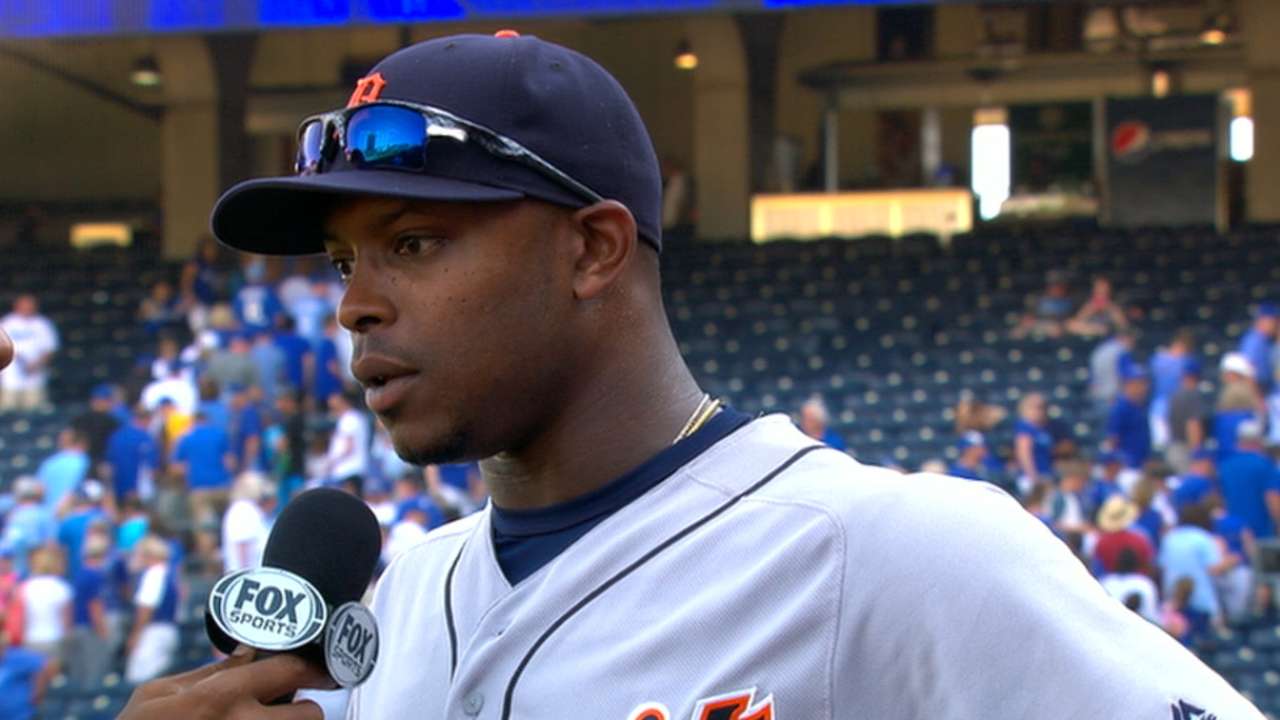 KANSAS CITY -- The roar of the crowd at Kauffman Stadium brought back memories of October as the Royals rallied vs. the Tigers on Sunday afternoon. The buzz had finally calmed down when Justin Upton stepped to the plate in the eighth with two outs and Miguel Cabrera on first base.
"Definitely a September feel," Upton said. "They're in the hunt. We're in the hunt. Both teams are battling, and the crowd's into it. It makes it a lot more fun."
Two pitches later, Upton not only silenced the crowd. He turned it. As the boos echoed toward former Tigers closer Joakim Soria, Upton rounded the bases with the deciding run in a 6-5 win, having added another note to his resume as a late-season savior in Detroit.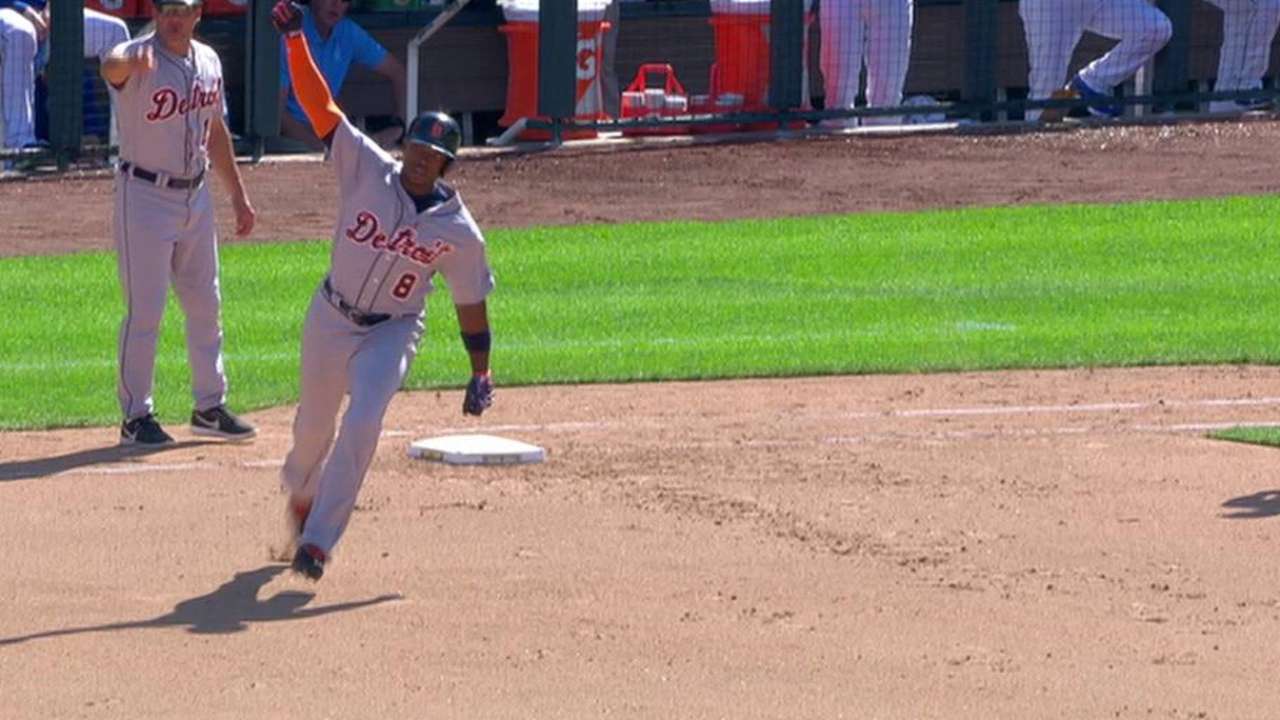 His 20th home run -- clinching his sixth 20-homer season in his career -- was his seventh homer in 13 games. Three of the past four have tied the game or pulled the Tigers ahead in the sixth inning or later.
"We needed to respond right there," Upton said.
For the second time this series, they did. Twice in three games, the Tigers answered a lead-erasing Royals rally with a comeback of their own. They didn't come back in the middle game of the series, but their ninth-inning threat played a small role in Sunday's heroics.
Ian Kinsler's homer Saturday off Brooks Pounders merely cut Detroit's deficit to 5-2, but it prompted Royals manager Ned Yost to bring in closer Wade Davis following Cabrera's single two batters later. That ruled out Davis for Sunday, as he had then pitched in his first two games back from the disabled list. Soria picked up the eighth.
Cabrera hit Soria's second pitch into left-center for a leadoff single. Soria recovered to get fly balls from Victor Martinez and J.D. Martinez, leaving it to Upton.
When Upton heats up, he can carry a team for stretches. The Royals had silenced him in big situations Saturday, with Yordano Ventura inducing a pair of first-pitch groundouts following back-to-back walks. But the Tigers have had a way of responding to late-inning relievers lately.
"Different teams game-plan for you in different ways, and you have to take what you're given," Upton said. "Today, I got a couple pitches out over the plate that I could handle."
The first was Edinson Volquez's second-inning breaking ball, which Upton lined to the fence in right-center for an RBI double and the game's first run. The second pitch, Soria's 1-0 fastball, accounted for the final runs.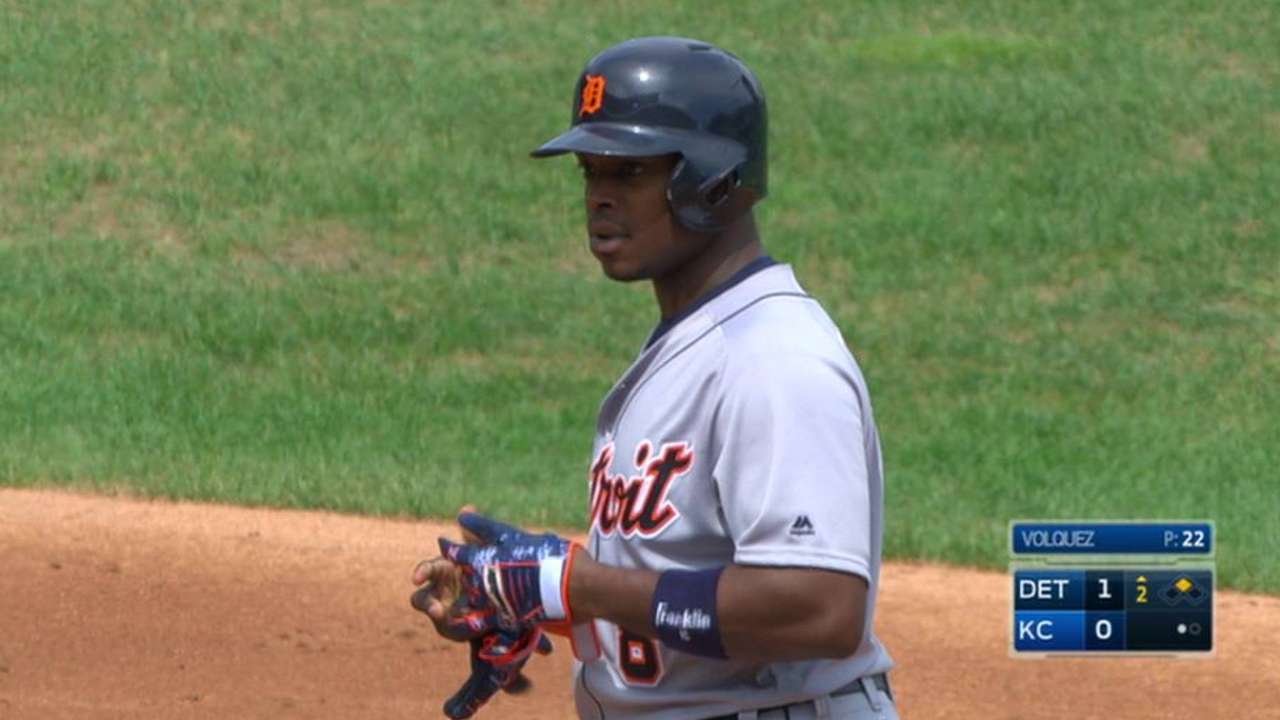 It wasn't a terrible pitch, a fastball on the inside corner. But Upton was on it with a Cabrera-style opposite-field swing.
"It was down," Upton said. "His ball doesn't normally come in to you, but it was coming in to me a little bit."
Upton raised his arm rounding first base as the ball hit a seat beyond the fence in right-center field. By that point, Cabrera was already home.
"I was running fast, very fast," Cabrera said. "I was excited."
It was the Tigers' fifth win in six games this week. All of them have come off opposing bullpens. The past three have come against current or former closers.
"I think we concentrate better," Cabrera said. "I think we understand that if we keep playing inconsistent, we're not going anywhere; we're going to go home. We don't want to go home. We're going to keep fighting to the end and try to make something happen.
"This is fun. To play for something, this is fun. Trying to play for a spot in the playoffs, it's exciting. You need to come every day and play hard."
Jason Beck has covered the Tigers for MLB.com since 2002. Read Beck's Blog, follow him on Twitter @beckjason and listen to his podcast. This story was not subject to the approval of Major League Baseball or its clubs.