Better call Sol: Slugger having career year
Padres 3B wonders what he could have done had he stayed healthy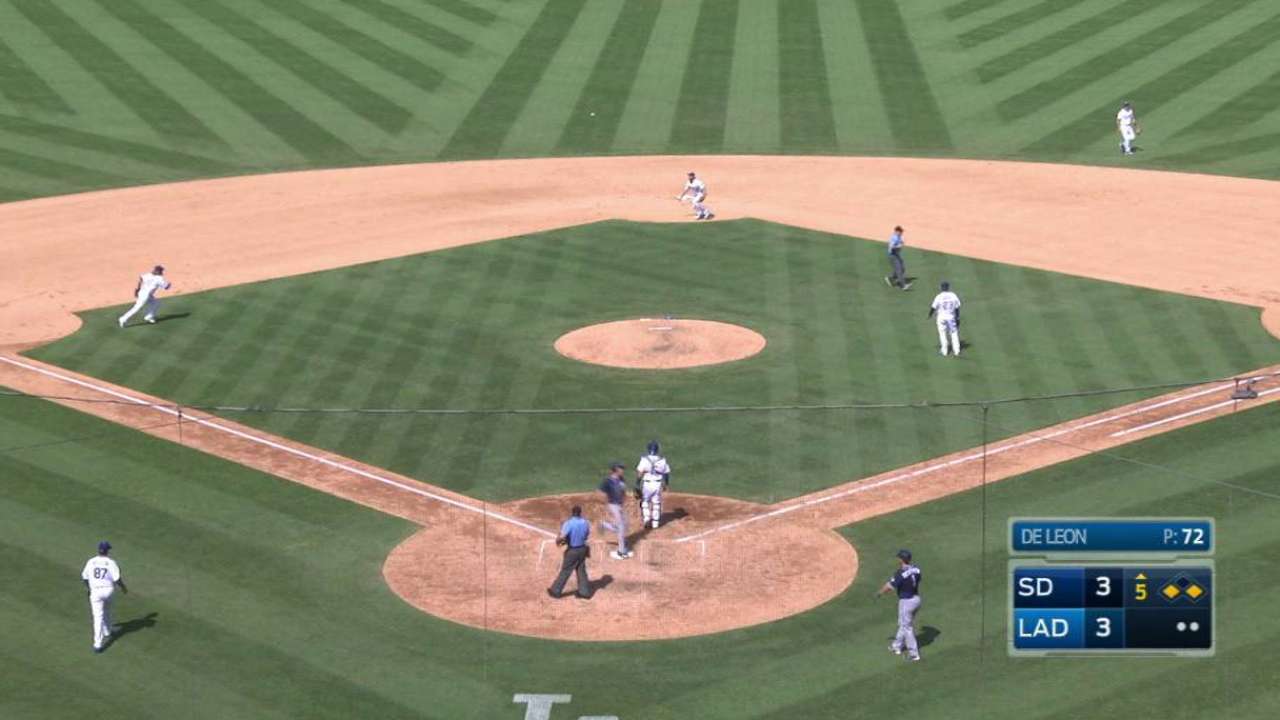 LOS ANGELES -- In 91 games this year, Yangervis Solarte has already put up the power numbers that it took him the entirety of the 2015 season to accomplish.
The slugging Padres third baseman launched his 15th home run during Sunday's 7-4 loss at Dodger Stadium. In doing so, he set a career high, while going 3-for-3 to increase his on-base (.340) and slugging (.481) percentages -- which are also personal bests.
Those numbers are enough to wonder what might have been had Solarte not missed 40 games in April and May because of a strained right hamstring. It's a question he's asked himself before.
"I wonder what would've happened if I didn't miss those two months," Solarte said. "Would things have been better? But at the same time, the most important thing is just to be playing. I'm happy to be playing every day. ... It's not necessarily about the numbers."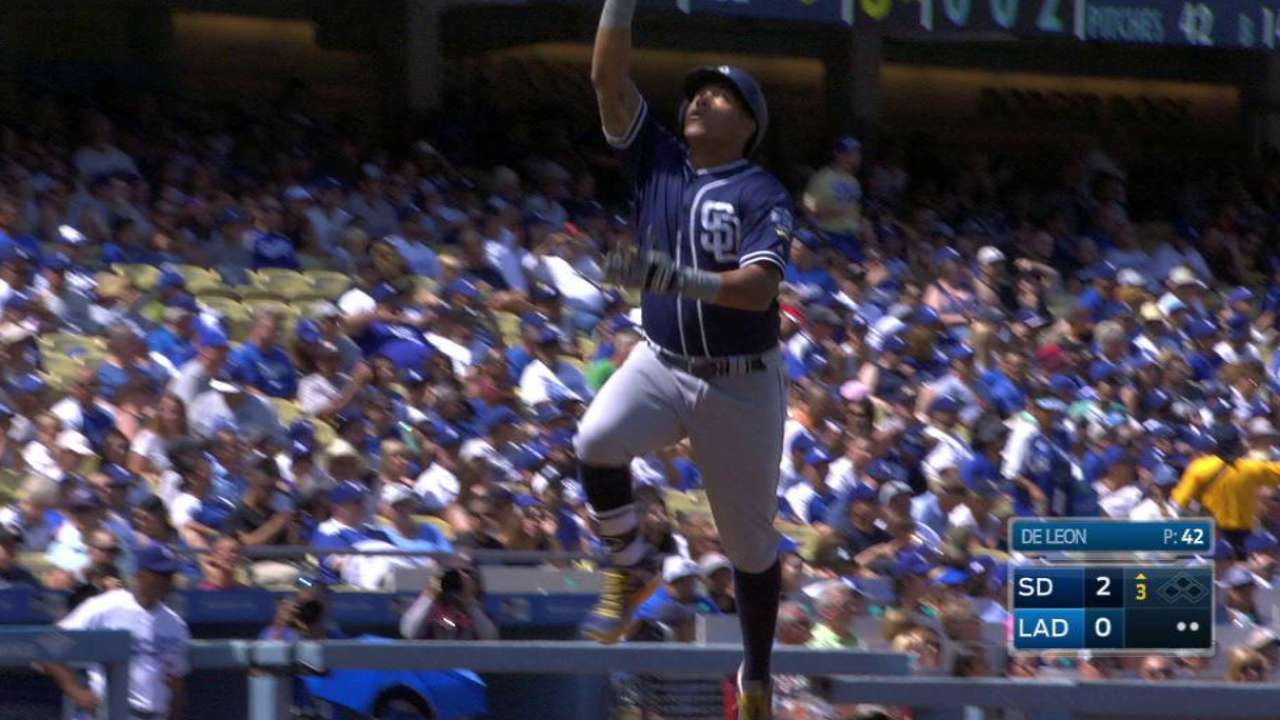 Solarte's three-hit day wasn't without a blip, however. In the first inning, he skied a fly ball down the left-field line that landed between Dodgers shortstop Charlie Culberson and third baseman Justin Turner. It should've been a double, but Solarte didn't hustle out of the box and ended up on first base instead.
The play brought back lingering questions from his infield popup in Pittsburgh -- on which he ran about a third of the way down the line before tailing toward the dugout. Padres skipper Andy Green benched Solarte then, but opted not to do so Sunday.
"He needs to turn the page on that," said Green. "He's been made well aware of that. There's points in time in baseball where you allow a guy to conserve energy running to first base, and these guys go at it 162 games. You don't need somebody flying down the line every single time. But when it matters for the team, and it matters that you have an opportunity to be on second base, you should be on second base."
Green addressed the issue with Solarte in the dugout after the first inning. When asked if he had received his manager's message, Solarte nodded remorsefully and said he had.
At the very least, Solarte was able to put that temporary lapse behind him. In the third inning, he welcomed Dodgers hurler Jose De Leon to the big leagues by depositing a first-pitch fastball into the right-field seats.
Solarte would tack on a go-ahead sacrifice fly in the fifth before completing his ninth three-hit game of the season with a single in the eighth.
Of Solarte's 15 homers this year, eight have either tied the game or given the Padres the lead -- much needed power in a lineup that's been somewhat devoid of it over the past month.
"It's a very aggressive [swing] -- he lets it go on a consistent basis," said Green. "When he stays in the strike zone, he has more than enough power to drive the ball out of the ballpark to all points of the field. It's good to see him swinging like that."
AJ Cassavell covers the Padres for MLB.com. Follow him on Twitter @ajcassavell. This story was not subject to the approval of Major League Baseball or its clubs.