Two HRs, Lugo keep Mets on Wild Card pace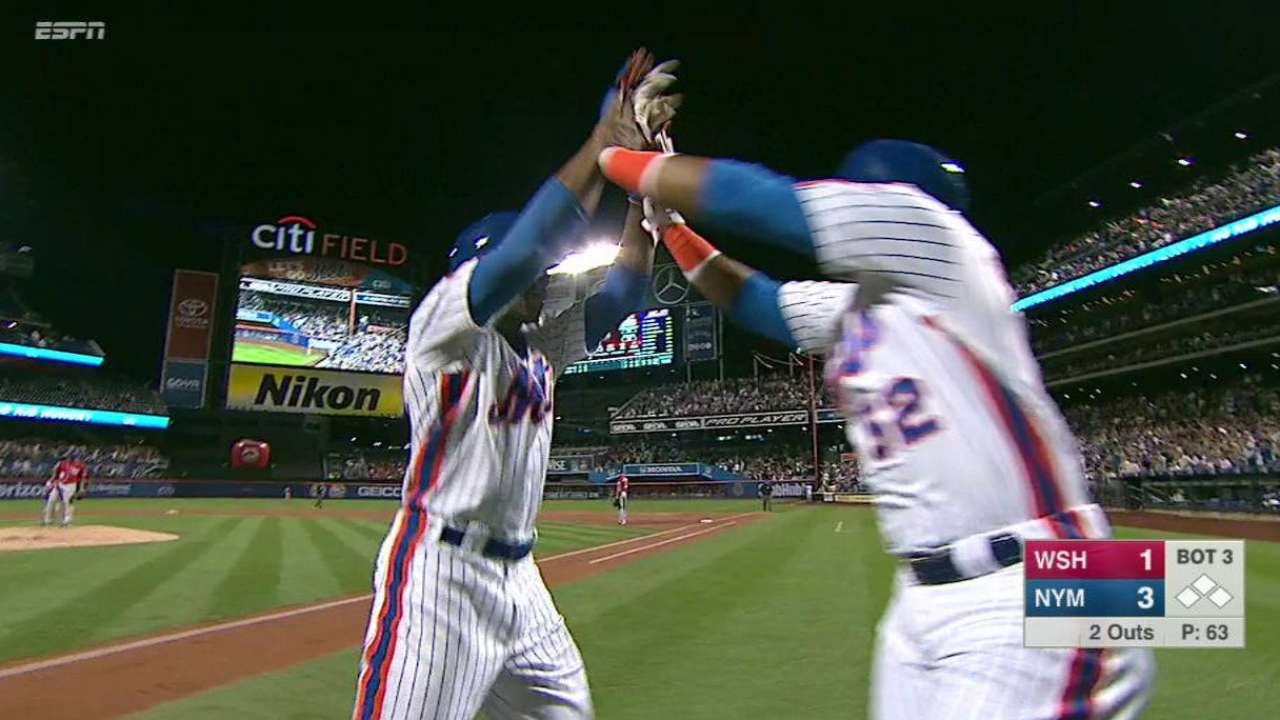 NEW YORK -- If there was a stumbling block threatening the Mets' postseason push, it seemed to be this weekend's three-game series against the Nationals. Certainly, the Nats have not forgotten what happened around this time last year, when the Mets swept them in Washington to dump them out of playoff contention.
But the Mets were not interested in letting the Nationals exact their revenge. Rookie rotation fill-in Seth Lugo lifted them on Sunday with seven strong innings, and Curtis Granderson and Jay Bruce each hit a two-run homer in a 5-1 win that keeps the Mets within one game of the Cardinals for the final National League Wild Card spot.
It's a win the Mets are glad to have. Their postgame schedule includes an early-morning flight to Cincinnati, with mere hours to prepare for their 1:10 p.m. Labor Day series opener against the Reds.
"We need every one we can at this point," Bruce said. "Every game means the same to us. We can't worry about who we're playing, where we're playing, when we're playing. We just have to play and win games as the Mets."
Bruce ensured that the Mets' flight would be a happy one, three innings after Granderson gave the Mets the lead for good with a two-run homer off Nationals starter Reynaldo Lopez. Lopez lasted only four innings, giving up three runs on six hits and a walk.
The Nats went 0-for-8 with runners in scoring position and plated their only run off Lugo on Danny Espinosa's homer in the second.
"Same thing we've been saying all year," manager Dusty Baker said. "We need some hits, simple as that. Need some two-out RBIs and we need some hits. That's the simple fact that we've been saying most of the year. and I still believe we're going to get them."
The most successful of New York's rotation fill-ins, Lugo improved to 3-1 with a 2.19 ERA in four starts, drawing comparisons with the contributions young starters Noah Syndergaard and Steven Matz gave the Mets down the stretch last season.
"We had different names on the backs of those young pitchers," manager Terry Collins said. "Those young guys we had last year came up and really, really pitched well that last month. We've got a couple new ones, but they're pitching very, very well for us."
MOMENTS THAT MATTERED
The Magic Lugo: Early on, Lugo's chances of submitting a gem seemed tenuous at best. Pitching with a blister on his finger, he allowed the first two runners he faced to reach safely, loading the bases with two outs. But he induced a soft tapper from Wilson Ramos to wriggle out of that jam, then stranded another runner on base in the second. That keyed a run of 11 consecutive outs.
"I just had good command of my fastball tonight," Lugo said. "I could put it where I wanted. I just tried to stay aggressive and hit my spots." More >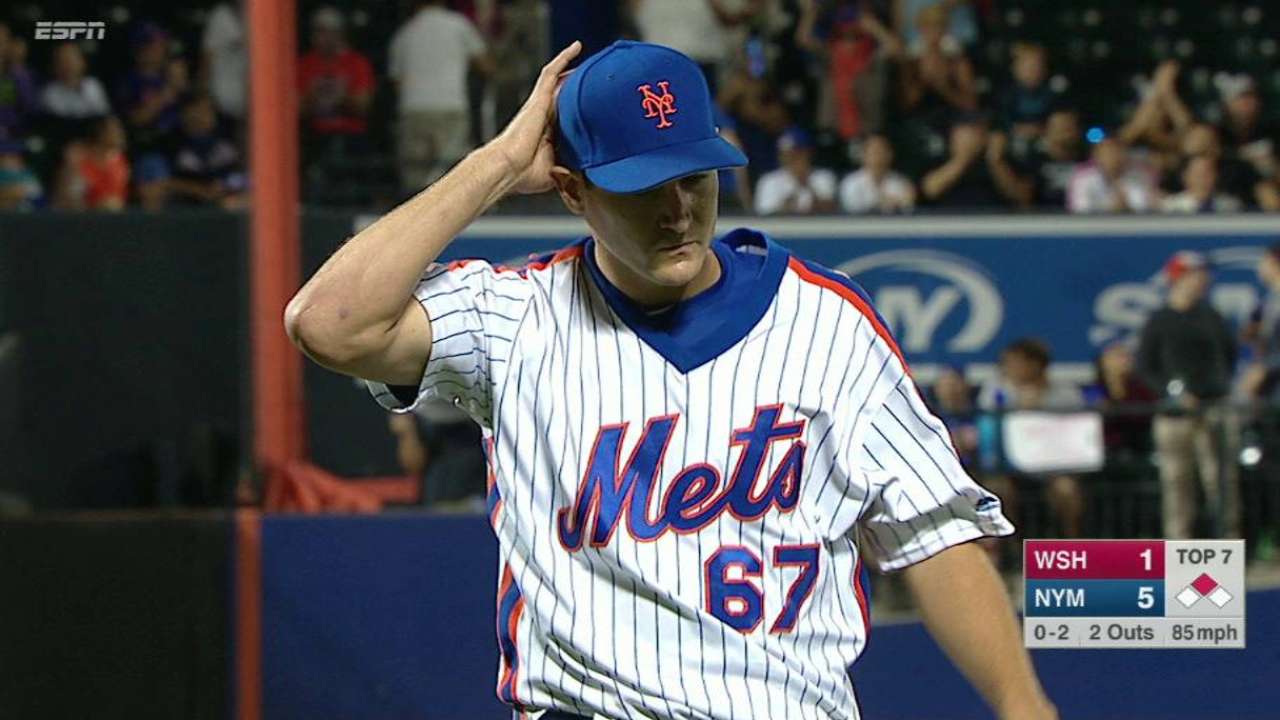 Lopez's night ends early: With the chance to give Max Scherzer an extra day of rest before the stretch run, the Nationals decided to push him back a day and start Lopez instead. During his brief stint in the Minors, Lopez was instructed to work on his glove position while he pitched out the stretch because the Nationals believed he could be tipping his pitches.
Although Lopez believes he made that adjustment, he struggled again in his sixth career Major League start, giving up three runs on six hits in four innings, with three wild pitches. Both of his successful outings came against the Braves; he has yet to make it out of the fifth inning in the other four starts.
"He's bouncing some of those off-speed pitches early," Baker said. "If the off-speed pitches aren't working, then you have one pitch that you can go to if you're not throwing them over the plate. It was a tough zone tonight, too. Looked like they were sitting on the fastball and discounting the breaking ball or off-speed pitches." More >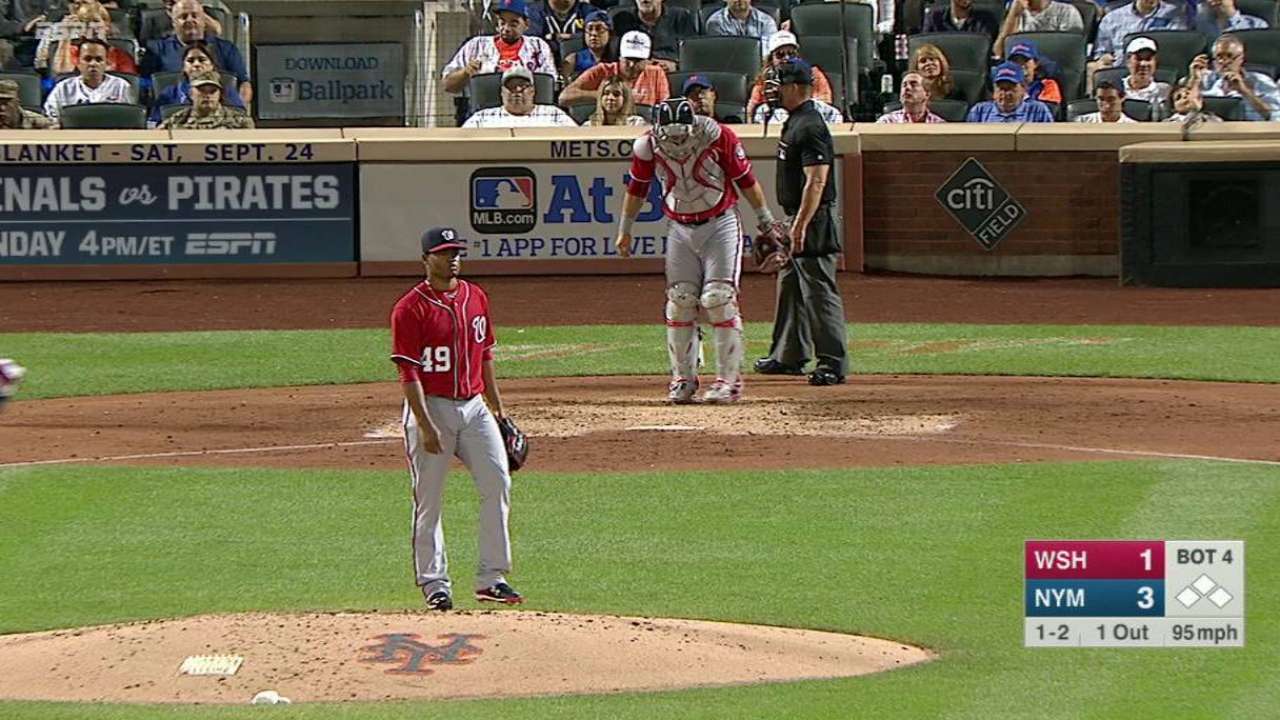 Jay's OK: Bruce's two-run shot off Mat Latos in the sixth inning opened a four-run lead for the Mets, who never looked back. Bruce, who will return to Cincinnati on Monday for the first time since the deal that sent him to the Mets at the non-waiver Trade Deadline, suddenly has eight hits -- including two homers -- in his last five games. He had eight hits in his previous 16 games combined.
"I'm not missing pitches that I should hit," Bruce said. "I'm getting pitches I can do something with and actually doing something with them." More >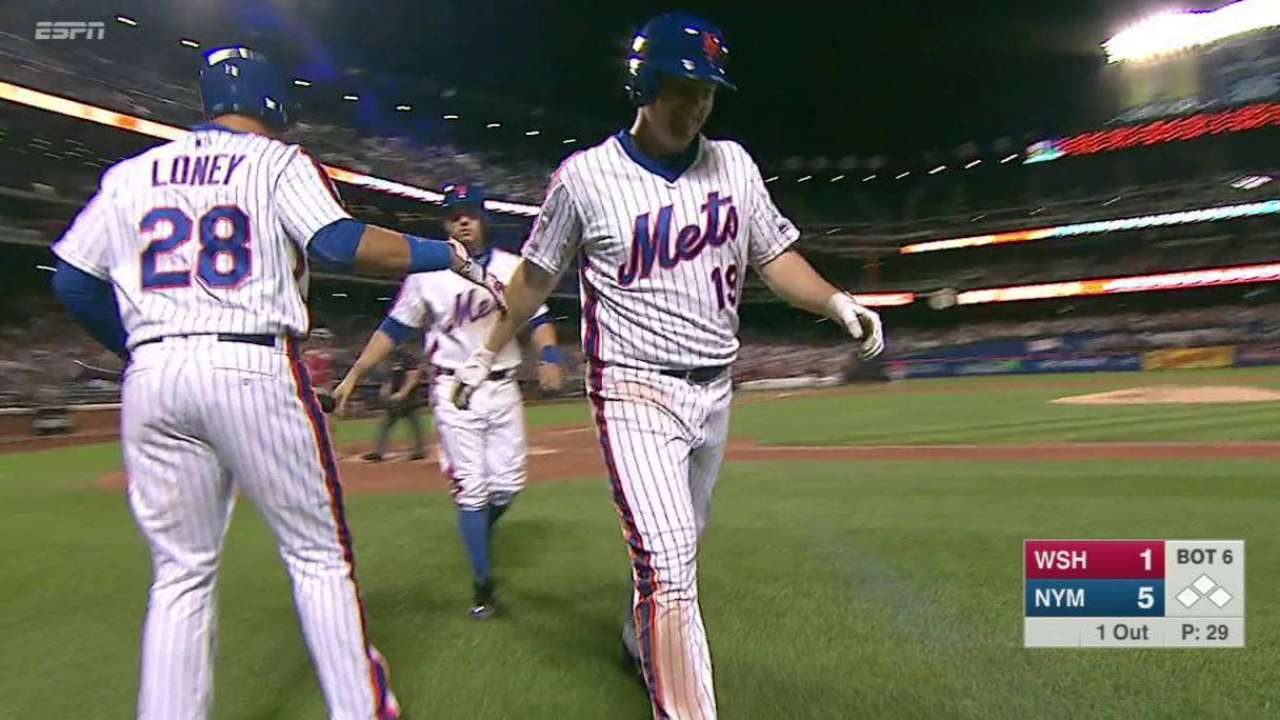 Offensive funk: The Nationals have scored more than four runs only once in their last 10 games, a span that has put pressure on their pitching staff. When they receive a short outing from their starter, as they did on Sunday night, they have not been able to make up for it. Washington did not have a hit with a runner in scoring position on Sunday for the second consecutive game and is now 0-for-15 with RISP over the last two nights.
"I don't know. Sometimes it happens, sometimes it doesn't," Espinosa said. "There's no rhyme or reason or why. Guys can have good at-bats and things just don't go our way, or tough pitches, or whatever it is. But I think we'll be all right. Two games where we didn't really do what we wanted to offensively, but we'll get back at 'em tomorrow."
SOUND SMART WITH YOUR FRIENDS
With a single in the sixth inning, Nationals second baseman Daniel Murphy collected a hit in all 16 games against the Mets this season. That breaks Tony Gwynn's record for the longest such streak to begin a career against New York.
Mets pitchers did not walk a batter for the 21st time this season. No other big league team has had more than 15 games without a walk.
WHAT'S NEXT
Nationals: The Nationals return home to host the Braves on Monday at 4:05 p.m. ET. In three starts against Atlanta this season, Scherzer (15-7, 2.89 ERA) is 2-0 with a 4.66 ERA with 19 K's and nine walks (one intentional) in 19 1/3 innings.
Mets: After landing in Cincinnati in the wee hours of morning, the Mets will open a three-game series on Monday against the Reds. The 1:10 p.m. ET Labor Day matinee will be Bruce's first game back in Cincinnati since his Aug. 1 trade to the Mets. He'll play behind starting pitcher Bartolo Colon (12-7, 3.35 ERA), who flew to Ohio ahead of his teammates on Sunday.
Watch every out-of-market regular-season game live on MLB.TV.
Anthony DiComo has covered the Mets for MLB.com since 2008. Follow him on Twitter @AnthonyDiComo and Facebook, and listen to his podcast.

Jamal Collier covers the Nationals for MLB.com. Follow him on Twitter at @jamalcollier. This story was not subject to the approval of Major League Baseball or its clubs.