Back in form, Teheran shows escapability
Braves ace tosses six scoreless in best start since coming off DL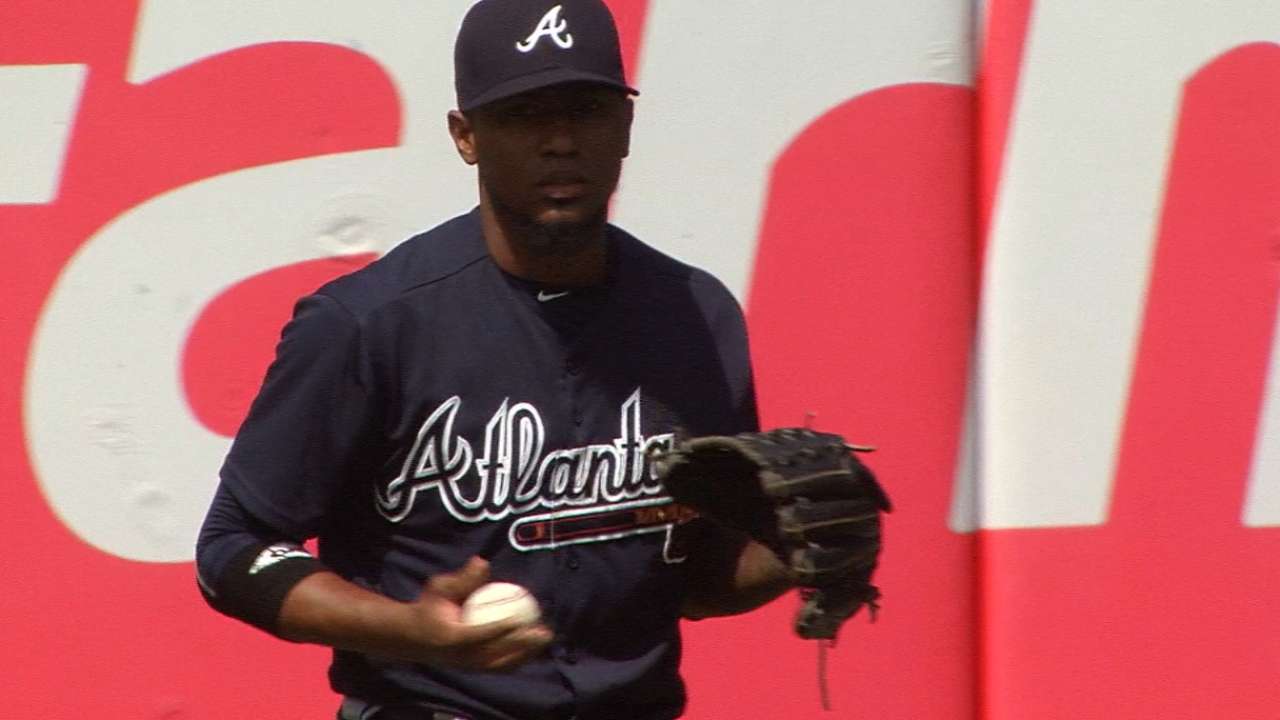 PHILADELPHIA -- It's safe to say that Julio Teheran is back to himself.
The Atlanta ace pitched six scoreless innings in the Braves' 2-0 win over the Phillies on Sunday at Citizens Bank Park for his second straight start of at least six innings and two or fewer runs allowed.
It was Teheran's fourth start back from a stint on the disabled list in the first half of August. But only in the last two has his velocity crept back to where it was to start the season.
"The first couple [starts after] he came back, well he'd been off a while, getting back into that routine and ... what you do between starts were kind of out of whack," manager Brian Snitker said. "Right now, he's back where he needs to be."
The emergence of Teheran is a welcome addition to a Braves rotation that will start its 15th member when Ryan Weber takes the mound Monday against the Nationals. Even when Teheran was active and supposedly healthy, he wasn't feeling 100 percent. On top of his trip to the DL with a strained right lat, Teheran was dealing with a bout of sickness, too.
In all, it amounted to a stretch of seven starts -- five prior to his time on the DL and two after -- where he posted a 4.99 ERA and didn't win a single one. That number would be even higher if not for a seven-inning, no-run performance against the Rockies out of the All-Star break, sandwiched between a five-run outing and one he left early with an injury that predicated his DL trip.
"After that last month and a half where I had a little bit of sickness and was on the DL, I've got everything together," Teheran said. "Everything is working like it was working at the beginning of the year. Whenever I have everything, everything goes good."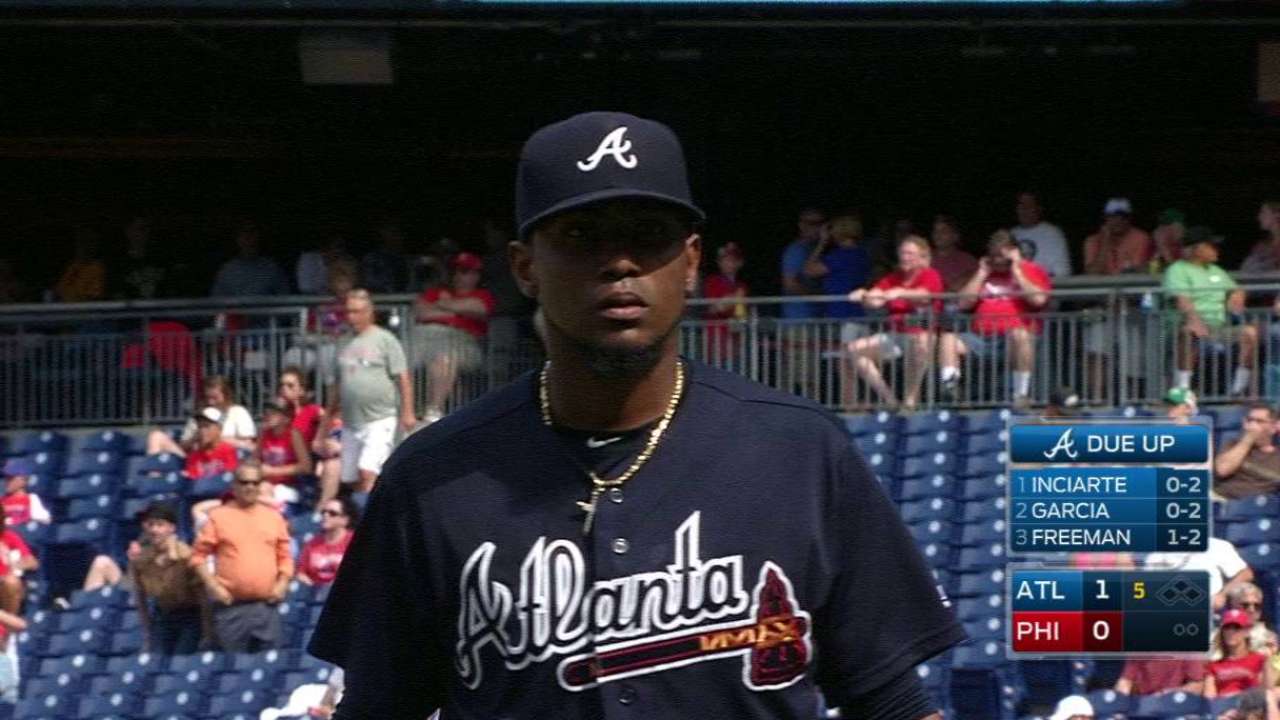 And, boy, was Teheran good on Sunday. Although it took him 109 pitches to make it through six innings, the majority of the damage to his pitch count came in his final two frames.
Teheran didn't allow a hit until Maikel Franco led off the fourth with a single. A second-inning walk of Freddy Galvis was the only other baserunner to reach in the first four frames.
But Galvis led off the fifth with a single, followed by a Peter Bourjos double two batters later. Teheran hit Cesar Hernandez to load the bases, but he got Franco to ground out to third to escape the jam. The next inning, Teheran loaded the bases again on a pair of singles from Cameron Rupp and Darin Ruf, followed by a walk to Aaron Altherr. But again, Teheran escaped to finish the game with a clean line of six innings, no runs and seven strikeouts.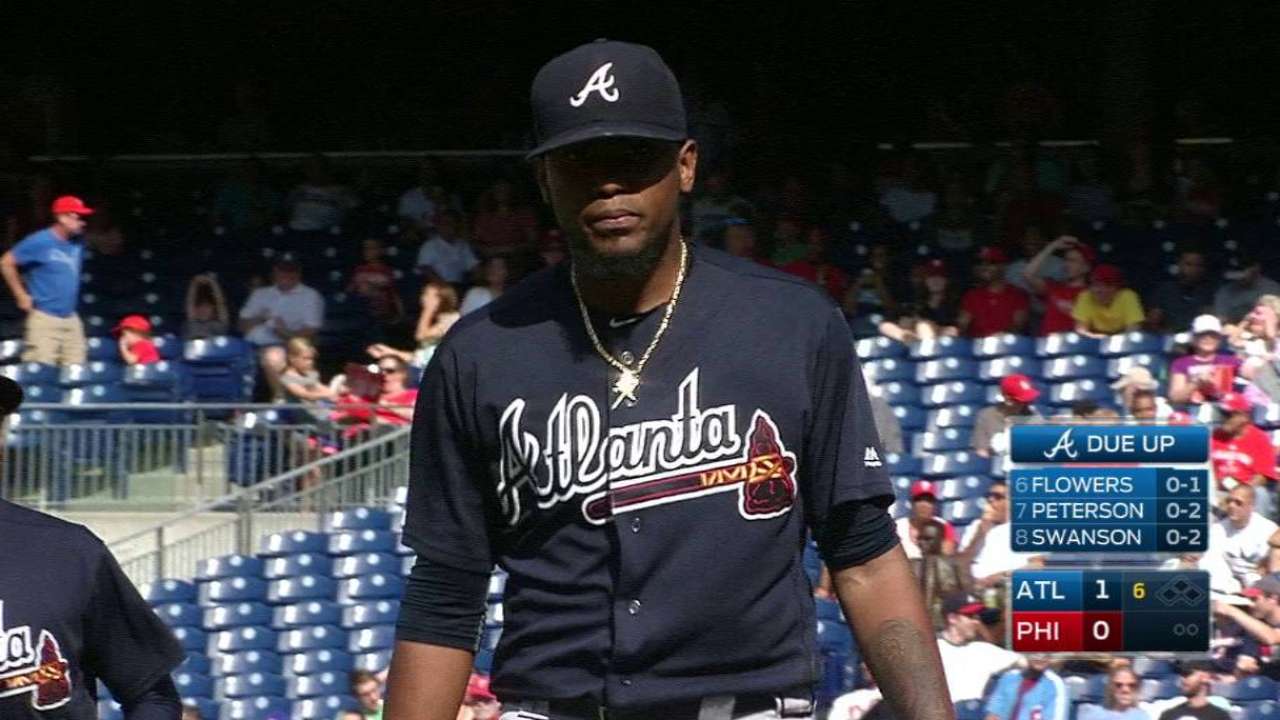 The seven whiffs give Teheran 15 over his past two starts. During that aforementioned stretch of seven outings, there were no three consecutive starts where he combined to strike out 15.
"That last inning, boy he battled his butt off there," Snitker said. "That was really good. You talk about leaving it out there, he did. He was good, really good. In this ballpark, you're on pins and needles when you're out there pitching, and he didn't have a lot of room to work with."
Evan Webeck is a reporter for MLB.com based in Philadelphia. This story was not subject to the approval of Major League Baseball or its clubs.