RISPy business: Missed chances catch up with O's
Club goes 0-for-10 with runners in scoring position to drop finale; 4-for-30 in three-game set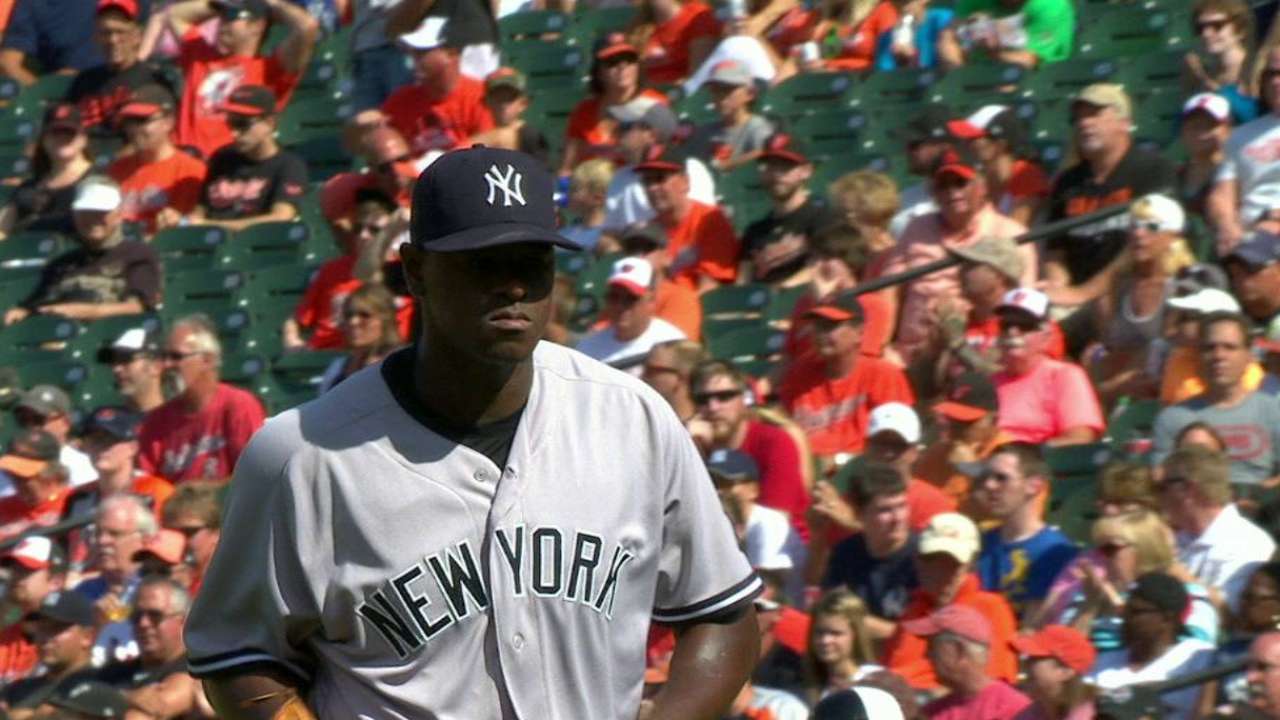 BALTIMORE -- Shutouts in the first two games of their series against the Yankees helped the Orioles overcome mediocre performances with runners in scoring position. The pitching wasn't as strong Sunday, and the missed opportunities proved costly in a 5-2 loss to New York.
The O's went 0-for-10 with runners in scoring position in the finale, finishing 4-for-30 over the three-game series. Though they tallied 10 runs through the first two games, eight of those came via a home run. Without a power surge Sunday, the O's were left looking for a key hit that never came.
"We know there's opportunities, but it's not that easy," manager Buck Showalter said. "They've got good pitchers."
Baltimore's struggles to record a timely hit started in the first inning, when they had runners on first and second with one out for the heart of the order. Sluggers Mark Trumbo and Chris Davis both struck out swinging, though, setting the tone for the Orioles' afternoon at the plate.
The Orioles struck out five times with men in scoring position, three of which came against righty Michael Pineda, who ranks seventh in the American League in strikeouts.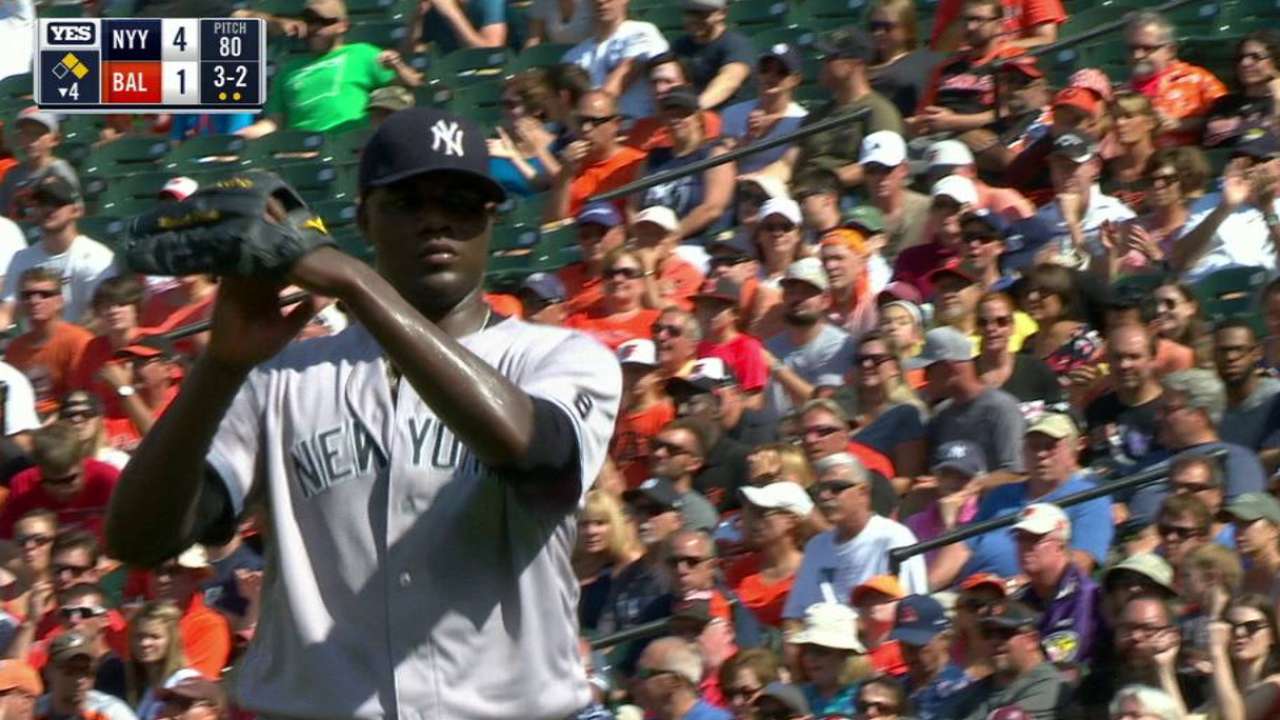 "We know he's got that type of stuff," Showalter said. "He made some pitches when he had to, and it's that time of year when you can approach games out of your bullpen a lot different than you can during the season."
Despite the missed chances early, the Orioles had an opportunity to tie the game in the fifth. Facing a 4-2 deficit -- after Pedro Alvarez's RBI double plated Adam Jones from first, chasing Pineda -- the O's loaded the bases on a pair of walks with one out after Manny Machado went down swinging against reliever Luis Severino. But Steve Pearce couldn't catch up to a 97-mph fastball from Severino, and Matt Wieters grounded out in the next at-bat for Baltimore's 10th at-bat with runners in scoring position without a hit.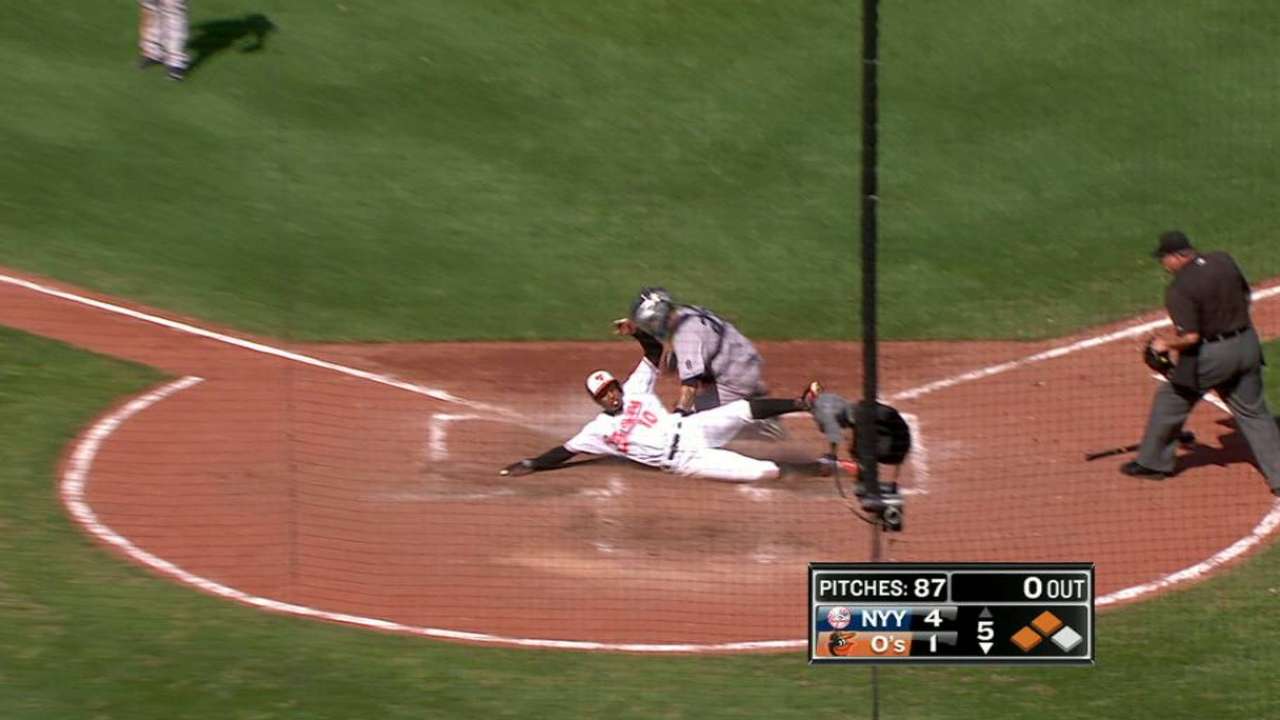 New York's bullpen settled in after the fifth, holding the O's to just one baserunner in the final four innings. Though Davis acknowledged the missed opportunities were frustrating, he preferred to focus on the positive.
"We had a great series against these guys," Davis said of the O's, who reside three back of the AL East lead and are tied with the Tigers for the second Wild Card spot, two ahead of Houston. "We took two of three games. That's big this time of the year. You can't sit there and harp on the negatives. You've got to move forward."
Ryan Baillargeon is a reporter for MLB.com based in Baltimore. This story was not subject to the approval of Major League Baseball or its clubs.