Thompson capitalizing on late-season chance
Rookie righty makes back-to-back seven-inning starts for Phillies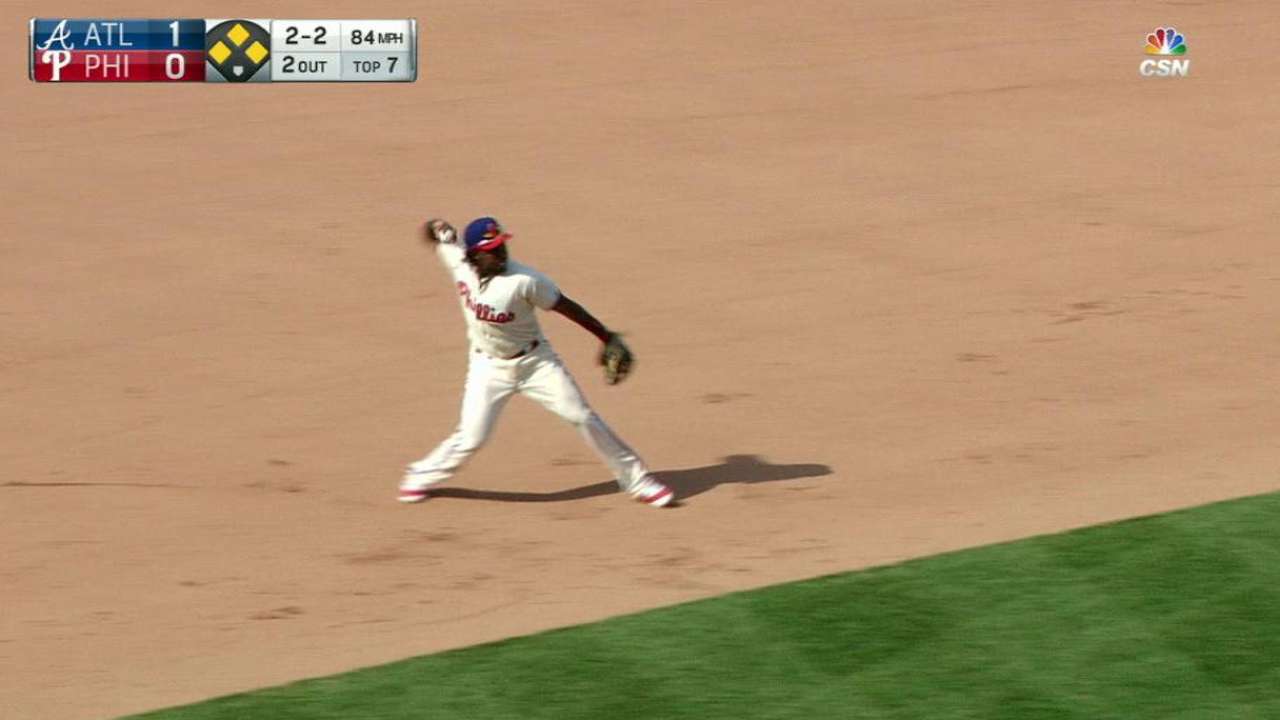 PHILADELPHIA -- It's unclear how long Jake Thompson will continue to pitch this season, but the 22-year-old has been making the most of his innings lately.
Thompson pitched seven strong frames in a 2-0 loss to the Braves on Sunday at Citizens Bank Park, allowing just one run and striking out six. It was the second consecutive start Thompson has gone seven innings after he posted a 9.78 ERA in his first four Major League starts.
"It's nice to get a little momentum going," said Thompson, who gave up his only run on a solo homer to Matt Kemp. "Now I've got a pretty good bulk of innings to work off of. I know what to expect, now I've got to work off that."
On Sunday, Thompson skirted through trouble in the sixth and seventh innings. The Braves loaded the bases in both frames, and Phillies manager Pete Mackanin allowed Thompson to stay in the game and work his way out of the jams. Thompson did not allow a run in either inning.
In the sixth, the right-hander temporarily lost his control. Thompson issued his first two walks of the game, including a few pitches in the dirt, to load the bases with one out. But he zoned back in after a meeting with pitching coach Bob McClure and got Nick Markakis to ground into an inning-ending double play.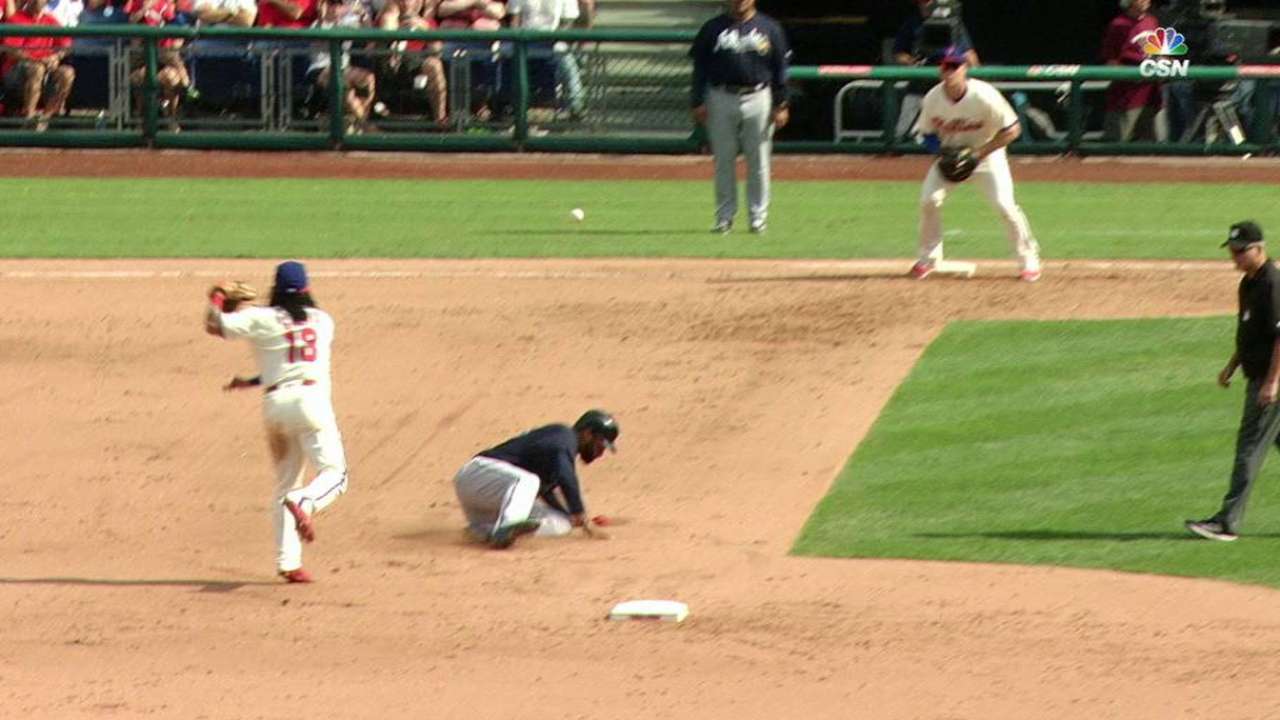 In the seventh, Thompson almost got another double play to get out of a jam, but third baseman Maikel Franco did not successfully tag Jace Peterson on the basepaths. An intentional walk to Ender Inciarte gave the Braves another bases-loaded opportunity.
Even with his pitch count above 90, the Phillies let Thompson remain in the game, and he got Adonis Garcia to ground out to end the seventh inning on his 100th pitch.
"We're trying to develop pitchers who go deep into games," Mackanin said. "I saw no reason to not let him battle his way out of that. He did a great job. I couldn't be happier with his performance. "That's what we're looking for. We're looking for people who will fit in in the future."
Combined with his work at Triple-A Lehigh Valley, Thompson has pitched 163 innings in 27 games this year. The Phillies -- who shut down 24-year-old righty Vince Velasquez after his Saturday start -- are monitoring Thompson's workload closely, but it seems he'll get a few more starts in 2016.
"The last one was really encouraging," Philadelphia general manager Matt Klentak said before Thompson's Sunday start. "Much like we went into the season without a specific target for Vince, we're going to have to play it out with Jake as well."
Added Thompson: "I understand their plan. That's not saying that I won't put up a fight in it. I understand what they're doing. I understand the long-term goals, and whatever is best for this organization, I'm going to do."
Stephen Pianovich is a contributor to MLB.com. This story was not subject to the approval of Major League Baseball or its clubs.