Travis jump-starts offense with game-tying hit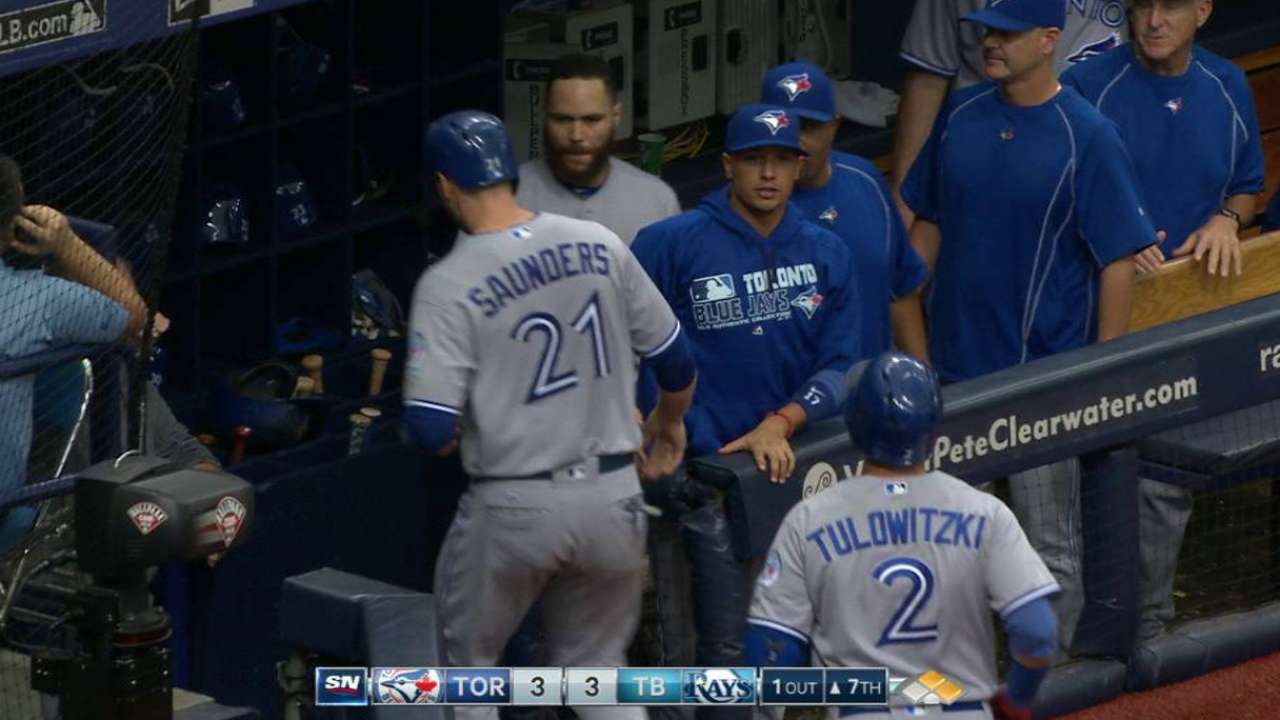 ST. PETERSBURG -- All the late-game heroics in the past two games had gone in Tampa Bay's favor. A 444-foot tiebreaking blast from Logan Morrison in the sixth inning on Friday. A stretch of seven straight batters to reach base in the sixth inning on Saturday to turn a Blue Jays lead into a four-run deficit.
On Sunday, though, Toronto returned the favor. And it started with a game-tying two-run single from Devon Travis to jump-start a previously dormant offense. It was the catalyst of a 5-3 win at Tropicana Field that helped the Blue Jays retain first place in the American League East.
"You could see the dugout got a little emotional," acting manager DeMarlo Hale said of Travis' hit. "We kind of smelled the win."
The hit marked a continuation of a torrid second half for Travis. With a 2-for-4 showing, Travis has a club-best 52 hits since the All-Star break. The second baseman is batting .323 during that time, with 11 doubles and four home runs. He also continued his career dominance of the Rays, against whom he owns a .377 batting average.
Travis said he was looking for something up in the zone to hit against Brad Boxberger with the bases loaded and one out in the seventh inning and the Blue Jays trailing, 3-1. He got a changeup and turned it through the hole on the left side of the infield to tie the game.
"To be completely honest, after I hit it, I wasn't even too sure what I even hit," Travis said. "I was just looking for something up in the zone and thankfully I snuck it by [Evan Longoria].
The Blue Jays were just 6-9 against the Rays on the season coming into Sunday, while being outscored, 80-60, over that stretch. Tampa Bay had made a habit of giving the Blue Jays a taste of their own medicine. But Travis has found success against them at every turn. He's now hitting .440 with seven RBIs against the Rays in 2016.
"He's a good hitter," said Hale, who was managing in John Gibbons' place after Gibbons was ejected in the fourth inning. "You've seen him at the top of the lineup, the bottom. He can fill a lot of spots. He just goes out there to help us win."
Sam Blum is a reporter for MLB.com based in St. Petersburg. This story was not subject to the approval of Major League Baseball or its clubs.