Archer's strong effort goes unrewarded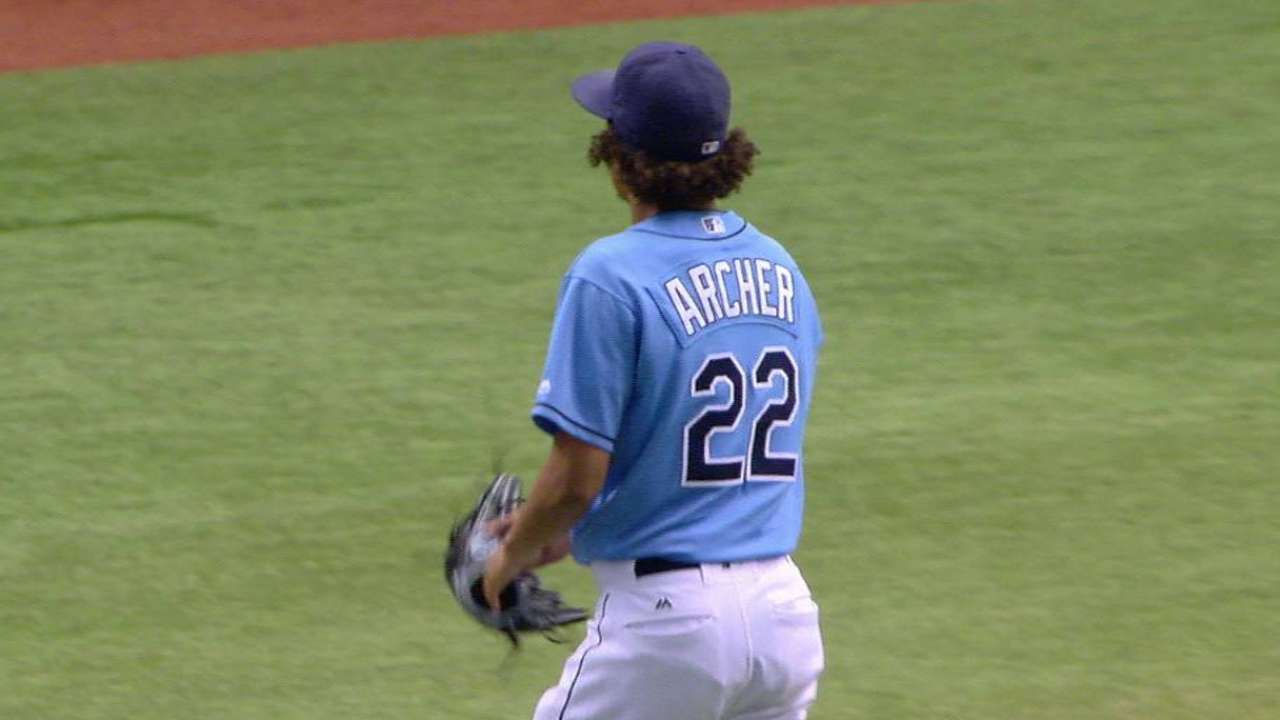 ST. PETERSBURG -- Chris Archer deserved better on Sunday. He didn't get it.
"I thought Arch was just outstanding," manager Kevin Cash said after the Rays' 5-3 loss to the Blue Jays at Tropicana Field. "Really, really strong performance on his part."
Archer came through with a quality start, but all he had to show for his effort as a no-decision -- rather than his ninth win of the season.
"I felt good," Archer said. "Just unfortunate that we couldn't do enough to win today. ... I think most importantly, we made some great defensive plays and Bobby Wilson did a great job behind the plate, presenting the ball well to the umpire and getting into some good counts. Calling some good pitches to get those guys out."
Archer allowed two runs on five hits while walking one and striking out nine in 6 1/3 innings. When the right-hander left the game with a man on and one out in the seventh, the Rays led, 3-1. But Brad Boxberger struggled and the Blue Jays scored twice in the inning.
When asked about Archer's performance, Wilson said Archer was "just being Arch."
"He threw his fastball extremely well," Wilson said. "He threw some good changeups. ... The slider. When you have that kind of slider, you're going to get people out and have high strikeouts. He elevated well. He threw the slider down well."
Home-plate umpire Pat Hoberg's strike zone was a point of contention on Sunday afternoon -- even causing Toronto manager John Gibbons to get ejected. Of the 105 pitches Archer threw, 62 were for strikes. Archer made no excuses.
"It's the big leagues and the strike zone is really small, so you have to work with it," Archer said. "You have to figure out a way to get strikes called or get them to swing the bat."
Archer is 4-5 with a 3.03 ERA in 10 starts since the All-Star break to lower his season ERA from 4.66 to 4.06, and he has pitched in to the seventh inning in six of those outings.
Though he didn't get the win, Archer did avoid getting tagged with his 18th loss, which would have tied the club's single-season record for losses held by Tanyon Sturtze.
Bill Chastain has covered the Rays for MLB.com since 2005. This story was not subject to the approval of Major League Baseball or its clubs.