Chisenhall's walk-off hit lifts Tribe to sweep of Marlins
CLEVELAND -- The Indians have proved all season they can never be counted out. The latest come-from-behind efforts by the Tribe sealed a 6-5 series-sweeping victory over the Marlins on Sunday at Progressive Field.
With the win, Cleveland maintains its 5 1/2-game lead in the American League Central. Miami dropped a game below .500 for the first time since April 28 and four back for the second National League Wild Card spot.
"In the dugout, we're never down," Chisenhall said. "We're always constantly chattering. We never feel like we're behind. That's a huge thing to have, even if you don't win the game, to come back and fight and claw and make them work, even in a loss. That's something we have on this team, and it's fun to be part of it."
Lonnie Chisenhall was the hero in the team's ninth walk-off win of the season. Chisenhall slashed a single into right off Miami closer Fernando Rodney to finish the three-game Interleague sweep. It was his second career walk-off. The other came on an RBI single against Detroit on Sept. 9, 2012.
Miami catcher J.T. Realmuto answered Cleveland's three-run rally in the seventh with a solo shot to open the eighth off Bryan Shaw, to knot the score at 3. The Marlins reclaimed the lead on Ichiro Suzuki's RBI double off Andrew Miller in the ninth. Martin Prado later produced a sacrifice fly off closer Cody Allen.
The late-game efforts by both teams overshadowed an early pitchers' duel between a pair of right-handers. Cleveland's Danny Salazar fanned 11 batters -- matching his career high -- across 5 2/3 frames, in which he allowed one run on six hits. Koehler spun six shutout innings, permitting just three hits with six strikeouts and two walks.
"You want to talk about a lingering effect, I think everyone's just upset about the fact that we just got swept and we won one game on this road trip," Marlins starter Tom Koehler said. "We came into this road trip in a good spot still, and we've got to try to get past this and do whatever it takes at this point. Got to try to find a way to win some ballgames."
• Postseason chances shrinking for Marlins
MOMENTS THAT MATTERED
Yin and yang: The defensive play of Marlins shortstop Miguel Rojas proved decisive in consecutive at-bats during a high-leverage seventh inning. After a leadoff double by Ramirez, Rojas quieted the crowd by snaring a sharply hit Chisenhall ground ball and firing a strong throw to first to retire Chisenhall and hold Ramirez at second. On the very next play, though, Rojas missed a barehanded attempt on a broken-bat chopper from Abraham Almonte and let the ball skip past him, permitting Ramirez to score from second to bring the score within one run.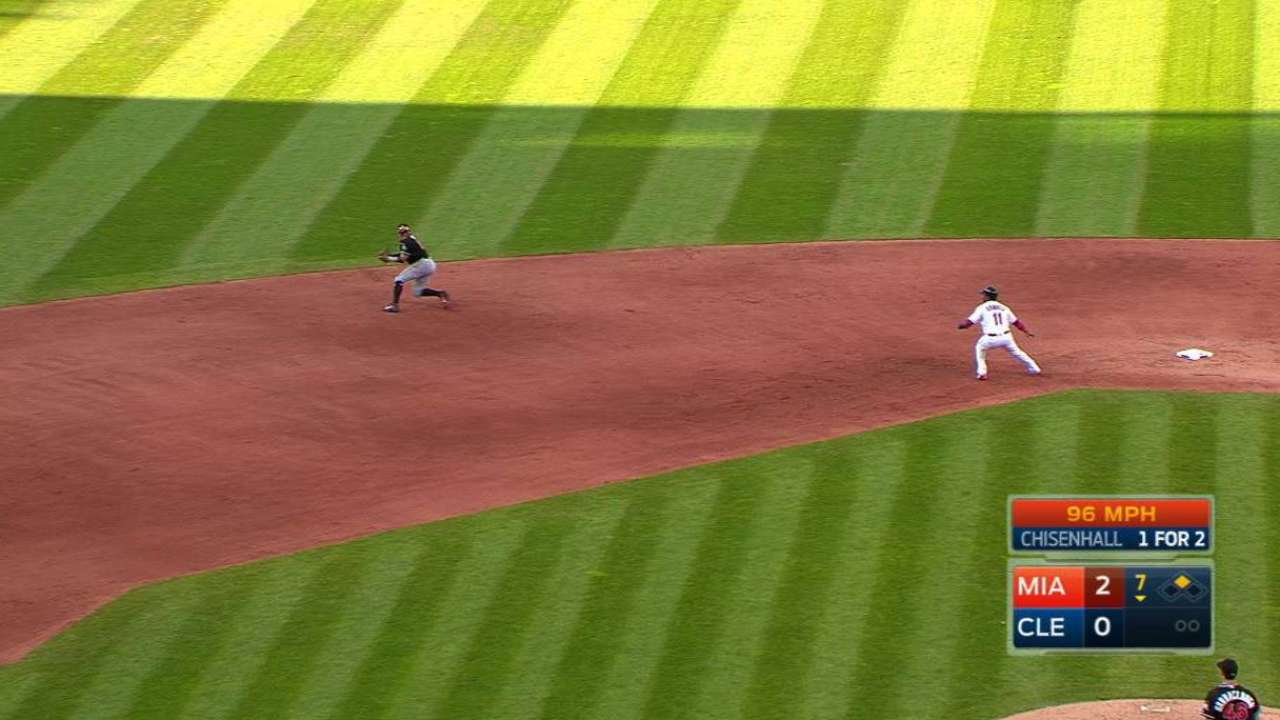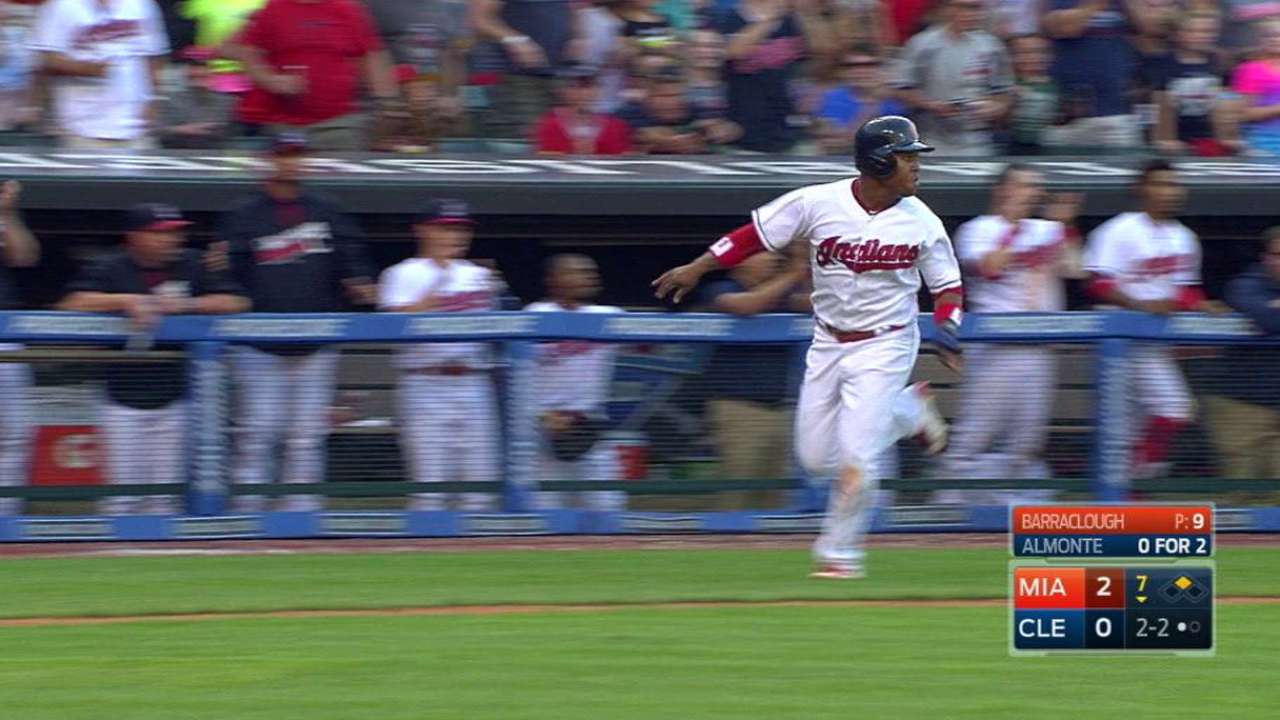 Shaw's streak snapped: Cleveland's one-run lead after a rally in the seventh was short-lived as Shaw allowed a solo homer to Realmuto to open the eighth. The dinger marked the first earned run Shaw had given up since July 18, which snapped a streak of 17 consecutive scoreless innings over 18 outings.
"Guys are going to give up runs," Indians manager Terry Francona said. "It happens. Bryan was trying to go down and away and actually missed by a lot. Miller, actually, I thought made a pretty good pitch to Suzuki. He just went down and got it, too."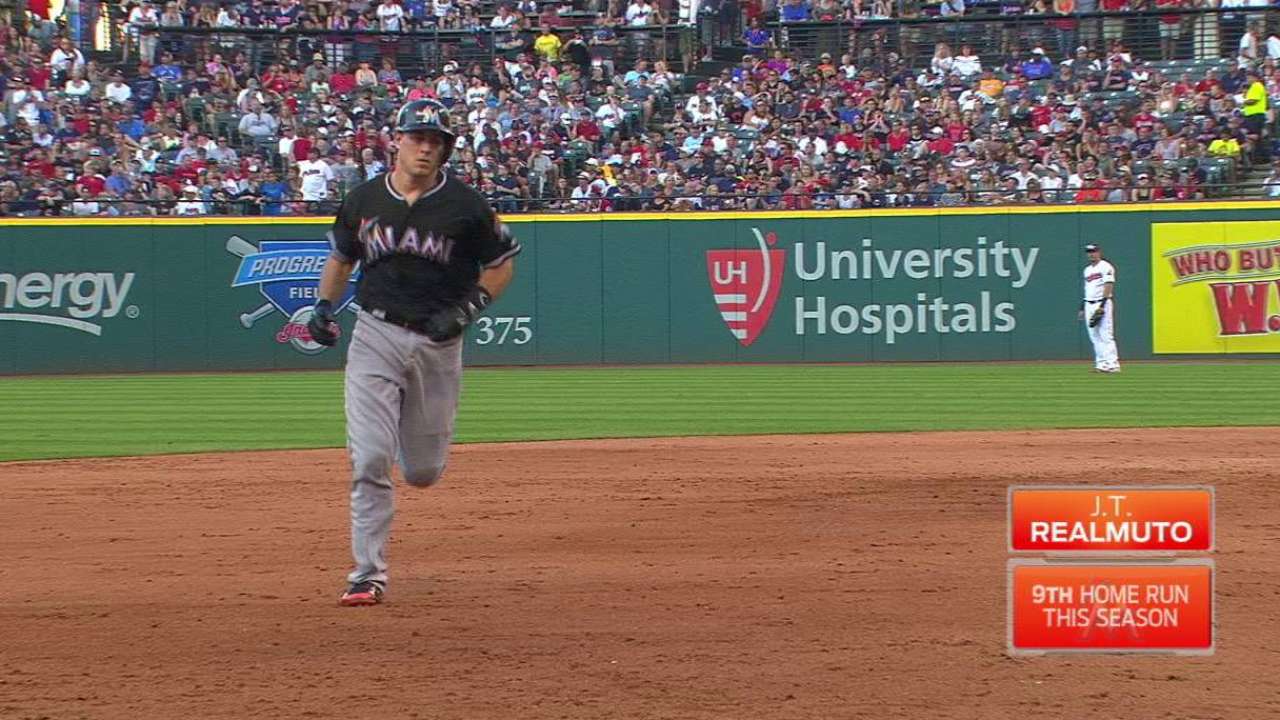 Taking down Goliath: Miami answered Cleveland's comeback with an improbable run over its own. Facing lefty Miller, who entered the game with 11 2/3 consecutive scoreless innings and a 1.34 ERA for the year, Rojas led off the ninth with a double and scored when Ichiro followed with a double. That marked the first time Miller had given up two extra-base hits in an appearance since Sept. 22, 2015, and just the third time since July 14, 2012.
"I don't know if it matters who you get the run off of, it matters that you weren't able to finish the deal," Marlins manager Don Mattingly said. "We get a couple there, so it doesn't really matter that they're off him or whoever."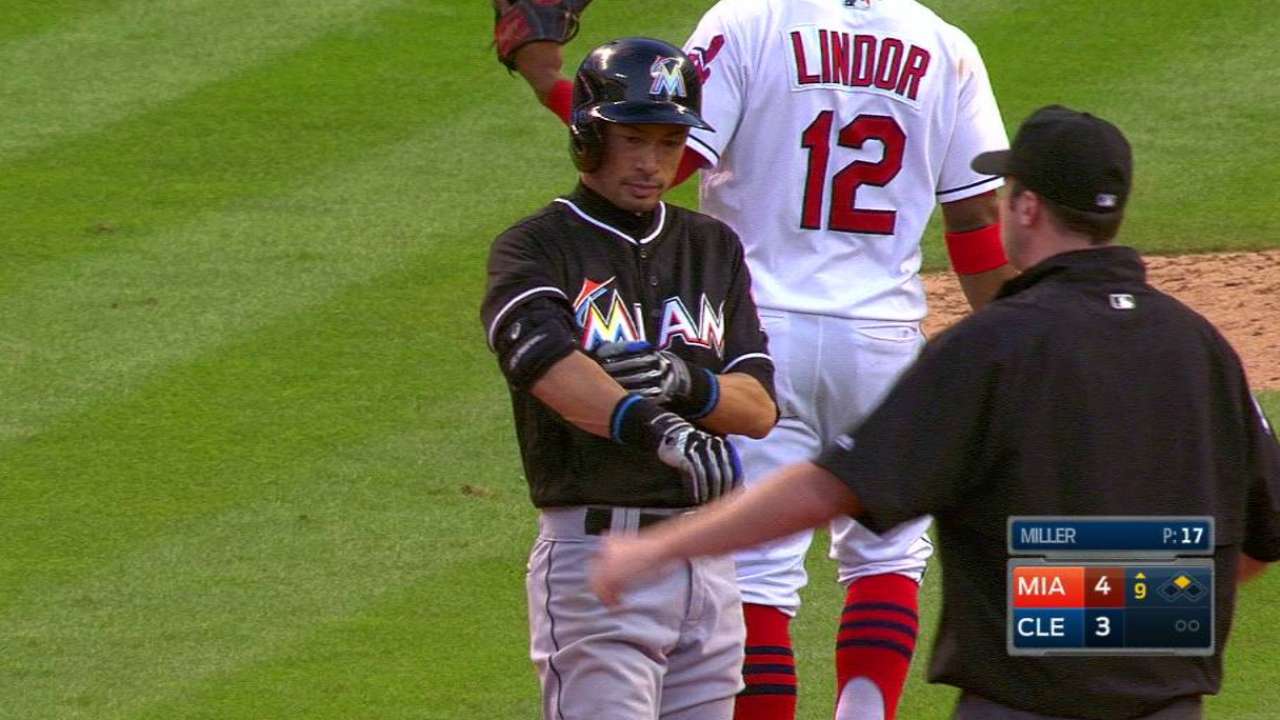 Comeback kids: The Indians wasted no time in responding to the blown lead by their star reliever. Pinch-hitter Brandon Guyer and Carlos Santana led off the ninth with walks against Rodney, and a two-out walk by Mike Napoli later loaded the bases. Jose Ramirez tied the score at 5 with a two-out, two-strike, two-run single the other way, setting Chisenhall up for a walk-off hit to right field, just past the outstretched glove of a diving Ichiro.
"I think it's just the group of guys that we have, the lineup that we have, even the guys on the bench who came in," Chisenhall said. "Pretty much everybody got in the ballgame. When everybody on the team and on the bench, non-starters contribute, I think that's the biggest part. Guys never give up. They continue to push." More >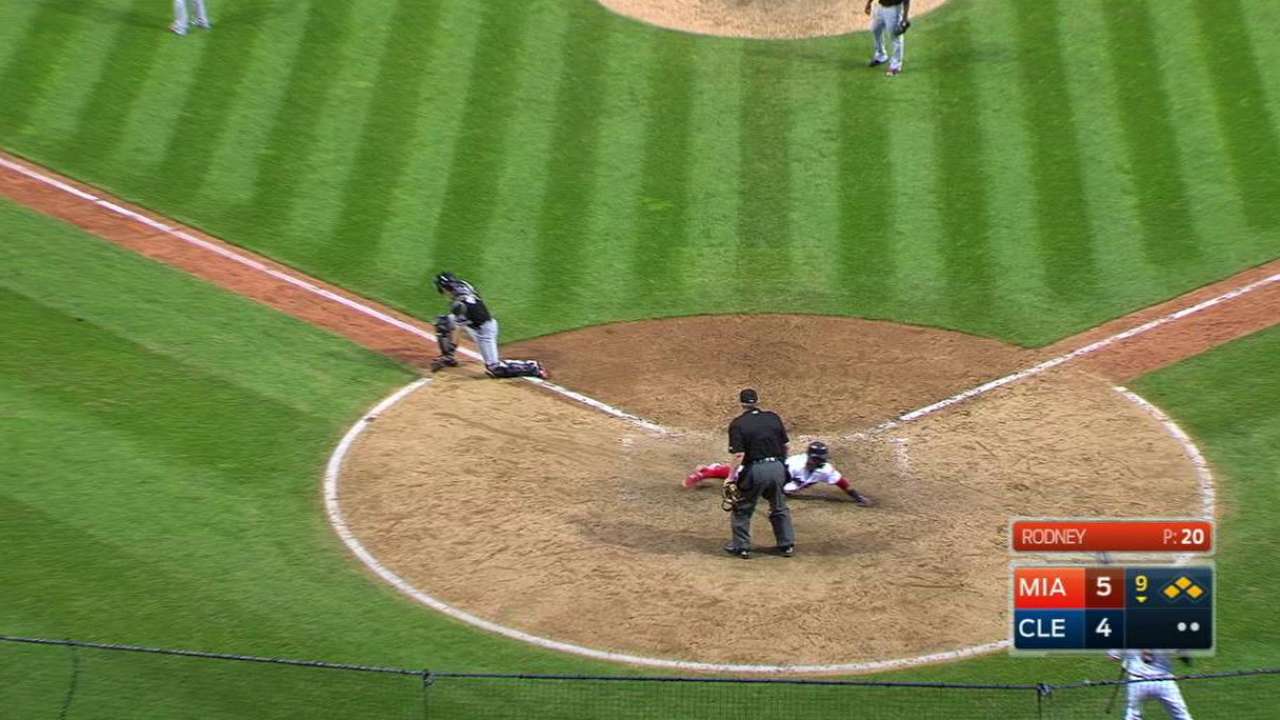 QUOTABLE
"I don't want to go home at the end of the month. I want to play in October. We are working really hard, all of us." -- Salazar, on pitching in a crucial September
SOUND SMART WITH YOUR FRIENDS
The Indians are now 23 games above .500, the club's new high-water mark of the season and highest since ending their 2007 campaign 30 games above .500.
IN-GAME DELAY
There was a scary moment in the fourth, when Chisenhall fouled off a pitch from Koehler that struck a fan sitting behind the Marlins' dugout. There was approximately a five-minute delay in action as the medical staff at the ballpark tended to the fan. She ultimately was able to walk off on her own power as the fans at Progressive Field gave her an ovation.
WHAT'S NEXT
Marlins: Miami returns home Monday after a 1-6 trip, where right-hander Jake Esch (0-0, 4.15 ERA) takes on the Phillies in his second career start at 1:10 p.m. ET. The 26-year-old righty made his Major League debut last Wednesday in a spot start against the Mets, allowing two earned runs on seven hits and three walks in 4 1/3 innings, striking out two.
Indians: Right-hander Mike Clevinger (2-1, 5.30 ERA) is slated to start the first of a four-game set with the Astros at 7:10 p.m. ET on Monday. It is expected to be a bullpen day for the Tribe as Clevinger has not made a start since Aug. 13. In that start, Clevinger spun 5 1/3 innings of one-run ball to earn his first Major League victory.
Watch every out-of-market regular-season game live on MLB.TV.
Shane Jackson is a reporter for MLB.com based in Cleveland and covered the Indians on Sunday.

August Fagerstrom is a contributor to MLB.com based in Cleveland and covered the Marlins on Sunday.

This story was not subject to the approval of Major League Baseball or its clubs.